Sometimes when you cannot find the right floor cloth for a space in your home- you just have to take charge and make it yourself using the one and only, original Chalk Paint® by Annie Sloan!
Check out this beautiful handmade floor cloth created using a scrap piece of linoleum from a local floor store and Chalk Paint® by Annie Sloan by our friend and customer, Stacey Goodspeed and her daughter Áine. In fact, Stacey is such a fan of Annie Sloan – she helps us out at The Purple Painted Lady festival and other large events sharing her knowledge with customers.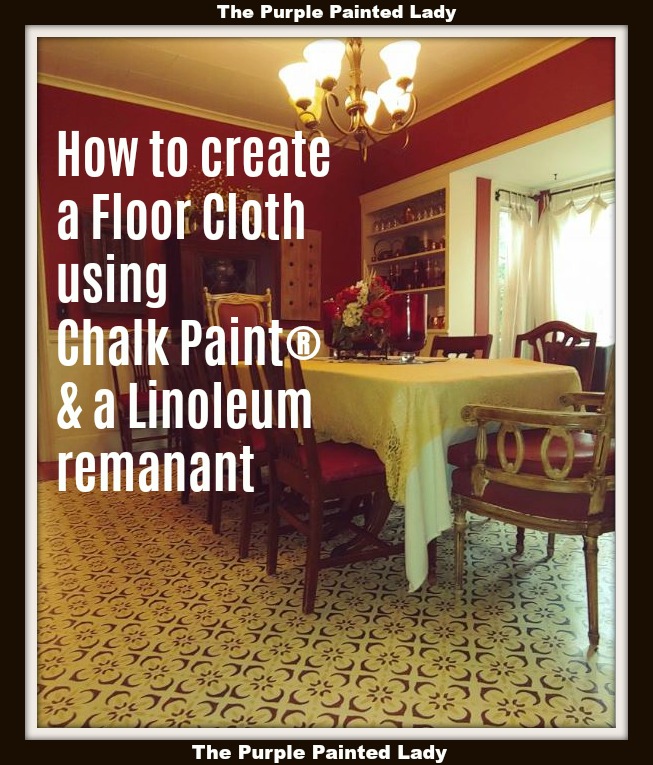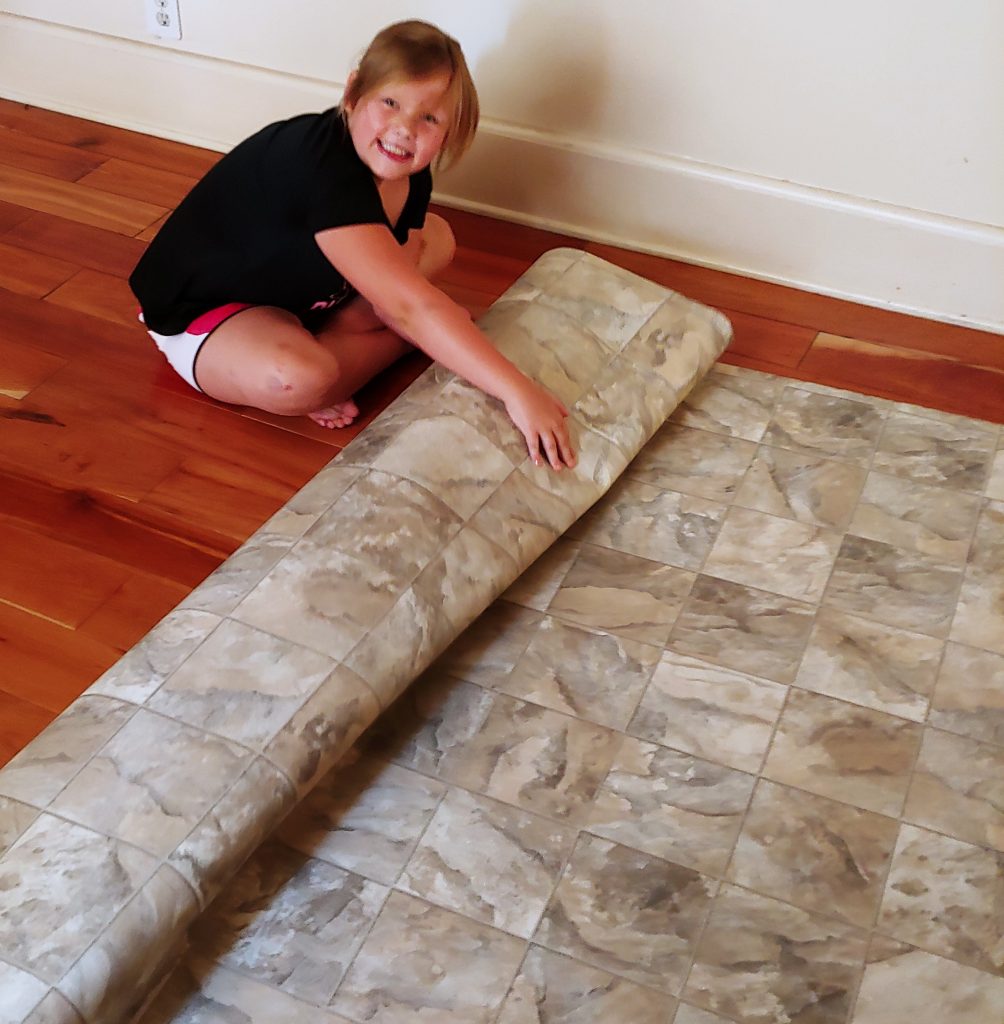 Stacey and her daughter do a lot of creative things together. This is Áine, in the photo – and she helped with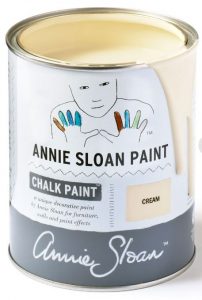 this incredible transformation!
She started out with a scrap piece of linoleum she purchased at a home improvement store…this is what the linoleum looked like before (not very pretty at all, but Áine sure is!) —>
PAINTING THE FLOOR CLOTH:
Stacey started this project by covering the entire piece of linoleum with 2 coats of Cream Chalk Paint® by Annie Sloan.
Cream Chalk Paint® is a soft buttery yellow. She chose to use a roller to apply the paint to make it a little quicker and easier…AND so that she would have a smooth finish on her mat without any brush strokes!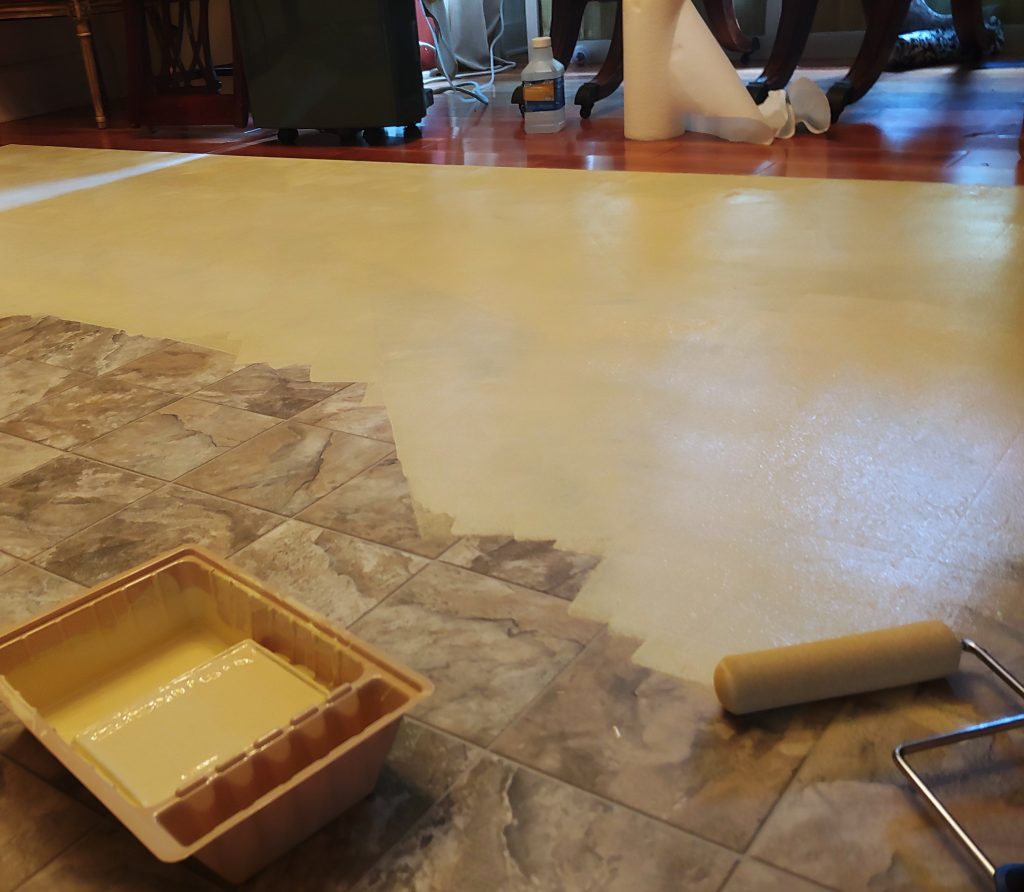 It is VERY important when rolling Chalk Paint® that you add water to your paint! You can add up to 20% water. This will allow the paint to apply smoothly and not pucker as the roller pulls away from where the paint was applied. If your paint is too thick when using a roller, the result left behind could look a bit like "hammered copper" or puckered.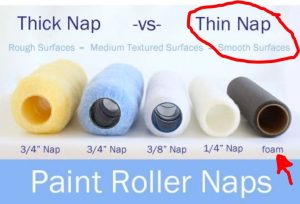 To prevent this- you need to use a foam roller – NOT a nappy roller like you would use to paint your walls with latex paint. Annie Sloan makes GREAT foam rollers that are available in a 2 inch size, as well as a 4 inch size! The 4 inch size would be the recommended size for a floor cloth.
STENCILING: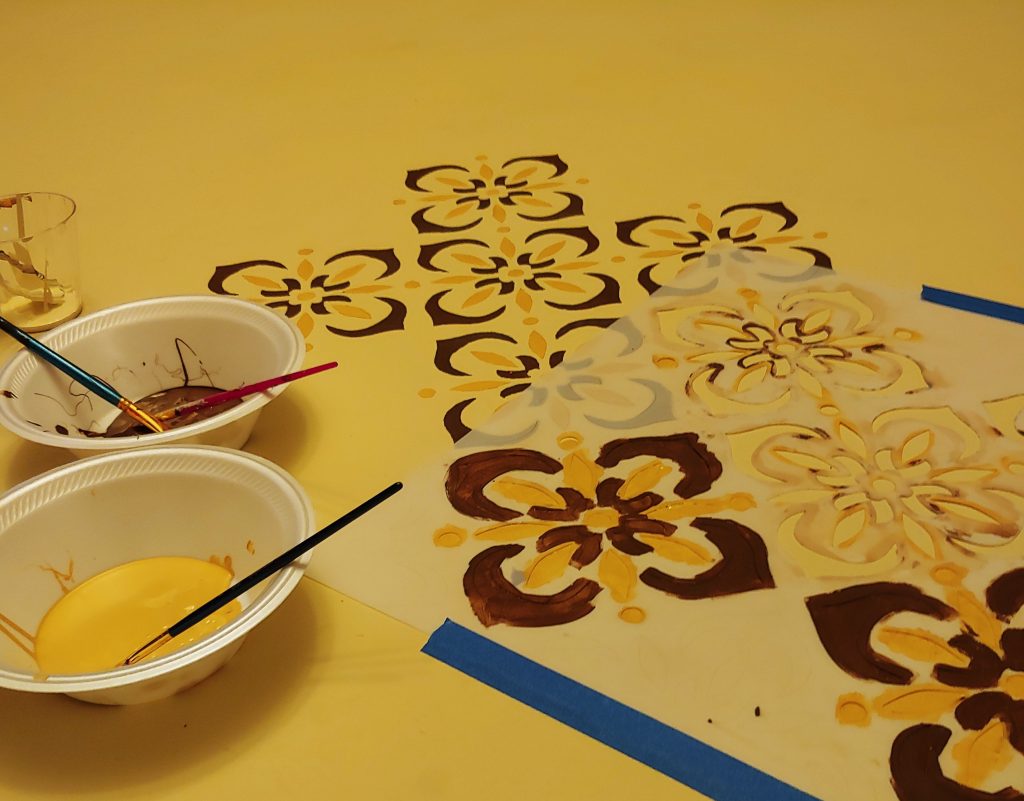 After rolling 2 coats to completely cover the linoleum, Stacey and Áine started using a stencil that they purchased from Michael s Crafts, to create the pattern. Annie's Stencil Brush would have been the bomb to use though!
They used small artists' brushes to paint the design with the Chalk Paint® colors Honfleur (the milk chocolate brown color) and Arles (the sunflower yellow color). It is important to make sure the stencil is lined up and is straight, so the pattern isn't misaligned! Measure twice before starting!
Check out the variety pack of detailed brushes made by Annie Sloan HERE!!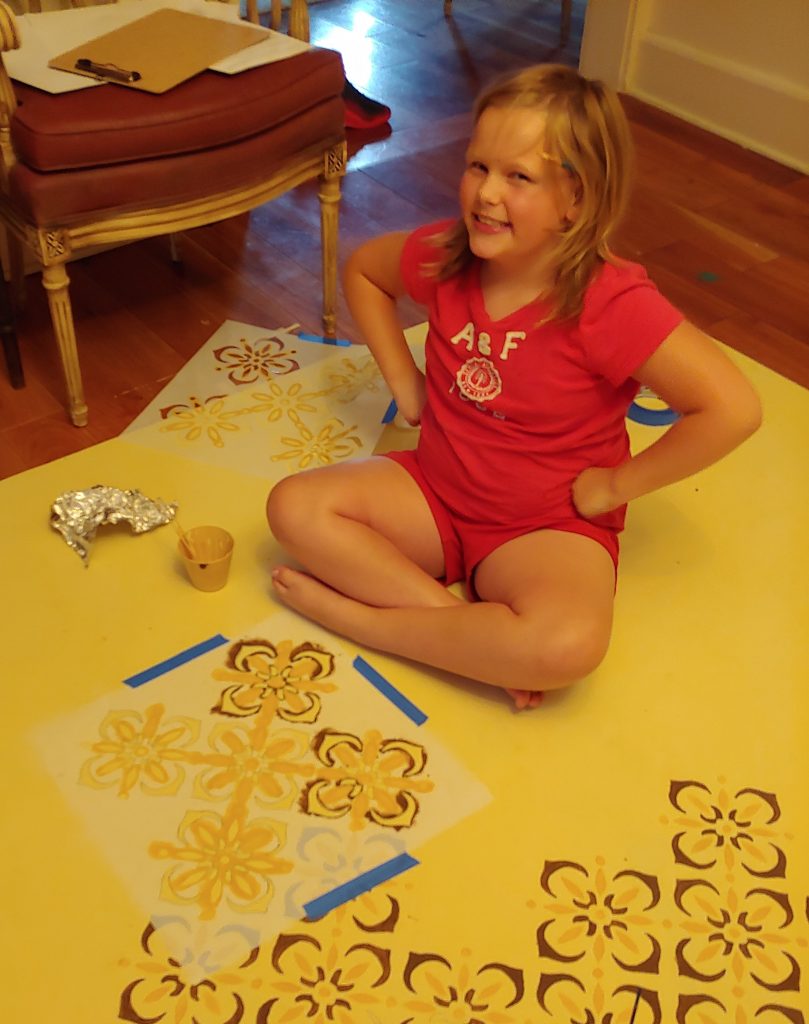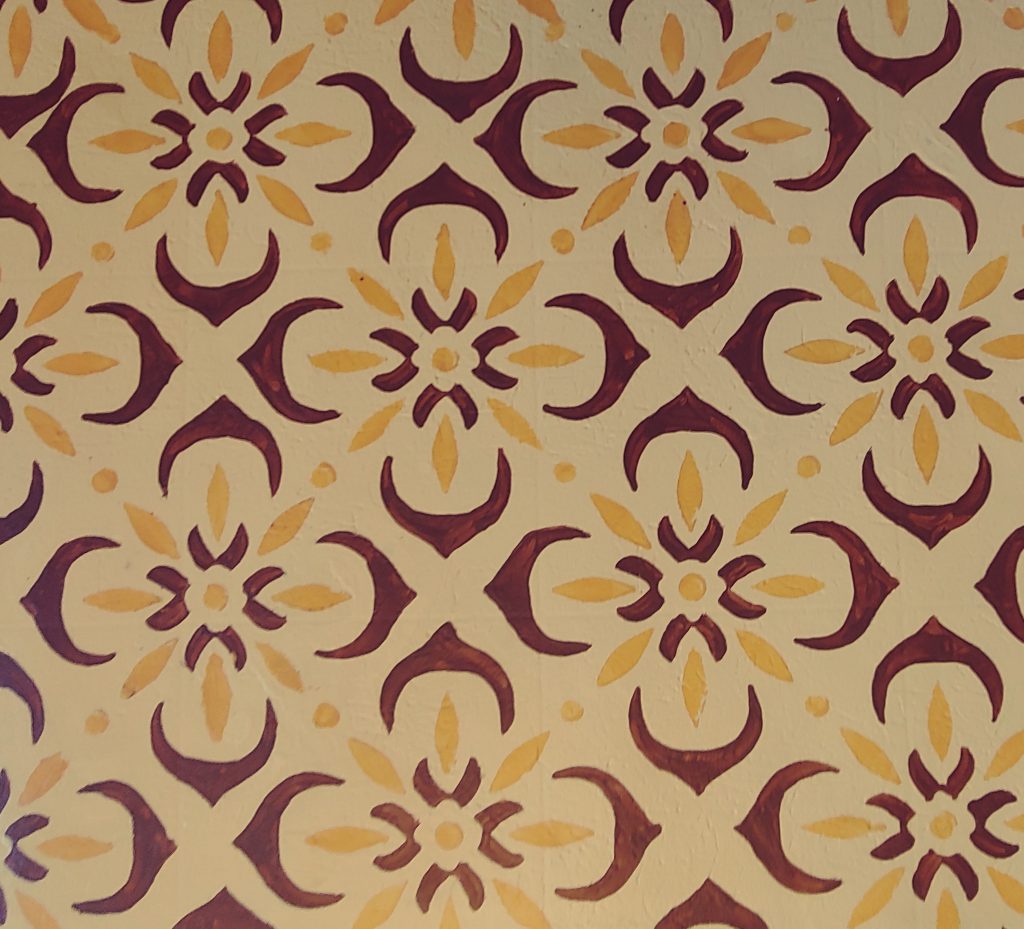 The pattern they used almost reminds me of a Mediterranean-style tile.
SEAL YOUR FLOOR CLOTH:
To seal their floor mat, they needed something that would hold up and would protect the beautiful pattern from wearing away…so they chose Annie Sloan's Lacquer! We ALWAYS recommend lacquer when painting floors with Chalk Paint®. Lacquer can be tricky to use….we have a very detailed post on how to use it HERE! BUT….I will go ahead and give you some of the highlights –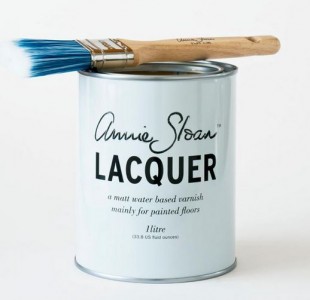 ALWAYS use lacquer at room temperature – moisture and humidity can cause it to look hazy, rather than clean and crisp.
NEVER over-brush your lacquer – this will also cause it to look hazy.
The varnish is quick drying, non-toxic, low odor, and non-yellowing. The lacquer will give you a very durable scuff resistant finish. Note though, it is not recommended in areas where there will be a lot of water. So, if using in a bathroom, plan on toweling up wet floors so there is no standing water for long lengths of time. After it has dried, it is VERY protective and will hold up extremely well even on floor that are constantly being walked across.
Stacey's floor mat should hold up for a very long time, which is good because it is so beautiful!
Stacey shared with us, "This was so easy and fun to do!!!! It's been 4 months since it's completion and I am still in love with it. So easy to clean and it handles my 13-year-old and 10-year-old boys plus a party!"
Another customer of ours, Beth Stark also loves to create floor cloths as gifts for her family and friends. Here are some of hers: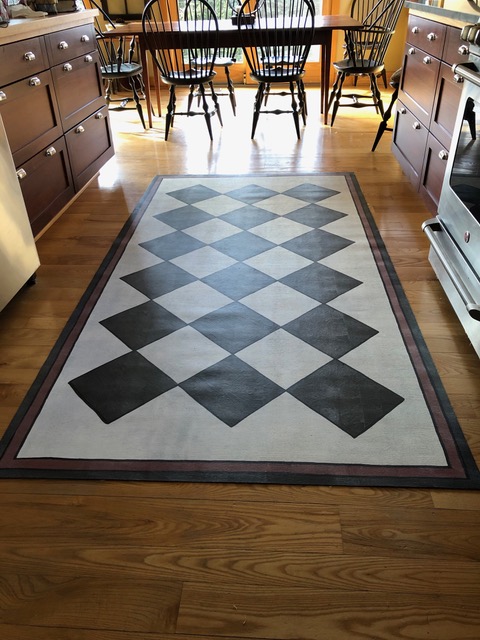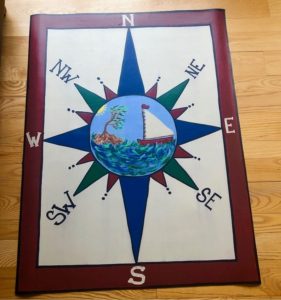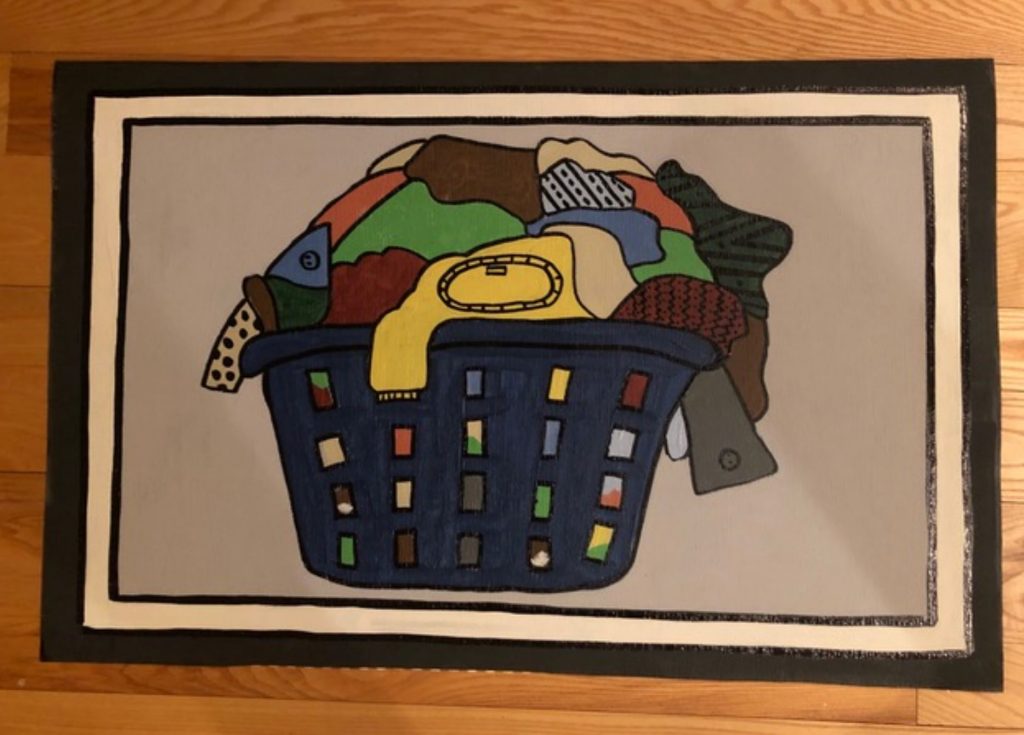 If you do NOT have a local stockist- know that we are here for you!
If you place an order- be confident in knowing that The Purple Painted Lady has everything in stock! What does this mean in the end? With the team we have in place- your order ships the same day you placed it – Monday through Friday. (note however, this is as long as your order came in before 3pm EASTERN TIME, because UPS picks up our packages around 3:30pm)
XO~ Trish