Use Chalk Paint® to cover that concrete floor you dislike so much. Absolutely!
Here is one example by a fellow Canadian stockist where she transformed her concrete floor to look like wood planks!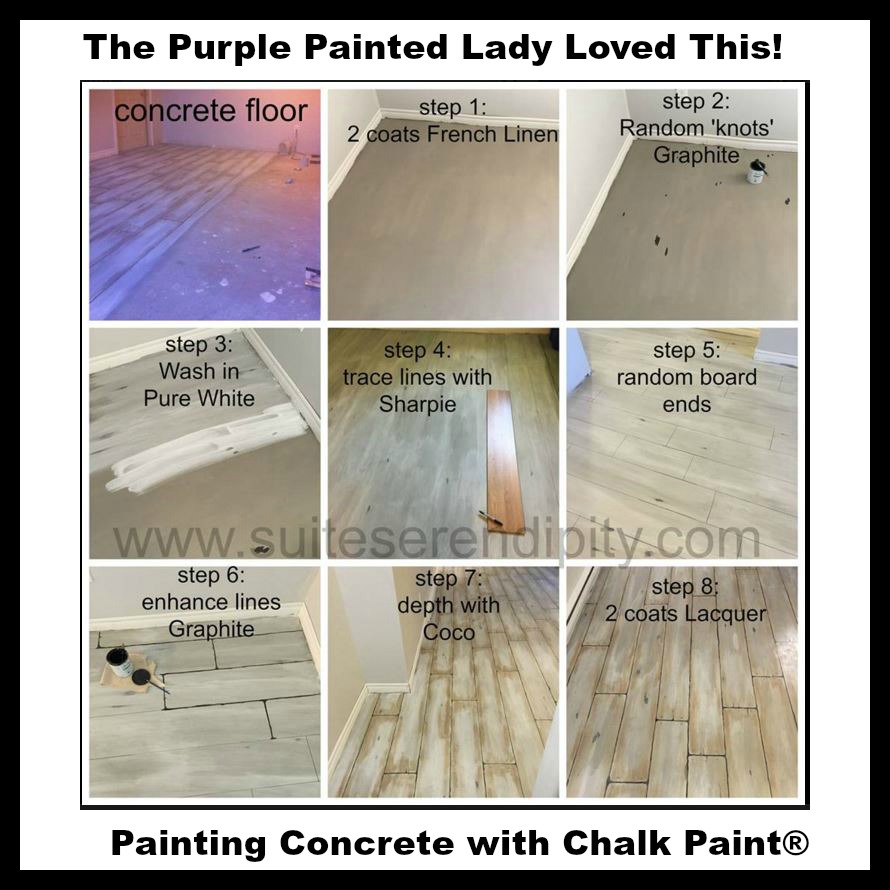 Suite Serendipity in Canada used French Linen, Graphite and Pure White Chalk Paint®. She also used Annie Sloan's Lacquer to protect the floor once her painting and faux design using a black Sharpie was completed.
Jen, from Jen's Furniture Rehab also painted he concrete floor and look how awesome it turned out!
Jen said her space was approximately 165 square feet. She used Chalk Paint® by Annie Sloan in the color Graphite as the base. She used 2.5 quarts – even with diluting it with water in a 4:1 ratio (paint to water.) She applied two uniform coats with a 3/8th inch nap roller.
(The Purple Painted Lady also recommends lightly misting your concrete with a LITTLE WATER prior to apply your first coat of Chalk Paint®)
For the checkerboard pattern, she chose the colors Coco and Country Grey. Total amount of paint used for the stencil project, was 1/2 quart for each. When applying the paint in the stencil, Jen was strategic choosing not to go with full opacity so it would have a rustic appearance.

Once it was completely dry, she sealed the floor using Annie Sloan's Lacquer– which she stated is drying clear with a low sheen!
Her one tip for this project was to keep a moist towel at the doorway to clean her bare feet prior to stepping on that unsealed Graphite, She didn't want any "dirty toe prints" on the finished floor! wink emoticon Total labor hours: 6-7 Interested in Annie's Lacquer made for interior, high traffic areas? Click HERE
If you need to purchase your paint products on-line, and do not purchase through me…I hope you give us the opportunity to do business with you!
* We sell Chalk Paint at $34.95 per quart.
* We ship out every week day all over the US.
* We offer the lowest flat rate UPS shipping cost so if you are one town away or 10 states away- the shipping cost is the same.
* We ship same day if your order is placed before 3pm eastern time.
Also- it is my paint sales that keep me in business and allow me to be here to help you. (my shameless, but honest plug) Link to Our On-Line Store HERE.
: ) And I will be here to help you as you progress through your future project! And if I do say so myself- we offer the BEST customer service that you will ever experience!
Here is a little post about what I mean when it comes to customer service and what you should expect from us – click HERE.
Thanks so much!
Trish —
Like us on Facebook too! Click HERE!