So you want to use Chalk Paint® by Annie Sloan your kitchen cabinets. 1,000's and 1,000's of other homeowners have already done this using Annie's paint. But you may be wondering where do you begin. Let us help you!
HOW MUCH PAINT WILL YOU NEED?
A litre of paint will vary on how far it will go. The paint tins state that Chalk Paint® will cover 140 sq ft. That is for one coat. At The Purple Painted Lady- we will say to use a number more like 120 sq ft. You will almost always need more than one coat and depending on the color you choose and what base you are painting over- you may need three full coats. Determining how much surface space, otherwise known as square footage you have to paint is important because it will guide you on how much paint to buy. Chalk Paint® has great adherence ability and you will be surprised how far the paint goes.
Here are some things to keep in mind though:
Are you painting the back of the cabinet doors? I recommend doing this so when you open your cabinet it looks cohesive. If you leave them unpainted, it will be a constant reminder of how they use to look.
Make sure to account for the end caps or the side sections
Are you painting the bottom of the top hanging cabinets. (this is the side you would see if you were laying on your kitchen floor looking up toward your ceiling)
What color are you choosing? Lighter colors require more coats of paint compared to other colors
HOW TO CALCULATE YOUR SQUARE FOOTAGE:
Personally, I like to draw out sections of the kitchen I am going to paint and break up the layout into vignettes. For example, I will draw a rectangle for the cabinets under the kitchen sink. See my drawing below.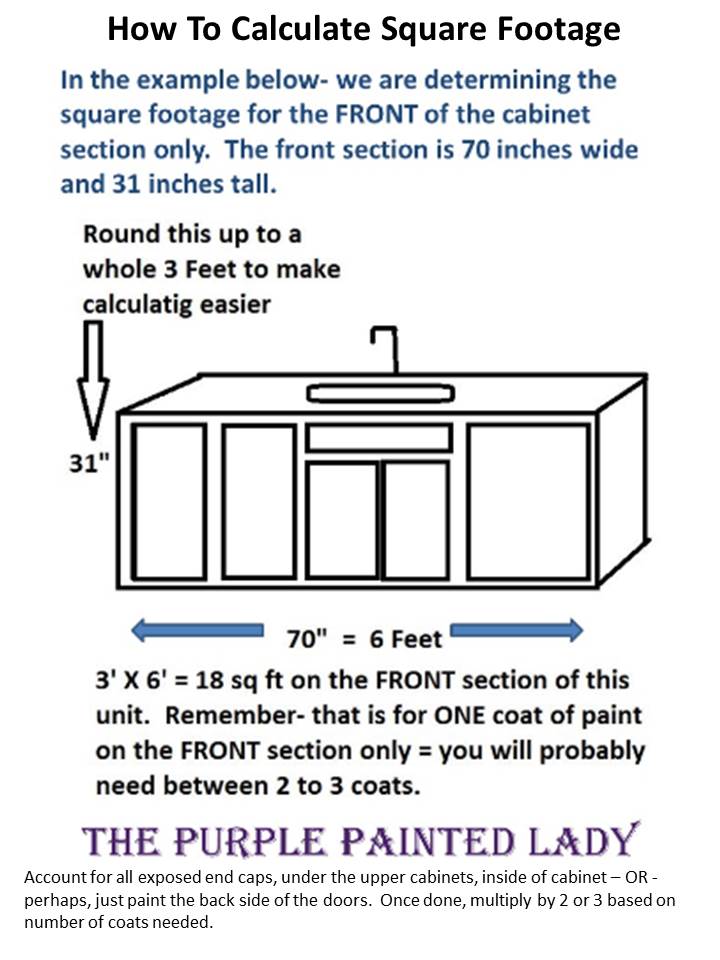 Besides paint- you will consider to purchasing:
PREP before painting: Use Krud Kutter – that is what we recommend and use to clean customer cabinets prior to painting.
PICK YOUR PAINT BRUSH:
Want a smoother finish? We recommend Annie's 2″ Flat Large Brush.
For the actual cabinet base- try using Annie's 1 1/4″ Flat Small Brush
If you want a little more texture, or get more paint applied to the surface faster- try Annie's SMALL dome top brush.
PICK YOUR TOP COAT:
Not all top coats are made equally or will perform the same. Be careful if painting your cabinets with a light colored paint…especially white and you choose to go vogue using some poly top coat you pick up at a hardware store. Many will eventually yellow – even when they say they won't. I recommend strongly- using one of the top coats I have listed below.
Annie Sloan's Clear Wax was formulated to work perfectly with Annie's Chalk Paint®. You will need to apply a few coats. It is quick and relatively easy. The first coat may not look great, but the second coat will bring it all together. You do not need to wax every few months or year- so disregard that if you have read that somewhere online. I strongly recommend to purchase Annie's Small Wax Brush if doing your cabinets and a roll of Scott Shop Towels
Annie Sloan's Lacquer. Annie's Lacquer comes in both a Matte and a Gloss. Do not use Matte Lacquer directly over dark colored Chalk Paint® because the flattening agents can create a white hazy effect. Make sure to read our post on best practices of Annie's Lacquer HERE. It is important because Lacquer does not behave like paint.
Painting with "White" colored paints? Like Old White, Pure, Original? Top coats that yellow are a serious issue. Wax will never yellow. But another option is Artisan Enhancements Clear Finish. This will have a satin to shiney sheen and keep in mind, the more applications you apply, the shiner it will become. Make sure to purchase their varnish brush to apply it with.