With these cold temps…are you "Frozen?"
One of The Purple Painted Lady's marvelous customers, Yugonda created this awesome "Frozen" piece on a table she bought for only $3.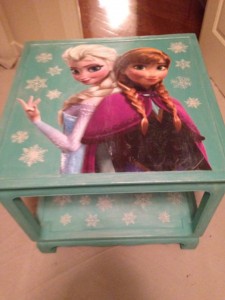 Yugonda said it needed a lot of work just to get it into a condition that it could be painted, but hey, for $3 – who can complain?!
She used wood filler and a sanding block, but no other prep like primer or shellac.
First she painted it with a mix of Florence Chalk Paint® and Artisan Enhancement's Pearl Plaster.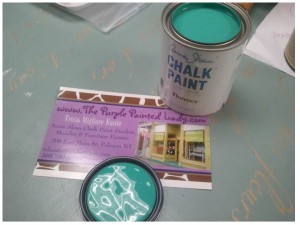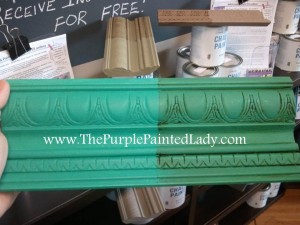 You might be thinking that the color of the piece in the above photo looks much lighter than what Florence typically looks like. And you are correct about that! That is because Yugonda added A LOT of the Pearl Plaster to the Florence and it really did change the color…. maybe a bit more subdued looking but she liked it.
She found that the Pearl Plaster does create shimmer when mixed with paint, but not quite as much as she wanted for this particular special project.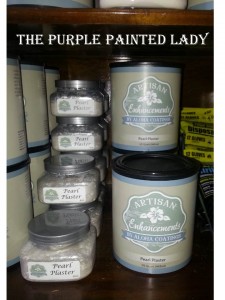 So, she painted the AE Pearl Plaster straight from container with a small brush using snow flake stencils to the bottom of table. She held the stencil in place and lifted it right up. At The Purple Painted Lady we have used stencils with the Pearl Plaster and found it to be very easy to push through the stencil cutout and to get a smooth layer.

Since this piece was for someone special – Yugonda wanted the piece really shimmery, so after waiting 10 minutes – she then applied a coat of the Pearl Plaster over the entire piece.
Once the PP was dry (and it dries very very quickly) – Yugonda's next step was to swipe quite liberally the back of a poster she bought at WalMart with Artisan Enhancement Artisan Enhancements Transfer Gel. She also applied the Transfer Gel to the top of the table. She felt the Transfer Gel glided on like a dream. (NOTE- she did not remove the paper, but rather left it to work like a decoupage)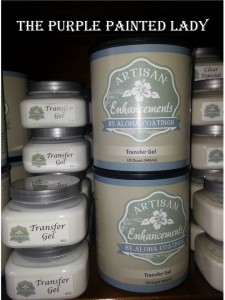 Yugonda used saran wrap over the top of poster and rolled with a hard plastic decoupage roller to smooth the surface. She shared that the piece was larger than what she had worked on before, so she had to work a bit faster so it wouldn't leave a lot of air bubbles. There are still a few bubbles which make this project less than perfect but she said she is really happy with it! Yugonda felt it was more her technique that needs work. (personally- I think it looks great!)
Then- she stenciled more snow flakes on the top of the decoupage poster using Pearl Plaster again.
Once that was all dry- she painted Pearl Plaster all over again, brushing in all directions over the poster.
Lastly! (phew) -she finished the whole piece with Artisan Enhancement's Clear Topcoat.
Yugonda wrote me that she had no idea how creamy feeling the Artisan Enhancement products were and that it made them glide better during the application versus other products she has used.
Her last note was, "I am still learning but, the Artisan Enhancements products made this project feel easy. And I like easy "

The Purple Painted Lady (that's me!) sells chalk paint® in three of her locations through out western NY and also- via her on-line store/website!
If you do not purchase through me…I hope you give us the opportunity to do business with you! We sell Chalk Paint at $34.95 per quart which is the lowest price I can legally sell it for based on the contract to be a distributor. I ship out every week day all over the US. We offer the lowest flat rate UPS shipping cost so if you are one town away or 10 states away- the shipping cost is the same. We ship same day if your order is placed before our daily UPS pick up. Also- it is my paint sales that keep me in business and allow me to be here to help you. (my shameless, but honest plug) Link to Our On-Line Store HERE.
: ) And I will be here to help you as you progress through your future project! And if I do say so myself- we offer the BEST customer service that you will ever experience!
Here is a little post about what I mean when it comes to customer service and what you should expect from us – click HERE.
Thanks so much!
Trish —
Come visit us:

At our MAIN STORE at 77 West Main Street in Macedon, NY 14502 OR
3200 West Ridge Road in Rochester, NY 14626 (The Shops On West Ridge)