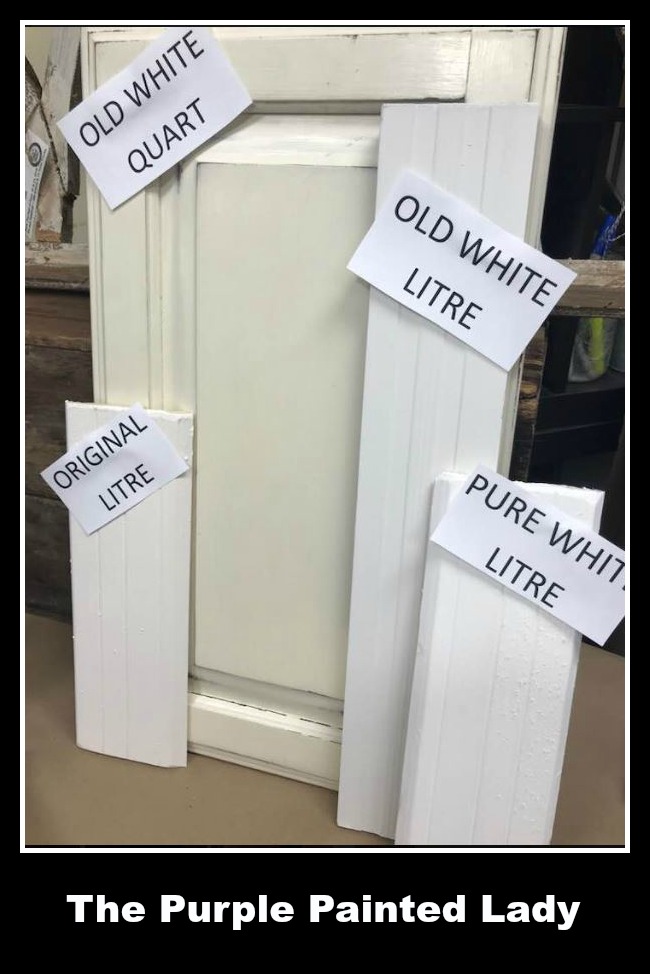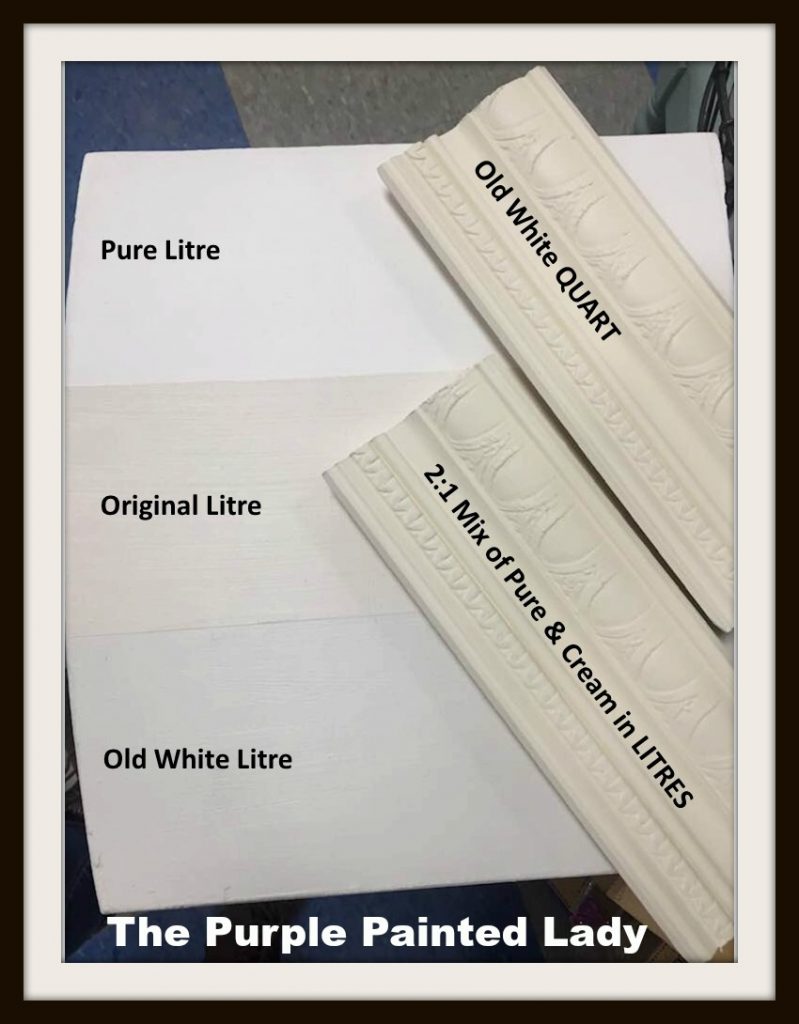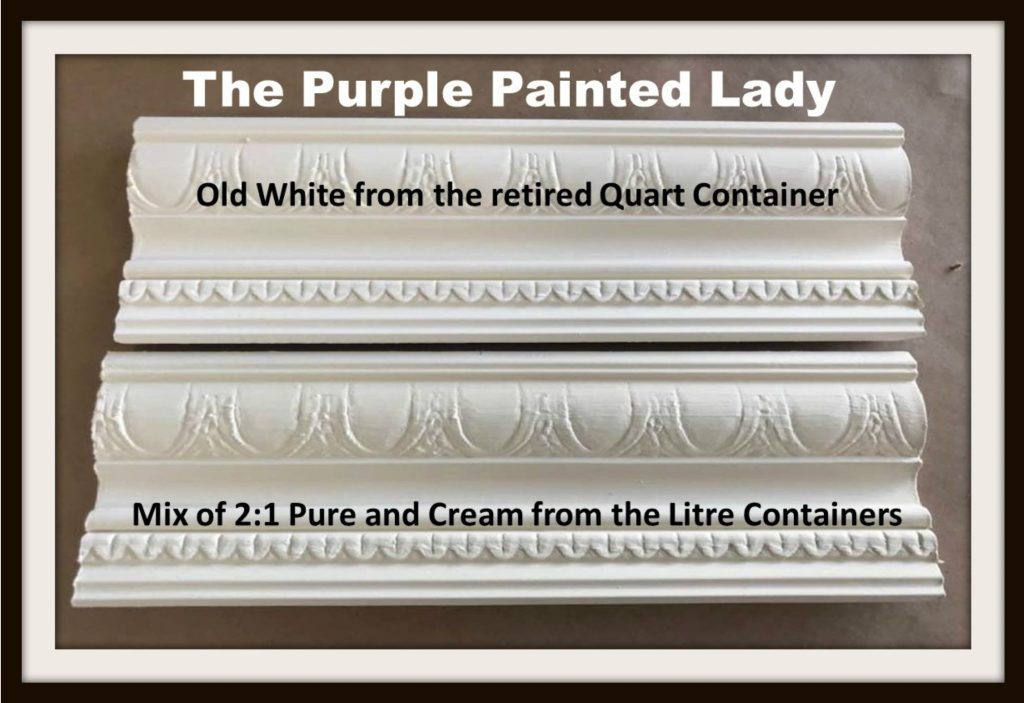 OUR FAVORITE RECIPE: Check out the photo above if you are missing the creaminess of the color Old White that was packaged in the retired quart containers (as of 2019), here is a very close mixing recipe for you! Use 2 parts of Pure Chalk Paint® by Annie Sloan in a litre to 1 part Cream in a litre. The color is so very very close, you probably won't even notice a difference!
The best recipe to create Old White in the retired QUART packaging is……
2 PARTS of PURE and 1 PART of CREAM
According to our customer Mona W. regarding the above recipe she wrote us,
Wanted your followers to know that I had started a big project ( dining table and six chair with hutch) with old white color without knowing it was discontinued. Called you after reading your posting on mixing the pure white and cream and it is spot on . Could never tell where started and stopped the old paint and new mixture. I have ordered several times from you and have had wonderful service. I thank you and so does my daughter in law☺️
CAN WE MIX A COLOR FOR YOU? Unfortunately, no. There is a federal requirement that prohibits us from opening a prepackaged container of paint, decanting it and then mixing colors, refilling a new container and selling it. So, these recipes are offered as help for you since we cannot.
YOU'RE FEELING LIKE YOU DO NOT WANT TO MIX PAINT YOURSELF: Mixing Chalk Paint® is so easy …..(literally, use a measuring cup like you were baking and following a recipe) ……BUT……. if you do not want to do it and are okay with not having an exact match to the Old White in the retired Quart containers, but want something in the ballpark- try the color called Original. It is a warmer white. Annie says it has a slight warm Ochre base.
ANOTHER RECIPE to recreate the Old White from a QUART container that had that French Vanilla Ice Cream color: Original in a litre with a pinch of Cream from a litre also seems to make an exact match.
Below is a photo of Old White Chalk Paint® from the new, as of 2019 Litre containers. Notice how the color is more like a piece of chalk. There is no yellow or cream in this Old White Chalk Paint® from the new as of 2019 Litre containers.
The sample boards are painted with two coats of Old White Chalk Paint® then all are coated with one application of Clear Wax. Then, we used Dark Wax over the Clear on the upper right board. The bottom board shows White and Black Wax.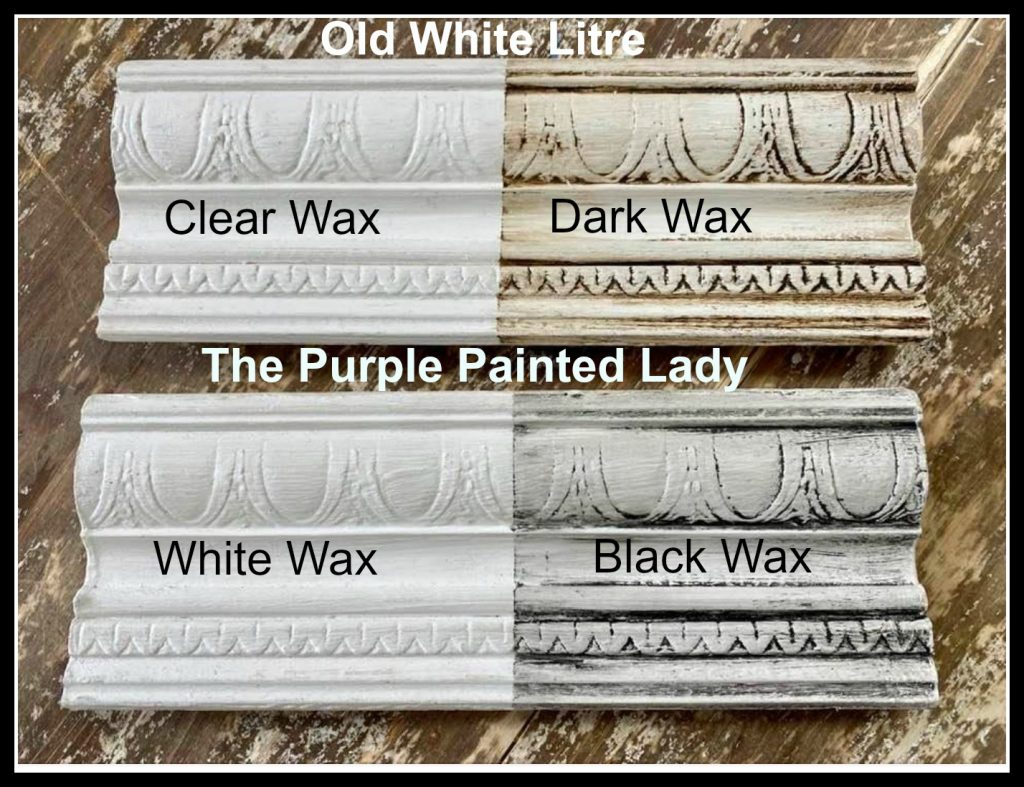 OLD WHITE – differences from 2018 to 2019…quarts to litres! => First and foremost, I want to explain the difference in Old White from when it was packaged in quart containers, to now, in 2019 in the litre containers. The color Old White in the past (prior to 2019) used to be described as French Vanilla Ice Cream that had melted. It had a significant amount of yellow in it. That color that looked liked " French Vanilla Ice Cream" has changed! The quart containers have been retired. Old White as of 2019 in a litre container has NO yellow to it at all. Old White in a litre is definitely way more white! However, we describe this as a modern day, antique white. It has the slightest tint of an oyster shell gray but some people do not see the grey undertone. It is super important that when buying paint around the US, that you ask if your paint is in a quart or litre because this change has impacted drifting of other colors, and if you are trying to match a past project, this could definitely be an issue.
WIth that said, we are excited about the global unification of Chalk Paint® by Annie Sloan in regards to her packaging and the change of some of her colors.
Back in 4th quarter of 2018- a change began regarding how Chalk Paint® was packaged. The paint use to be in quarts and through out 2019, it will be transitioning to litres. Colors are shifting also- this means some are changing. So, if you are an online customer- do not hesitate to call us at 585.750.6056 and ask questions prior to placing an order.
For example- Old White that was packaged in a quart was more of a yellow/cream white. IN fact- we would have described it as French Vanilla Ice Cream that melted. The Old White packaged in litres- starting December 2018 has NO yellow to it at all! The Old White packaged in litre containers is more of a white! Some would describe it as a modern day vintage white- with the slightest undertone of an oyster shell gray.
We hosted a video showcasing the differences that we saved on our YouTube channel and that you can watch HERE:
We will be opening Pure White, Original and Old White Chalk Paint® packaged in both Litres and Quarts and demoing the colors side by side.
Tune in and ask questions. We will download the Facebook LIVE once it is over and save it on our YouTube channel. Don't worry if you tune in late to the Facebook LIVE ….. once we are through, we will save it and the whole video from the beginning will be available on Facebook and YouTube. Also- if you have difficulty with the stream or audio during the actual LIVE – it will be fine once it is saved.
This sure sounds confusing but we hope to help you with this video!
Description of Pure White, Original and Old White in Litres below: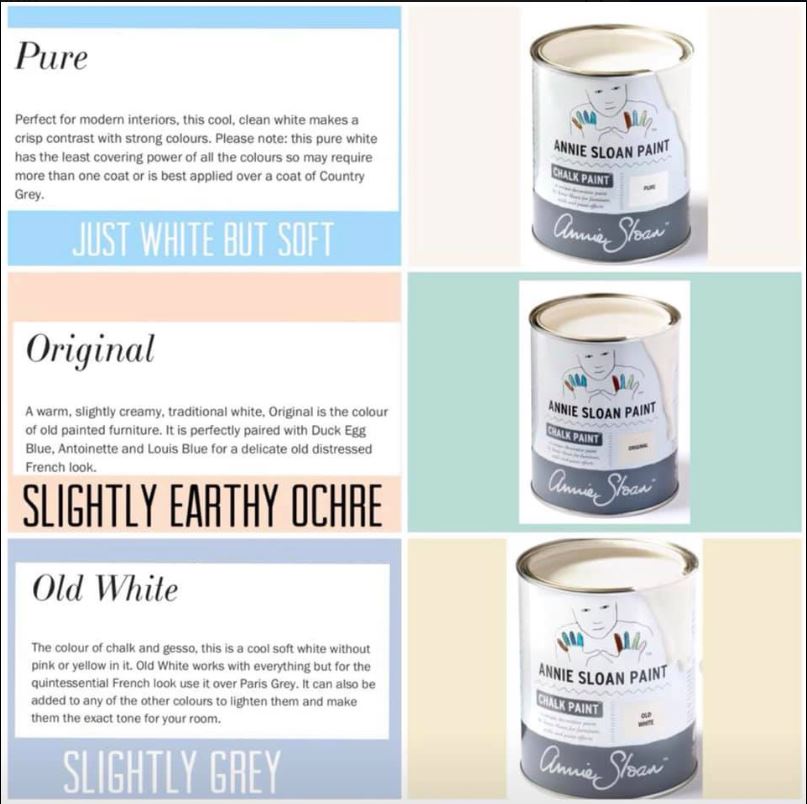 Here is a table top of painted with Pure, Original and Old White that are from the Litre containers: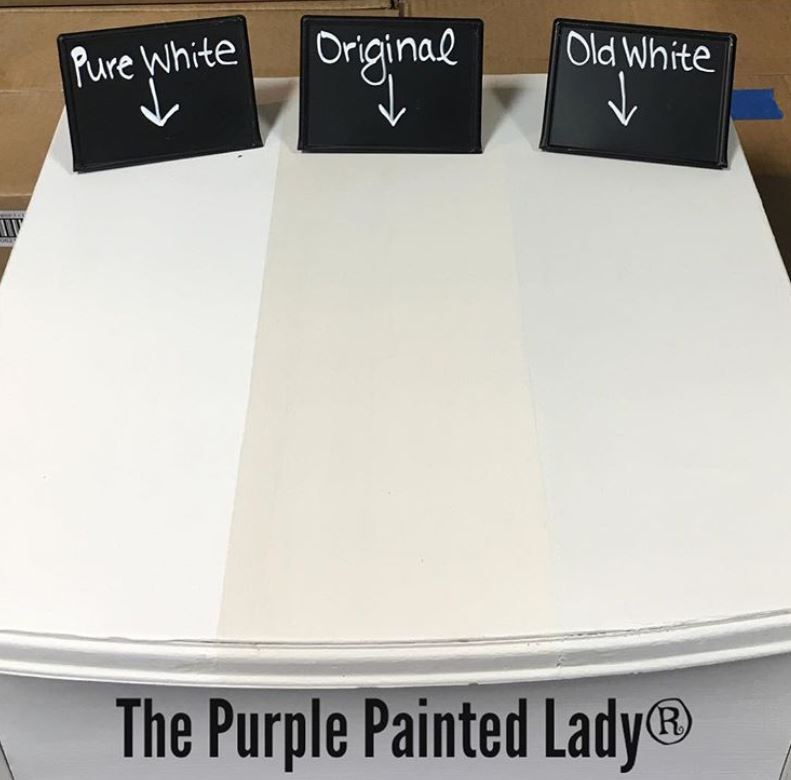 WANT TO MIX the Litre paint to the Old White in Quarts:
If you want to try to mix Chalk Paint® packaged in litres to achieve the color of Old White packaged in quarts, Vicki Shoemaker from 3 Oaks Studio in Clovis and Fresno, California suggested this recipe: