I love receiving notes from all of you – especially when photos are attached and show me what you have accomplished or how you were inspired. When I started writing posts to share information- I did it to be helpful to you. What a surprise it has been to receive so much gratification from your messages and this email was so awesome I had to share it! I received a letter from Charles and Albert's cool mom, Sally Scheele last night. I really enjoyed her note and was so impressed with what she did! Especially with the chair project shown below- most of us would have tossed it to the curb. You did not just refurbish it- I feel you resurrected it! Sally, you have earned the title of "Salvage Sister!" So, dear Sally– YOU are being featured on The Purple Painted Lady!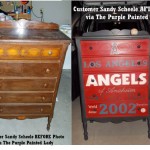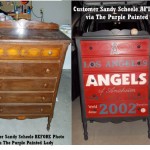 Sally's email
I re-read your "Fairy Godmother" article and wanted to share with you how I've taken all of your tips to heart.
First- I bought an old weathered wooden desk chair, where a huge chunk was broken out and held in place with years of duct tape, all the mechanical parts were extremely greasy and grimey, and the seat looked like it had housed a plant (watered) for years. Wow, this was my biggest vision.
Second- I've always wanted to attempt a Subway Art Typography project. My youngest son is an avid baseball fan, a college pitcher, and a life-long Angel's fan. For his b-day, we got him tickets to see the Angels when they travel to KC next month, and I needed a neat way to present him with the tickets. It also helps out a college life/ apartment/ needs a dresser/ single guy decor – type of way. ( I had to do this before there is a bride who says- "that piece has to go, it goes with nothing!" A perfect opportunity arose!
I borrowed our small parochial elementary school's overhead projector, that they had buried in a back room. I bought them the bulbs, I get to use it. A great marriage. I followed all of your tips: tranparencies, watercolor pencils, Graphic Fairy, etc….. And when I re-read your article, I knew I had to send you a few before & after pictures to show you how we do listen, appreciate, and use all of your tips. Keep inspiring us, we're definitely out there!! Thanks again!! These are not the type of pieces most people would do or want, but for me….. they made me smile. And I'm now the coolest, most talented mom out there, amongst the baseball guys anyway! Haha!! It's all about SMILING! Thanks Again!
Click here to read the post that inspired Sally. It was titled, "Who Is Your Fairy Godmother?"