We really love using Iron Orchid Design Transfers. So much so, we are game to try them anywhere. So much so, when we saw others using them on their shop'd entrance doors, we thought…..we need to do that too!
So, I wanted to do an update regarding the Iron Orchid Design Transfers that we have on our glass doors in the front of our Macedon, New York shop. Below are photos of when we first applied the transfers and then, photos I took last week.
Click HERE to watch a YouTube Video showing us applying the transfers.
I have to look back at exactly when we applied these but it must've been some time in early May of this year…2019. Below is a photo taken on the day we did the windows. Notice how vibrant the colors are on the glass.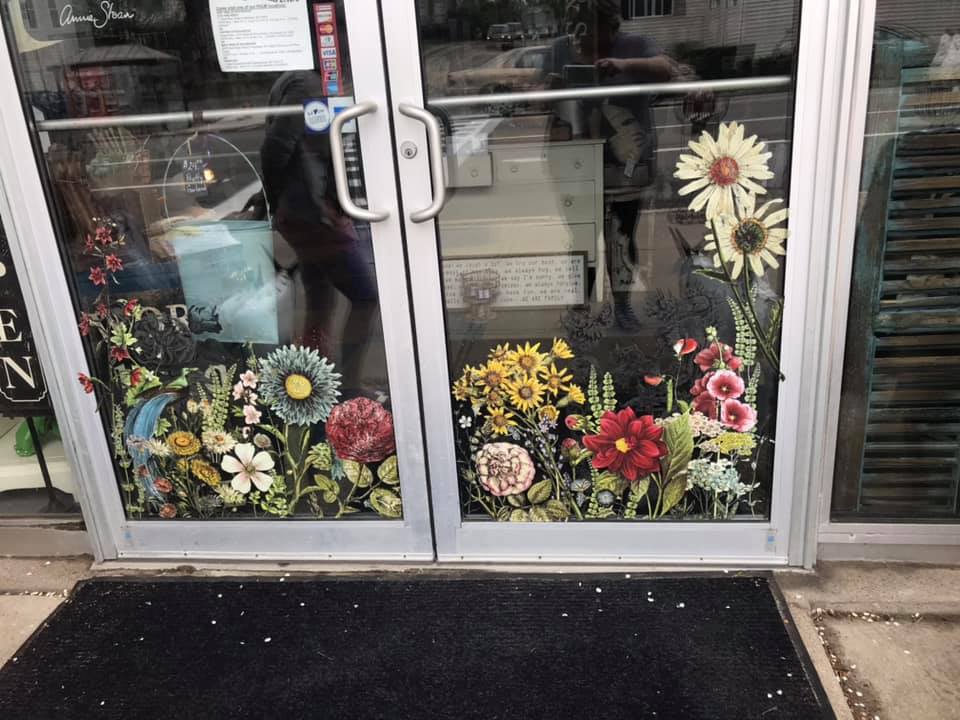 Courtney and Hannah applied the transfers to the glass on the exterior side of the doors. That is Hannah on the left and Courtney on the right. Two crazy women – who fit right in at The Purple Painted Lady. (side note here- I (Trish) am so grateful for everyone who is on our team. TPPL would not exist without each and everyone of them!)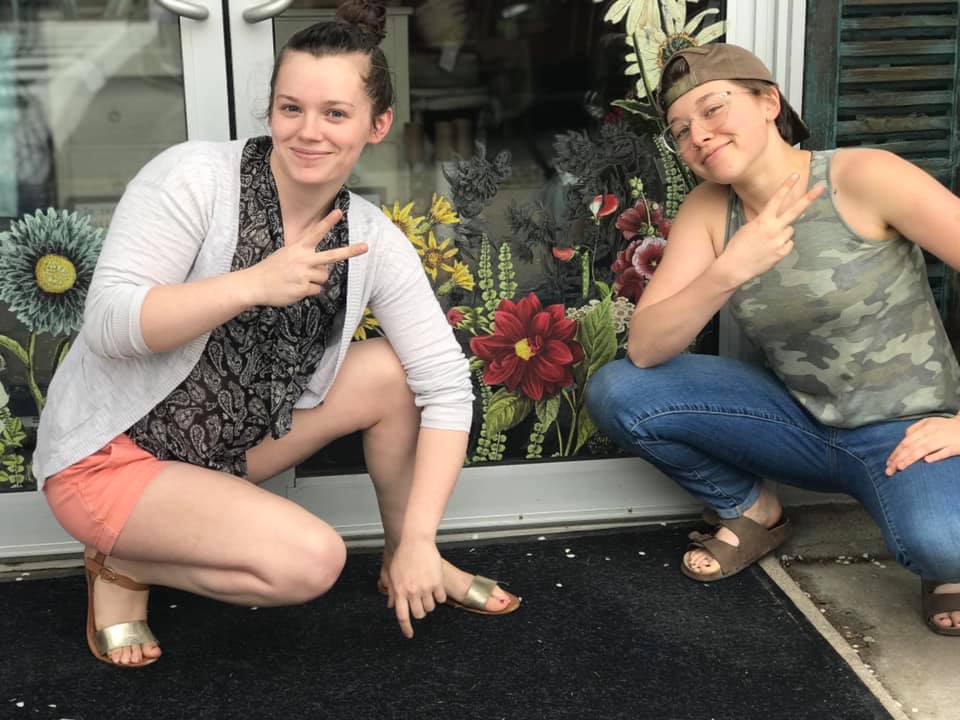 Normally, I would think most people would apply the transfer on the inside pane of glass, but it actually works out best for us on the outside because we bring a lot of different items …including metal artwork out from our store every morning and set them up on the sidewalk ……we then bring it all back in at night. (Yes…it's a hassle but it creates cute curb appeal~LOL) The side of the door that gets the most "WEAR & tear" would've been the interior side. We have an overhang in our entrance so the doors are fairly protected from direct weather. The adhesion of the transfers has held up awesome. In fact, I don't have any doubt that there would ever be an issue regarding that. The only caveat I will share is that the color of the transfers have faded.
Below is a photo that I took in late July of 2019. Can you see how the bright red and colors have faded?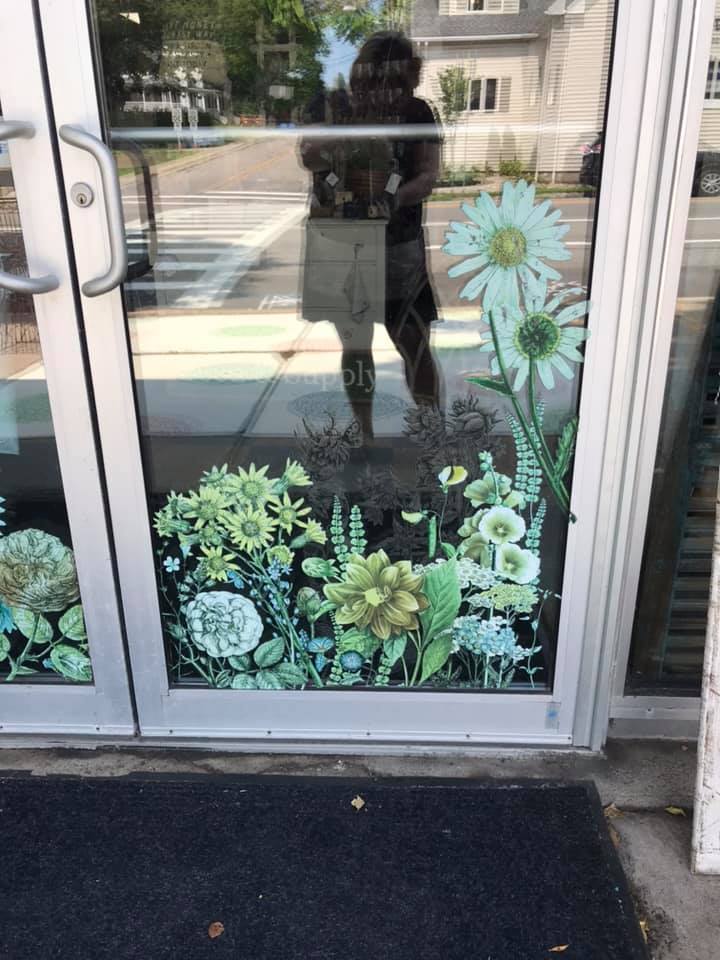 Again…keep in mind- the transfers are meant to be used on furniture or walls or mirrors or any home decor….inside your home.
Of course, many others push the envelope and put the transfers on the exterior of their entrance doors and we thought that was a great idea and followed suit. I just want to make sure that you're aware that if you try to do this also, you'll still be impressed but that the color….. if vibrant in the transfer, will ultimately fade because of the UV rays of the sun. I would not let this discourage you because the design In images are beautiful and still make a big impact. At the purple painted Lady, we sell all of the IOD products and transfers. And, we are always available to answer your questions. If you ever stop at the store or write us and don't get a response, please don't take it in a negative way. We are fairly busy and try to help as many people as possible. Please just send another message or text or call our store number. If you're in the shop, just wave and say I need help. We are always available!
BUY PRODUCT FROM …..THE PURPLE PAINTED LADY®:
Trish always shares, "first- if you have a local stockist- go visit them and build a relationship with them.  Go to them with your questions and project issues."  BUT- if you do not have a local stockist- we invite you to try our customer service!As for buying any of the products we mentioned earlier in this post- I hope that you select The Purple Painted Lady® to be your one stop resource!  We have two locations in western NY.  Check out our Information tab and come and meet us!  Otherwise- if you are not located near me- the following information may apply to you.   This information is directed to those who do NOT have a local stockist.  Because if you do – go and meet them, shop from them and build a relationship with them. The guidance, information and knowledge they share with you – will be invaluable.  Get inspired by their shop that they lovingly curated – just for you!   Enjoy that one on one experience!   But for those who are in a location where there is no one selling paint products- and you must buy on-line- consider us.  With that said, visit www.anniesloan.com to find a stockist near you. We are here to help you, our customers!  We want you to be successful!   SOME OF THE REASONS WE THINK THE PURPLE PAINTED LADY® CUSTOMER SERVICE IS THE BEST: *  We love our customers and it shows!*  Ordering online?  If you order before 3 pm EASTERN TIME any day Monday thru Friday – we will ship out your package that SAME day.   We ship orders out every since week day all over the US.  (THIS IS DIFFERENT than SAME DAY DELIVERY. We do not offer that)*  We offer low flat rate UPS shipping cost so if you are one town away or 10 states away- the shipping cost is the same.*  We have awesome follow up customer service, too!*  We sell Chalk Paint® for $34.95 SHOP ON LINE HERE  : )  And I will be here to help you as you progress through your future project!  And if I do say so myself- we offer the BEST customer service that you will ever experience!  Lastly- if I was helpful to you- ….please consider leaving a positive review on my Facebook business page sharing your positive experience or thoughts about The Purple Painted Lady®.  Here is a link to my Facebook page=> http://www.facebook.com/pages/The-Purple-Painted-Lady/291882785710    This really helps me!  (wink, wink!)
XOTrish
The Purple Painted Lady® ~ the serial no. is 86/641,416 with the US Trademark Office