Have you met Ellen & Adrienne?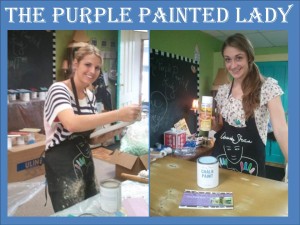 You probably have received a hand written note from them if you have ordered product through The Purple Painted Lady or have met them if you stopped in my Macedon location.
Well, these 2 are my awesome and cute summer crew.
I will be away from my shop this week. I am off to get inspired and recharged! Thankfully, I can leave my shop knowing all will be taken care of and that Ellen and Adrienne will take wonderful care of you. Both are very knowledgeable, and will be shipping your paint orders the same day as they are placed.
Adrienne has helped me on kitchen cabinet painting jobs, and knows what it is like to paint and wax 40 cabinet doors in one week. Ellen, a sign language college graduate is extremely sweet and also- very helpful and knowledgeable.
Feel free to continue to email us at thepurplepaintedlady@gmail.com or call us at 585.750.6056 when needed- because they have my back and I trust them to provide the best level of customer service to you. (and if you know me, being the "A" type personality that I am- that says a lot about the quality of these young women!)
Have a great week ladies being in charge of The Purple Painted Lady!