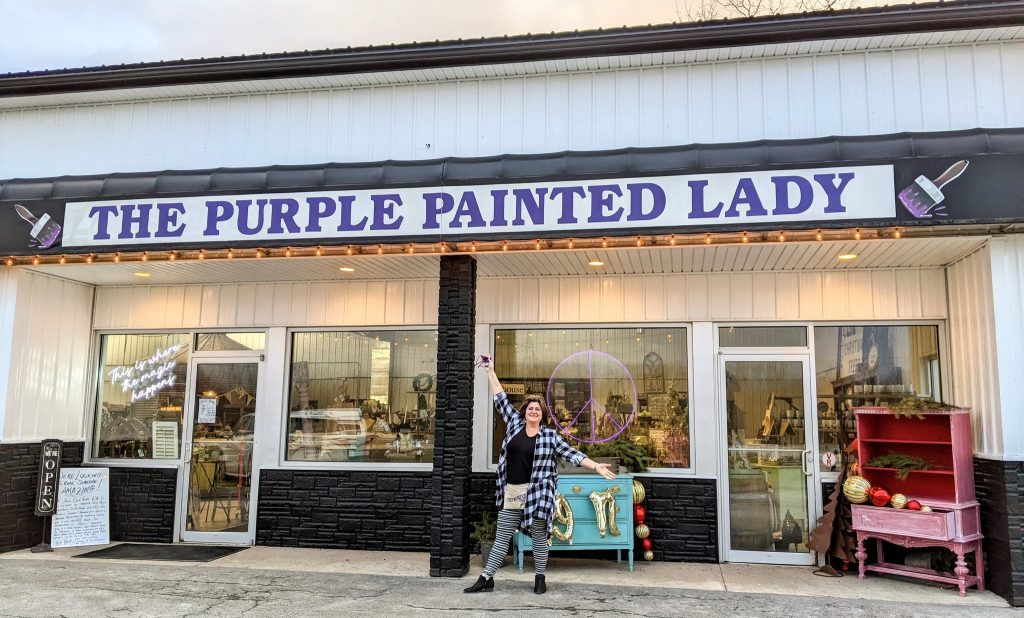 Click here for the most up to date calendar of store hours.
Hey New York!!
Interested in coming to the New York's very first
Chalk Paint® Stockist Store?
If you are in upstate ….Rochester, Syracuse, Buffalo or Western NY- you are not far!!!!!!
Our STORE located at
2620 State Route 31
Palmyra, New York 14522
Monday thru Saturday – we open at 10am but are often here by 8am .
Typically we close between 5pm…sometimes were here later….
so text us at 585.750.6056
Sundays on occasion – again, text us at 585.750.6056
My on-line store is always OPEN and we offer LOW FLAT RATE SHIPPING inside the USA!

PS We ship orders EVERY day – except for Sunday! (Monday, Tuesday, Wednesday, Thursday and Friday)
If my hours listed below don't match up to your availability – PLEASE feel free to email or call me if you would like to set up an appointment to visit. I live around the corner and AM HAPPY to accommodate you!!!!!
Ideally – the more advance notice – the better I can accommodate you. I have done this many times- so do not feel uncomfortable…you will not be the first person to ask this of me. So, come on down and meet me in person!
**If wanting to meet with Trish- phone ahead since she bounces back & forth between the shop locations)
1. PALMYRA STORE HOURS (our MAIN store): It says we are open at 10am but we are always here by 8:30am (Trish is often here by 7am) so if you want to stop in earlier, just text us at 585.750.6056 – we can accommodate you.
Mon: 10:00 am – 5:00 pm
Tue: 10:00 am – 5:00 pm
Wed: 10:00 am – 5:00 pm
Thu: 10:00 am – 5:00 pm
Fri: 10:00 pm – 5:00 pm
Sat: 10:00 am – 5:00 pm
DIRECTIONS TO THE PURPLE PAINTED LADY™ located IN MACEDON
TO MACEDON FROM ROCHESTER (COMING FROM THE WEST):
Take 490 EAST to EXIT 26, Pittsford-Palmyra
Turn SLIGHT RIGHT onto NY-31 – drive EAST for about 11 miles
My store will be on your right before you hit the bridge that goes over Black Creek into Palmyra.
TO PALMYRA FROM SYRACUSE (COMING FROM THE EAST):
Take Interstate 90 heading WEST toward Buffalo (Portions toll).
Take EXIT 43, Shortsville/Manchester Exit
Turn LEFT onto NY-21 – drive NORTH for about 6.2 miles
Make a LEFT onto E Main St/RT-31. (this intersection has a church on every corner!)
Drive 1 miles and I am on the LEFT.
We are just when you leave the village and cross the canal – literally, look for the big white and black building on your left. YOU HAVE ARRIVED!
BUY PRODUCT FROM …..THE PURPLE PAINTED LADY™:
First- if you have a local stockist- go visit them and build a relationship with them. Go to them with your questions and project issues. BUT- if you do not have a local stockist- we invite you to try our customer service!
As for buying any of the products we mentioned earlier in this post- I hope that you select The Purple Painted Lady™ to be your one stop resource! We have four locations in western NY. Check out our Information tab and come and meet us! Otherwise- if you are not located near me- the following information may apply to you. This information is directed to those who do NOT have a local stockist. Because if you do – go and meet them, shop from them and build a relationship with them. The guidance, information and knowledge they share with you – will be invaluable. But, if you are in a location where there is no one selling paint products- and you must buy on-line- consider us. With that said, visit www.anniesloan.com to find a stockist near you.
We are here to help you, our customers! We want you to be successful! And, just so you know, when you place an order with The Purple Painted Lady:
SOME OF THE REASONS WE THINK OUR CUSTOMER SERVICE IS THE BEST:
* If you order product on-lie from us before 3 pm EASTERN TIME any day Monday thru Friday – we will ship out your package that SAME day.
* We ship orders out every since week day all over the US.
* We offer the lowest flat rate UPS shipping cost so if you are one town away or 10 states away- the shipping cost is the same.
* We have awesome follow up customer service, too!
And- it is my paint sales that keep me in business and allow me to be here to help you. (my shameless but honest plug) Here is a link to our on-line shop=>
http://shop.thepurplepaintedlady.com/
: ) And I will be here to help you as you progress through your future project! And if I do say so myself- we offer the BEST customer service that you will ever experience! Lastly- if I was helpful to you- ….please consider leaving a positive review on my Facebook business page sharing your positive experience or thoughts about The Purple Painted Lady. Here is a link to my Facebook page=>
http://www.facebook.com/pages/The-Purple-Painted-Lady/291882785710
This really helps me! (wink, wink!)
XO
Trish
The Purple Painted Lady™ ~ the serial no. is 86/641,416 with the US Trademark Office