Not in love with your furniture any more?
Instead of tossing it and buying new right away- consider painting it using Chalk Paint® decorative paint by Annie Sloan, like my customer's Karen and Roxanne have (and many others!)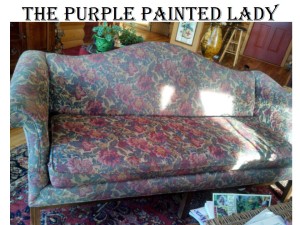 It does NOT matter if the furniture is fabric…velvet, brocade, leather or vinyl. Chalk Paint® will transform it…resurrect it…..and make you re-love it!
Chalk Paint® is absolutely amazing in all it can do and when it comes to painting furniture- which when it is fabric furniture, it is similar to dying it. The Purple Painted Lady has done this herself and has had so many customers do this also. In fact, one customer of ours, Teresa at Lou's Back Door Consignment in Fairport, NY had an old style couch. You know the kind with the ruffle pleat that goes all the way around the whole base. She painted it- and cannot stop raving about it!!! (Check out here Facebook page by clicking on the business name above and consider giving it a LIKE)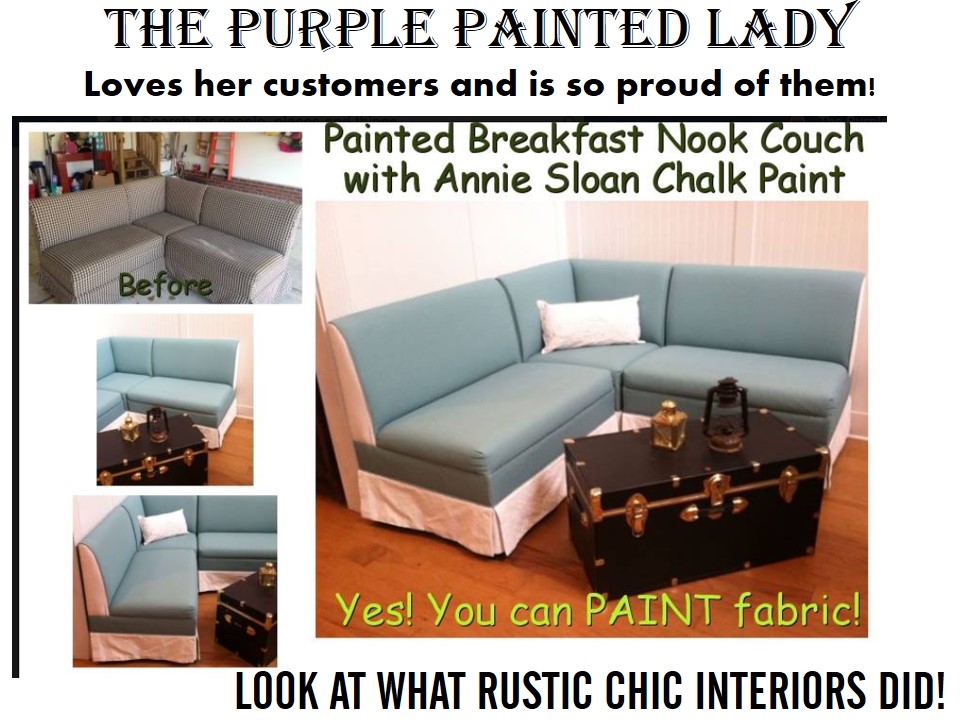 Keep in mind that if the fabric on your furniture has a heavy textured pattern, Chalk Paint® will change the color of the fabric, but it won't hide the pattern. And when painting velvet that has a heavy knap, make sure to lay the knap in the direction you want it to be once dry with your paint brush in your finishing stroke. And lastly, if interested in purchasing product on-line- check out our on-line store HERE after reading this post. We offer awesome customer service and the lowest flat rate shipping and…(drum roll please!) …… we ship the same day you place your order! (small print disclaimer – we ship same day as long as your order is placed before our UPS guy has come) But if you visit our FACEBOOK PAGE and look at our customer reviews- I think you will get the hint that we are super fast in turning your order around and we really care about our customers!
Now..after stirring up all of this excitement I need to share…..that Chalk Paint® is amazing- but it is not a miracle…so always do a test in an inconspicuous location if you are hesitant. What do I mean by this? I certainly do not want to burst the bubble, but I often share with my customers that some people "use" their furniture and then,..there are some who "abuse" their furniture. If you have four 120 pound Great Danes who like to play and jump on the furniture coming straight in from outside with muddy paws…this painting technique will work, but I would not guarantee it for years of use. Ok? For the majority of us who sit on our furniture and watch TV, take naps, read stories to our kids and yes, have pets- …you will love this as an alternative option.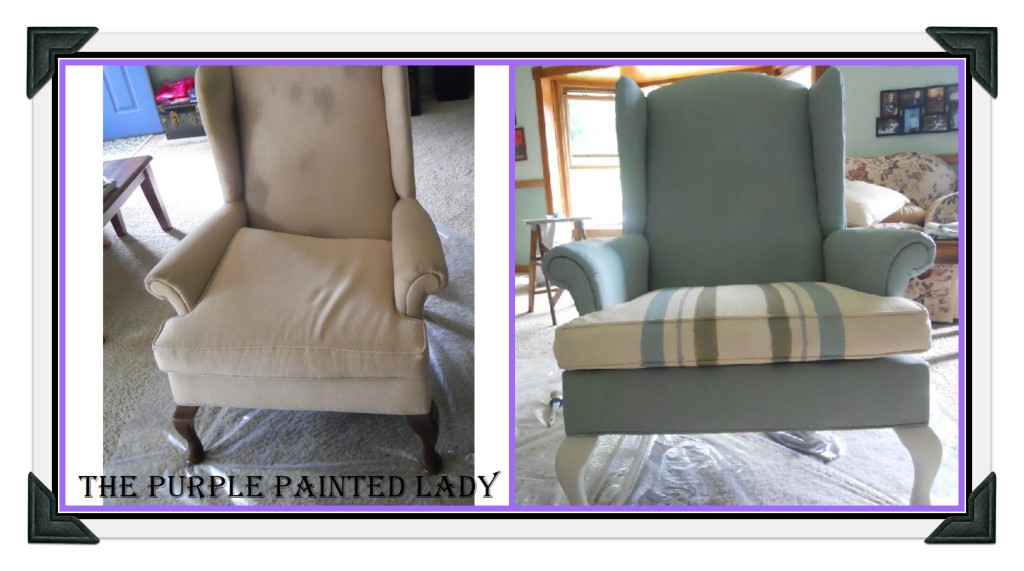 To paint your furniture- follow these steps:
1. If painting a chair or couch, you will need:
* Drop cloth
* Chalk Paint® decorative paint in the color of your choice! Depending on your project- you may need more than a sample pot- but you will NOT use a whole quart.
* A natural bristle paint brush …either one of these will work PURDY or Annie's SMALL Brush
* Annie's Clear Wax
2. Make sure to have a plastic drop cloth beneath your furniture.
3. It is important that immediately prior to painting the fabric- that you get a spritz bottle (like an old Windex bottle.) Fill it with water and lightly mist your fabric. You want the fabric to be moisten and definitely damp- but not dripping wet.
4. Thin your Chalk Paint® with water. So, whatever color Chalk Paint® you are using…pour some in a separate container and thin it slightly with water. I would consider adding about 20% water to whatever amount you have. If you do not thin your Chalk Paint®- due to it being a thicker paint- it may crackle a little. This does NOT jeopardize the adhesion ability of the paint and actually gives the look of leather or crocodile skin. Many of my customers love a chair that I did in my shop over two years ago like this!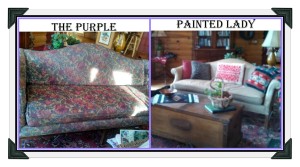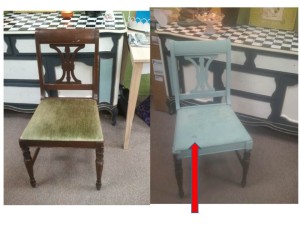 5. Begin painting your fabric. Apply a uniform thin coat and let it fully dry. You may want to paint a second coat depending on how it looks. If you need to mix more paint with water- you do not need to thin it quite as much.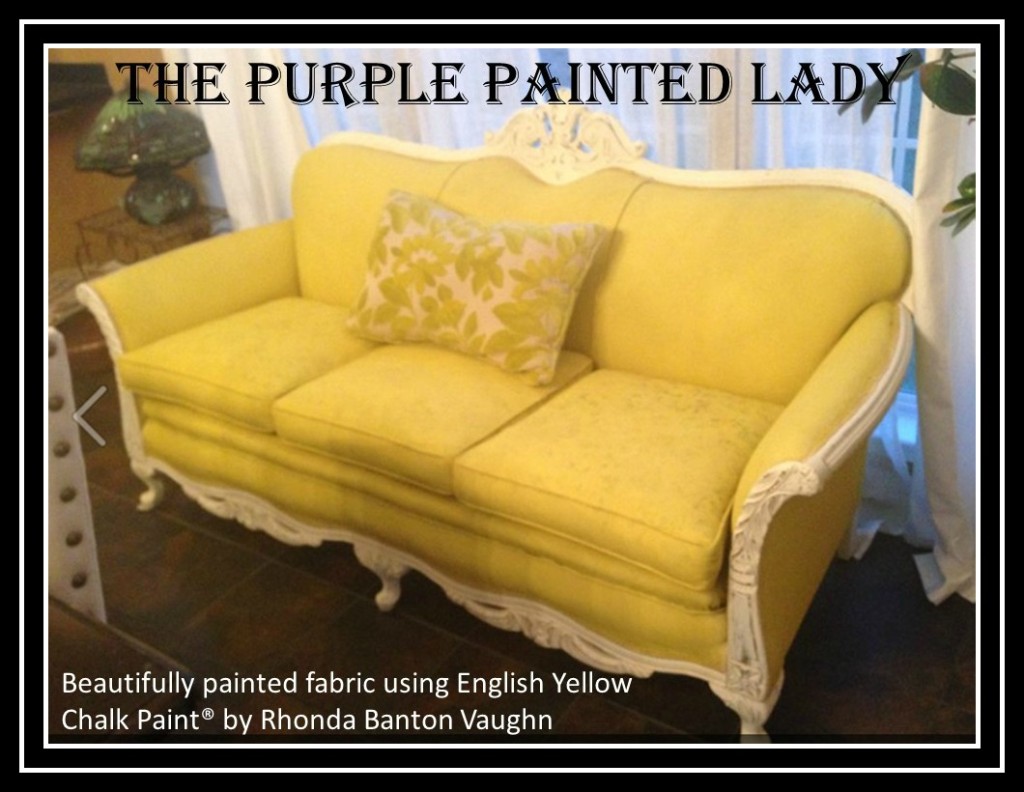 6. Once everything is totally dry- and you are happy with the coverage- apply a thin coat of clear wax using a rag. This helps in keeping the fabric soft and subtle and protects it. Some people do not add the wax- but I think it is nice and again, it seals the fabric like a Scotch Guard protector. Again- I strongly recommend waxing, but you may want to watch THIS funny video of a gentleman named Perry doing the "wiggle test" on a chair painted using Chalk Paint® that has not been waxed. If you watch the video, leave a note that The Purple Painted Lady sent you.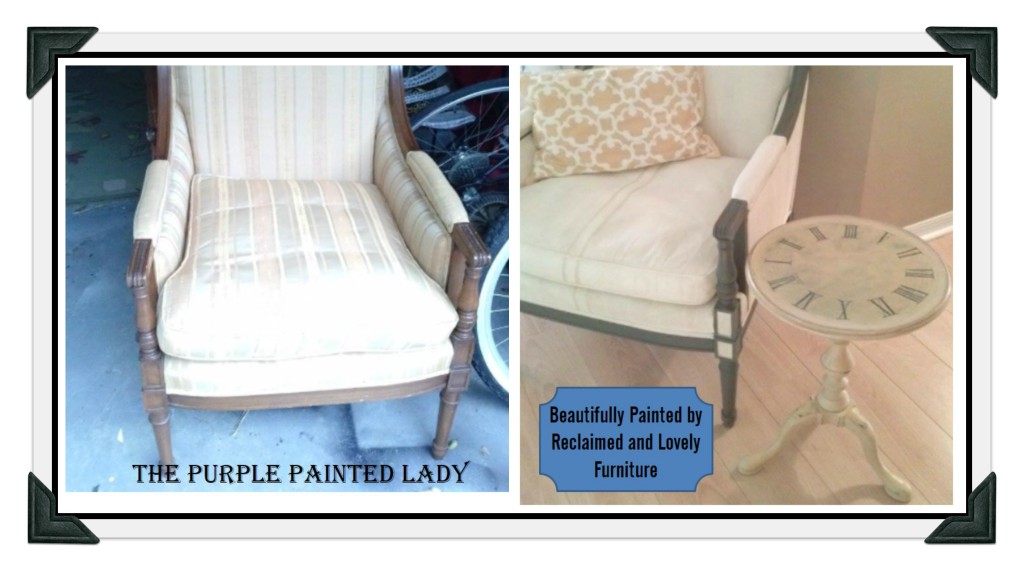 Sill unsure of about painting your furniture, check out Annie Sloan herself painting a chair on national television HERE.
DURABILITY:
I have customers who have painted their furniture who also have dogs that get on their furniture and teenagers! They have been extremely satisfied in the longevity and how the paint can withstand the use. With that said, I think it is important to say- it is important that your pets nails be clipped and not be daggers. I also would not guarantee the outcome if you have little ones who use your couch as a trampoline. I always share that Chalk Paint® is incredible, but it is not a miracle. : )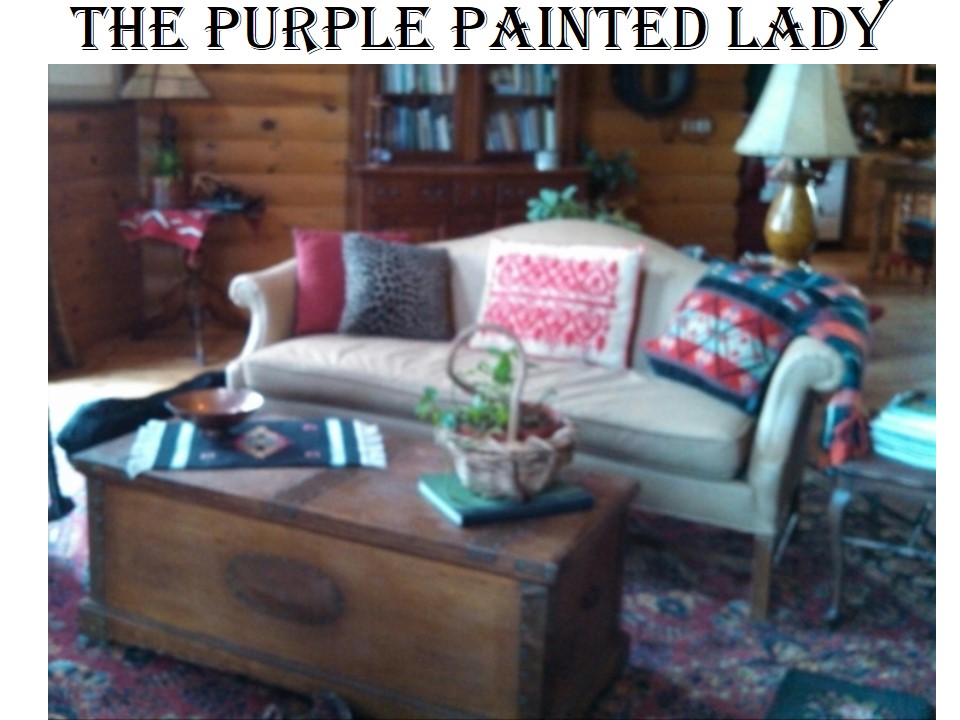 If you have painted your furniture- please feel free to share your photos on my Facebook page! OR- email them to me at takuntz AT rochester.rr.com. (AT – @)
And don't forget The Purple Painted Lady sells Chalk Paint® here on line
: ) And if I do say so myself- we offer the BEST customer service that you will ever experience!
Thanks so much!
Trish ~
Tricia Migliore Kuntz ~The Purple Painted Lady ~
Design/Consulting, Kitchen Cabinet Refurbishing, Custom Painted Furniture, Chalk Paint® & MMS Milk Paint Retailer & herRochester Blogger
PHONE: 585-750-6056
Come visit us:
At our MAIN STORE at 77 West Main Street in Macedon, NY 14502 OR
3200 West Ridge Road in Rochester, NY 14626 (The Shops On West Ridge) OR
Our Syracuse, NY location at 2017 Milton Avenue in Solvay, NY 13209