The Purple Painted Lady 5th Annual Barn Sale Junk Jubilee is a "one day only festival" on September 26, 2015 from 10 – 5pm at our home on 20 acres.
Interested in spreading the word about it?  Use the hashtag:
#purplepaintedladybarnsale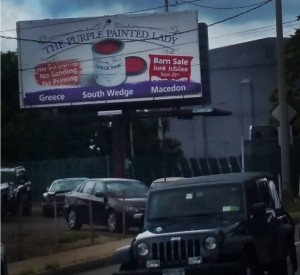 LOCATION of BARN SALE:
845 Yellow Mills Road, Palmyra NY 14522
DIRECTIONS TO THE SHOW: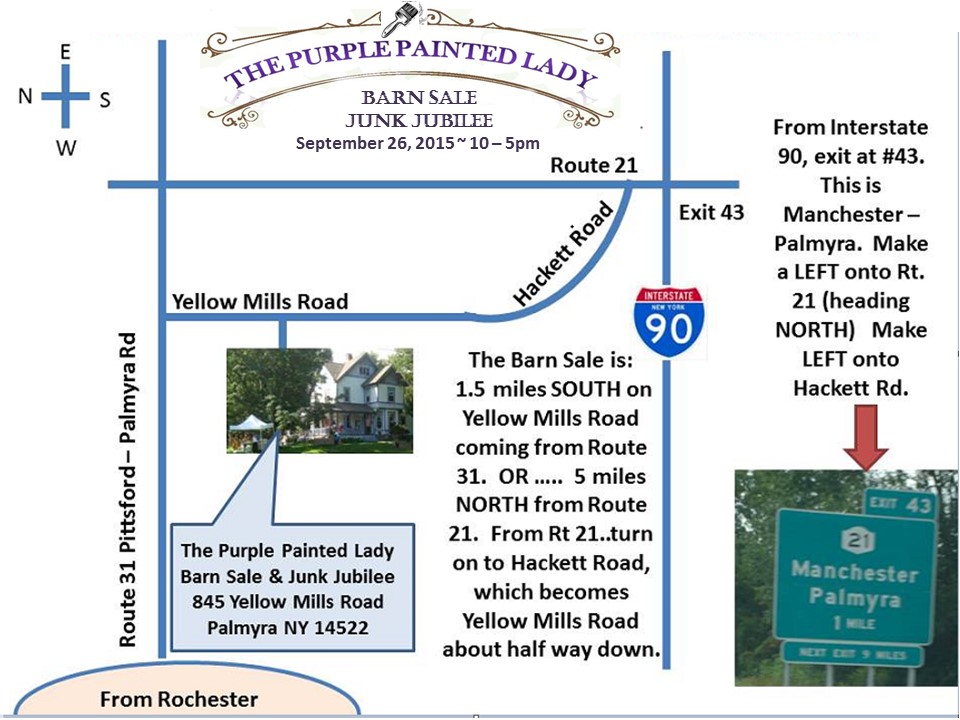 FROM I90 – the THRUWAY:
Take Exit #43 (Manchester/Shortsville Exit)
Make a LEFT and head NORTH on RT 21.
Then make your FIRST LEFT onto Hacket Road. (this becomes Yellow Mills)
Drive 5 miles and we are on your LEFT!
FROM MONROE COUNTY – on Route 31 (Monroe Ave…..Pittsford/Palmyra Road):
You will be driving EAST on Rt 31.
Drive THRU the Village of Macedon.  GO PASS OUR STORE.  
We are 2 MILES AFTER the village!
LOOK FOR THIS SIGN that is across from the Yellow Mills Diner! This will let you know to turn SOUTH on Yellow Mills Road…we are down about 1.5 miles.
Look for the TWO Fire Trucks marking the show! One will have a 60 foot boom with a HUGE American Flag on it marking where we are!!!!
DETAILS:
Over 100 artisans (YES!  We hit 100!!) have donated items for the raffle and The Purple Painted Lady will be giving away Chalk Paint® at the top of every hour! (PRINT YOUR FREE RAFFLE TICKET BELOW!
We have an awesome band called Vintage, food trucks, and all of these amazing artisans……..
LIST OF VENDORS: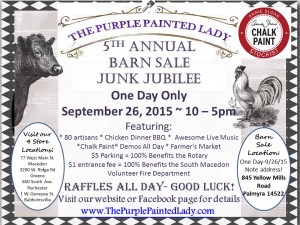 Artful Creations
Annie McGillicuddi
Bangin" Headboards
Blissful Pickins
Big Rig's Bangin Barbeque
Blush Floral & Wedding Design
BoHo Chyck
Books ETC
Born Again Chairs
Branching Out Keepsakes
Busy B Boutique
Chicory Farm Soap
Cindy Kuhn Studios
Country Characters
Eartherella
Crimson Ramble
Critters 3D
Cummings Maple
Distressed Stiletto
Dominique Designs
Dumpster Bunny Designs
Everbloom Beauties
FLR Tack
From Marlana's Heart To Yours
Garden Treasures
Grape Connection
Griffen Bakery
CREATIONS by Jane
Henna On Earth
Hungry Hound Biscuits
Indigo Earth & Wildheart Art Studio
Indigo Moon Fibers
Island Wraps
JoAnn Pollock Painted Furniture
JNL Remodeling
Kathleen Danielle
Kim Ferrari Jewelry
KJ Glass and Jewelry
KL Mittens
Kraftin It Forward
Kreationality
Lake Effect Forge
Le Petit Poutine – Food Truck
Long Acre Farm / JD Wine Cellar
Lorraines Concrete Leaves
Lost & Found (Treasures)
LuvDesgn99
Maarvelous Creations
ManDa I Love to Paint
Made For You Stained Glass
Mary Gillette Artist
Michael Keene AUTHOR
The Meatball Truck – Food Truck
My Heart By A Thread
MWMurals
Rachel's Garden
mcldesigns
Ole Kate's Crafts
Out Of The Box
Palmyra Macedon ROTARY
Pop's House of Country Collectibles
Premier Designs jewelry
Primitive Hollow
Creations By Alicia
qq creations
RidgeDesigns
Rougetique
Roses IN the Hedgerow
Sergent Woodworking
Sew Surprised!
Simply Sarah Creations
Silvery Moon Designs
South Macedon Volunteer Fire Department
Spirit Wind H'artfelts
Sunshine On Water
Sweet Pea Felts
Sweet Whimsy Designs
sweetiepunkpendants
Thainna's Gift Shop
The Lady and the Snowman
The Inspired Life Project
The Little RED Wagon
The IT Girls
The Purple Painted Lady with LuLaRoe
The Purple Painted Lady with Chalk Paint® and Painted Furniture
The White Geranium
Thyme to Fly Designs
Things to Bling
tmh Associates
Venture Crew 313
Vintage Soul
Vintage Soup
VINTAGE – our amazing band!
Von Brake Spices
Whimsical Designs By Ann
Weathertop Farm & Hopyard
ZiLLA's QuEeN
Zimmer's Bakes
NO SMOKING:
This is a NO SMOKING event.  I apologize if that is difficult for you, but we do hist this at my home.
ADDITIONAL DETAILS:
THIS IS A BENEFIT:
There is a $1 entrance that goes 100% to our charity of choice this year- which is the South Macedon Volunteer Fire Department
There is a $5 per car parking fee.  The cost of parking goes 100% to the Palmyra Macedon  Rotary.
Coming in from out of town?
Check out staying at Springdale Farm Bed and Breakfast, Palmyra Inn or Bed and Breakfast at Oliver Phelps.
One FREE Raffle ticket per customer!  This must be given at time of entrance!