The Purple Painted Lady® is always here to help her customers! (please LIKE my Facebook page by clicking on my business name to the left)
If you are considering using Chalk Paint® decorative paint by Annie Sloan on your floor, no matter if it is concrete, linoleum, slate or wood – you will want to protect it using Annie's Lacquer.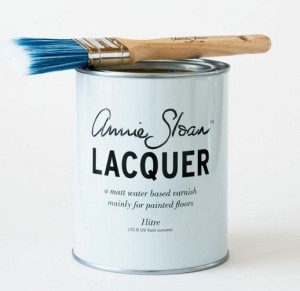 Using Lacquer however, is NOT like using or applying paint. There are some special steps and directions you should be aware of BEFORE opening your quart and using!
First and foremost- one thing I want to drill home is that if you OVER brush your Lacquer when applying – it will look bad! Often you will get a white haze – professionals call this "flashing." Moisture and humidity can cause hazing, blushing and Whiting. So, use the product at room temperature and if you are going through a serious wet season with lots of rain…consider waiting till the humidity levels are more reasonable.
If you do not add water to the first coat – like we direct- it can look bad!
So, please read all of our instructions! (did I stress that enough?!
Annie Sloan Lacquer is a clear matte water based varnish. It is a strong penetrating Lacquer meant to be used over wood, linoleum or concrete floors painted with Chalk Paint® for interior use. (in other words- Note- this is not recommended for outdoor use.)
Also- since it is strong penetrating Lacquer…. if painting over an old wood floor, you may want to consider doing a test spot painting and sealing the floor in an inconspicuous area to confirm that the "strong penetrating Lacquer" does not pull up wood tannins or yellow hues up through your paint – especially is using a "white" Chalk Paint®. If it does- then you may want to consider sealing your floor first with Zinsser bullseye Shellac.
Whether your paint is applied as a wash or applied solidly with a foam roller, this robust lacquer will seal it perfectly when directions are followed.
APPLICATION:
Often customers will state after the first coat they see some slight lines in the lacquer if using a roller, but after the second coat is applied- it looks wonderful. (just sharing this so you do not panic) No need to sand in between either! Again, the lacquer will slightly darken the paint beneath it.
The varnish is quick drying, non-toxic, low odor, and non-yellowing. The lacquer will give you a very durable scuff resistant finish. Note though, it is not recommended in areas where there will be a lot of water. So, if using in a bathroom, plan on toweling up wet floors so there is no standing water for long lengths of time.
Annie's lacquer is ring resistant- meaning it can tolerate hot cups. It is also resistant to alcohol spills, which if using wax as a top coat- is not.
COVERAGE:
The liter will cover approximately 107 square feet (depending on how porous the surface and how thickly the lacquer is applied.) Two coats are recommended for areas of high traffic (never substitute one thick coat if in a hurry- it will not dry uniformly and you will just have issues- this rule applies to paint and for that matter – ANY product on the market!) I applied it on the top of a heavily used dresser and it was dry to the touch within minutes!
HOW TO USE:
Before use, turn the container upside down for at least 1 to 2 hours since all the "good materials" that may have sunk to the bottom can get well incorporated again to the top and well dispersed.
STIR IT OFTEN:
Also, this product should be stirred BEFORE AND as well as during using it.
DO NOT SHAKE the container of Lacquer since this will cause bubbles to form in the varnish which you do not want to happen!
It is best to gently mix the lacquer by rolling the containers around in your hands or pouring the contents into a bucket to stir. If Lacquer is not thoroughly stirred, the finish will be shinier due to the fact that the flattening agents weren't completely mixed in. Note that the thick stuff at the bottom of the quart is the flattening agent, and that needs to be totally incorporated …So, be patient and mix it well….which if yours has settled, could take a good ten minutes.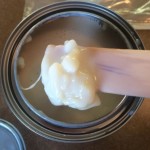 ADD WATER TO FIRST COAT ONLY:
It is advised to add about 10% additional water to your FIRST coat only. Second coat should be FULL strength- NOT watered down.
We recommend full strength for the second coat because most people do not batch their product, so if one container is mixed with 10% water and another is mixed with, let's say, 15% water there will be a difference in sheen. The more water that is added to Lacquer the lower the sheen level becomes because the flattening agents are dispersed over a greater volume of product. A full strength coat helps to guarantee that the amount of flattening agents will be consistent throughout the project, therefore the sheen level should also be the same.
IF BATCHING ALL OF YOUR LACQUER INTO ONE LARGER BUCKET: However, should a customer decide to batch the product first and then thin with water, that would be okay but they should be aware that it will lower the sheen.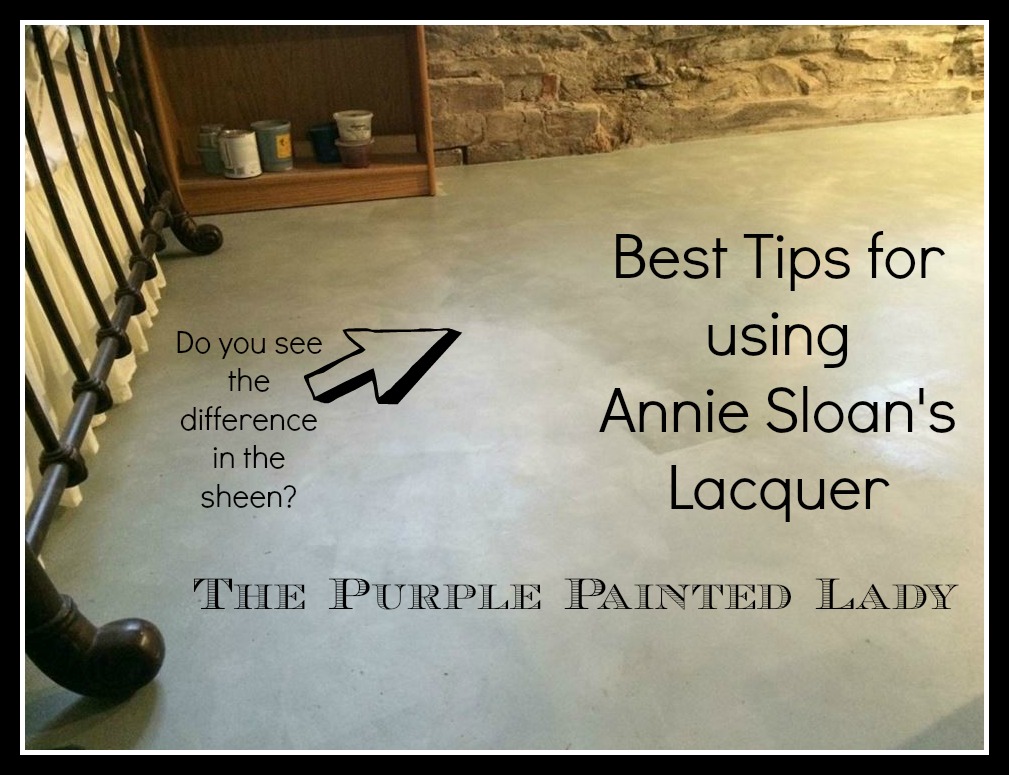 APPLICATION:
Apply the lacquer with a high quality sponge roller using a sponge brush to cut in at the edges. Or- if brushing it on…Annie's 2 inch Paint Brush is great! Again- do NOT over play with the Lacquer.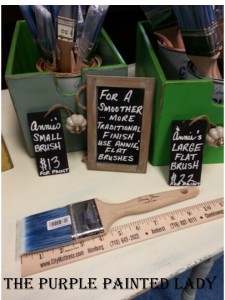 Apply two THIN coats for areas of high traffic such as a hallway, stairs, or sitting room but only one for a bedroom for instance. Again- it is best to apply two thin coats rather than one thicker one. You never get a head taking shortcuts!
Something to understand when using Lacquer is that it does not want to be back stroked. Confident strokes in one direction for an even sheen is extremely important because varnishes do not like to be back brushed. This can cause flashing…meaning an uneven finish. Thin uniform applications are extremely important over dark colored paints!
DO NOT STOP HALF WAY THROUGH A FLOOR: Always work off your wet edge when applying Lacquer. If using Lacquer on a floor- I feel it is important to paint the whole floor at one time and then…when you go to apply the Lacquer – you need to seal the whole floor with Lacquer all at once. VERSUS, dividing it in half and sliding furniture to one side and doing the floor in sections on different days because you will potentially see that break once all is done. Sort of like painting a wall red. If you do not do it all at once….you will see the "seam."
MY LACQUER HAS A PINK, BLUE OR YELLOW TINT TO IT: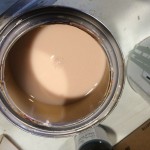 All water-based clear coat products will be look milky or translucent while still wet. I've seen blue, pink (see photo to right), and yellow undertones in the wet mix across different product lines. This shouldn't really matter, though, because if applied properly the milky appearance and any undertones should disappear once dried. I find that the Lacquer will often have a milky white-blue hue to it before using.
DRYING TIME:
It dries quickly – but allow your floor or furniture piece to cure overnight before using. And even then- do not drag furniture across a freshly painted or sealed floor. Recruit some strong help and carry or lift pieces into place. An average coating needs to dry 1- 2 hours before another coat can be applied. Leave it overnight to "cure" before walking on it.
LACQUER CAN CAUSE PAINT TO DARKEN SLIGHTLY:
The Lacquer will slightly darken the color beneath it with a matte finish that has a slight sheen to give it strength.
CLEAN UP OF ROLLERS:
Wash brushes/sponge rollers thoroughly in water.
HOW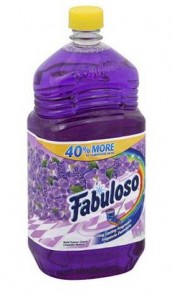 TO CLEAN A FLOOR FINISHED WITH LACQUER:
We recommend a product called Fabuloso. You mix it water and you do not let it pool on the Lacquer.

Note that Annie's lacquer is NEVER applied over waxes! However, you can apply Annie Sloan's soft waxes over the lacquer. Call Trish with ?s 585-750-6056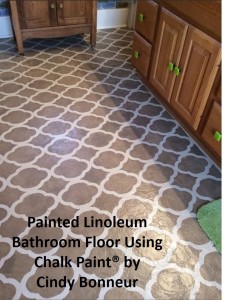 WANT TO WIN FREE STUFF?:
The Purple Painted Lady LOVES seeing "before & after" photos from her customers! And in fact- we always send a thank you gift if we use your images and story. So, please feel free to share your photos and a little write up by emailing them to Trish at takuntz@rochester.rr.com! Remember to include a few details of your project, any tips/tricks that you like to do that help you, or even something you learned through the process that another person could benefit from!
BUY PRODUCT FROM …..THE PURPLE PAINTED LADY™:
First- if you have a local stockist- go visit them and build a relationship with them. Go to them with your questions and project issues. BUT- if you do not have a local stockist- we invite you to try our customer service!
As for buying any of the products we mentioned earlier in this post- I hope that you select The Purple Painted Lady® to be your one stop resource! We have four locations in western NY. Check out our Information tab and come and meet us! Otherwise- if you are not located near me- the following information may apply to you. This information is directed to those who do NOT have a local stockist. Because if you do – go and meet them, shop from them and build a relationship with them. The guidance, information and knowledge they share with you – will be invaluable. But, if you are in a location where there is no one selling paint products- and you must buy on-line- consider us. With that said, visit www.anniesloan.com to find a stockist near you.
We are here to help you, our customers! We want you to be successful! And, just so you know, when you place an order with The Purple Painted Lady:
SOME OF THE REASONS WE THINK OUR CUSTOMER SERVICE IS THE BEST:
* We sell Chalk Paint® for $34.95
* If you order before 3 pm EASTERN TIME any day Monday thru Friday – we will ship out your package that SAME day.
* We ship orders out every since week day all over the US.
* We offer the lowest flat rate UPS shipping cost so if you are one town away or 10 states away- the shipping cost is the same.
* We have awesome follow up customer service, too!
And- it is my paint sales that keep me in business and allow me to be here to help you. (my shameless but honest plug) Here is a link to our on-line shop=>
http://shop.thepurplepaintedlady.com/
: ) And I will be here to help you as you progress through your future project! And if I do say so myself- we offer the BEST customer service that you will ever experience!Lastly- if I was helpful to you- ….please consider leaving a positive review on my Facebook business page sharing your positive experience or thoughts about The Purple Painted Lady. Here is a link to my Facebook page=>
http://www.facebook.com/pages/The-Purple-Painted-Lady/291882785710
This really helps me! (wink, wink!)
XO
Trish
The Purple Painted Lady®
PLEASE VISIT OUR FOUR LOCATIONS!
our MAIN STORE at 77 West Main Street in Macedon, NY 14502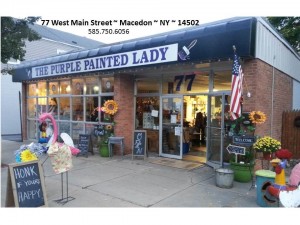 OR
Village Gate location, 274 Goodman Street North Rochester NY 14607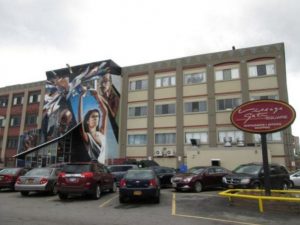 OR
3200 West Ridge Road in Rochester, NY 14626 (The Shops On West Ridge)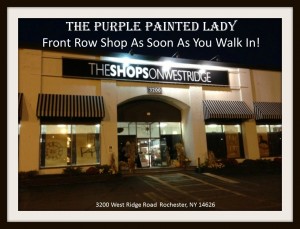 OR
Our Syracuse, NY location at 1 West Genesee Street in Baldwinsville, NY 13027 inside The Savvy Chick