Let's talk about Amsterdam Green Chalk Paint® by Annie Sloan. I love this color. I feel it is very current and has a great vibe to it! Lots of energy but without feeling exhausted if looking at it for a long period of time. To me, it seems like a neutral because it grounds a space.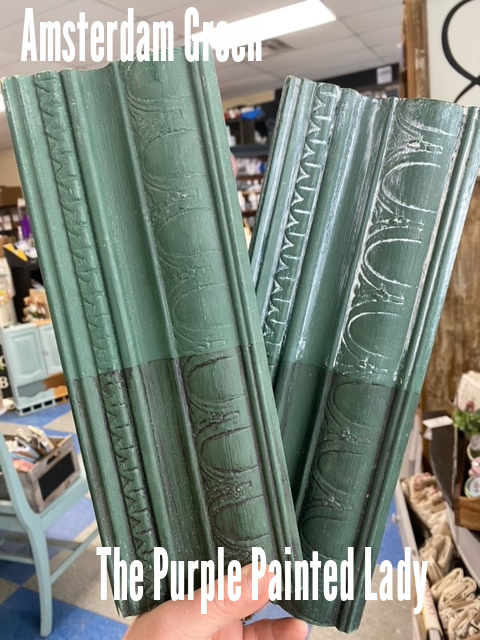 According to Annie Sloan, Amsterdam Green is a strong, deep green that takes inspiration from painted shutters and doors in Amsterdam and throughout Europe. It is a stylish minimal colour that has made a return to the interior colour palette. It works particularly well with whites and creams and botanical imagery and plants, as well as looking brilliant with earthy yellows and reds – try teaming it with Primer Red, Arles and Old Ochre. It's also makes a great backdrop to cool blues, such as Provence, Giverny and the purple tones of Emile.
On a side note, I personally love Amsterdam Green with Annie's Black Wax. I feel this color brings energy and a sense of freshness to a space. It makes me get excited about spring and the lush greens and rebirth of plants around me. Consider trying a pop of color in your home. If you are shy – use it on a piece in a foyer or a powder room or just an accent chair. You will still be playing it safe and it won't push you too hard out of your comfort zone if you are conservative and lean more toward neutrals in your home. I love this paired with Antoinette.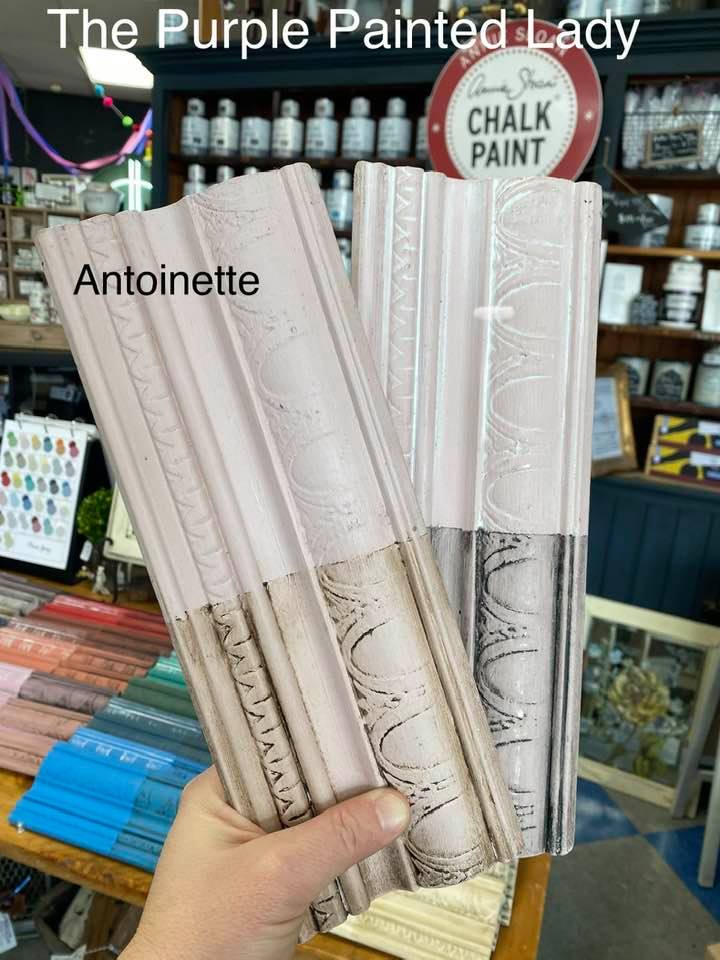 Below is a photo showing pieces of crown molding painted with Amsterdam Green Chalk Paint® by Annie Sloan. Both boards have a coat of Annie's Clear Wax completely over them. Then, beneath the Clear Wax = it showcases the Dark Wax. The board behind shows the White Wax on top and Black Wax on the base.
The image below shows what Amsterdam Green looks like when mixed with other Chalk Paint® colors. We took Amsterdam Green and mixed equal parts of it to equal parts of each other color. We then painted a swatch and placed it in the spot of the name of the paint it was mixed with.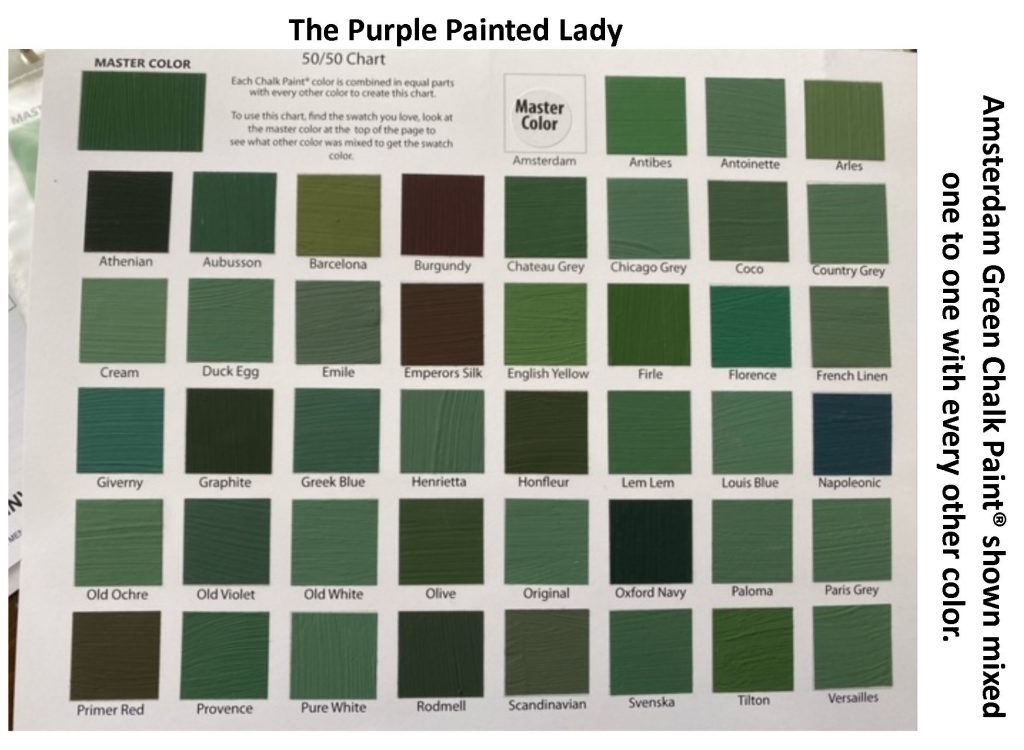 The bathroom vanity below was completed by Danielle who has a great business called Doodle and Jack.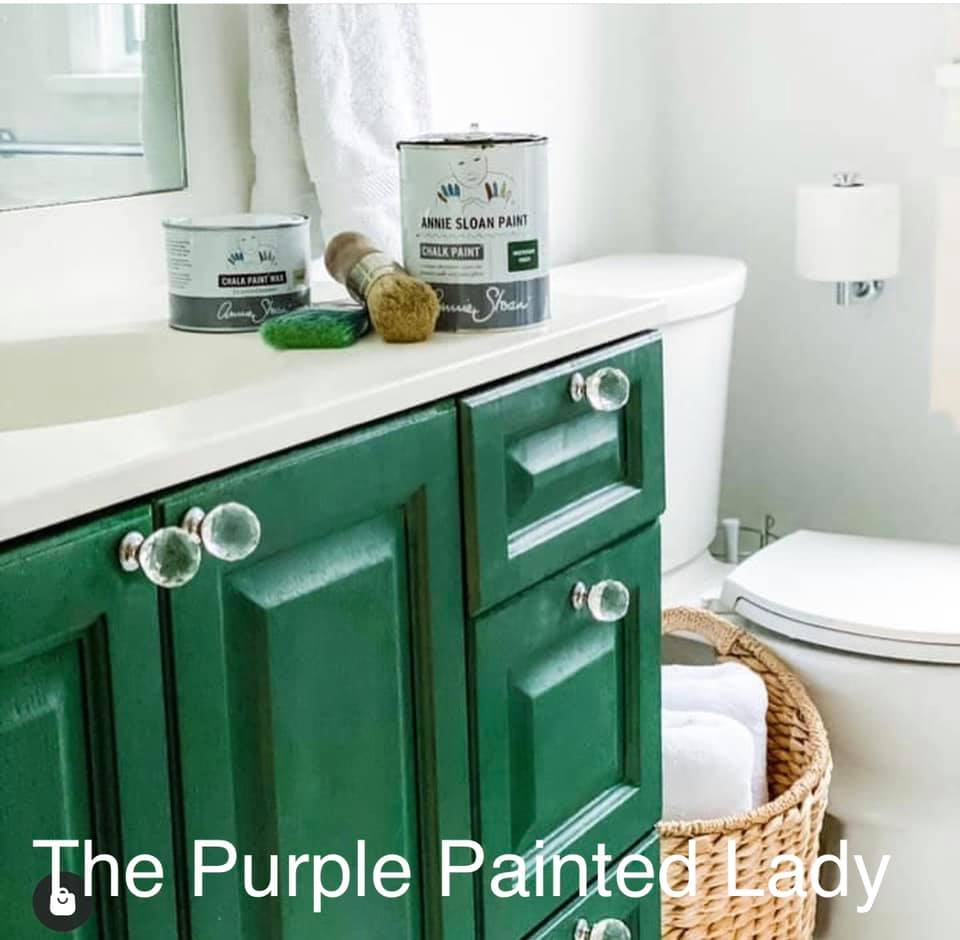 If you are interested in purchasing Chalk Paint® by Annie Sloan or would like some help with a project- reach out to us! And….consider purchasing from us too, although we always encourage you to visit your local Chalk Paint® stockist if you have one …but if you are stuck at home and do not have anyone local… The Purple Painted Lady is here to help and can ship your order right to your front door step. Please just place your order online and we will ship it out ASAP! In fact, if you place an order- be confident in knowing that The Purple Painted Lady has everything in stock! What does this mean in the end? With the team we have in place- your order will get packed and picked up by FedX, UPS or USPS. We pack up your order ship your order out our doors the same day you place it – Monday through Saturday. (note however, this is as long as your order came in before 3pm EASTERN TIME, because most of the carriers pick up our packages around 3 or 3:30pm)
To purchase online – please CLICK HERE!
SIGN UP FOR OUR MONTHLY NEWSLETTER: Okay- well maybe we actually send this out about every 2 months ~ but still – you will want to join this! Click HERE to get on board with The Purple Painted Lady's Monthly Newsletter and get in on the fun.