You painted and waxed a piece and now you have changed your mind and want to paint another color on it. How long should you wait before doing so? Can you do it the same day?
This situation happens to people and know that it is not a problem to paint Chalk Paint® over previously painted and waxed pieces. However, it is important to allow the soft wax to cure. Annie recommends waiting a few weeks for the wax to do exactly that. I know this can difficult if you are not a patient person, like me. But you want the base to be solid so the soft wax needs curing time to become hard.
Remember also- if you realize you missed a spot after waxing, if you attempt to "spot fix it"- in certain light you will see the "correction." I once did this on top of a dresser I painted in Coco and then waxed. The little "touch up's" I did were so visible- I had to repaint the whole top.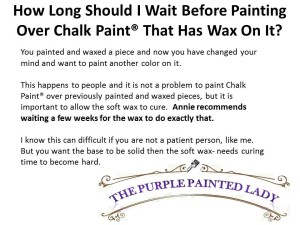 A friend of mine named Peggy Elwood asked another question related to fresh wax – "How long do you wait after waxing before selling a piece?"
My response was that on custom jobs I do- I will often wait a couple days before delivering it and furniture is always accompanied with a "Care Tag" explaining the cure time and how to take care of the painted piece going forward. No more Pledge or Endust allowed in the house! LOL! Customers can use their painted piece – but need to be more careful during that first month. I recommend that anything that has substantial weight to it- as in more than 5 pounds, should wait till after the "rule of thumb" 30 day cure time is over. (I personally find in upstate NY that my wax is quite hard sooner than that.) Also, lamps that have metal pointed feet as a base, can possibly leave an indention in the wax- so just be cautious. This can really depend on where in the country you live and the temperatures you are experiencing. A dry climate will allow the wax to cure faster- where a wet climate will cause the paint to take longer to dry and the wax longer to cure.
I have other helpful information located on my Facebook page HERE in case you would like to check them out. Please feel free to "PIN" my photo to your Chalk Paint® Pinterest board.