DURABILITY OF Chalk Paint®????
Never doubt that Chalk Paint® Decorative Paint by Annie Sloan won't withstand outside use.

This is a true story told by me- Trish, The Purple Painted Lady.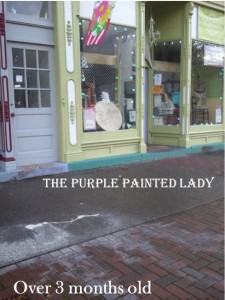 Last July (2012) I went to the Adirondacks with my husband Steve and daughter Danni.
While away, my side kick Adrienne covered the store for me.
I receive a call from her, "Trish- we had an accident."
Me: Uh oh.
Adrienne: "A customer dropped a sample pot of old white in front of the neighbor's store. It opened and paint spilled."
Me: "hurry and dump a bucket of water on it and clean up what you can."
Well, the paint had sat there a bit already and had dried.
Now, keep in mind that every summer, the little village of Palmyra, NY where my shop is located has literally, tens of thousands of people visit since it is the home of the Mormon religion. Many, many people walk by my shop and right over that Old White spill…which has totally held up. The shop next to me was repainted in September and they tried to have their painter power wash the spill off….and the spill has totally held up. Here we are…..almost 7 months later, snow shovel scraping the sidewalk and that Old White spill.. still looks like a brand new spill and we have done everything we could to remove it!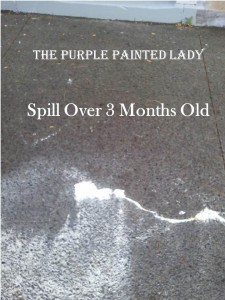 Keep in mind- the store next to me had their facade painted in early September- and during prep- they "attempted" to power wash it off. But it is still there! My shop is on Main Street- we get a lot of foot traffic- bikes riding over it…and it is still there.
I painted my barn's cupola with Chalk Paint® a year ago and it still looks amazing! Check out that post HERE!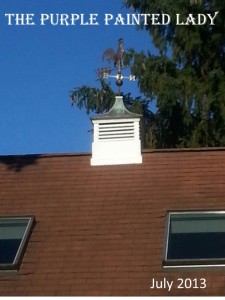 Next, I will be painting my little barn at my house shown below with it starting late August, 2013. Check back here or on my Facebook page for updates!
So, the moral of my story is….please do not doubt the durability or adhesion qualities of Chalk Paint® and make sure to not spill it!