Welcome! The Purple Painted Lady Paint Mixer is meant to be a playful tool that allows you to get an idea of what a custom color will look like when you mix multiple Chalk Paint® colors.
HOW TO USE: Select a color from the dropdown, and a number for how much of each color to use. If the number is zero, that color will not be included. You can choose up to three colors. Then, press the "Mix Colors" button to see the resulting custom color and recipe. Keep in mind that the number represents any unit of measure…cups, sample pots, or quarts for example. All colors are available from our online store.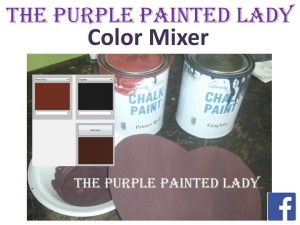 Keep in mind- This tool is not an accurate or exact representation of an outcome- but mathematically it is pretty darn close. Note that your monitor quality does play into that equation. And just remember though- nothing compares to working with your local stockist and playing with real Chalk Paint®. With all that said…I hope you have fun using this Paint Mixer!
© 2013 The Purple Painted Lady Color Mixer