The versatility of Chalk Paint® decorative paint by Annie Sloan never stops amazing me! (If you are into whimsy- you might just like this post!)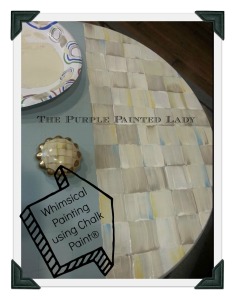 Because of the flexibility in the application of Chalk Paint® and how I use it to achieve different outcomes – Chalk Paint® is always my paint of choice!
If I want a smooth, solid sleek finish – Chalk Paint®can do it! Country and rustic- it can do it! If I want to do a decorative design and pull multiple colors through- it can do it!
Now even though I am a stockist for Annie Sloan (meaning I am a retailer for her products) and I have a few shops called The Purple Painted Lady (have you heard of it?) : )
Even though I have a business- I am still a normal person. I clean my own house, I do the laundry, I am a mom, and I often paint pieces that are for me when my "normal" work day is done. That means- I am painting in my kitchen. Probably a lot like many of you at the end of the day! (which is why Chalk Paint® is so awesome- there is no smell, all organic, NO VOC's and all non-hazardous pigments.)
For this piece- I am replicating a pretty popular checkered style.
Now to achieve certain looks, you have to use multiple colors. In fact- for this project above, I used Duck Egg Blue, Old White, Cream, Coco, Provence, Arles and a little English Yellow.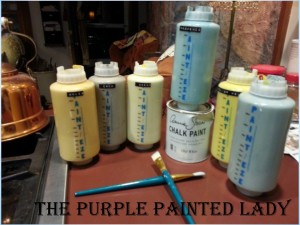 For this project- I grabbed a simple artist brush that is about 1 inch wide and has soft bristles. Make sure to use a brush that has a straight edge. Not one that is rounded or has an angled cut to it. Use the straight edge to your advantage in making crisp starting line and end line.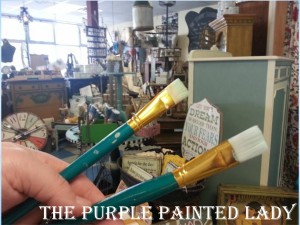 Since multiple colors were needed to get the look and dimension…sometimes people will ask, "can I use acrylic instead?" My response is that staying within one product line and using the same paint guarantees success. And when you spend significant time creating something special- why risk the outcome?
That means- to achieve this look, don't try to mix other types of paint products to cut cost, because you will not get the same effect. Often at my shop someone stops in and show me a painted piece that is their inspiration. It might be a red dresser. They will then tell me, I only have blue paint and don't want to buy more paint, but want this red. How can I do that? (sigh)
This is when I look at them say, "if you only have spaghetti in the pantry but want a turkey sandwich, can you still make it?"
On the top of this little table shown above- I first painted a solid base of Duck Egg Blue. Then I drew my grid with a water color pencil. The next question I often receive from people who are not painters is….."did you use tape?"
My response is "absolutely not!" In fact- to stress this even more, I am going to add this:
Do NOT use Painter's Tape!
Anytime you use tape- you run the risk of pulling up paint from another area- and it looks like you taped it. Please just practice using your straight edge paint brush and let the brush help you keep a tight, clean straight line.
So again, using Old White, Cream, Coco, Provence and a little of Arles & English Yellow…I replicated a pretty popular pattern for myself.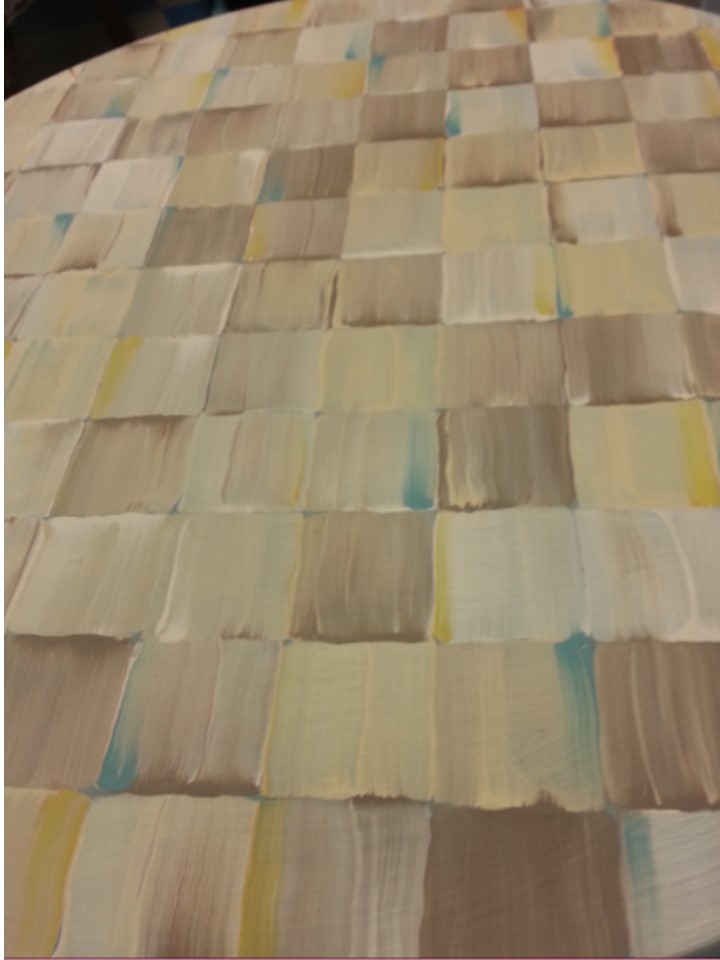 A quick photo of the top while it was in the process of being painted is shown up above. This type of painting is actually SUPER EASY. Once the checker board pattern was drawn- then begin painting.
The secret to achieving this look is using multiple colors on your brush at one time and pulling them from one edge to the other. With that said- if you need to ask more questions on how to do this – I am going to tell to practice and play with paint. There is nothing more I can share or write to you – for you to master this. You just need to practice!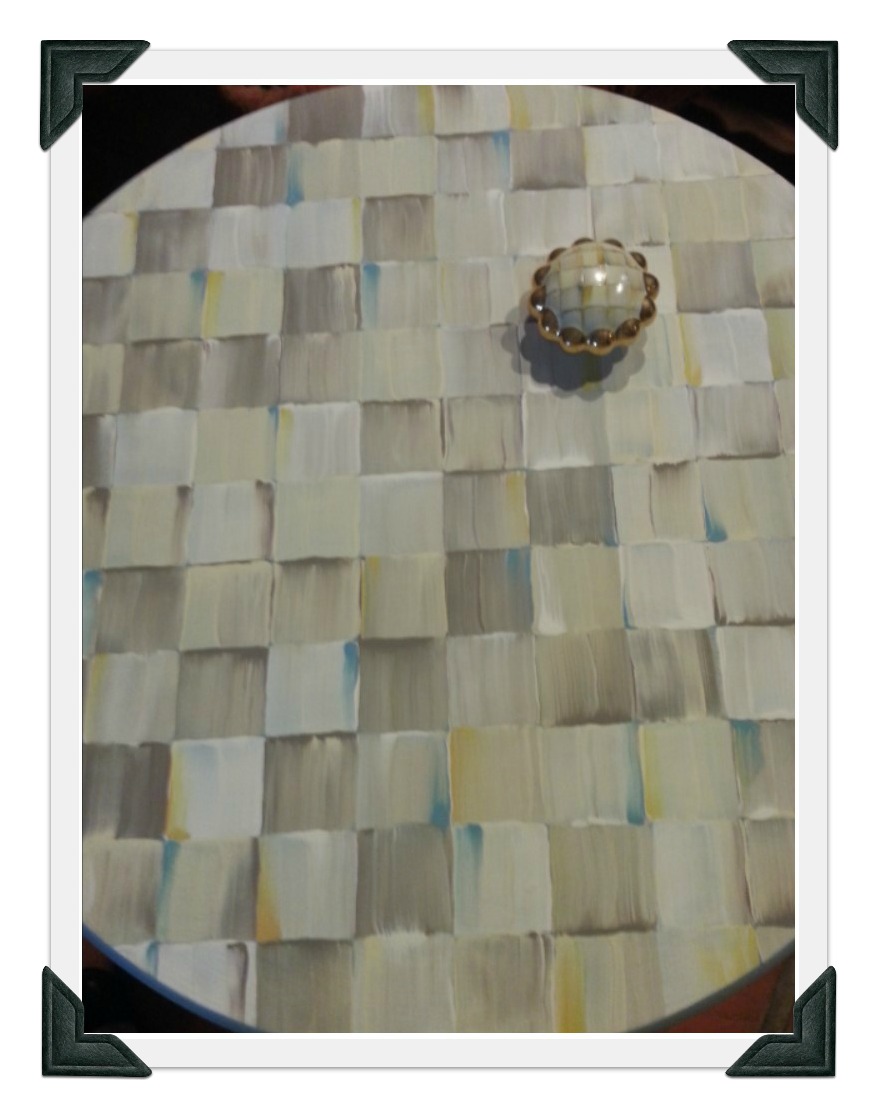 The painting of this little top took me about 1 hour and 15 minutes total. The most important part is being strategic in your color choices so each square appears to be different and does not totally match the color of a block that it touches. Also- see how there are almost lines where I used the Coco and Old White? I used those two colors to really differentiate between squares and to add dimension. Using a flat edge artist brush, about 1/2 to 3/4 inch wide is also important. I like to pour my paints on to paper plates. One for each color – so I can dab my brush into multiple colors. It helps keep each color clean and prevents getting my different colored Chalk Paint® all mixed together.
Now- the only thing left I have to do is apply clear wax and then add some gold gilding around the outer edge for a little bling!
The whole idea of blending colors may seem difficult initially but once you start to practice- you will get the hang of it. I have used this technique many times.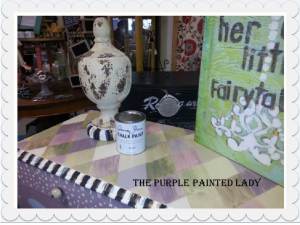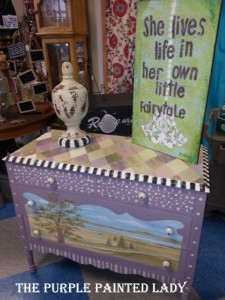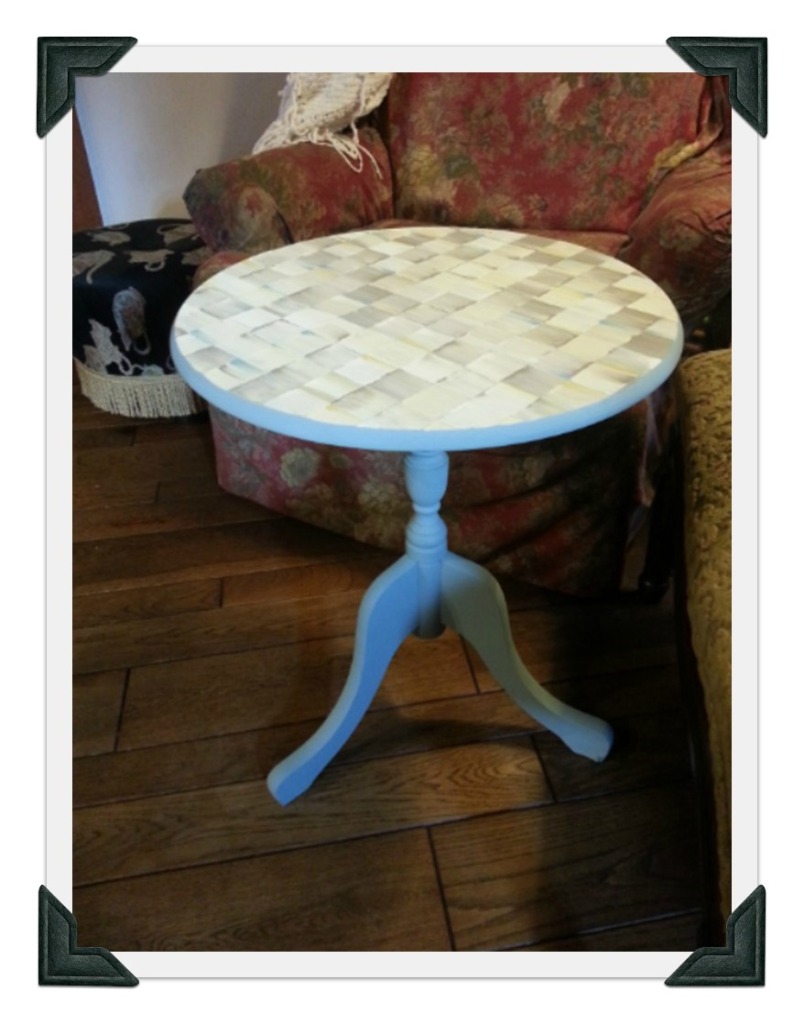 If you like how I share my tips and tricks with you- if you are on Facebook~ Please consider LIKING my Facebook page HERE.
And remember- The Purple Painted Lady sells Chalk Paint at $34.95 per quart. I ship out every week day all over the US. We ship SAME DAY – as long as your order comes before Pete, our UPS guy does. We pass on our shipping costs to you…meaning we offer the lowest flat rate UPS shipping cost so if you are one town away or 10 states away- the shipping cost is the same.
Lastly, if you use me as a resource and call me with your painting project questions……consider using us for your paint purchases since it is my paint sales that keep me in business and allow me to be here to help you. (my shameless, but honest plug) To access our On-Line Store click HERE.
: ) And I will be here to help you as you progress through your future project! And if I do say so myself- we offer the BEST customer service that you will ever experience!
Here is a little post about what I mean when it comes to what you should expect from us- click HERE to read that.
Thanks so much!
Trish —