Painting Walls With Chalk Paint® is not only going to give you a beautiful finish, but may be ideal for people with hypersensitivities, according to our customer Carrie. It is also great for walls if you live in an older home with lath and plaster walls.
The Purple Painted Lady® LOVES her customers ~ and loves to hear about your experiences with Chalk Paint®.
Carrie is one of our customers with a hypersensitivity to chemicals decided to give Chalk Paint® by Annie Sloan a try.
Check out how Carrie painted her entire house!
Carrie wrote us, "After renting for 12 ½ years, my husband and I bought our first house this spring. One of the tasks that I was both excited about and dreading was painting. It was exciting as we could finally choose colors that we wanted to use in our home; it was worrisome as I have intense chemical sensitivities, allergies, and asthma. I started researching options other than latex paint. Previously, I had used milk paint on a piece of furniture and loved the results, so I visited The Purple Painted Lady® in Macedon to talk to them about milk paint on walls. I met a kind, helpful, and knowledgeable employee, Courtney, at The Purple Painted Lady®. She told me about what to expect with milk paint on walls. She also asked me, "Have you considered Chalk Paint®?" That day I left with the Chalk Paint® color card and went home to research Chalk Paint®
The next week I went back to the shop in Macedon to purchase a quart of paint to try out Chalk Paint® on a small hutch that I had bought. The paint applied easily and looked terrific, but more importantly, I had no negative health reactions from the paint.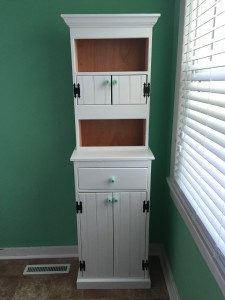 My husband and I decided to go ahead with painting all of the rooms of the house using Chalk Paint®
Color Blocking Ability: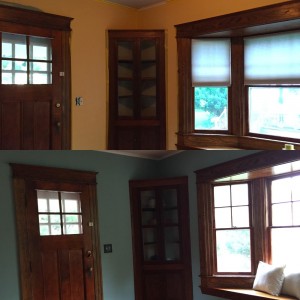 Each time I went back to The Purple Painted Lady®, the employees were helpful and curious about our BIG painting project. Some of the first rooms that we painted were the living room and dining room. The previous owner had painted the rooms dark red and yellow. We were concerned that it would take several coats to cover the dark red; however, the coverage of the Chalk Paint® was exceptional. In the photo above – Carrie used Duck Egg Chalk Paint®. Note that it looks darker than normal, but that is only due to the room's lighting.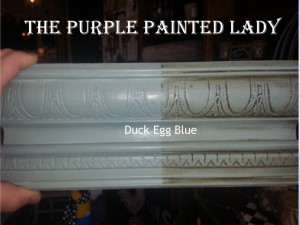 After one coat, my mom asked, "Do you think that you even need a second coat?" The coverage was truly that thorough.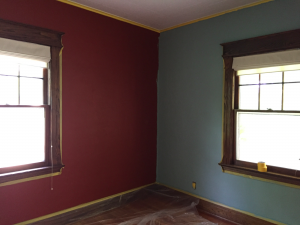 CUSTOM COLOR TO LOOK LIKE JADITE:
One of my favorite colors that we used was a mix by Courtney at The Purple Painted Lady®. I walked into the shop with a bowl from my favorite vintage dishes, Fire King Jadite.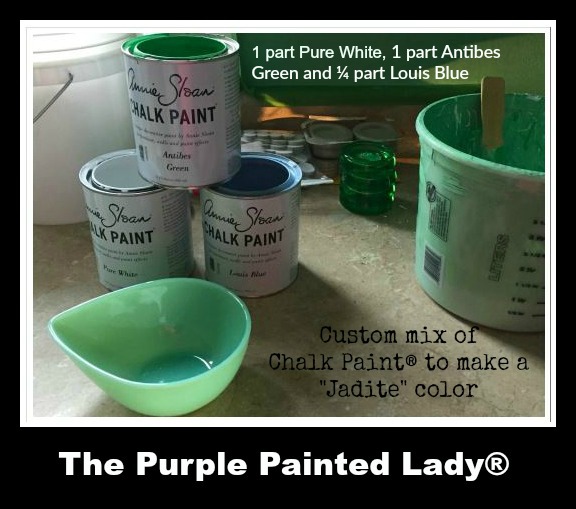 I asked her to match the color as closely as possible. She experimented and mixed until we were both pleased with the color. The results are remarkable. Thank you, Courtney! The color makes me smile every time I walk into the kitchen.
Courtney's recipe for a Fire King Jadite color completed in Chalk Paint®:
1 part Pure White
1 part Antibes Green
¼ part Louis Blue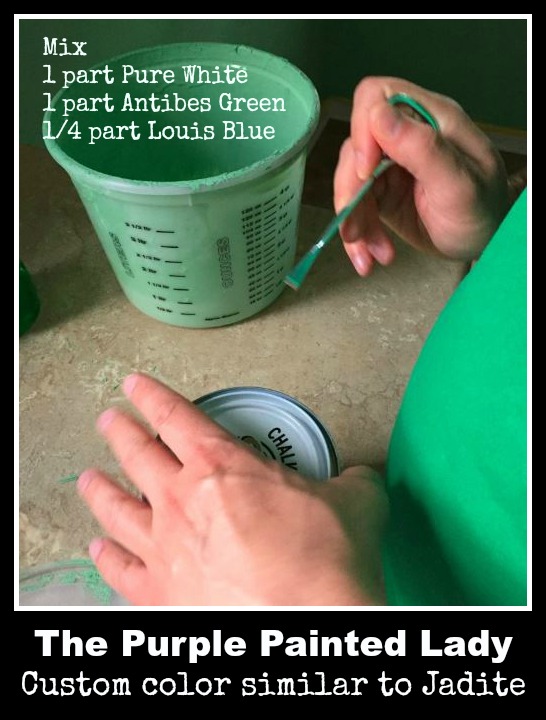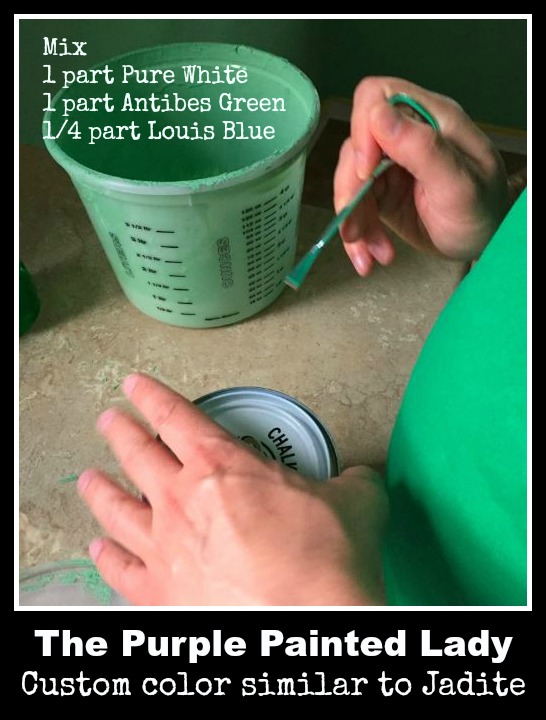 We used (a 2 quart mixing bucket sold at The Purple Painted Lady®) with measure marks to mix the paint. I loved the Jadite color so much that we used it in the bathroom as well.
In the library, we used Annie Sloan's Old Ochre.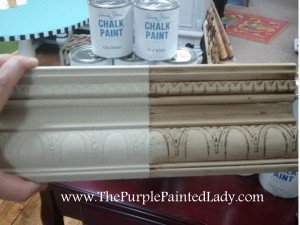 Unfortunately, we did not take any before pictures of this little room. It was blue above the chair rail and a pinkish-hued tan below the chair rail.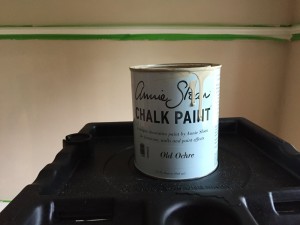 We learned that Chalk Paint® by Annie Sloan can also be used outside. In fact, Old White was a perfect color match with the existing paint on our porch.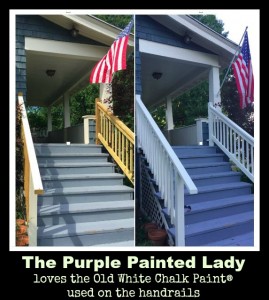 Preparation:
Spackled
Dry dusted walls
Wiped walls with a damp cloth and let air dry
Removed switch plates
Taped trim
Process:
Painted edges and corners of rooms with brush
Painted walls with large and small rollers
Allowed paint to dry overnight
Kept the temperature around 70 degrees in the house while the paint was drying
2 coats of Chalk Paint® in each room
Waxed walls of bathroom with Annie Sloan Clear Wax
Results:
No allergic reactions, no difficulty breathing, no headaches, etc.
Complete coverage of dark colors including dark red and navy
Lathe and plaster walls look better with the flat paint…fewer imperfections show
Friends and family remarked at how great the paint was to work with
My husband and I discovered that we truly enjoy painting together
Products used:
Annie Sloan Clear Wax
Mineral spirits for cleaning brushes
Frog Tape
HANDy Paint Tray and Cup with liners
Wooster rollers in 9 inch and 3 inch
Terry cloth cleaning towels
Drop cloths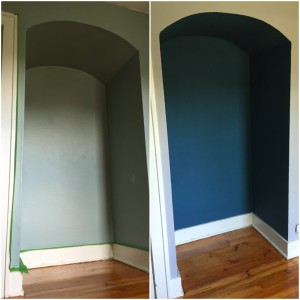 Chalk Paint® Colors used:
What we have painted so far using Chalk Paint® by Annie Sloan:
Living room
Dining room
Kitchen
Bathroom
3 Bedrooms
Library
Porch railing and spindles
3 pieces of furniture
What we have yet to paint:
Vintage metal medicine cabinet
Trim
Hallway
Back porch
Front and back doors
Wainscoting in bathroom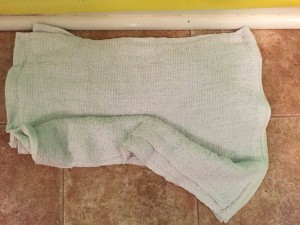 CARRIE'S TIPS & TRICKS
As paint is drying, cover vents with terry cloth towels otherwise cool air blowing directly on drying paint will make the paint crack
Use the small roller around the edges to give the paint a more consistent look- the brush and roller apply the paint quite differently
Pour the paint in the paint tray and then use what's left in the can to work on the edges- there is still quite a bit of paint in the can clinging to the bottom and sides
Chalk Paint® cans fit perfectly into the HANDy pails.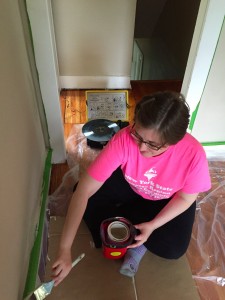 SUMMARY OF THIS EXPERIENCE:
If I was asked to condense my experience of using Chalk Paint® by Annie Sloan into a few sentences, it would be this:
"Chalk Paint® applied easily, and the results were beautiful. There was very little odor to the paint, and I had zero allergic reactions when using it every day for 2 weeks (small miracle for me who reacts to everything). I will be going back to The Purple Painted Lady® for Chalk Paint® by Annie Sloan for all of my future painting projects; I am a customer for life."
Come visit one of our TWO locations:
EAST SIDE OF ROCHESTER (Our MAIN store!)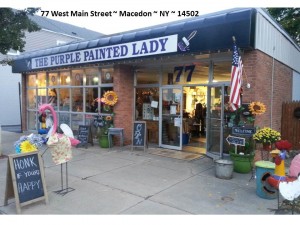 77 West Main Street in Macedon, NY 14502
OPEN Mon – Wed 10– 4, Thurs 11–7, Fri 10 –5 & Sat 10-4.…CLOSED SUNDAY
OR
WEST SIDE OF ROCHESTER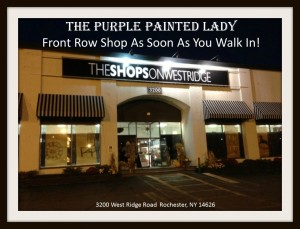 3200 West Ridge Road in Rochester, NY 14626 (The Shops On West Ridge)
OPEN Thurs – Sunday 11–6 ……CLOSED MON, TUES, WEDNESDAY