English Yellow Is almost Here!
We are so excited to welcome our newest color, English Yellow next week! (week of 6/24/2013)
Pre-orders for quarts only are being accepted now HERE.
Again, English Yellow is expected to arrive the week of 6/24/2013. If ordering English Yellow, your entire order placed will ship next week after we receive our truckload of English Yellow.
Annie Sloan explains English Yellow as, "This clean yellow was particularly popular in English 18th Century decoration inspired by hand painted Chinese wallpaper and the development of Chrome Yellow pigment. It was the first non earthy yellow and at first would be very expensive. In the 1950s this yellow became popular as a strong primrose. It can be mixed with Antibes Green to make lime green."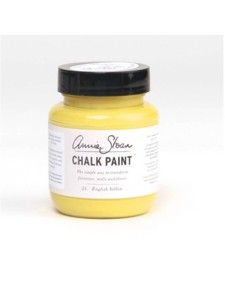 Don't forget when purchasing Chalk Paint® Decorative Paint by Annie Sloan- to consider purchasing her Clear Wax also. Annie's paint and wax were created to partner perfectly together! The paint itself will harden but the wax will truly protect it! The wax does completely harden and it becomes hard and is water repellent. It is a wonderful protective finish that you can buff once dry- to the sheen you desire.