When you are applying Annie's clear wax – having some Chalk Paint® transfer onto your Ultimate Wax Brush or rag is totally normal!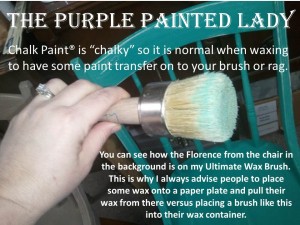 Chalk Paint® has a powder or "chalky" feeling to it at first. This "powdery" feeling goes away as the Chalk Paint® cures however. But that is why when you wax your piece of furniture or cabinets, some Chalk Paint® transfers onto your Ultimate Wax Brush or rag.
I always recommend to clients when applying clear wax- to have paper plates and plastic spoons on hand. Take wax out of the tin and place it on a paper plate to pull from with your Ultimate Wax Brush or rag.
I would not want to get any of the Florence Chalk Paint® on this brush back into my tin of clear wax and then have to complete a Pure White Chalk Paint® piece.
If wanting to learn more about applying clear wax- please read the post and watch the quick video I made to help you by clicking HERE.