Hi all!
I know how much you love using the paint that we sell- but I often hear that waxing is not the easiest thing to do for you.
How much do you apply?
How should you apply it?
When do you wipe it off?
How much do you remove?
And….what about Dark Wax?
Well, we will be offering TWO FREE Clinics on How TO USE SOFT WAX on Thursday, August 15th. One event is from noon till 1pm (may go longer) and the other is later that night from 6 to 7pm. The clinics are FREE, but please register through our Facebook Event page HERE.
You must be registered to attend since it will help us plan and accommodate for all who would like to attend!
Hope to see you there!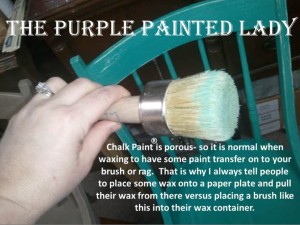 Please arrive on time as a courtesy to all others since we will be building on the information we share as we progress through the hour and will not be able to catch you up if late.
Clinic to be held at The Purple Painted Lady ~ located at 77 West Main Street, Macedon, New York 14502
Plenty of parking around back of building.