Yes! You can use Chalk Paint® for outside projects!
As in shutters, doors, porch floors, staining concrete, painting barns, outdoor furniture, swingsets, birdhouse, concrete benches, mailbox posts, (and I can go on and on…)
One of our amazing customer's who owns a local consignment shop near us called Lu's Back Door loves the color Napoleonic Blue.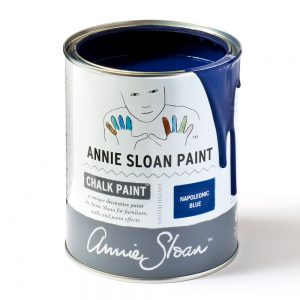 If interested in buying Napoleonic Blue Chalk Paint® on-line- visit HERE. (We ship same day and offer the lowest flat rate shipping fees)
Napoleonic Blue is a bright blue – almost like a coneflower blue. And is a great color for your painting pantry since it is – by default – a primary color!
DARKER NAVY Chalk Paint®?:
Keep in mind- if you want a darker Navy- by mixing 4 parts Napoleonic Blue to 1 part Graphite OR 2 parts Napoleonic Blue to 1 part Graphite – you can create some perfect "navy" options.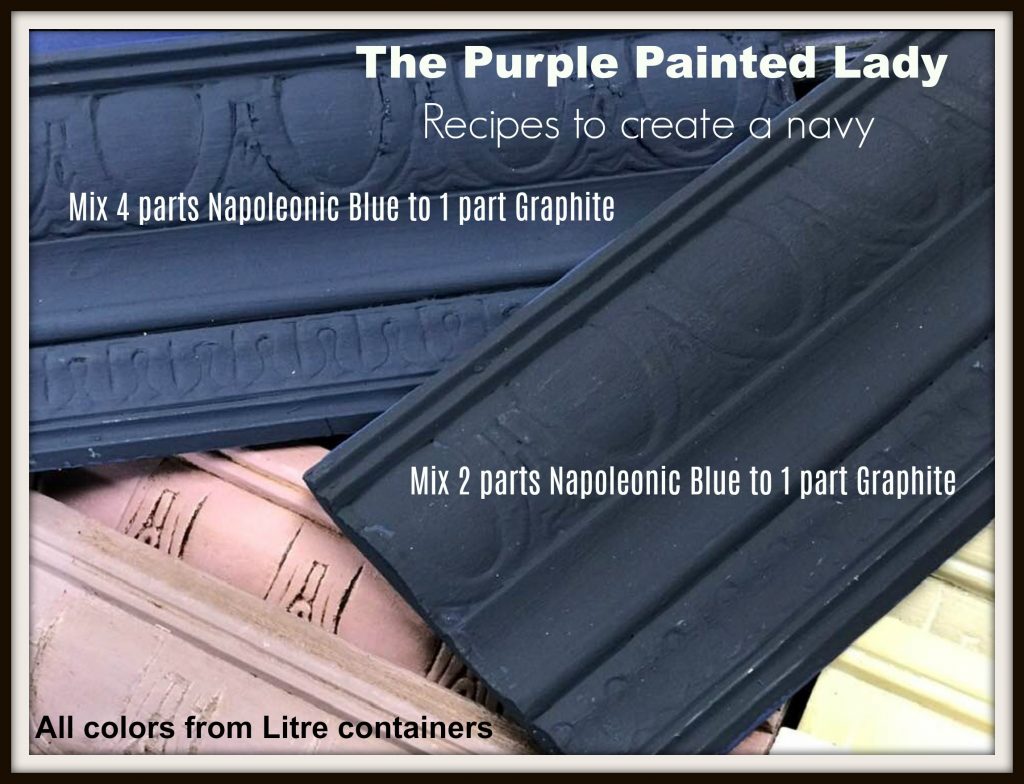 So, Teresa used Napoleonic Blue to paint her front door and house shutters a year ago. What do you think?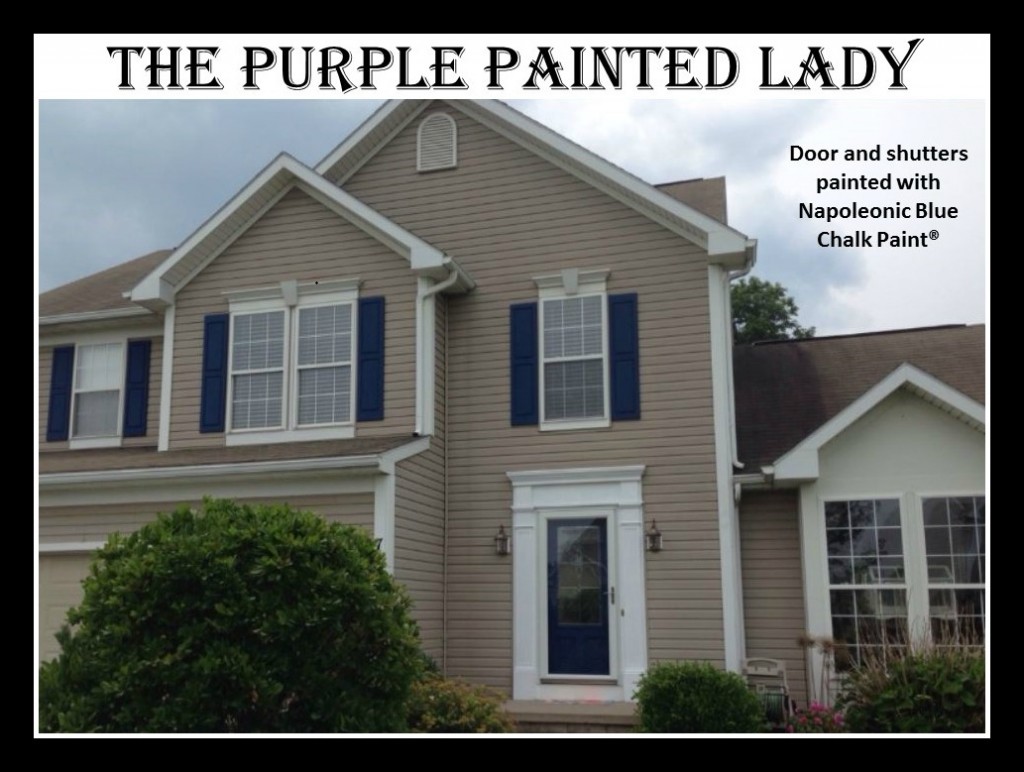 PAINTING DECKS:
The Purple Painted Lady is also so impressed with this pool/deck transformation done using Chalk Paint® by Annie Sloan.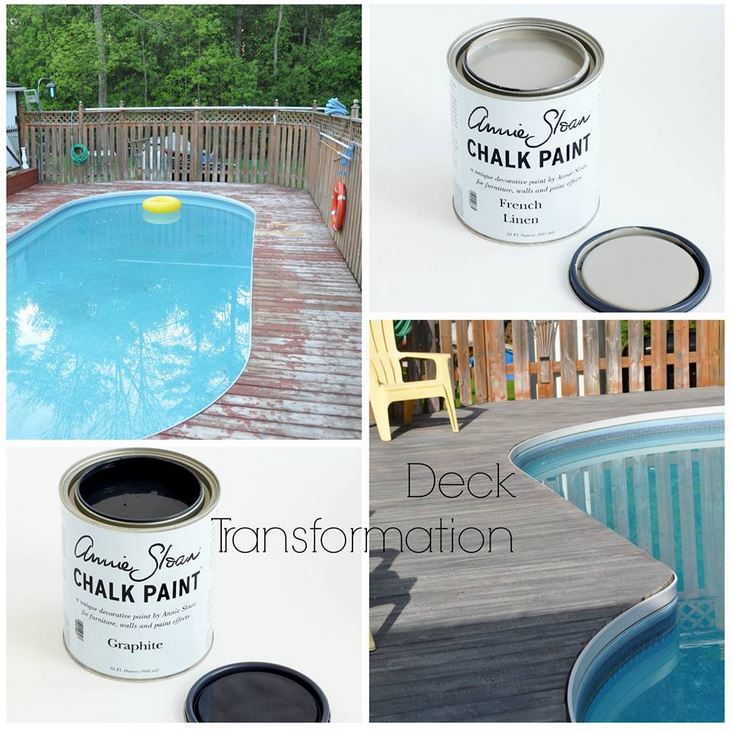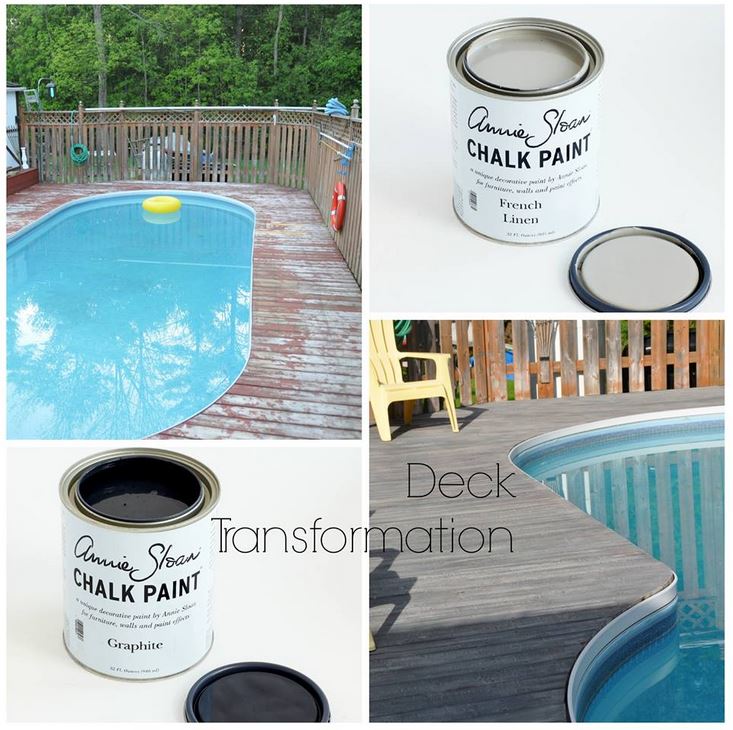 the painted penny completed this using 5 quarts of Graphite and 1 quart French Linen for the deck around pool and upper deck. Great coverage and great results. Next, she is moving onto the fencing, planter dividers, bar and pool.
When painting decks- please make sure to power wash off any loose paint or old stain prior to your project. Thinning the paint with water is also suggested. If painting an outside area like this- do it when there is no rain in the forecast for at least 24 hours too.
OUTSIDE FLOWER POTS:
At The Purple Painted Lady – the flower pots in front of our Macedon store were just ……pea green. Not a bright or eye catching green…plain ole' …pea green. So…a little Chalk Paint® by Annie Sloan to the rescue!
YES! You can use it on plastic without a primer or a top coat outside and it will last!!!!!‪ A little Pure White, Florence, Provence and Burgundy (mixed with Pure White to achieve that Berry color)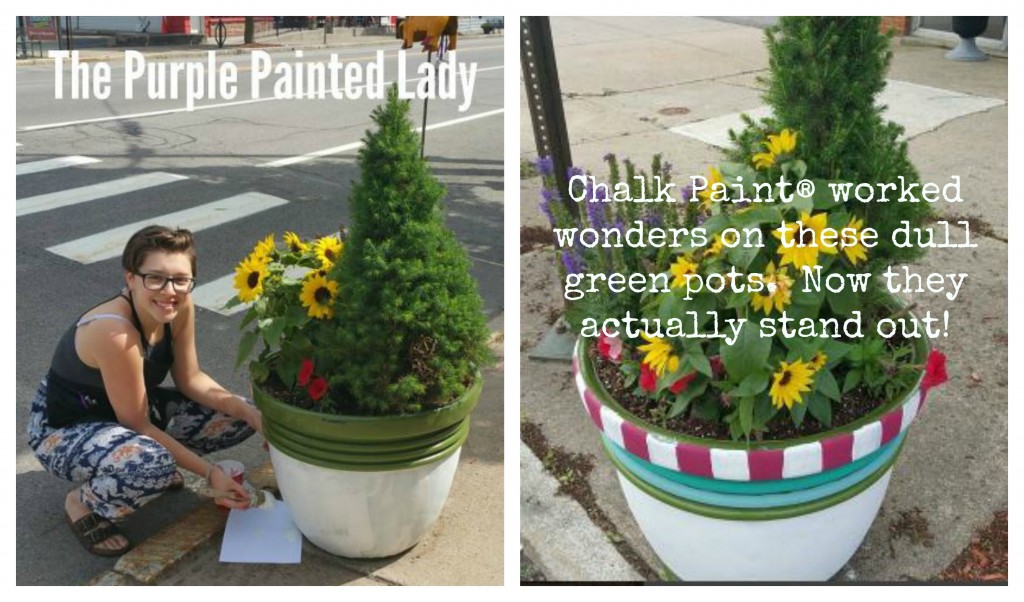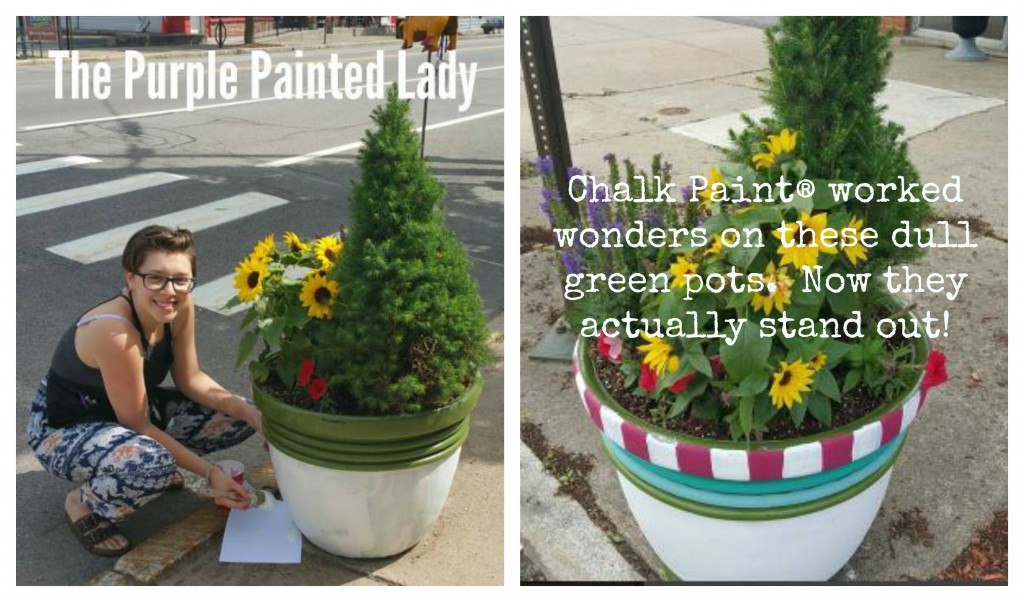 So see…..Yes- Chalk Paint® can withstand the crazy weather elements in northern NY!
Actually to read more about using Chalk Paint® outside, its durability and to see my exterior porch floors that I painted….- click HERE.
If painting outdoor metal furniture that has rust on it:
Rust will bleed through seven coats of paint, so make sure if you have outdoor metal furniture that has rust – seal it with Rust-Oleum® Clean Metal Primer before painting or using Lacquer.
Need Annie Sloan products?
First- if you have a local stockist- go visit them and build a relationship with them. Go to them with your questions and project issues. BUT- if you do not have a local stockist- we invite you to try our customer service!
The Purple Painted Lady sells all of Annie's product on line! I really hope you give us the opportunity to do business with you!
We sell Chalk Paint for $34.95 per quart. If you do not have a stockist near by- we ship out every week day all over the US and WE SHIP THE SAME DAY THAT YOU PLACE YOUR ORDER! So, if you are like me and are inpatient, give us a try! I included a link below to my on-line shop below. We offer the lowest flat rate UPS shipping cost so if you are one town away or 10 states away- the shipping cost is the same. Also- it is my paint sales that keep me in business and allow me to be here to help you. (my shameless, but honest plug) wink-wink! So, if you like to call me for help- consider buying from us too! Click HERE to link to Our On-Line Store => http://shop.thepurplepaintedlady.com/
: ) And I will be here to help you as you progress through your future project! And if I do say so myself- we offer the BEST customer service that you will ever experience!
Here is a little post about what I mean when it comes to what you should expect from us: http://www.thepurplepaintedlady.com/2014/02/why-buy-chalk-paint-from-us/
Like us on Facebook too! Click HERE!
Thanks so much!
Trish
Come visit us:

At our MAIN STORE at 77 West Main Street in Macedon, NY 14502 OR
3200 West Ridge Road in Rochester, NY 14626 (The Shops On West Ridge) OR