Hey all!
When it comes to storing your beloved Chalk Paint® by Annie Sloan (or generically- any paint you have) – this information from The Purple Painted Lady™ should help you!
Since there are variables that come into play in regards to determining how long you can store paint- I will share that I have paint cans that are 3.5 years old and the paint is still perfectly fine in both color and consistency.
TIPS THAT WILL HELP IN THE SHELF LIFE:
1) the edges of the can MUST be cleaned off so no paint is puddled in the reservoir.
Do this either by using your brush and cleaning out the circle. (even take a paper towel and fold into a point and run that around it.)
OR
Paint Can Rim Cleaner Tool (which works like a plow) Want one? CLICK HERE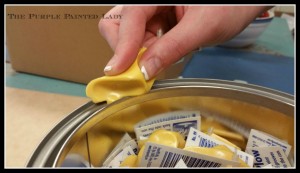 Boy- don't we need a manicure! (did you see the post photo above?)
OR
Some people will take a nail and puncture a few holes straight down into the reservoir, so any accumulating paint – will drip back into the quart.
These steps will prevent rusting, which sadly- we all know happens over time.
Also- you won't get that crusty paint around the top, which can fall back into the quart or onto your brush and then- the piece you are painting. No one likes crusty, unless we are sitting in Paris eating fresh baked French bread!
2. the paint should be stored in ambient temperature (This is suggested to be 55 – 85 degrees Fahrenheit) SO- do not leave paint in the garage, work shed, or against an exterior basement wall)
3. no tap water has been added to the paint in the can.
If wanting to thin your paint- ideally – pour some paint into a separate container- like a margarine container that has a lid. Mix your paint in that versus the quart if using only a partial.
* Thinning your paint with a little water will help achieve a smoother finish – but no more than 20% though.
* Start with less water …and mix till you get a consistency that you want. (remember- you can always add more water, but you only have so much paint- so be careful)
* Use Distilled Water if adding directly to your quart and then planning on storing would be the best situation – since there is no bacteria in Distilled Water. And since distilled water is "pure water" and organisms cannot form from nothing….technically- if you use distilled water- there should be NO introduction of bacteria at all into your paint. (Reference this post if you are a science geek and want to read up more on how this was proven)
4. if the paint is going to be stored for awhile, it can help to lay a piece of plastic wrap on top of the remaining paint down in the can. Literally sealing it at the surface, then place the lid on tightly.
5. Use a rubber mallet to close the lid- NOT a hammer.
6. We sell Paint-EZE bottles which makes dispensing of paint a breeze. Seriously- dump your quart into the Paint-EZE bottle and then, literally squirt your paint directly on to the surface you are painting and immediately spread with your paint brush. I love these bottles, but I do not like to store my paint in them for months and months. I find that the paint coagulates slightly on the outer walls and then when I squeeze the bottle, that dried paint may flake back into the bottle. Again- these bottles are fantastic to work with for big projects- but when I am storing my paint for long lengths time, I am totally old school and prefer leaving it in the quart. Now with that said- if interested in buying Paint-EZE bottles- click HERE.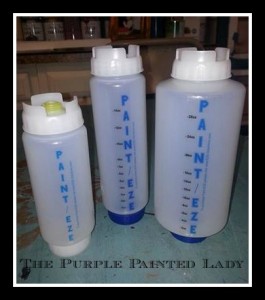 Visit our Facebook page HERE – we would LOVE to hear from you!
BUY PRODUCT FROM THE PURPLE PAINTED LADY™:
As for buying any of the products we mentioned earlier in this post- I hope that you select The Purple Painted Lady™ to be your one stop resource! We have two locations in western NY. Check out our Information tab and come and meet us! Otherwise- if you are not located near me- the following information may apply to you. This information is directed to those who do NOT have a local stockist. Because if you do – go and meet them, shop from them and build a relationship with them. The guidance, information and knowledge they share with you – will be invaluable. But, if you are in a location where there is no one selling paint products- and you must buy on-line- consider us. With that said, visit www.anniesloan.com to find a stockist near you.
We are here to help you, our customers! We want you to be successful! And, just so you know, when you place an order with The Purple Painted Lady:
SOME OF THE REASONS OUR CUSTOMER SERVICE IS THE BEST:
* If you order before 3pm EASTERN TIME any day Monday thru Friday – we will ship out your package that same day.
* We ship orders out every since week day all over the US.
* We offer the lowest flat rate UPS shipping cost so if you are one town away or 10 states away- the shipping cost is the same.
* We have awesome follow up customer service, too!
And- it is my paint sales that keep me in business and allow me to be here to help you. (my shameless but honest plug) Here is a link to our on-line shop=>
http://shop.thepurplepaintedlady.com/
: ) And I will be here to help you as you progress through your future project! And if I do say so myself- we offer the BEST customer service that you will ever experience!Lastly- if I was helpful to you- ….please consider leaving a positive review on my Facebook business page sharing your positive experience or thoughts about The Purple Painted Lady. Here is a link to my Facebook page=>
http://www.facebook.com/pages/The-Purple-Painted-Lady/291882785710
This really helps me! (wink, wink!)
XO
Trish
The Purple Painted Lady™ ~ the serial no. is 86/641,416 with the US Trademark Office