Paint Your Dark Cabinets……..don't be afraid because The Purple Painted Lady is here to help you!
Here is a photo from our customer Loretta McKinley who painted her dark black cabinets with Coco Chalk Paint® by Annie Sloan and used dark wax.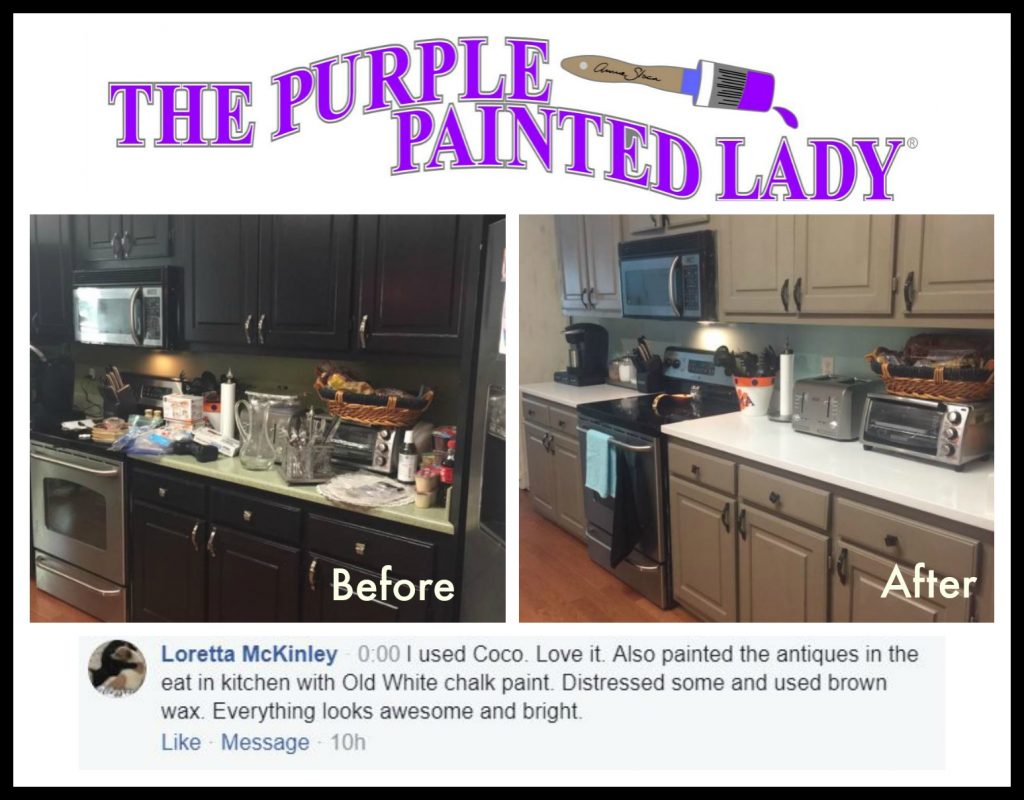 Below are a couple of links to full length tutorial and intense information for painting your cabinets. The videos are literally like taking a workshop with The purple Painted Lady, but …..instead they are free.
After having my shop for 8 years and have helped literally, thousands of people transform their dark cabinets to something lighter, brighter and fresh…. all of us at The Purple Painted Lady are here to help you too!
I know the feeling – it is almost like depression when you walk into a room of your home that is dark and that you do not like. How long are you going to live like that? There is no reason to not change it because:
it's affordable! For an average size kitchen, you can purchase your product and tools to transform it for under $300!
it's okay to paint wood…especially if you do not like it! Life is short…eat the cake! But more importantly, painted cabinets are more appealing during resale.
you will be happier living in your space….and why shouldn't you like where you live?
We have a bunch of posts here on our website sharing tips and tricks and instructions on how to paint your cabinets, but this week we decided to share some real life video! So, catch us on our YOUTUBE channel while we paint the cabinets shown below with Old White Chalk Paint® by Annie Sloan.
Video ONE (this contains the nest tools to be using, how to prep properly, and first coat application)
Video TWO (this contains tips for applying a second coat and your first coat of wax)