Paint Your Dark Cabinets……..don't be afraid because The Purple Painted Lady is here to help you!
Here is a photo from our customer Loretta McKinley who painted her dark black cabinets with Coco Chalk Paint® by Annie Sloan and used dark wax.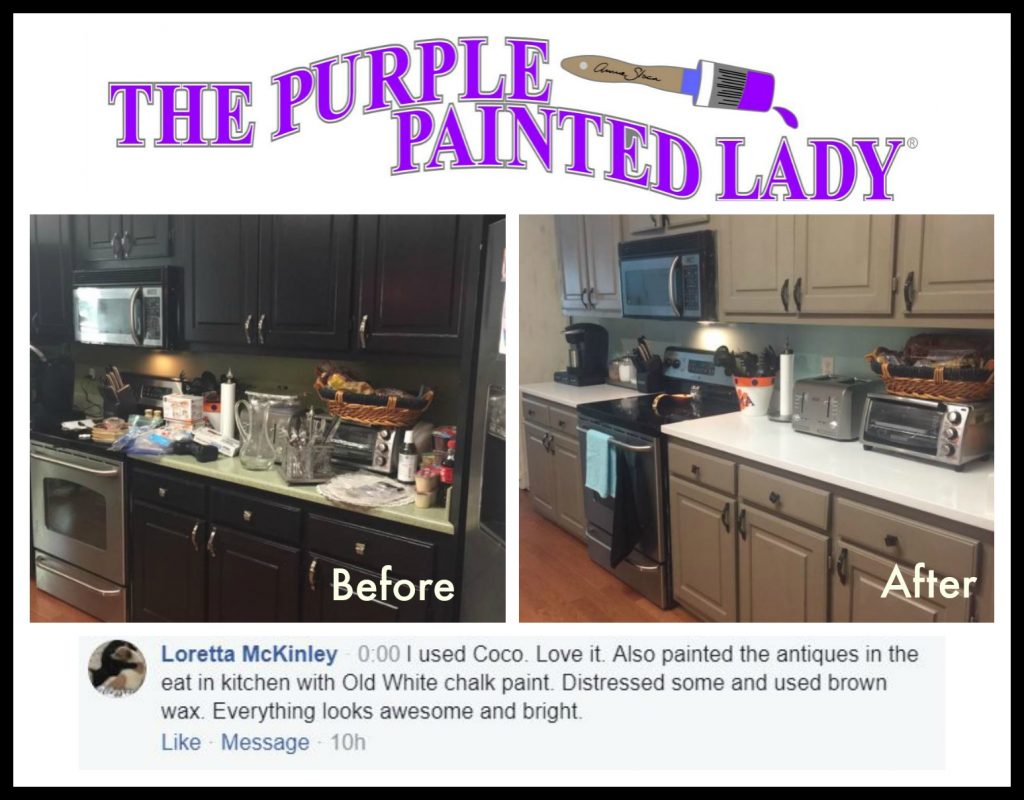 Below are a couple of links to full length tutorial and intense information for painting your cabinets. The videos are literally like taking a workshop with The purple Painted Lady, but …..instead they are free.
After having my shop for 8 years and have helped literally, thousands of people transform their dark cabinets to something lighter, brighter and fresh…. all of us at The Purple Painted Lady are here to help you too!
I know the feeling – it is almost like depression when you walk into a room of your home that is dark and that you do not like. How long are you going to live like that? There is no reason to not change it because:
it's affordable! For an average size kitchen, you can purchase your product and tools to transform it for under $300!
it's okay to paint wood…especially if you do not like it! Life is short…eat the cake! But more importantly, painted cabinets are more appealing during resale.
you will be happier living in your space….and why shouldn't you like where you live?
TIPS to think about before beginning any cabinet painting project:
• Become familiar with your painting technique. If painting cabinets is new to you, consider painting a small piece of furniture first to get used to applying both the paint and wax. It can also be helpful to have a small scrap piece of wood available in your workspace as a surface on which to test each step of your process before proceeding to the cabinets.
• If you are painting with a custom color, be sure to mix enough paint for the entire job.
• Paint in the way the cabinet doors are constructed. If the doors are typical five-piece construction, paint the center panel first and then proceed to the rails and stiles, using the brush to create a nice line where the rail joins the stile. Use even brush strokes and don't overload the brush with paint. When painting the rails and stiles, start painting on the outer edges and work your way in towards the center panel to avoid excess paint pooling where the panel joins the other components.
• To help ensure a consistent look, complete each step of your finish across all of your cabinets before proceeding to the next.
Now, we have a bunch of posts here on our website sharing tips and tricks and instructions on how to paint your cabinets, but this week we decided to share some real life video! So, catch us on our YOUTUBE channel while we paint the cabinets shown below with Old White Chalk Paint® by Annie Sloan.
Video ONE (this contains the nest tools to be using, how to prep properly, and first coat application)
Video TWO (this contains tips for applying a second coat and your first coat of wax) Jump to the 14 minute marker to skip some of the review if you are not a patient person. LOL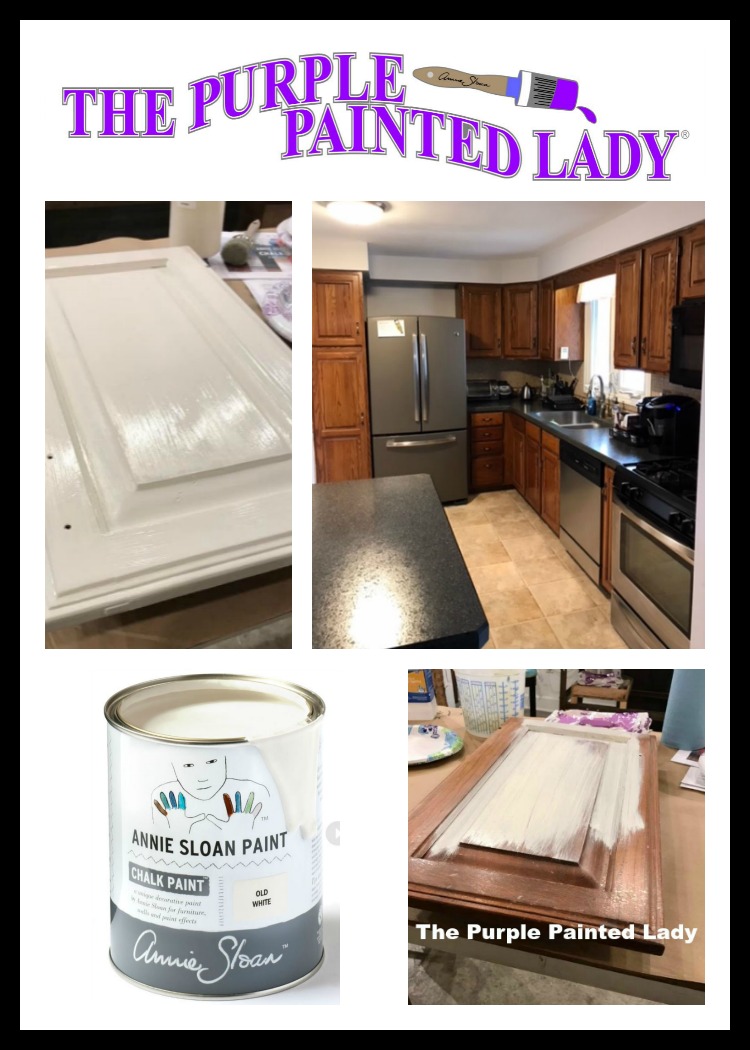 PAINTING OVER THERMAFOIL?:
We have a wonderful technical director at Chalk Paint® by Annie Sloan headquarters. She shared with us,
"The subject of painting over Thermo-Foil or other types of foil-finished cabinets comes up often. I know some of you do it and it may look good for awhile, but I really have to discourage you from doing so. These foil finishes are very sensitive to heat and moisture which can cause the foil to peel away, taking any paint finish with it. Also, paints of any kind will not bond to these materials and can eventually chip and scratch from normal wear and tear. I spoke last month at the Surface & Panel Symposium in Milwaukee which was attended by prominant printers, foilers, and cabinet manufacturers in the US and Canada. I made a point of asking various ones if their surfaces could be painted and their answer was a resounding NO. The good news is they are working on a paintable version to address the needs of the design community. The bad news … engineered cabinets with foil finishes is the future. They are being produced in various wood patterns, colors, and texture, and they truly amaze the eye and the hand. While we have been used to seeing foil finishes in white or beige applied as a sheet over solid doors, I saw it being applied to the individual components … center panels, rails, and stiles … for the more classic 5-piece constructed doors. They are making great strides in the stability of these finishes so heat and moisture problems will be a thing of the past. I believe it will be in our best interest to stress to customers that Chalk Paint® is a wonderful option … for wood and the occasional laminate cabinets.