Which "Grey" Chalk Paint® Should I Get???
If you order paint on-line, it can be a bit intimidating since colors may look differently on your monitor (especially depending on the quality of it.) I receive many questions about the differences between the "grey" colors in the Chalk Paint® decorative paint by Annie Sloan family. (Chateau Grey, Country Grey, Paris Grey, French Linen)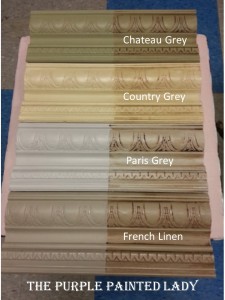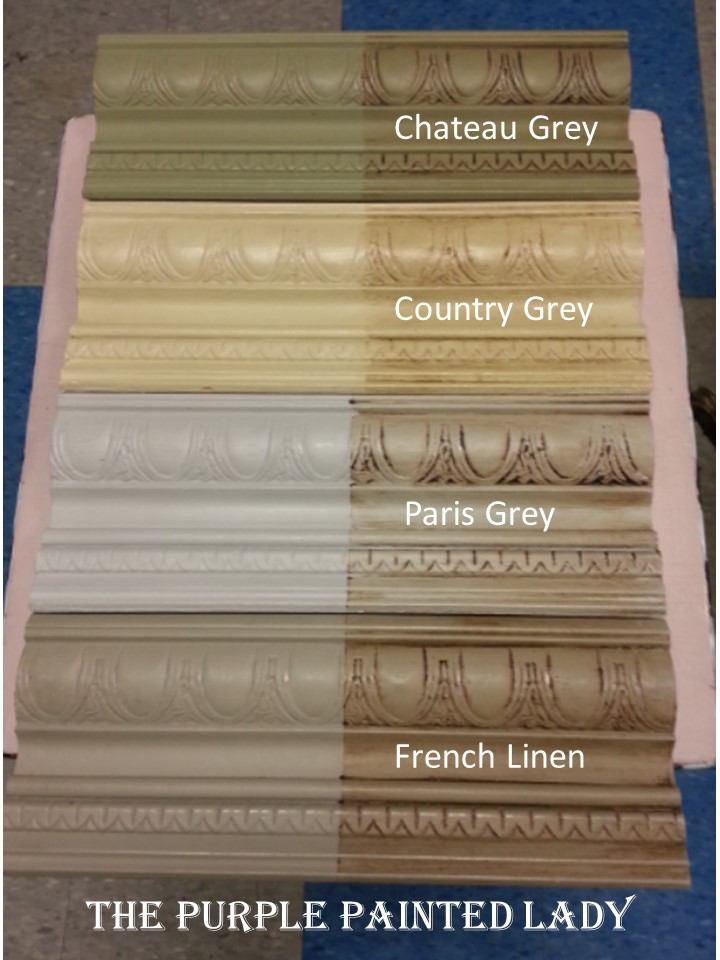 First let me share that neither Chateau Grey, Country Grey are actually a true grey! Their names can cause confusion for some of you if not able to see the color first hand.
I describe the colors as:
Chateau Grey = Annie Sloan says this is an elegant greyed green. (And I want to stress "green" here!) This color is beautiful- but is definitely green- like a sage or lighter hue of olive green! I really like Chateau Grey paired with Antoinette, Scandinavian Pink, Duck Egg Blue, Old White and Old Ochre.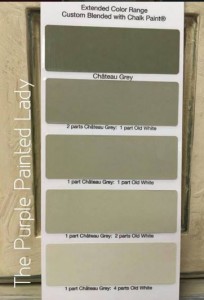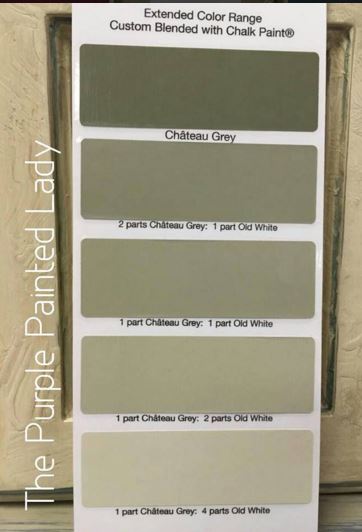 Country Grey = It is a putty color using greenish raw umber. It is a lighter color and will brighten a space. I would consider this a neutral color since depending on the other colors around it- it can appear slightly different . With that said- it plays well with many colors. Many are surprised when they see it on a piece in our shop how much they like it. It is a really useful color. It's terrific on its own and with white or for distressing as a top coat with Cream or Scandinavian Pink underneath. According to Annie's site, "It is generally seen as a more rustic color good for a country look rather than the chateau."   Annie Sloan recommends using Country Grey beneath Pure White- since Pure White by default- does not have as much color blocking ability per say, Provence. So, Annie Sloan herself suggests using Country Grey as a base over surfaces that are dark and that you are painting with Pure White. This creates a great base of blocking ability and will actually save you from painting more coats of Pure White than you would like to.
Another way to use Country Grey is to mix it into another color such as Chateau Grey or Duck Egg Blue to make them paler and knocked back. I like Country Grey paired with Antoinette or Primer Red, or Aubusson!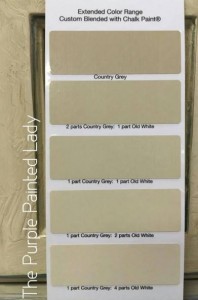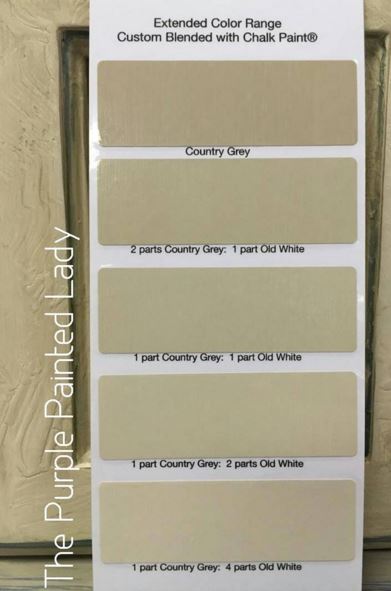 Paris Grey = It is a light dove grey with slight blue undertones. It is a silvery – white grey. Many customers say they think, "Restoration Hardware" when they see this color. It is a "cooler" grey!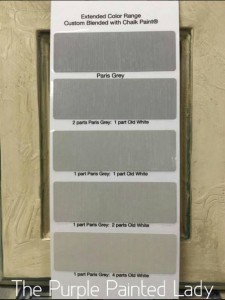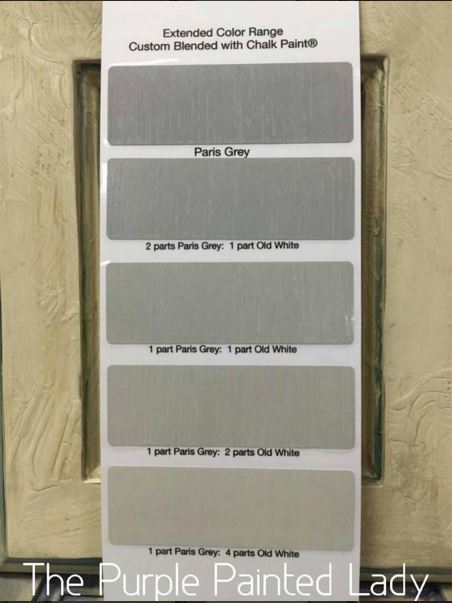 And since we are doing colors with shades of grey- let's talk about French Linen.
French Linen = This is more like a light khaki or taupe. To me, the color makes you think "Pottery Barn." It is a timeless & classic color. It has a bit of grey to it compared to the color Coco.  Just a quick note!  The extended color paper for French Linen seems darker than it does in person when looking at this image on my monitor.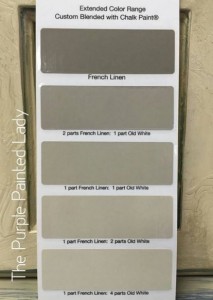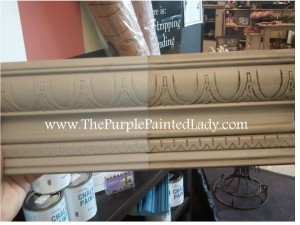 And speaking of Coco …Coco is more brown and has a warmer feeling to it. I like to describe this as the color of coffee flooded with cream in it.
Lastly- I need to mention Graphite.   Reminiscent of Gun Metal.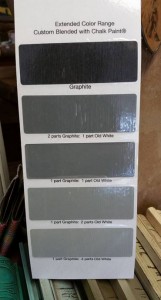 Annie Sloan's Graphite is a soft black – which I like to compare to a dark slate color or a vintage slate chalk board in an old school room! It is made with purplish blues, browns, and is not completely black. When waxed with Annie's Dark Wax- the color becomes even more richer and warm. This is a popular color, especially when I am detailing a piece with vintage typography. I receive a lot of emails about this color. First- I want to clearly state again – this is NOT black.
It is a rich color – close to being a slate, or think …dark pencil lead. Depending on the orientation of the surface painted- it can appear darker or lighter. It does have depth and interest- and clearly plays wonderfully with other pieces painted in a true black.
To create other lighter shades of grey, mix it with either Pure White or Old White.
BUY PRODUCT FROM …..THE PURPLE PAINTED LADY™:
First- if you have a local stockist- go visit them and build a relationship with them.  Go to them with your questions and project issues.  BUT- if you do not have a local stockist- we invite you to try our customer service!
As for buying any of the products we mentioned earlier in this post- I hope that you select The Purple Painted Lady™ to be your one stop resource!  We have four locations in western NY.  Check out our Information tab and come and meet us!  Otherwise- if you are not located near me- the following information may apply to you.  This information is directed to those who do NOT have a local stockist.  Because if you do – go and meet them, shop from them and build a relationship with them.  The guidance, information and knowledge they share with you – will be invaluable.  But, if you are in a location where there is no one selling paint products- and you must buy on-line- consider us.  With that said, visit www.anniesloan.com to find a stockist near you.
We are here to help you, our customers!  We want you to be successful!  And, just so you know, when you place an order with The Purple Painted Lady:
*  We sell Chalk Paint® for $34.95
*  If you order before 3 pm EASTERN TIME any day Monday thru Friday – we will ship out your package that SAME day.
*  We ship orders out every since week day all over the US.
*  We offer the lowest flat rate UPS shipping cost so if you are one town away or 10 states away- the shipping cost is the same.
*  We have awesome follow up customer service, too!
And- it is my paint sales that keep me in business and allow me to be here to help you.  (my shameless but honest plug)    Here is a link to our on-line shop=>  
http://shop.thepurplepaintedlady.com/
: )  And I will be here to help you as you progress through your future project!  And if I do say so myself- we offer the BEST customer service that you will ever experience!Lastly- if I was helpful to you- ….please consider leaving a positive review on my Facebook business page sharing your positive experience or thoughts about The Purple Painted Lady.  Here is a link to my Facebook page=> 
http://www.facebook.com/pages/The-Purple-Painted-Lady/291882785710
    This really helps me!  (wink, wink!)
XO
Trish
The Purple Painted Lady™ ~ the serial no. is 86/641,416 with the US Trademark Office
PLEASE VISIT OUR FOUR LOCATIONS!
our MAIN STORE at 77 West Main Street in Macedon, NY 14502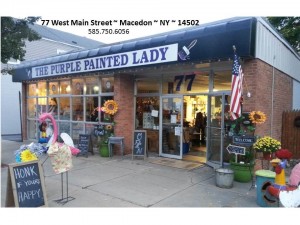 OR
650 South Ave. in Rochester, NY 14620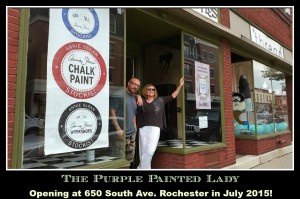 OR
3200 West Ridge Road in Rochester, NY 14626 (The Shops On West Ridge)
OR
Our Syracuse, NY location at 1 West Genesee Street in Baldwinsville, NY 13027 inside The Savvy Chick