What about Duck Egg Blue Chalk Paint®?! Is it a blue or is it a green?
I guess you can say the answer to the question is, yes to both! It is a soft greenish blue.
Click HERE to visit our shopping cart if interested in purchasing.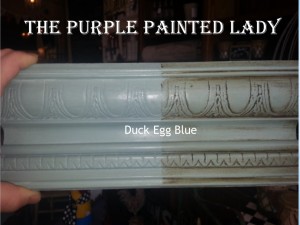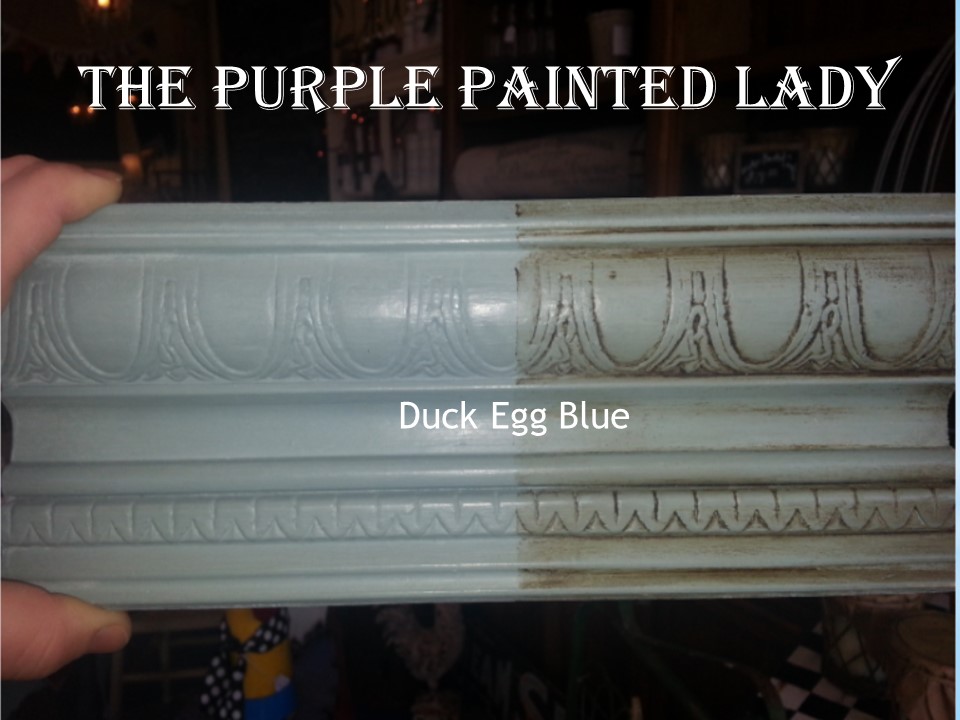 The other day I wrote a little feature about Annie Sloan's "Blue" Chalk Paint colors. I included Napoleonic Blue, Aubusson Blue, Louis Blue and even Old Violet. (You can read about it HERE) However, I left out the color Duck Egg Blue and boy, oh boy …. many of you were disappointed, to say the least! But that is because Duck Egg deserves a post all to itself! So…here it is!
First, I must share with you that I am one of the biggest fans of Duck Egg Blue. In fact- I have to consciously remind myself to not paint everything with this color because I love it that much!
Duck Egg Blue is very easy on the eyes, and plays well with so many existing colors you may have in a room already. Not to mention that it has amazing color "stain blocking" coverage! I wrote a post a couple years ago on how I used it over a dining table that had a huge burn mark on it. (Just have to add, that I got the table free) When I applied the first coat of Duck Egg Blue – it covered the entire burn mark. No bleeding or show through after one solid coat of Duck Egg. It was very impressive. And at that moment, I learned how Duck Egg Blue was much more than "just a pretty face" of a color!
So, yes….Duck Egg Blue is a beautiful color! All of Annie's colors are, but this one is even more special.
DESCRIPTION:

It has the ability to complement many different interiors and colors. It is a greenish soft blue. Annie says it is reminiscent of Rococo French and Swedish interiors. It looks wonderful and fresh with Old White. We also love it distressed when it is used over Chateau Grey. When you apply dark wax over it- it tones down the any of the blue hue there- and brings out more of the sage/green in it. It is "a must have" add to your suite of colors if you love French Country. Pair it with Arles, add some Dark Wax and you have a killer combination! Or, partner Duck Egg Blue with any of Annie's reds and be prepared to be blown away! For example, check out the sample board below with Duck Egg Blue over the Chalk Paint® color called Primer Red. This piece has a dark wax glaze added, which tones down the Duck Egg Blue.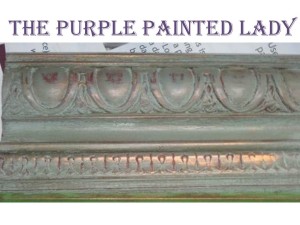 So, why did I not include it in my post about Annie Sloan's "blues?"
At my shop, I have pieces of 15 inch long crown molding painted in each of the Chalk Paint® colors. Customers can hold the sample boards, move them around next to other colors to see how they look and pair, they also can take them outside to see the color in natural sunlight versus just the overhead lights in my shop. This way they can see the true color and the difference of how it looks pending on lighting. I love how these sample boards all look spread across an old Hoosier cabinet base. And I think they are a wonderful way for my customers to really get a good feeling of what the color truly is.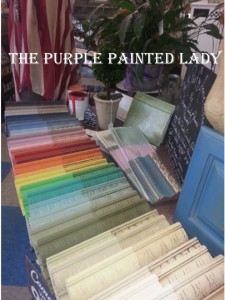 In this sample board spectrum, I have "Duck Egg Blue" paired near the "greens." It just seems to blend better near the Olive, Chateau Grey and Versailles colors to its left and Provence and Florence to its right.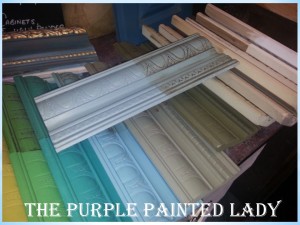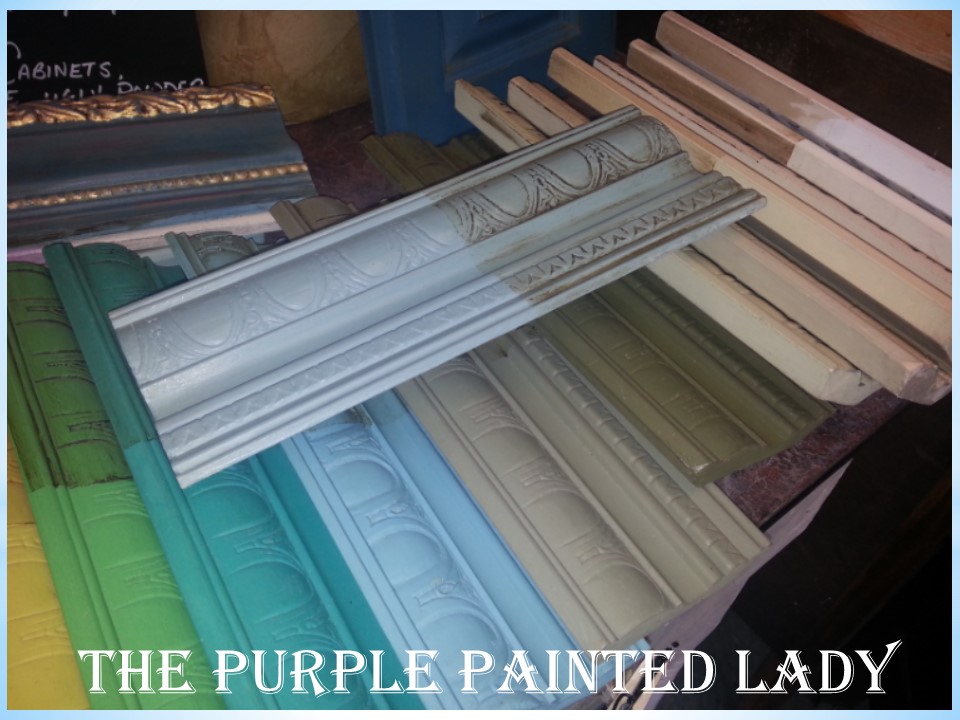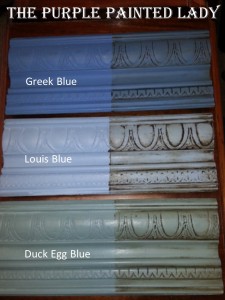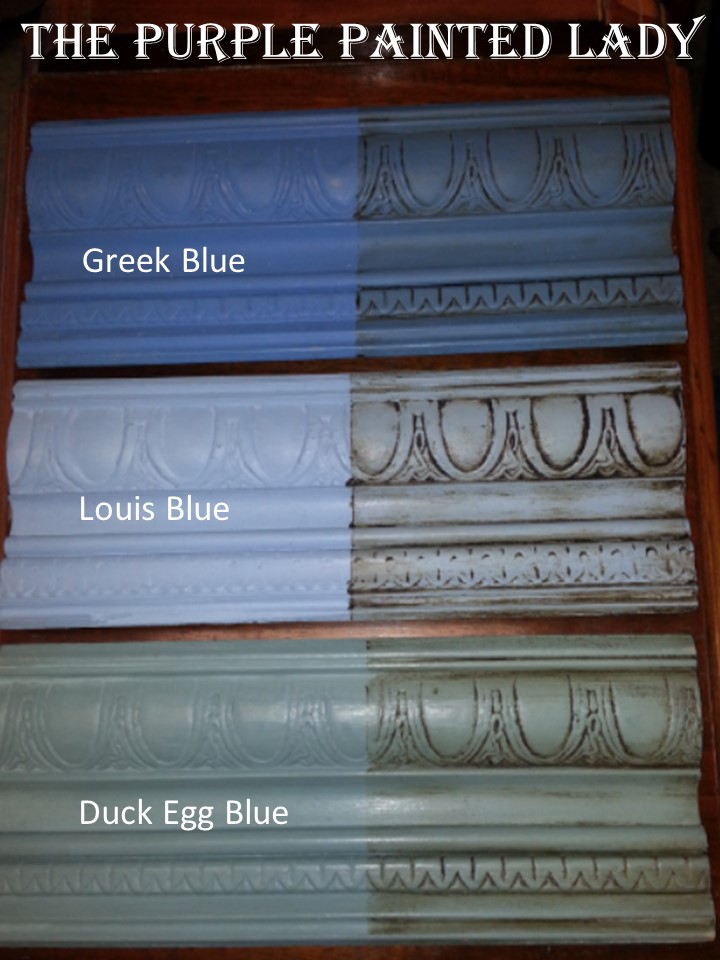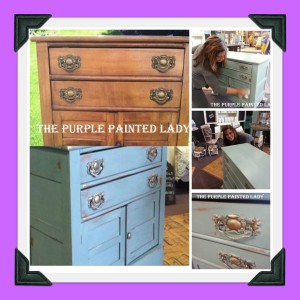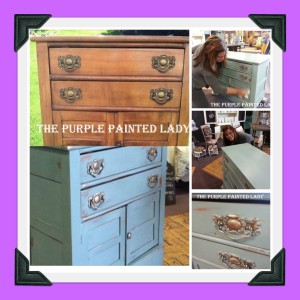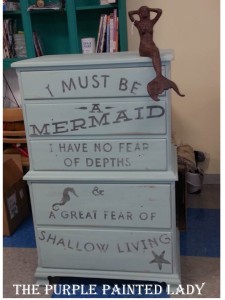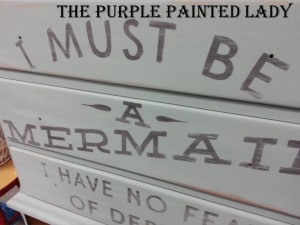 Please visit our website if interested in ordering Chalk Paint®. $34.95 per quart, low/flat rate shipping and it always ships same day!

In fact- there are many reasons we think buying through us is the best. Read THIS little post about what sets The Purple Painted Lady apart from the rest.
To visit our on-line store- click HERE.
Lastly, we share a lot more information to help you get the most functionality out of your Chalk Paint® on our Facebook page. Consider checking it out by clicking HERE. While there- kindly consider LIKING us.
Thanks again,
Tricia Migliore Kuntz ~The Purple Painted Lady ~
Design/Consulting, Kitchen Cabinet Refurbishing, Custom Painted Furniture, Chalk Paint® & Miss Mustard Seed Milk Paint Retailer & herRochester Blogger
PHONE: 585-750-6056
Come visit us:
At our MAIN STORE at 77 West Main Street in Macedon, NY 14502 OR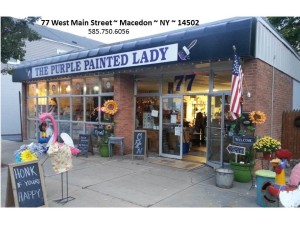 3200 West Ridge Road in Rochester, NY 14626 (The Shops On West Ridge) OR
Our Syracuse, NY location at 2017 Milton Avenue in Solvay, NY 13209
Click HERE for Store hours and information.