The Purple Painted Lady™ received a call from a customer here in NY.  Here is the issue.  They have a large boat, but the colors inside the cabin are reminiscent of the 1980's.  They have like a huge number of windows in the boat- something like 34 windows!
The price to have all of the blinds replaced for that many windows is a bit pricey.  So…….they called and asked of we could test painting one for them to match the fabric they are having new curtains made out of.  The curtains have more of a natural fiber and organic color and they want the mauve blinds gone.
So, we spritzed the shades with water.  Enough to moisten them but not where they were dripping wet.
We chose to use the color Coco from our Chalk Paint® by Annie Sloan collection.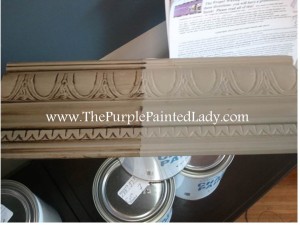 Annie Sloan's Coco is the sophisticated side of neutral. It is more like a latte…or a hot chocolate that has been flooded with milk or creamer.  It is very similar to Annie's color French Linen. But Coco is more brown or chocolatey versus French Linen – which has a bit of grey to it (even sometimes a slight-slight green.)
We took the Coco Chalk Paint® and thinned it with water.  You will need to play with the ratio….but you do not want the paint thick.  So, maybe add about 1 part water to 4 parts paint.  You may even need more water!  You will also use more paint for a fabric project- compared to doing a wood dresser.  Think about it…the fabric project will be absorbing paint where the wood dresser would not.
Then using an 1 inch flat edge artist brush, we painted the blind.  Making sure to swirl the brush around, so the paint got into the crevices of the textured fabric.  Once we had good coverage, we took our paint brush and placed it on one edge and painted straight across, as so to lay the paint smoothly.  This gives the paint a smooth, cohesive look.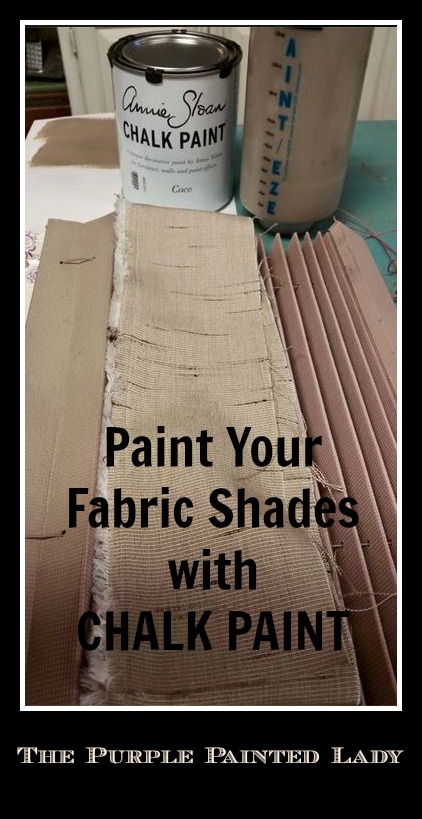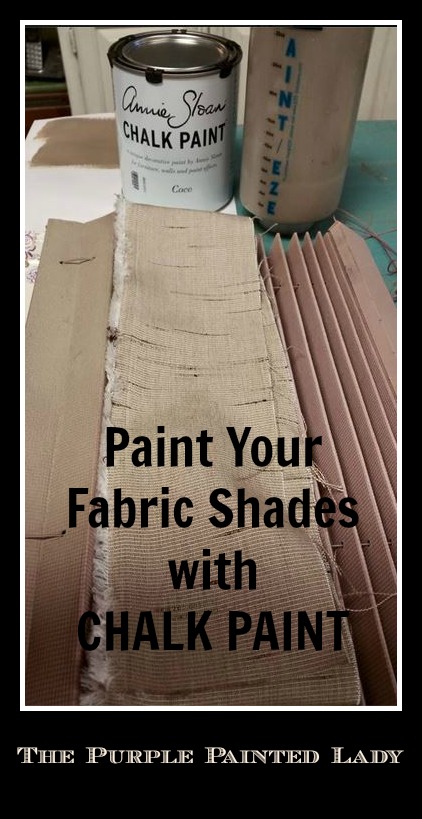 Can you see the difference that just one coat of the Coco paint made on the LEFT side of the photo above?  The fabric they chose for their curtains is laying in the middle, and then on the right- is the original mauve shade.
I feel they will need to do TWO thinned coats for the color to be totally saturated.
Once done- I would recommend that they wax the metal bar at the bottom of the blind, but I would not wax the shade.  I think trying to work around the little thread that runs vertically on both side would be a bit of a paint, and since we are using the paint to basically dye the fabric like we would a curtain- I truly do not feel the wax is necessary.
So, good news – they saved lots of money from not having to replace all of those blinds. I think that one quart of paint may be enough since we are thinning it with water, but they bought two just in case.
Have you ever painted anything on your boat? Share photos on our Facebook page HERE – we would LOVE to see them!
BUY PRODUCT FROM THE PURPLE PAINTED LADY™:
As for buying any of the products we mentioned earlier in this post- I hope that you select The Purple Painted Lady™ to be your one stop resource!  This information is directed to those who do NOT have a local stockist.  If you do- meet them, shop from them and build a relationship with them.  The guidance, information and knowledge they share with you – will be invaluable.  But, if you are in a location where there is no one selling paint products- and you must buy on-line- consider us.  With that said, visit www.anniesloan.com to find a stockist near you.
We are here to help you, our customers!  We want you to be successful!  And, just so you know, when you place an order with The Purple Painted Lady:
SOME OF THE REASONS OUR CUSTOMER SERVICE IS THE BEST:
*  If you order before 3pm EASTERN TIME any day Monday thru Friday – we will ship out your package that same day.
*  We ship orders out every since week day all over the US.
*  We offer the lowest flat rate UPS shipping cost so if you are one town away or 10 states away- the shipping cost is the same.
*  We have awesome follow up customer service, too!
And- it is my paint sales that keep me in business and allow me to be here to help you.  (my shameless but honest plug)    Here is a link to our on-line shop=>  
http://shop.thepurplepaintedlady.com/
: )  And I will be here to help you as you progress through your future project!  And if I do say so myself- we offer the BEST customer service that you will ever experience!Lastly- if I was helpful to you- ….please consider leaving a positive review on my Facebook business page sharing your positive experience or thoughts about The Purple Painted Lady.  Here is a link to my Facebook page=> 
http://www.facebook.com/pages/The-Purple-Painted-Lady/291882785710
    This really helps me!  (wink, wink!)
XO
Trish
The Purple Painted Lady™