The Purple Painted Lady loves this effect using Textura Paste from Wood Icing and their beautiful glazes. Visit our on-line shop for all of your needs to do this project.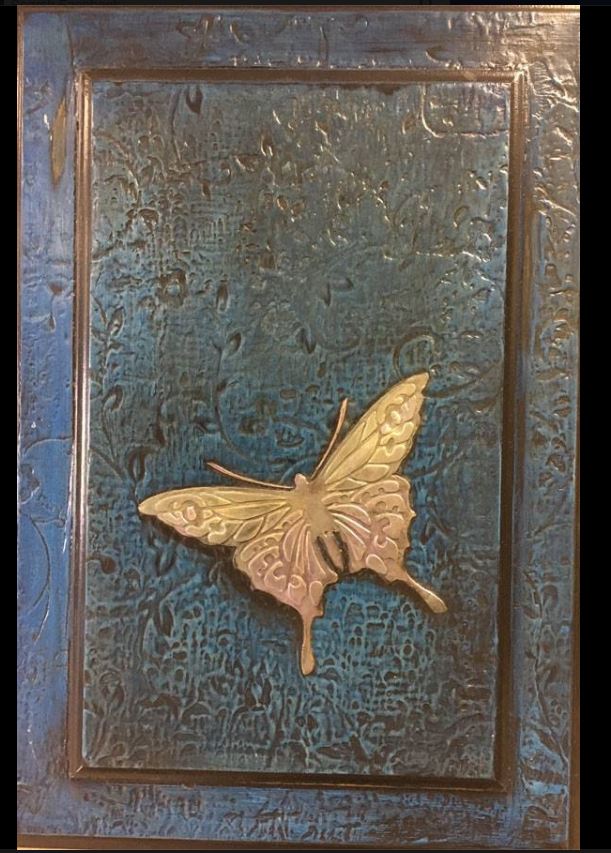 Textura Paste is a water-based acrylic product, which has the consistency of peanut butter. NOTE that there are no nuts in this product!)
This may be spread with a spatula or trowel then impressions and designs are made with any number of objects or tools. Use foam rubber stamps, mesh, lace, and numerous other materials. Another option is to trowel Textura Paste through a stencil for a raised design.
You may also apply our Textura Paste through a stencil directly onto bare or unfinished wood. Once it has been stained it is hard to tell the difference of real carved wood and a Wood Icing design.
The Textura Paste should be allowed to dry overnight to a hard crispy surface, then sand to remove the high spots and clean up the surface. Stain, glaze or paint. Once the project is complete, apply two to three coats of protective polyurethane for the final finish. You may use oil-based or a water based polyurethane.
Clean up with soap and water .
Material List:
Textura (what you use to create the texture on this piece)
DIRECTIONS:
Apply a liberal coating of the Textura Paste by Wood Icing. (spread it iver the surface as if you are icing a cake. Fairly liberal since you want enough to take a pattern or a relief but NOT so thick that it will take days to set)
Next, using a piece of lace (pick up a piece at your local fabric store and make sure it is big enough to cover your hole project's surface) ….. pressing the fabric with an embroidered lace pattern into the Textura Paste while it is still wet.
Remove lace immediately and allow that layer of Textura to dry completely.
Sand lightly over that layer to remove any areas that puckered up or pulled up like a stalagmite.
Stain the Textura with Indigo Blue glaze. (apply it with either a brush or rag and then wipe off excess)
Let that dry and apply a barrier coat of our Poly-Acrylic Top coat – sold on our shopping cart. Use a brush and apply a uniform, thin coat. Do not let it pool in the crevices.
Allow that to dry completely.
Then go over the top of that with Black Licorice Glaze. (again, apply it with either a brush or rag and then wipe off excess)
Next, lay a stencil down of your choice and apply the Textura Paste to create a raised effect. Wait for it to completely dry!
Use our Modern Masters Pale Gold paint to brush over the raised stencil only. (in this example- the butterfly) Let dry.
Then, apply Black Licorice Glaze for the shading around the raised stencil. Once dry
Finish with another coat of Poly-Acrylic
BUY PRODUCT FROM …..THE PURPLE PAINTED LADY®:
First- if you have a local stockist- go visit them and build a relationship with them. Go to them with your questions and project issues. BUT- if you do not have a local stockist- we invite you to try our customer service!
As for buying any of the products we mentioned earlier in this post- I hope that you select The Purple Painted Lady® to be your one stop resource! We have four locations in western NY. Check out our Information tab and come and meet us! Otherwise- if you are not located near me- the following information may apply to you. This information is directed to those who do NOT have a local stockist. Because if you do – go and meet them, shop from them and build a relationship with them. The guidance, information and knowledge they share with you – will be invaluable. But, if you are in a location where there is no one selling paint products- and you must buy on-line- consider us. With that said, visit www.anniesloan.com to find a stockist near you.
We are here to help you, our customers! We want you to be successful!
SOME OF THE REASONS WE THINK THE PURPLE PAINTED LADY® CUSTOMER SERVICE IS THE BEST:
* We sell Chalk Paint® for $34.95
* If you order before 3 pm EASTERN TIME any day Monday thru Friday – we will ship out your package that SAME day.
* We ship orders out every since week day all over the US.
* We offer low flat rate UPS shipping cost so if you are one town away or 10 states away- the shipping cost is the same.
* We have awesome follow up customer service, too!
: ) And I will be here to help you as you progress through your future project! And if I do say so myself- we offer the BEST customer service that you will ever experience!Lastly- if I was helpful to you- ….please consider leaving a positive review on my Facebook business page sharing your positive experience or thoughts about The Purple Painted Lady®. Here is a link to my Facebook page=>
http://www.facebook.com/pages/The-Purple-Painted-Lady/291882785710
This really helps me! (wink, wink!)
XO
Trish
The Purple Painted Lady® ~ the serial no. is 86/641,416 with the US Trademark Office
PLEASE VISIT OUR FOUR LOCATIONS!