The Purple Painted Lady is so excited about opening our 4th location in the city of Rochester, NY.  It will be located at 650 South Avenue- which is in the heart of South Wedge and we will open our doors later in August.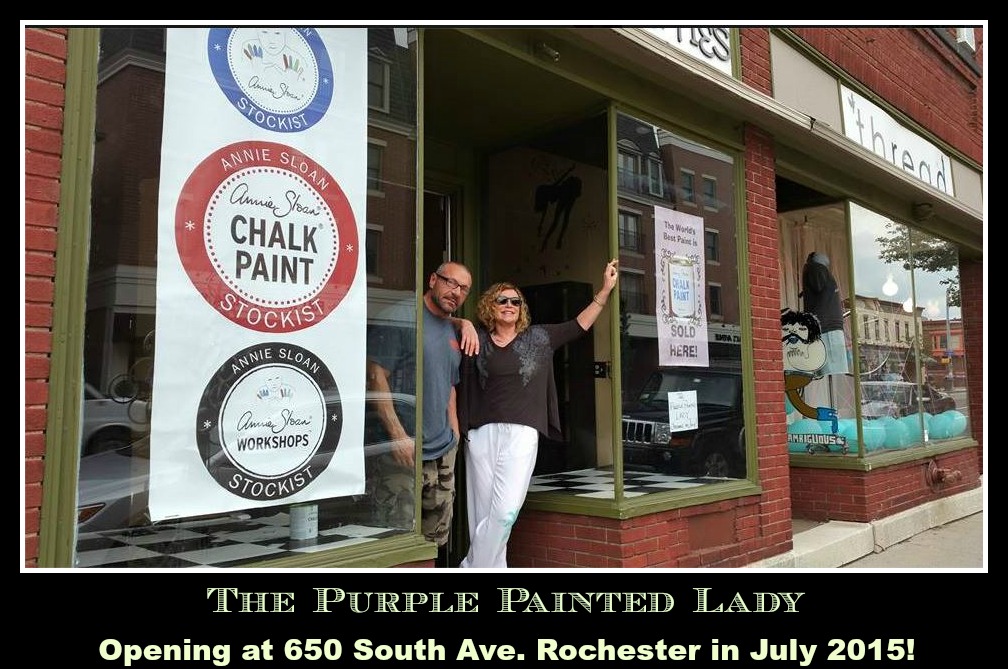 We have literally gutted the space.
Here is a BEFORE photo of where we started: (take note to even the check out counter.  Below you will see what we have done with it to spruce it up.)
 OKay- just a reminder – the image BELOW is a BEFORE PHOTO!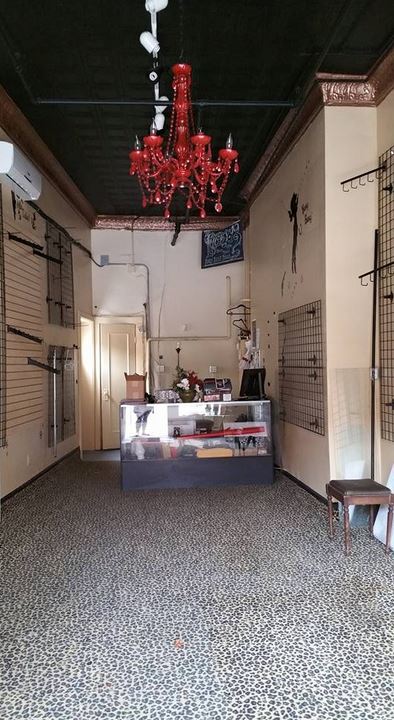 We have since done the following to the space:
* tore out the tan leopard print carpet and replaced it with wood.
* pulled about 1,000 nails out of the wall and ceiling, patched the dry wall, and painted the walls a pretty silvery grey/blue. (I like how it compliments the ceilig!)
* put in all new electric and hung new chandeliers (actually, Brett- the buff guy standing next to Judy in the photo above did all of our electric.)
* installed a full prep sink and work counter and the bathroom has been gutted with a new vanity installed.
* and everything else has been scrubbed…multiple times over!
Phew!  It makes me tired just writing it all out. (which is kind of pathetic since I hired contractors or promised champagne and caviar to Judy to do most of this work for me. LOL!)
IN PROCESS Photo below: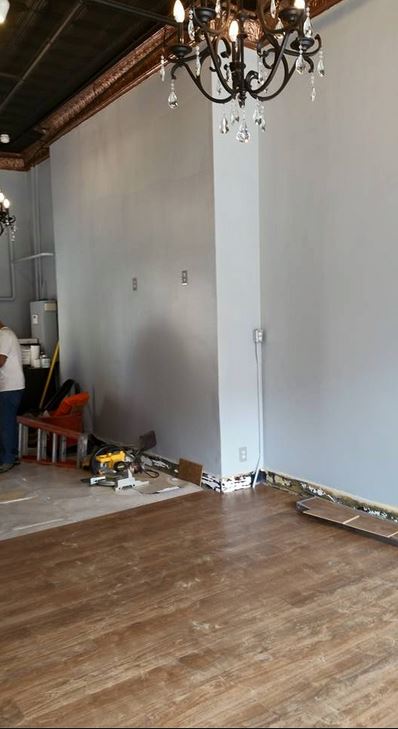 Check out the cash counter below!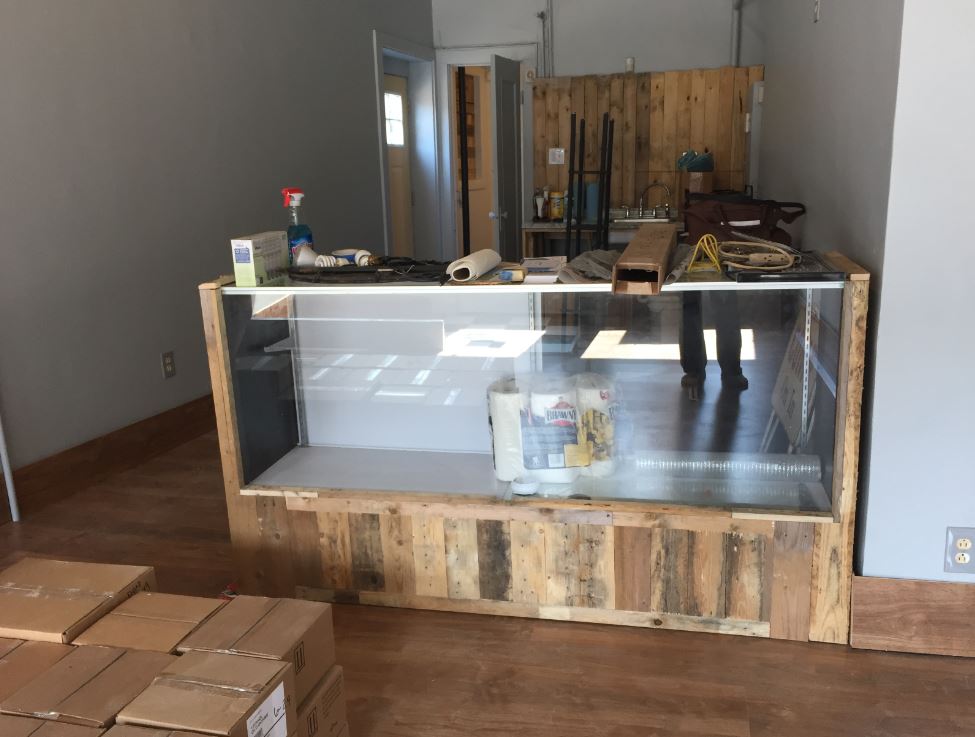 We even decked it out using skids from paint deliveries!  See it above?  I love it now!
This week Judy will be transforming the concrete bathroom floor into something amazing using Modern Masters Inc. products!    The Modern Masters products we use will make the floor look like patina copper and rusted iron!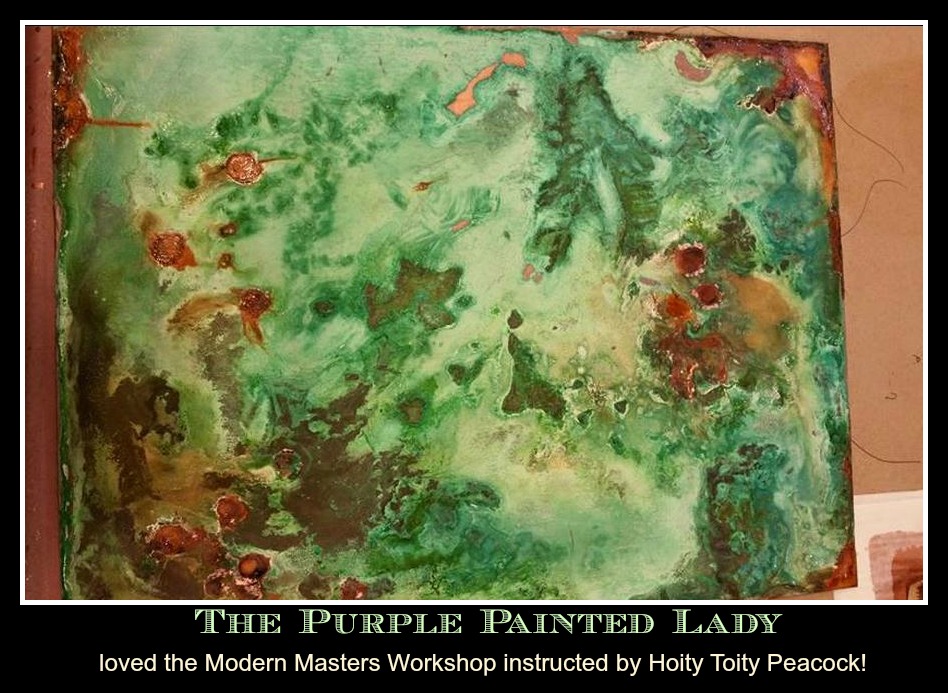 MATERIAL LIST TO CREATE A LOOK LIKE ABOVE:
Modern Masters Metal Effects Acid Blocking Primer
Copper Reactive Metallic Paint
Modern Masters Rust Activator
Modern Masters Permacoat Xtreme
You will also need:
Either a 2″ or 4″ roller with a tray
Chip Brush
Hydrogen Peroxide (just a tablespoon – amount depends on the size of your project)
Small plastic spray bottles to mist aging solutions or rust activator
Papertowel/rags for clean up
Anyway- this effect is pretty cool stuff, huh?
Anything will be better than what the floor currently is.  See the image below.  (waah, waah, waah)  : (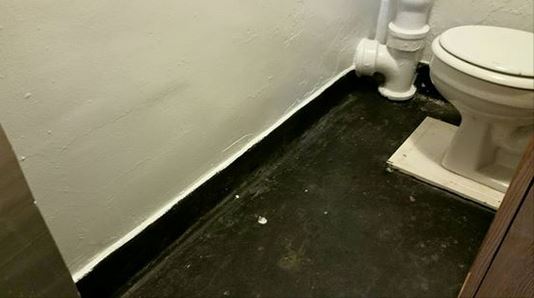 Using the Iron Reactive Paint and Copper Metallic Paint– you can make virtually any surface look like patinad copper or rusted iron!
PREP WORK ON CONCRETE FLLOR:
So, Judy and Anne started the process of painting the bathroom concrete floor.  First- since this location was rented prior- the floor needed a good cleaning.  So, using Mineral Spirits and Krud Kutter and a bunch of sponges- the floor was santized!  A clean water rinse was done and then – the floor was left to dry thoroughly.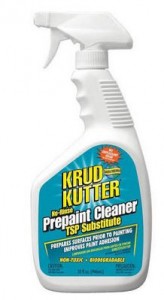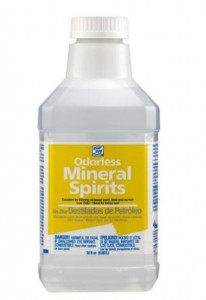 If there had been flaking paint from a previous project- all of that would have been removed.
STEP 1 – Use the Modern Masters Metal Effects Acid Blocking Primer:  
We have the gallon size of the Modern Masters Metal Effects Acid Blocking Primer that had been sitting for a while so we needed to mix it really well until all the thicker components at the bottom got stirred in. (see image below) This "Acid Blocking Primer" is very importantbecause it creates a base or barrier for the all of the other products to sit on top of.  It also gives either the Copper Metallic Paint or the Iron Reactive paint something to grip to, depending on what it is you are doing and the type of surface it is.  Since most of you would be using a 16 ounce or 4 ounce container of the Acid Blocking Primer, just check the plastic container by hand.  It is doubtful you will have as much sitting on the bottom as we did with the gallon sized packaging.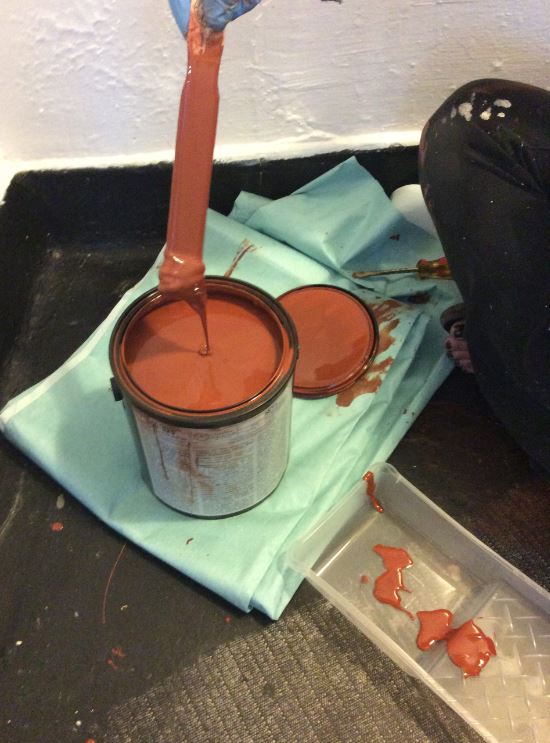 APPLICATION OF ACID BLOCKING PRIMER:
Judy then poured the Modern Masters Metal Effects Acid Blocking Primer into the small roller pan that came with the roller.  Using the roller she applied two uniform.   coats of the  Modern Masters Metal Effects Acid Blocking Primer.  Make sure the first coat is thoroughly dry before applying a second.  In the hard to reach places- she used a chip brush. 
YOU MUST BE ABLE TO LAY THE SURFACE FLAT:
FYI for most of the looks of these products because we are dealing with fluids, if you do not lay the section you are applying the products to, you will end up with an effect that looks "runny" vs the images we show here.  So, lay a hutch down on it's back.  OR, flip a dresser over onto its side.  You have creative options to make this work.
STEP 2 – Use the Modern Masters Metal Effects Copper Reactive Metallic Paint:   (stay tuned- we will be writing about this later on 7/29/15)
Judy and Anne, of The Purple Painted Lady will be taking more step by step photos and we will have a daily post on the process through all of the products used.
And- we will end this post at the end of this week with a HUGE GIVE-A-WAY of a basket of all the Modern Masters products you need to do this yourself!
Want to win?
You must LIKE our Facebook page, and LIKE the post about this transformation!
Here is a link to the Modern Masters products on our shopping cart.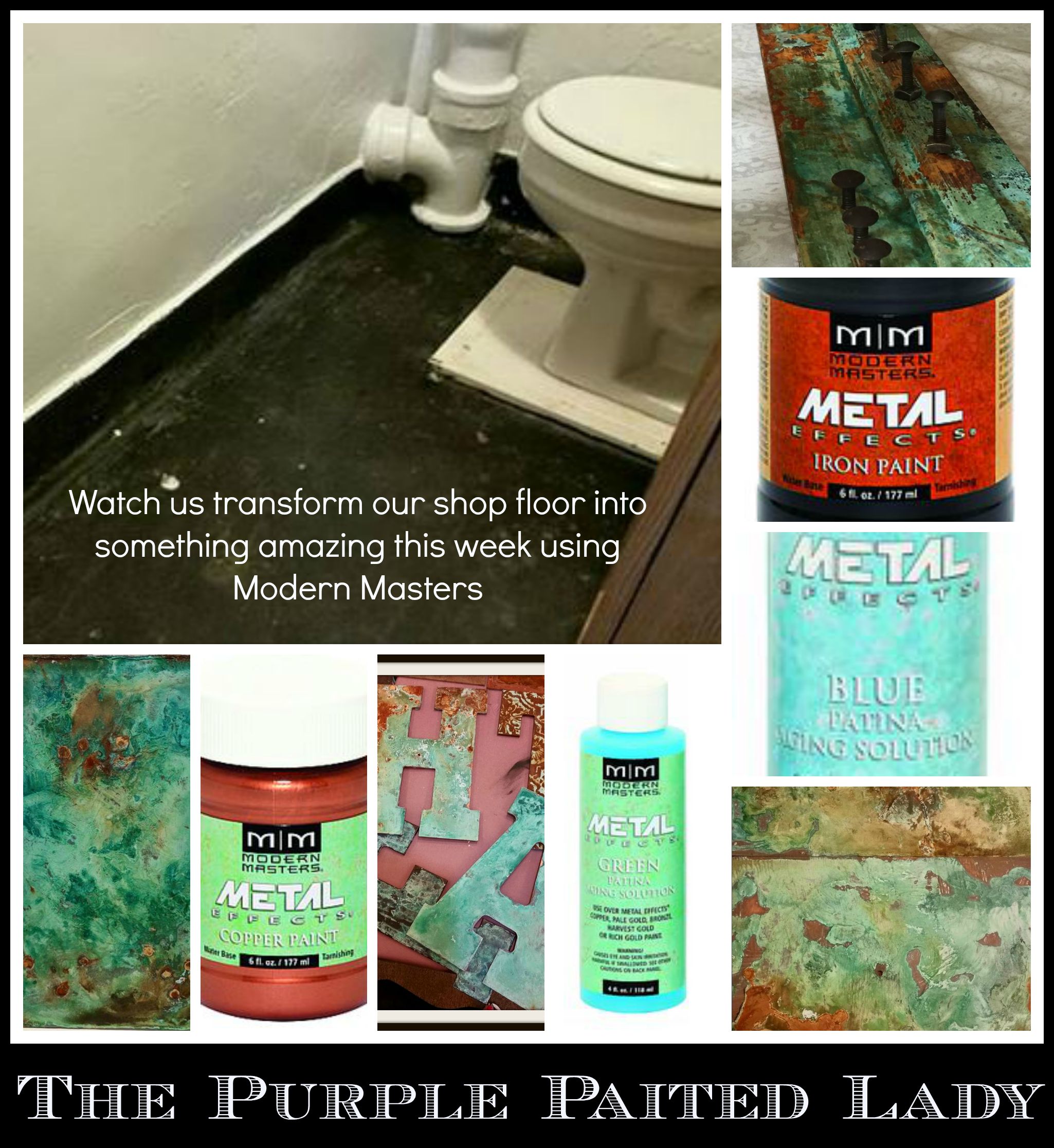 If you are interested in staying in touch with The Purple Painted Lady- visit our Facebook page HERE – we would LOVE to hear from you and see your "before & after" photos!
BUY PRODUCT FROM THE PURPLE PAINTED LADY™:
First- if you have a local stockist- go visit them and build a relationship with them.  Go to them with your questions and project issues.  BUT- if you do not have a local stockist- we invite you to try our customer service!
As for buying any of the products we mentioned earlier in this post- I hope that you select The Purple Painted Lady™ to be your one stop resource!  We have four locations in western NY.  Check out our Information tab on the black MAIN MUNE bar here on our website and come and meet us!
Otherwise- if you are not located near me- the following information may apply to you.
Again- this information is directed to those who do NOT have a local stockist.  Because if you do – go and meet them, shop from them and build a relationship with them.  The guidance, information and knowledge they share with you – will be invaluable.  But, if you are in a location where there is no one selling paint products- and you must buy on-line- consider us.  With that said, visit www.anniesloan.com to find a stockist near you.
We are here to help you, our customers!  We want you to be successful!  And, just so you know, when you place an order with The Purple Painted Lady:
SOME OF THE REASONS WE THINK OUR CUSTOMER SERVICE IS THE BEST:
*  We sell Chalk Paint® for $34.95
*  If you order before 3 pm EASTERN TIME any day Monday thru Friday – we will ship out your package that SAME day.
*  We ship orders out every week day all over the US.
*  We offer the lowest flat rate UPS shipping cost so if you are one town away or 10 states away- the shipping cost is the same.
*  We have awesome follow up customer service, too! (don't believe us?  Please read some of our 400 Facebook reviews.)
And- it is my paint sales that keep me in business and allow me to be here to help you.  (my shameless but honest plug)    Here is a link to our on-line shop=>  
http://shop.thepurplepaintedlady.com/
: )  And I will be here to help you as you progress through your future project!  And if I do say so myself- we offer the BEST customer service that you will ever experience!
Lastly- if I was helpful to you- ….please consider leaving a positive review on my Facebook business page sharing your positive experience or thoughts about The Purple Painted Lady.  Here is a link to my Facebook page=> 
http://www.facebook.com/pages/The-Purple-Painted-Lady/291882785710
    This really helps me!  (wink, wink!)
XO
Trish
The Purple Painted Lady™ ~ the serial no. is 86/641,416 with the US Trademark Office
PLEASE VISIT OUR LOCATIONS NOTED BELOW!<p>
our MAIN STORE at 77 West Main Street in Macedon, NY 14502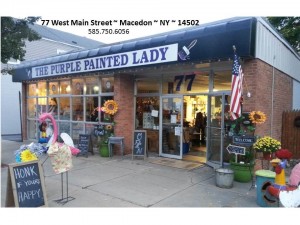 OR
STARTING August, 2015 ~ 650 South Ave. in Rochester, NY 14620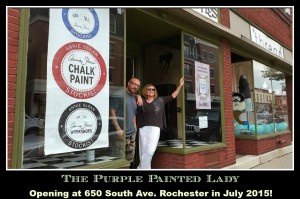 OR
3200 West Ridge Road in Rochester, NY 14626 (The Shops On West Ridge)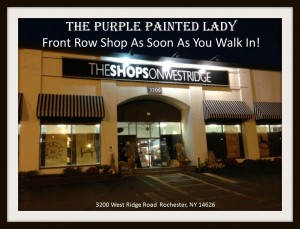 OR
Our Syracuse, NY location at 1 West Genesee Street in Baldwinsville, NY 13027