Annie Sloan's The Colourist – Bookazine!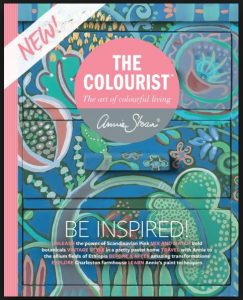 We are so excited and so are many of you! The Colourist will be available sometime in September 2018 through our stores and on-line. As soon as they are available at our distributor- we will make a post with a link to purchase.
The Colourist is a unique Bookazine (bigger than a magazine, smaller than a book) dedicated to Annie Sloan's passion for colour. It is a collectable, bi-annual publication featuring 132 carefully curated pages bound in a covetable cover.
Inside you'll find interviews, beautiful furniture, interior design inspiration, Annie Sloan Stockists, home tours and travel destinations. Each issue will also feature a range of Chalk Paint® projects, for all abilities from absolute amateurs to confident creatives, with easy-to-follow, step-by-step instructions.
This first edition includes an exclusive free Annie Sloan Stencil, with an easy step-by-step guide by Felix Sloan. There is also a competition to enter, where you can win a complete room revamp including paint, fabrics, stencils, brushes and more.