The Purple Painted Lady loves sharing a great "before & after" story!
This one is by Anne French…she is the woman smiling below at you!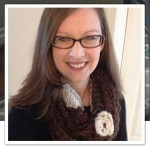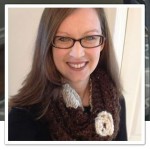 Anne did a table set using Chalk Paint® by Annie Sloan and products by General Finishes. And personally, I think she did a fabulous job!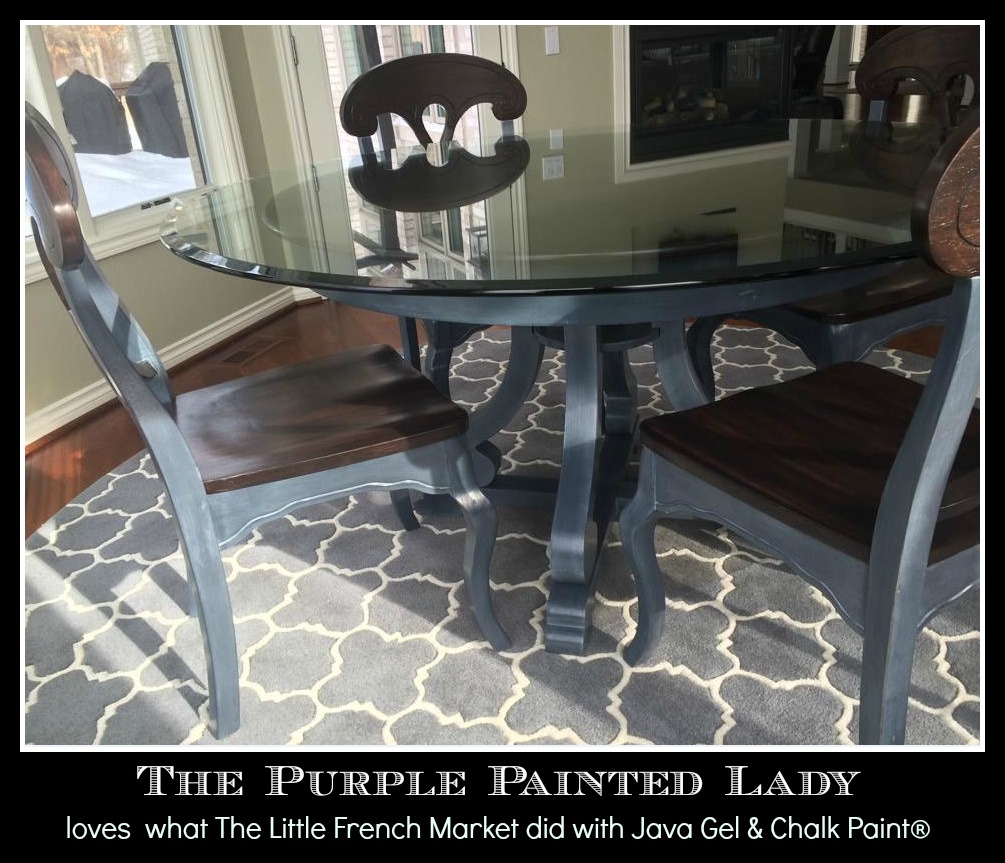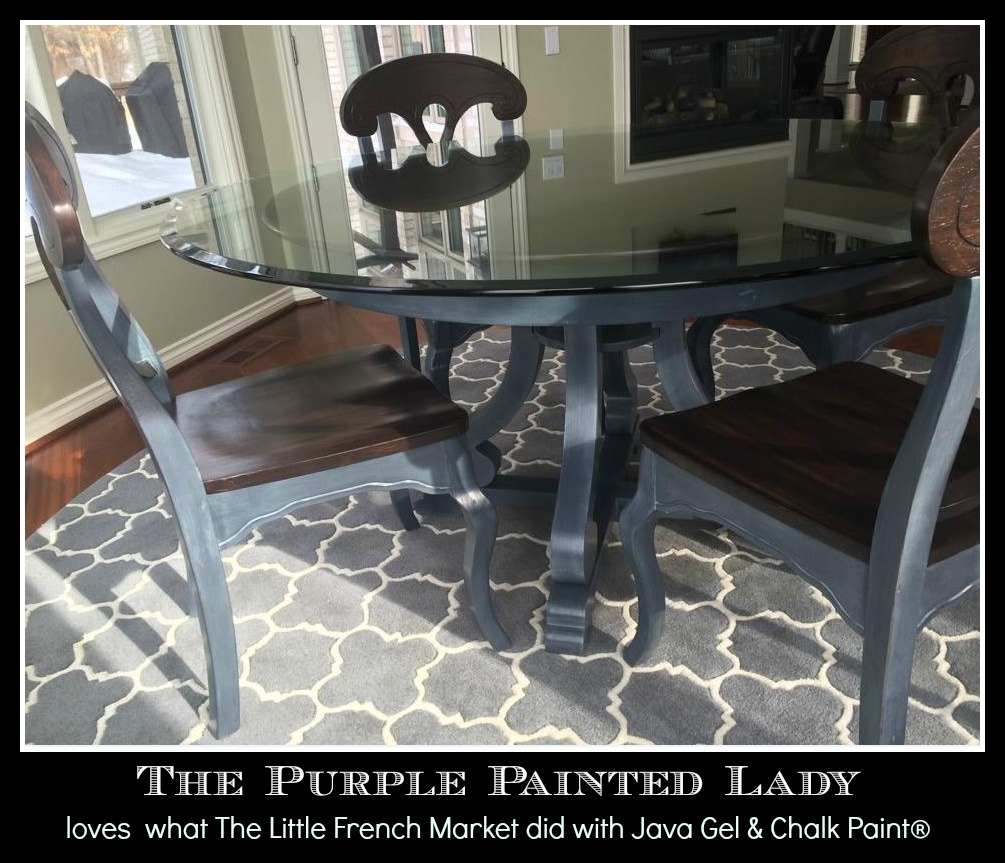 PRODUCTS USED: (Click on the item below to visit it in the shopping cart)
General Finishes Java Gel Stain
General Finishes High Performance Top Coat in Satin
Annie Sloan SMALL Paint Brush (to create texture)
Anne wrote that this table and chairs set was a big job, but I love the way it turned out! My client wanted something rustic, yet sophisticated so we went with kind of a faux zinc finish.
PREPPED FOR GENERAL FINISHES:
I started by removing each of the seats so they could be sanded down and prepped for staining. The chair backs were also sanded and taped off since part of the chair would be painted and part would be stained.
The table top was also completely sanded and prepped for staining. For the stained sections I used my favorite – General Finishes Java Gel.
The General Finishes in the color Java is a rich mocha brown
I find it is very forgiving and easy to work with. I did one coat of stain and then wiped off the excess using an old cotton t-shirt.Once the stain had dried thoroughly I applied about 5 coats of
General Finishes High Performance Topcoat in Satin
for added durability.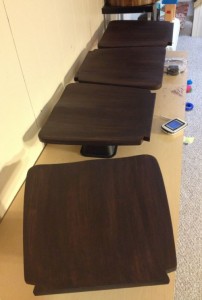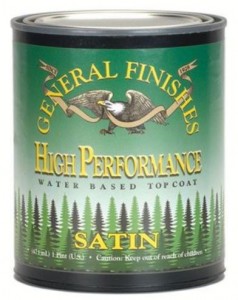 I used a
fine steel wool (grade 0000)
in between each coat of sealer for a nice smooth finish. I like to use extra coats of sealer on seats and table tops since they will get lots of use. (From The Purple Painted Lady- make sure to respect drying times between coats)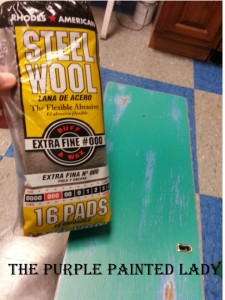 Next, I started in on the painting portion. (I disassembled the table first, which made it much easier to work with since I knew I would be doing multiple steps).
FAUX ZINC FINISH (Random Brush Strokes):
To create the faux zinc finish I started off by applying two coats of Annie Sloan Graphite, using brush strokes in all different directions. Remember that Graphite is a dark slate color with purple/blue undertones. This is NOT a pure black. Can you see the brush strokes in the image below?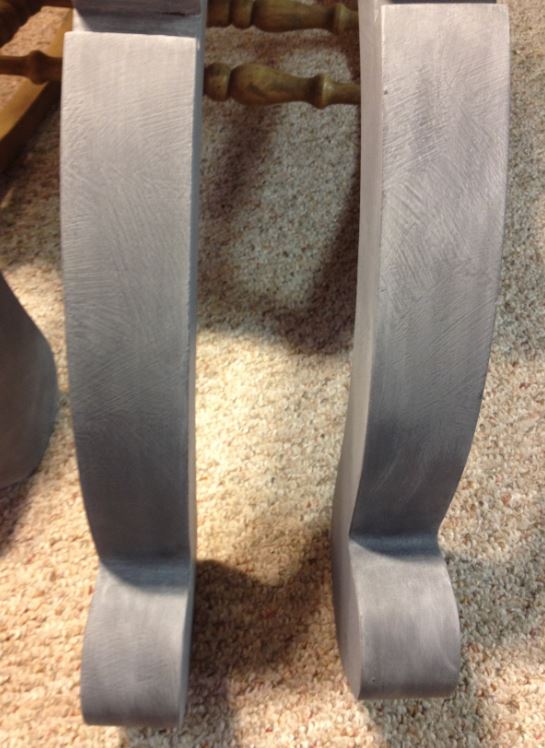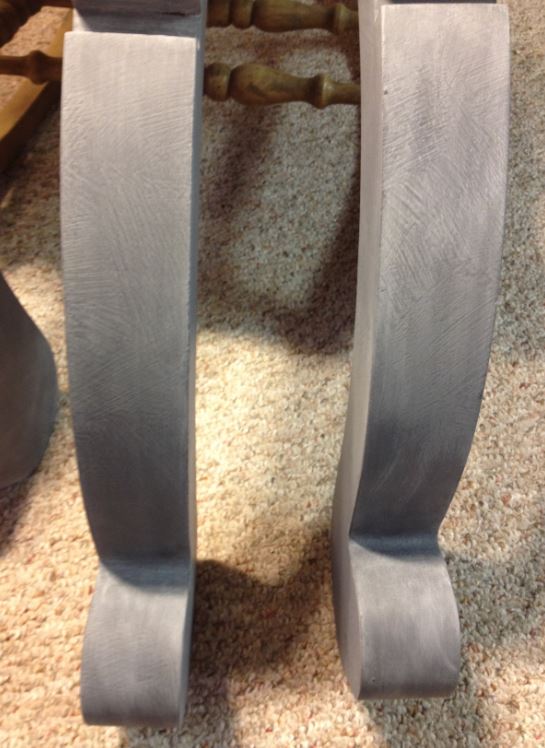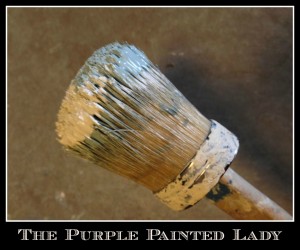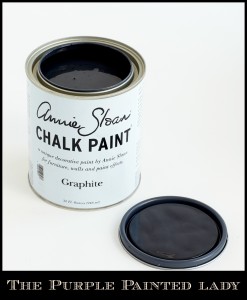 COLOR WASH:
This created some really nice texture to "catch" the color wash. I did a color wash using Annie Sloan Paris Gray, using about five parts water to three parts Paris Gray.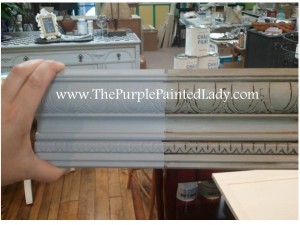 I applied the wash with a chip brush and then rubbed off the excess using an old cloth.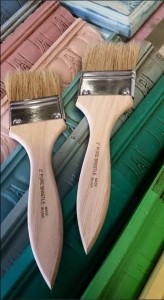 Finally, I applied about 3 coats of the General Finishes High Performance Topcoat in Satin, fine sanding with the steel wool in between the coats.My client was thrilled with the finished product! I have since used this faux zinc finish on multiple other projects and it is always a winner.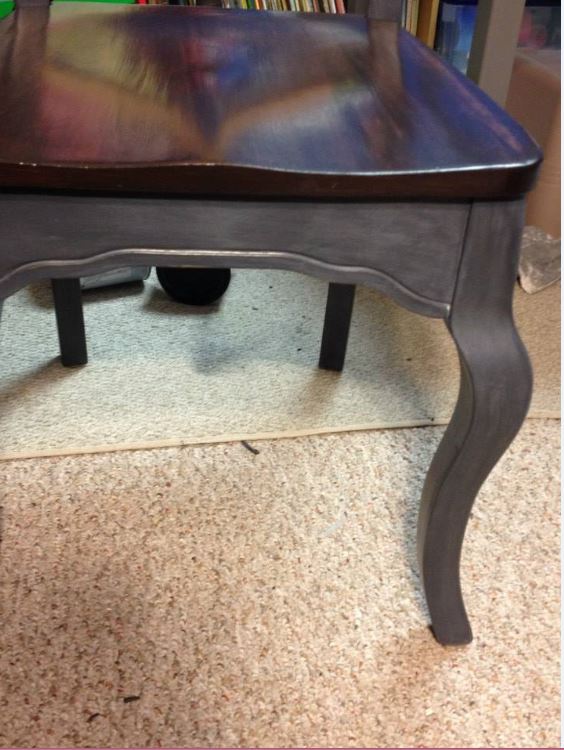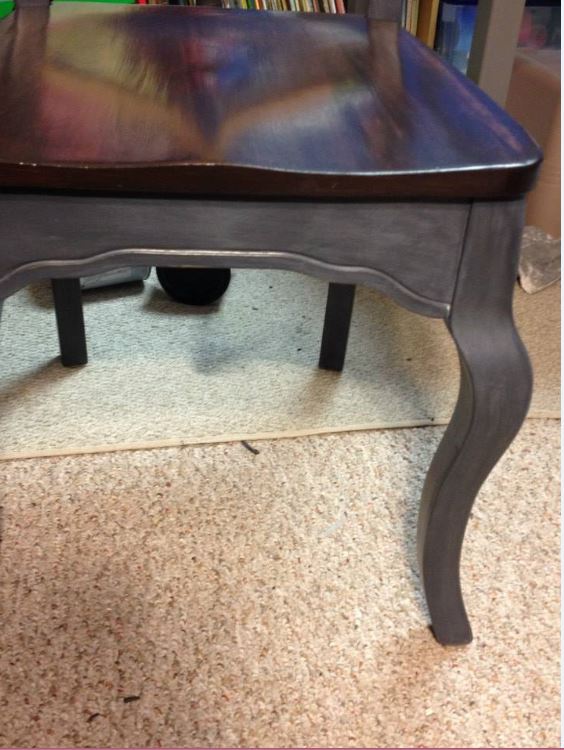 PROJECT TIP FROM ANNE:
When applying a color wash, be careful not to use too much pressure when wiping off the excess as it can pull off some of the base color and potentially create an unwanted distressed look to your piece.
If you are interested in staying touch with The Purple Painted Lady- visit our Facebook page HERE – we would LOVE to hear from you and see your before & after photos!
BUY PRODUCT FROM THE PURPLE PAINTED LADY™:
First- if you have a local stockist- go visit them and build a relationship with them. Go to them with your questions and project issues. BUT- if you do not have a local stockist- we invite you to try our customer service!
As for buying any of the products we mentioned earlier in this post- I hope that you select The Purple Painted Lady™ to be your one stop resource! We have two locations in western NY. Check out our Information tab and come and meet us! Otherwise- if you are not located near me- the following information may apply to you. This information is directed to those who do NOT have a local stockist. Because if you do – go and meet them, shop from them and build a relationship with them. The guidance, information and knowledge they share with you – will be invaluable. But, if you are in a location where there is no one selling paint products- and you must buy on-line- consider us. With that said, visit www.anniesloan.com to find a stockist near you.
We are here to help you, our customers! We want you to be successful! And, just so you know, when you place an order with The Purple Painted Lady:
SOME OF THE REASONS WE THINK OUR CUSTOMER SERVICE IS THE BEST:
* We sell Chalk Paint® for $34.95
* If you order before 3 pm EASTERN TIME any day Monday thru Friday – we will ship out your package that SAME day.
* We ship orders out every since week day all over the US.
* We offer the lowest flat rate UPS shipping cost so if you are one town away or 10 states away- the shipping cost is the same.
* We have awesome follow up customer service, too!
And- it is my paint sales that keep me in business and allow me to be here to help you. (my shameless but honest plug) Here is a link to our on-line shop=>
http://shop.thepurplepaintedlady.com/
: ) And I will be here to help you as you progress through your future project! And if I do say so myself- we offer the BEST customer service that you will ever experience!Lastly- if I was helpful to you- ….please consider leaving a positive review on my Facebook business page sharing your positive experience or thoughts about The Purple Painted Lady. Here is a link to my Facebook page=>
http://www.facebook.com/pages/The-Purple-Painted-Lady/291882785710
This really helps me! (wink, wink!)
XO
Trish
The Purple Painted Lady™ ~ the serial no. is 86/641,416 with the US Trademark Office
PLEASE VISIT OUR LOCATIONS!
our MAIN STORE at 77 West Main Street in Macedon, NY 14502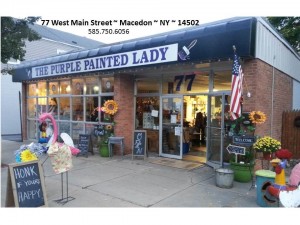 OR
3200 West Ridge Road in Rochester, NY 14626 (The Shops On West Ridge)