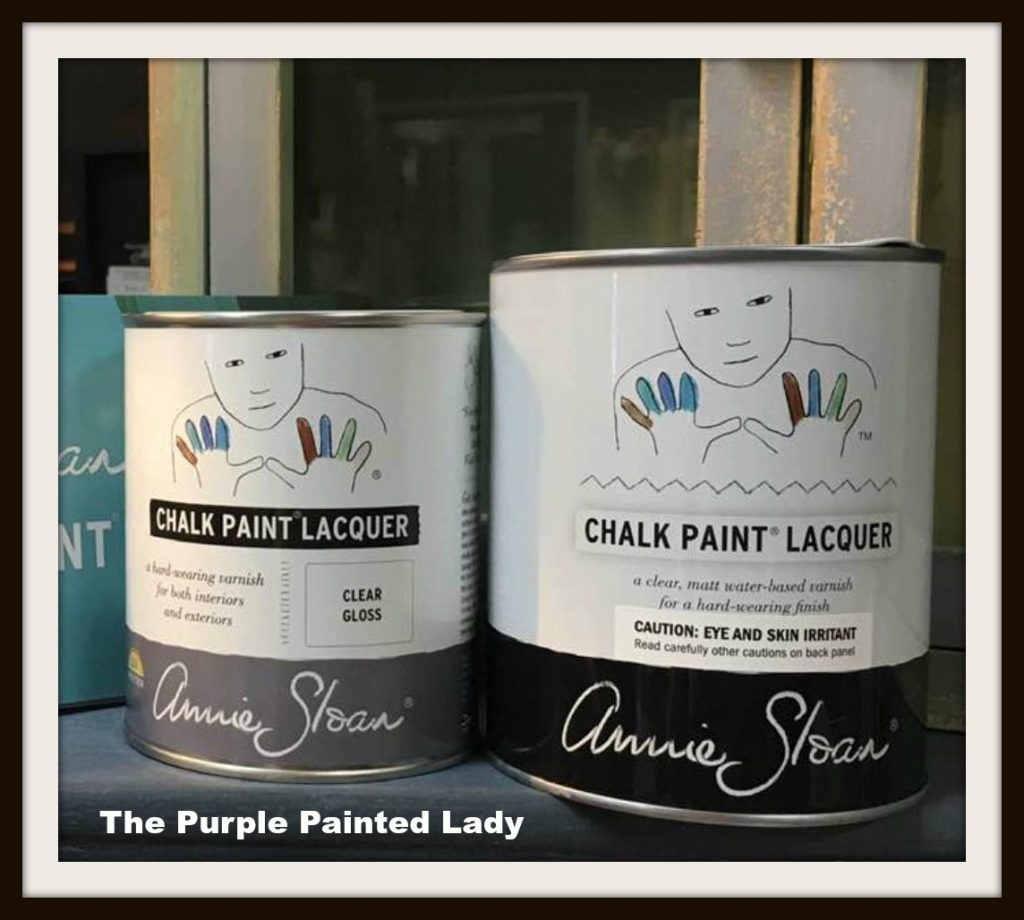 The photo above is not an optical illusion. The containers shown are side by side, but the container on the left, is Annie's Gloss Lacquer that is packaged in the 750 mL tins. The container on the right, is Annie's Lacquer that was packaged in the 1000 mL and can only be used inside. The 750 mL Lacquers can be used both inside and out!
The 1000 mL container will be phased out through 2019. Besides the obvious packaging difference above, something to point is that in May of 2019, Annie Sloan introduced a new sheen- that being her Gloss Lacquer since in the past, only a matt was available.
In May of 2019, Annie's also introduced her Matt Lacquer in new packaging of the 750 mL container.
The very exciting quality of both the 750 mL containers of Gloss Lacquer and Matt Lacquer, is that can both be used for interior and exterior projects…. where as in the past, the Annie's Lacquer that was packaged in the 1000 mL container was only for interior use. Annie's Lacquer packaged in the 750 mL containers also has UV Protection so it will help minimize the fading of bright colors from the hot sun.
IF USING LACQUER OVER A DARK COLOR PAINT?  =>    KEEP IN MIND…..as with any matte finish product, it is recommended that you use a gloss finish first , then apply the matte when going over darker colors. The flattening agents in the product that give it a matte finish will show as a cloudy look over dark colors. You have to cover with a gloss first. Annie Sloan Lacquer in the 750 mL containers comes in both a GLOSS and MATT.
Something to keep in mind- is that applying Lacquer is not like applying paint! It does not like to be over handled. If you click HERE it will link you to a detailed post that we wrote with detailed instructions and tips on how to best use Annie's Lacquer.
Also, as noted in the spec sheet below, be careful when applying the Matte Lacquer over "dark" colored colors! You do not want too many coats or for it to be too thick because it can cause white hazing.
DIFFERENCES IN THE 750mL vs 1000mL Lacquer Container:
the coverage per square foot has increased. The 750mL containers will cover approximately 200 sq ft the 1000ml was specified to cover 100 sq ft. (I know what you are thinking, less Lacquer but more coverage…but that is correct)
the 750mL can be used on BOTH inside and outside painting projects
there is a UV protector
it is certified "Toy Safe"
Gloss is now available as a sheen
If applying over a surface with multiple colors, like if you created a floor cloth as shown below – use a light touch or light pressure with your brush. You do not want to over brush. In fact- you could use a foam roller and then, lightly brush it out. If you apply too much pressure, you can run the risk of pulling paint.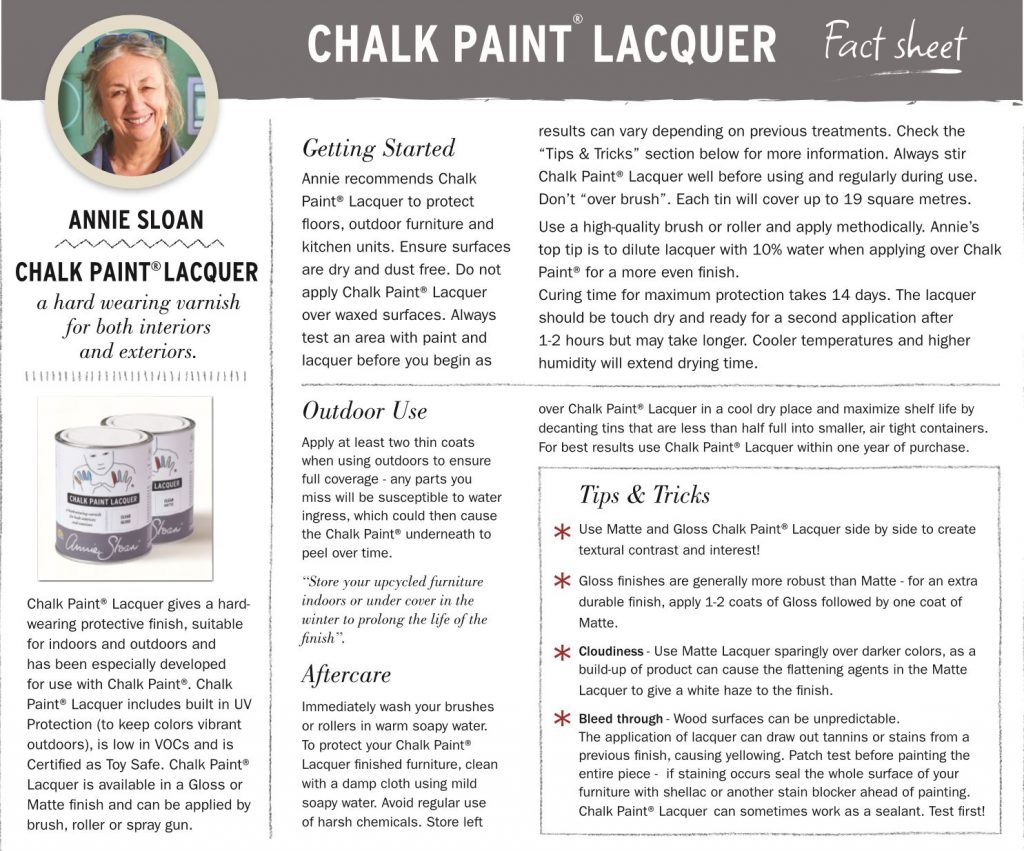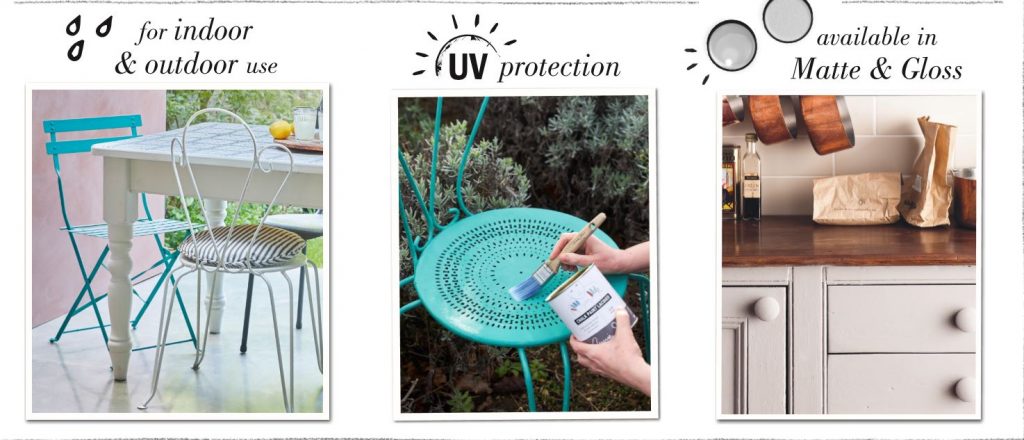 Remember- you cannot apply Lacquer over Annie's wax!
(It does not matter the color of the wax either) Wax is an organic material, your Lacquer will eventually peel off. It may not right away, but trust me- it will eventually.
ADDITIONAL NOTES (like you haven't read enough already though!) But this is very important!!!!!
Firstly, I will come straight out and say this – it takes a bit of extra effort to get a good finish with matte top coats over dark colour paints like Athenian Black, Graphite, Napoleonic Blue or Amsterdam Green. Lacquer does not behave in the same way as paint!
The reason why I say 'matte top coats' and not specifically Annie Sloan Matt Lacquer is that it's important to note that this is the case with any of these types of product (matt finish polyacrylic). During our product development we found that most existing matt topcoats on the market include a caveat in their technical data sheets to this effect.
However, we believe that the finish and results that are possible with Matt Lacquer mean that it is still a product that is worthy of a place in the Annie Sloan inventory. So here's some great tips you should really follow.
Annie Sloan Matt Lacquer gives a very flat finish. To create this effect, it contains a flattening agent to disperse reflected light and cut out the sheen. When applied over dark colours, this flattening agent becomes visible, giving a milky or cloudy effect. The more coats that are applied, the more pronounced this effect becomes.
The effect is also more obvious if the Matt Lacquer is applied to textured surfaces, as it can gather more thickly in the texture and brush strokes of the finish. There's a couple of tips to get around this.
TIP 1 – FOR WORKING WITH MATT OVER DARK COLOURS: Sand your paint back to a super smooth finish before you apply the first coat of Lacquer. Eliminating brush marks and texture will prevent a build up of flattening agents. This is a good tip if you are only intending to apply ONE coat of Lacquer, for items that do not require the additional protection of a second coat. Dilute your Lacquer coat with 10% water and apply with a light hand.
TIP 2 – FOR WORKING WITH MATT OVER DARK COLOURS: Apply a coat of Gloss Lacquer as your first coat. This is a good tip for items that require extra protection or where you don't want to take the extra step of sanding the paint smooth. The Gloss Lacquer will fill in any texture and brush marks in the paint, giving a smoother finish to work on. Dilute this first gloss coat with 10% water. Once dry, finish with a carefully applied coat of Matt.
TIP 3 – FOR WORKING WITH ANY LACQUER: Always test for bleed through by applying paint and Lacquer in an inconspicuous (if possible) area. Don't skip this step! Always test! It's the only way you can be sure of what the finished results will be. It's much easier and less frustrating to solve potential problems at this stage. Bleed through can manifest in lots of different ways, and can even affect dark colours.
Edited to add – TIP 4 – Experiment with spraying, which is another application option. If you're interested in this, there's a lot of info out there if you research spraying polyacrylic. We use a HVLP sprayer and thin slightly with water. Since sprayers will vary from brand to brand, it is difficult to give more specifics and part of using it in your sprayer and with you nozzles- will be trial and error.
I hope this helps! It's important to understand that this product is not necessarily the 'easy option' over wax, so bear this in mind when consulting with your customers over their choice of finish.
Lacquer can be applied over gold or silver leaf also.
CAN I RETURN OR EXCHANGE THIS PRODUCT?
Photos, displays and work designed and created by Annie Sloan. We are sorry – there are NO RETURNs when it comes to paint/ paint products/ top coats/ waxes. You will find this for every stockist. Think about it- would you ever want a quart of paint sent to you – that was shipped to someone else prior? We eliminate any potential issues with this policy.
With that said- we apologize for any issues this may cause. Choose wisely and do not spontaneously purchase a color if unsure. OK? In fact- if you need help in deciding- ask us. We are here to help you! : )
BUY PRODUCT FROM …..THE PURPLE PAINTED LADY®:
First- if you have a local stockist- go visit them and build a relationship with them. Go to them with your questions and project issues. BUT- if you do not have a local stockist- we invite you to try our customer service!As for buying any of the products we mentioned earlier in this post- I hope that you select The Purple Painted Lady® to be your one stop resource! We have two locations in western NY. Check out our Information tab and come and meet us! Otherwise- if you are not located near me- the following information may apply to you. This information is directed to those who do NOT have a local stockist. Because if you do – go and meet them, shop from them and build a relationship with them. The guidance, information and knowledge they share with you – will be invaluable. Get inspired by their shop that they lovingly curated – just for you! Enjoy that one on one experience! But for those who are in a location where there is no one selling paint products- and you must buy on-line- consider us. With that said, visit www.anniesloan.com to find a stockist near you. We are here to help you, our customers! We want you to be successful! SOME OF THE REASONS WE THINK THE PURPLE PAINTED LADY® CUSTOMER SERVICE IS THE BEST: * We love our customers and it shows!* Ordering online? If you order before 3 pm EASTERN TIME any day Monday thru Friday – we will ship out your package that SAME day. We ship orders out every since week day all over the US. (THIS IS DIFFERENT than SAME DAY DELIVERY. We do not offer that)* We offer low flat rate UPS shipping cost so if you are one town away or 10 states away- the shipping cost is the same.* We have awesome follow up customer service, too!* We sell Chalk Paint® for $34.95 SHOP ON LINE HERE : ) And I will be here to help you as you progress through your future project! And if I do say so myself- we offer the BEST customer service that you will ever experience! Lastly- if I was helpful to you- ….please consider leaving a positive review on my Facebook business page sharing your positive experience or thoughts about The Purple Painted Lady®. Here is a link to my Facebook page=> http://www.facebook.com/pages/The-Purple-Painted-Lady/291882785710 This really helps me! (wink, wink!)
XOTrish
The Purple Painted Lady® ~ the serial no. is 86/641,416 with the US Trademark Office