These two floor projects are just spectacular!
First we have our friend Amy Smith – who is an entrepreneur and has had multiple successful businesses.
This new chapter she just began is being the caretaker for the Taylor House 1810 at 2941 West Lake Road in Cazenovia, NY. They will be doing an exciting new launch of their gorgeous bed and breakfast in early January 2020….and will be sharing more photos. But we just had to share what they did to their floor using Chalk Paint® by Annie Sloan.
However, we wanted to give you a little taste of how they are using Chalk Paint® by Annie Sloan and inspiration from blogs like Quintessence on this journey.
Amy had some restoration to the wood floor and the repairs did not fit in with the previous wood stain.
Amy had a vision and with Athenian Black, Emperor's Silk Chalk Paint® and patience ~ she is creating something gorgeous.
……and then she used Annie's GLOSS Lacquer to seal the floor. To read more about using Lacquer- visit this post HERE. The whole bed and breakfast is really coming together!
Once the Taylor House 1810 does their formal debut- The Purple Painted Lady will make a road trip to visit Amy and do a Facebook LIVE. We will give you a tour and discuss the projects Amy did and let you ask any questions to get real answers! I cannot wait- it is going to be gorgeous!!!!
Next up is a project from an Annie Sloan Stockist named Josh Mintoft who owns Martha Heritage in Sheffield – he transformed his old tile that was a terra cotta red to something current, fresh and very clean looking!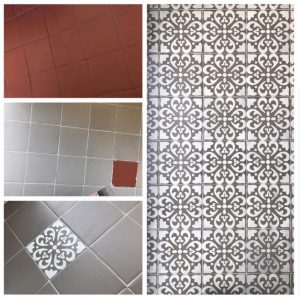 Josh cleaned his floor well and followed up with an additional rinse of fresh water to ensure there was not soap residue left behind, or any dirt. He then made sure the floor was totally dry before he began. Especially, in the grout lines.
MATERIALS USED:
French Linen Chalk Paint® by Annie Sloan
First- he painted in the grout lines with white.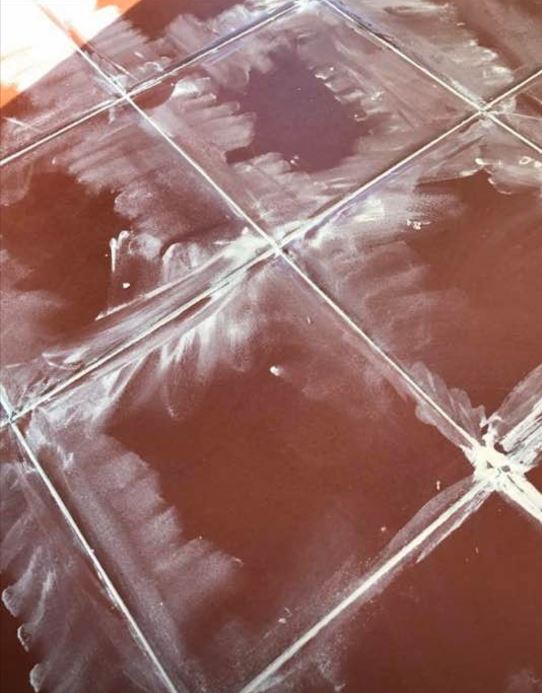 Once the white on the grout was dry- he began to use the French Linen Chalk Paint® by Annie Sloan to cover the bulk of the tiles.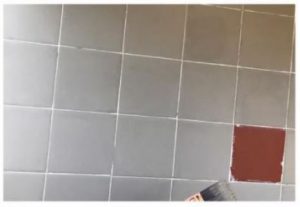 He was not too concerned about if he accidentally covered some grout with the French Linen Chalk Paint® by Annie Sloan because he knew once he added the stencil…there would be enough movement- no one would really notice!
Josh stated he used a brush, and managed to get away with one coat generally of the French Linen – but touched up in places. Then he stenciled and applied the Lacquer.
Here is some important information about using Lacquer since it does NOT behave like paint. It is critical you read and follow the instructions we provide!!!!
https://www.thepurplepaintedlady.com/…/using-annie…/
If looking to purchase Annie Sloan products- we are here to help you! Both on-line OR at one of our two locations in western NY!
BUY PRODUCT FROM …..THE PURPLE PAINTED LADY®:
First- if you have a local stockist- go visit them and build a relationship with them. Go to them with your questions and project issues. BUT- if you do not have a local stockist- we invite you to try our customer service!
As for buying any of the products we mentioned earlier in this post- I hope that you select The Purple Painted Lady® to be your one stop resource! We have two locations in western NY. Check out our Information tab and come and meet us! Otherwise- if you are not located near me- the following information may apply to you.
This information is directed to those who do NOT have a local stockist. Because if you do – go and meet them, shop from them and build a relationship with them. The guidance, information and knowledge they share with you – will be invaluable. Get inspired by their shop that they lovingly curated – just for you! Enjoy that one on one experience! But for those who are in a location where there is no one selling paint products- and you must buy on-line- consider us. With that said, visit www.anniesloan.com to find a stockist near you.
We are here to help you, our customers! We want you to be successful!
SOME OF THE REASONS WE THINK THE PURPLE PAINTED LADY® CUSTOMER SERVICE IS THE BEST:
* We love our customers and it shows!
* Ordering online? If you order before 3 pm EASTERN TIME any day Monday thru Friday – we will ship out your package that SAME day. We ship orders out every since week day all over the US. (THIS IS DIFFERENT than SAME DAY DELIVERY. We do not offer that)
* We offer low flat rate UPS shipping cost so if you are one town away or 10 states away- the shipping cost is the same.
* We have awesome follow up customer service, too!
* We sell Chalk Paint® for $34.95
: ) And I will be here to help you as you progress through your future project! And if I do say so myself- we offer the BEST customer service that you will ever experience! Lastly- if I was helpful to you- ….please consider leaving a positive review on my Facebook business page sharing your positive experience or thoughts about The Purple Painted Lady®. Here is a link to my Facebook page=>
http://www.facebook.com/pages/The-Purple-Painted-Lady/291882785710
This really helps me! (wink, wink!)
XO
Trish
The Purple Painted Lady® ~ the serial no. is 86/641,416 with the US Trademark Office