ALMOST 2 weeks till the BIG SHOW! Every artist has donated an item worth over $30. You can buy raffle tickets at the show- BUT everyone GETS ONE FREE.
Print this ticket, complete it legibly, and give upon entrance to the show!
~ Sorry, we cannot accept your ticket AFTER you are inside. I hope that you understand the reason why. Visit the Facebook EVENT PAGE FOR MORE DETAILS =>https://www.facebook.com/events/158186121199430/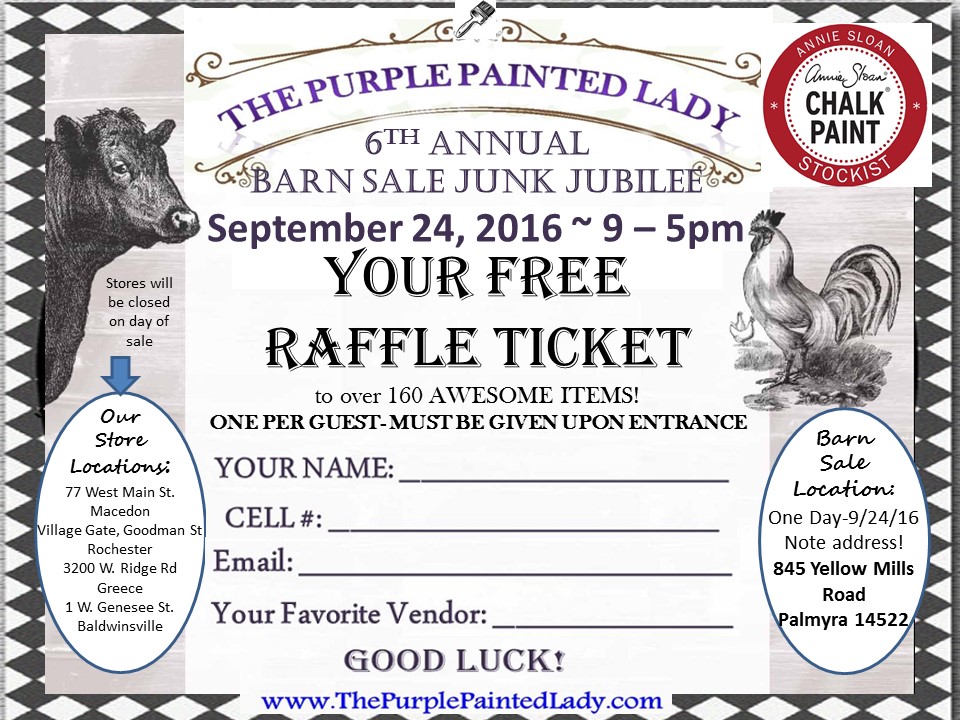 The Purple Painted Lady Barn Sale happening on Saturday, September 24, 2016 and it is booked to capacity with 150 artisans!
At this point – we are NO longer accepting applications.
We are beyond excited to announce National Blogger, Miss Mustard Seed will be at our 9/24/16 Barn Sale!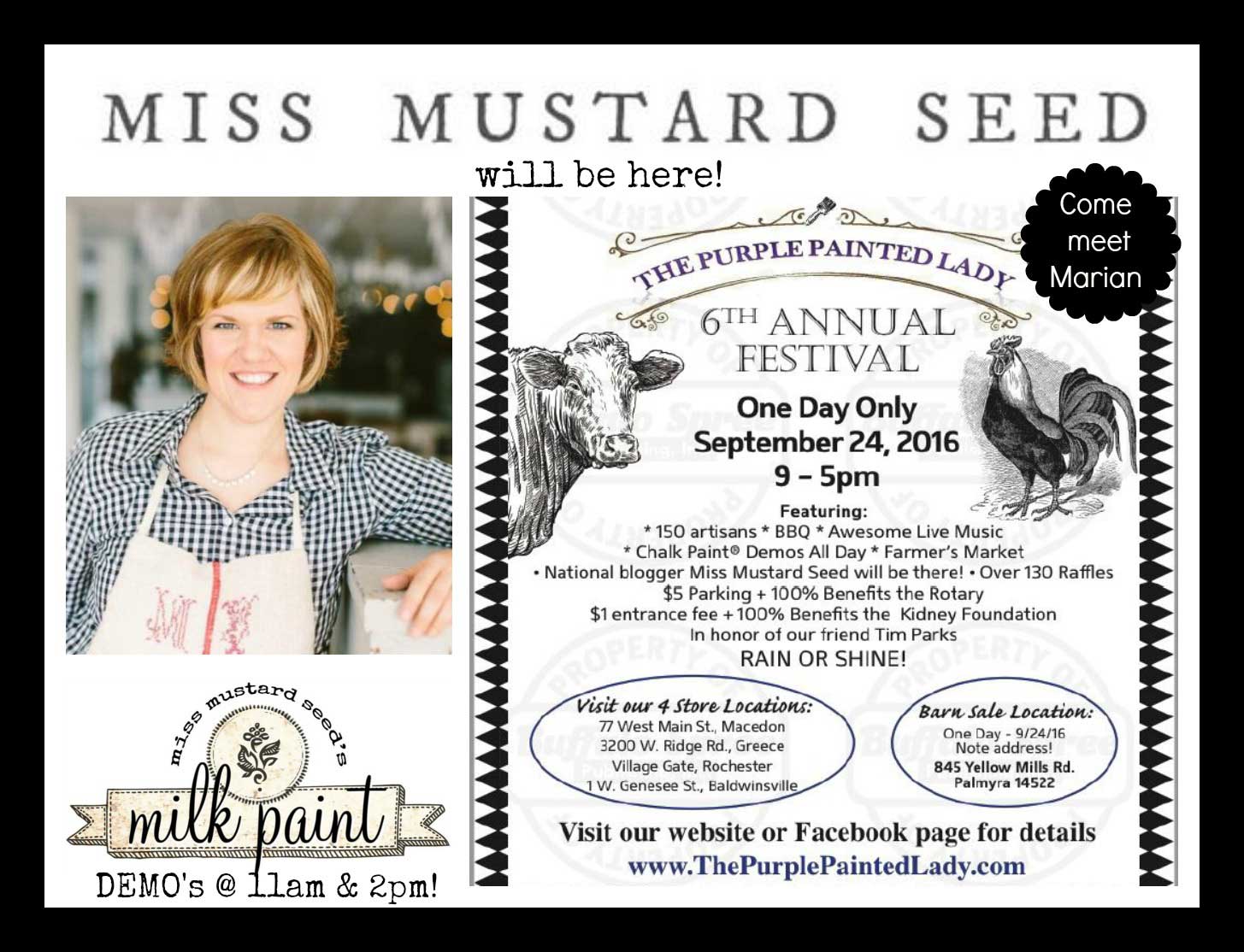 Come to the meet & greet and watch her demo Miss Mustard Seed's Milk Paint at 11am & 2pm under the big tent.
Visit Marian's website to learn more about her! http://missmustardseed.com/about/
Visit The Purple Painted Lady's 6th Annual FESTIVAL (Sept. 24, 2016) event page and let us know you are coming =>https://www.facebook.com/events/158186121199430/ 
If you are an artists and missed out on being in this show- consider this!  =>  ……we will begin hosting "Second Saturdays at Village Gate" in October and if you are an artists interested in participating in that- please email Trish at takuntz@rochester.rr.com and note
WHAT YOU NEED TO DO TO APPLY:
Email Trish at takuntz@rochester.rr.com
You must:
Label your email subject as, "2nd Saturdays at the Gate– (insert your business name)"
Provide all of your contact information (complete name, address, phone number)
List out all that you plan on making and bringing (we do not permit direct sales companies, sorry)
Include up to TWO photos representing your product
Trish will then respond back via email to you on if you are accepted via email and if you are- she will include the registration form for you to complete and mail back with your $25 vendor fee.  
IF and once accepted- then you will be directed to send in your vendor fee.

Vendor Fee:
$25 in either Cash OR Check (Not Credit Card)   


HOW TO MAKE PAYMENT FOR VENDOR FEE
Check made out to Tricia Kuntz, dropped off at our Village Gate OR Macedon shop
OR mailed to:

Tricia Kuntz
 845 Yellow Mills Road, Palmyra NY 14522- INCLUDE your business name in Subject! 

WHAT DO YOU GET FOR YOUR $25 INVESTMENT?
An inside space where you can set up your own table or display to sell your wares.  We will manage the promotion of the even and the layout.