Do you sell painted furniture? Maybe you do this on Facebook or Craigslist…or even just word of mouth. EIther way- help people understand how to properly take care of the masterpiece you created for them. Especially since some people don't just use furniture- they abuse furniture. Protect yourself with a detailed care tag!
Many of you out there bought a quart a paint and a tin of wax~ just to do a piece for yourself, and then your friends saw it and…..BAM! You are in business!
Suddenly, everyone wants you to paint something for them, right? (and they probably want a super deal in price because your new and their friend)
Well, congratulations! You are in business!
Something very important – is to make sure if you are painting pieces- that the people who receive them know how to properly take care of them.
This helps them and also helps you in the long run- since you would not want them using a product on it that could effect the wax or ruin the piece.
So, please make sure to always attach a "care tag" & your business card to your painted pieces. Some people even add a notation on the receipt or paint contract that a "maintenance tag" was provided and have the customer initial it.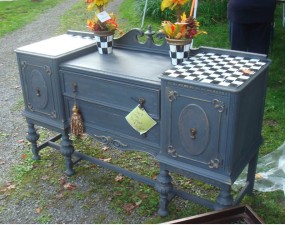 First, no matter if selling your pieces on Craigslist, a co-op, or in a store ~ adding a care tag and your business card is a very professional courtesy to provide to your customers.
I would suggest items like these below be included on your care tag:
First! Always include your business name and contact information! Sounds obvious, huh?
Even if you have a business card attached to the piece- if gets lost- your customer may have no way of tracking you down to paint another piece for them. (so here is a tip- decoupage one on the bottom of the top drawer. When I say "bottom"…I mean – they literally need to pull the drawer all the way out of the cavity and flip it to see it.) Tell your customer about it and I guarantee – they will think that was cool and not forget it is there!
Then…..write something like:
Your newly finished painted piece needs about 10 to 21 days for the top coat to cure. Wax may only take about 8 days depending on where you are located. Please treat it with care and avoid excess handling during this time.
To clean your painted & waxed piece, use a mild soap & water. Never use a degreaser soap that can effect the wax. On other top coats- still use a gentle cleaner. Method is a brand that is safe.
Avoid all contact with furniture polish, sprays, excessive water, alcohol and anything acidic.
Be cautious of using essential oils, diffusers or aerosol products like hair spray near your painted and waxed pieces.
If this is a table or desk – use a blotter pad to avoid pressing into a finished piece when writing on top of it. And always use placemats or coasters to protect from hot dishes or cups or glasses that perspire due to heat or humidity.
And- I only use Chalk Paint® decorative paint by Annie Sloan purchased at The Purple Painted Lady (LOL- I just had to my shameless plug)
If interested in purchasing Annie Sloan products, please visit our website if interested in ordering Chalk Paint®. We have Chalk Paint® available for $34.95 per quart every day, we offer low/flat rate shipping and it always ships same day (as long as Mike, our UPS guy has not come already!)

In fact- there are many reasons we think buying through us is the best. Read THIS little post about what sets The Purple Painted Lady apart from the rest.
To visit our on-line store- click HERE.
Lastly, we share a lot more information to help you get the most functionality out of your Chalk Paint® on our Facebook page. Consider checking it out by clicking HERE. While there- kindly consider LIKING us.
Thanks again,
Tricia Migliore Kuntz ~The Purple Painted Lady ~
Design/Consulting, Kitchen Cabinet Refurbishing, Custom Painted Furniture, Chalk Paint® & Miss Mustard Seed Milk Paint Retailer & herRochester Blogger
PHONE: 585-750-6056
Come visit us:
At our MAIN STORE at 77 West Main Street in Macedon, NY 14502 OR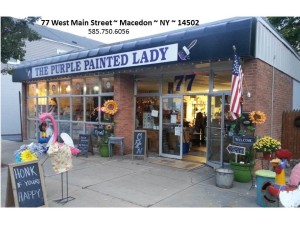 3200 West Ridge Road in Rochester, NY 14626 (The Shops On West Ridge) OR
Our Village Gate Store at 274 Goodman Street North, Rochester NY 14607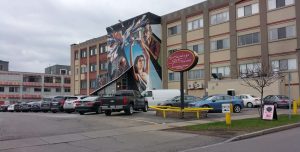 Our Syracuse, NY location as of July 1, 2014 at 1 West Genesee Street, Baldwinsville, NY 13027
Click HERE for Store hours and information.