Graphite Chalk Paint® by Annie Sloan with Black Wax
Isn't this handsome piece a show stopper?!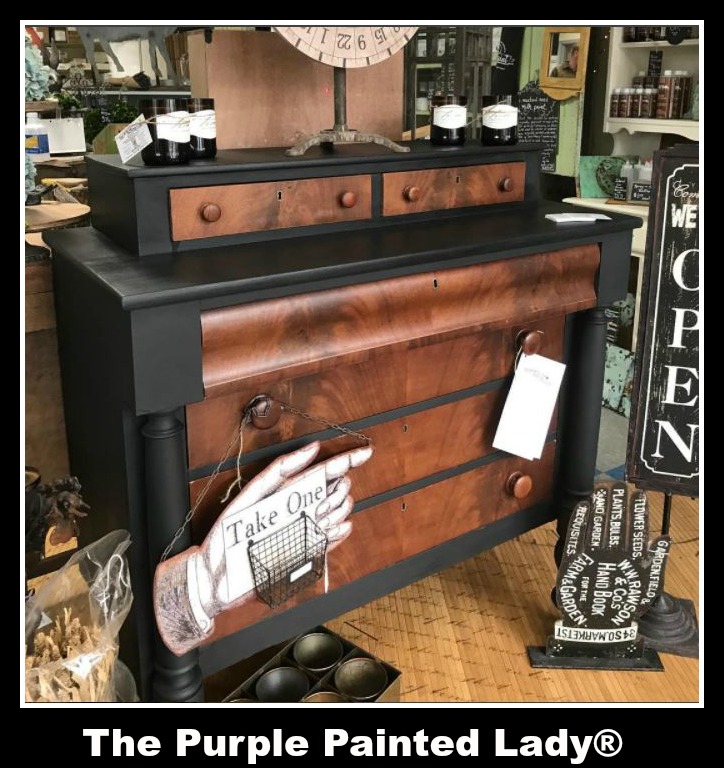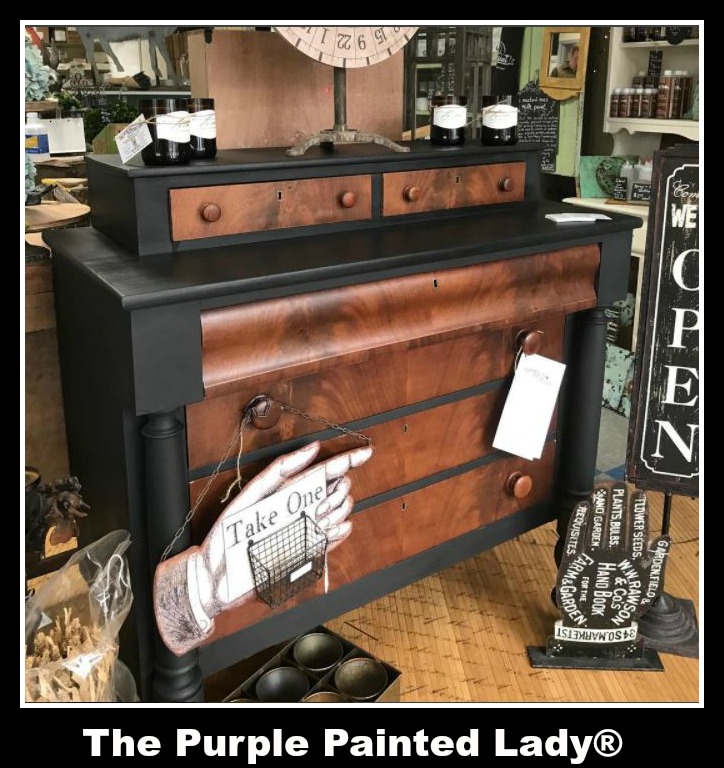 Sometimes you have to be patient and let a piece of furniture speak to you, for example…..like this vintage top hat dresser above!
Initially, we started out using Lem Lem Chalk Paint® on this piece. And – with a little of Annie's White Wax and even maybe an Iron Orchid Transfer in white – it could have been a show stopper too!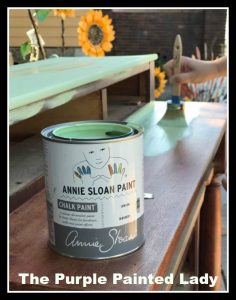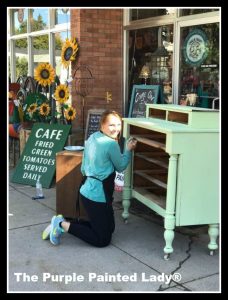 But…after getting the Lem Lem on it… I did not feel right! This "handsome" piece had a maculine feel to it with its hefty wood posts on each side and just the way the burled wood on the drawers attracted me!
Burled wood is special! It is that swirly-grained wood that is often used on modern-styled pieces or as an inlay on vintage chests and dressers.
And the more I looked at it- it spoke out saying, "Please use Graphite Chalk Paint® by Annie Sloan with Black Wax on me!"
So, we took it another direction.
MATERIALS USED ON THIS PROJECT:
Graphite Chalk Paint® by Annie Sloan
Annie Sloan's Black Wax
Annie's SMALL dome top Paint Brush (this is my favorite!)
Annie's SMALL Wax Brush (this is also our favorite wax brush!)
Scott Shop Towels (they are lint free and are hearty to remove the wax)
Graphite Chalk Paint® by Annie Sloan is a soft black – which I like to compare to a dark slate color or a vintage slate chalk board in an old school room! It is made with purplish blues, browns, and is not completely black. When waxed with Annie's Dark Wax- the color becomes even more richer and warm. This is a popular color, especially when I am detailing a piece with vintage typography. I receive a lot of emails about this color. First- I want to clearly state again – Graphite Chalk Paint® is NOT black.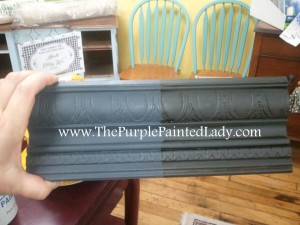 For this top hat dresser- I knew that I wanted it darker in color, so it was repainted using Graphite Chalk Paint®.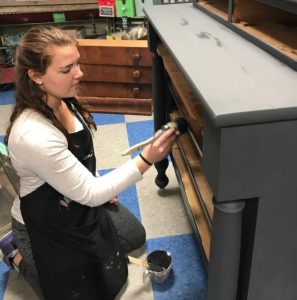 …..once we finished painting it – we decided to use Annie Sloan's Black Wax. This photo belows shows the very top hat finished with Annie's Black Wax but the lower portion with raw Chalk Paint®…meaning that is not waxed yet.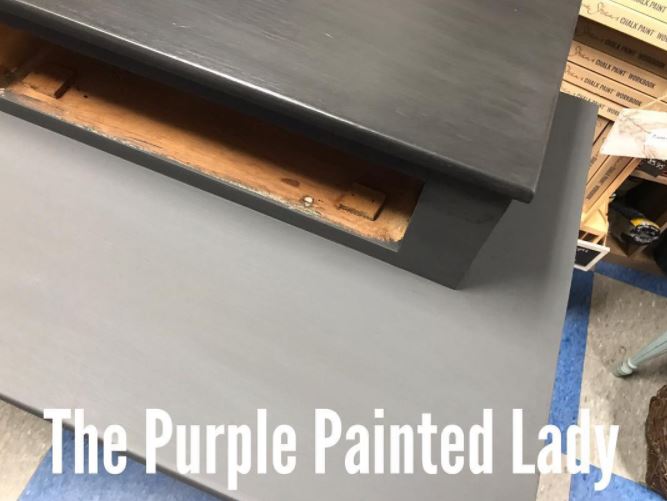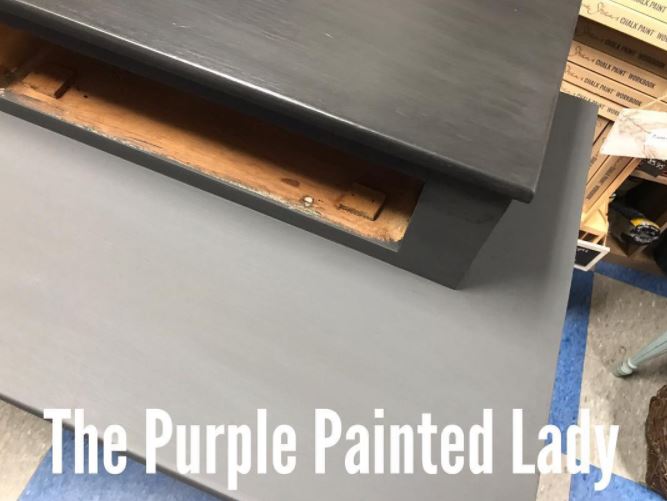 Typically, at the shop we suggest to customers, to always apply a coat of clear wax before applying either black wax or dark wax (brown color)….this is especially important over light Chalk Paint® colors. But since this is Graphite Chalk Paint® – we skipped the clear wax and went straight to the black.
Here are the steps we took to paint this piece:
We dampened a rag or a Scott Shop Towels with Odorless Mineral Spirits.
We wiped down the areas of the dresser we planned on plainting.
Took a rag moistened with fresh water and wiped down the whole piece.
Once it was dry- we shook our quart of Graphite Chalk Paint® and shaked it well, then opened and stirred it with a paint stick – making sure to scrape the bottom of the can.
Using Annie's SMALL dome top Paint Brush – paint the dresser applying the paint in the same direction as the wood grain. Be sure to "lay" your paint on the final stroke. (watch this VIDEO HERE if you do not understand what I mean by that)
Once the first coat is thoroughly dry- (like within an hour) Paint your second coat of Graphite Chalk Paint®.
Later that day or the next, feel free to apply Annie Sloan's Black Wax using Annie's SMALL Wax Brush (this is also our favorite wax brush!)
I take a plastic spoon and using the back of it- I scoop some wax out of the tin and place on to a paper plate. I have never dipped my wax brush right into my tin of wax. It does not matter if I am using clear, white, black or dark wax. I have always taken a scoop out and placed it on a paper plate and pulled from that wax with my brush. I guess because if something was on my brush or if I got some light paint transfer – which can happen- it never would get into my tim by doing this.
Once you have the Black Wax on the tips of the Annie's SMALL Wax Brush start to spread it all over the surface. This is like skin moisturizer- you want a thin veil over all of the surface and you want gentle pressure so – it gets absorbed into the Graphite Chalk Paint®.
Once- you have it all over your area- take a few sheets of your Scott Shop Towels ….fold it into quarters and begin to wipe off the excess. Thus, why we do not want to slather the wax on like we are icing a cake- because it will just go to waste now when we remove it.
Once I have lifted most of it off- Iusually take a clean Scott Shop Towels and wipe again gently in one direction. just like we "laid our paint" – I feel this "lays" the wax. You should be able to FLIP YOUR HAND OVER- and using the top of it….glide it on the surface.
Now either move on to another area- OR leave it alone for an house! Let the chemistry in the products have some time to set up. Although "curing" takes a good 8 days – after an hour or so….you can immediately begin to gently use your piece!
YES! It is that easy!
If looking to purchase Annie Sloan products- we are here to help you! Both on-line OR at one of our locations in western NY!
BUY PRODUCT FROM …..THE PURPLE PAINTED LADY®:
First- if you have a local stockist- go visit them and build a relationship with them. Go to them with your questions and project issues. BUT- if you do not have a local stockist- we invite you to try our customer service!
As for buying any of the products we mentioned earlier in this post- I hope that you select The Purple Painted Lady® to be your one stop resource! We have two locations in western NY. Check out our Information tab and come and meet us! Otherwise- if you are not located near me- the following information may apply to you.
This information is directed to those who do NOT have a local stockist. Because if you do – go and meet them, shop from them and build a relationship with them. The guidance, information and knowledge they share with you – will be invaluable. Get inspired by their shop that they lovingly curated – just for you! Enjoy that one on one experience! But for those who are in a location where there is no one selling paint products- and you must buy on-line- consider us. With that said, visit www.anniesloan.com to find a stockist near you.
We are here to help you, our customers! We want you to be successful!
SOME OF THE REASONS WE THINK THE PURPLE PAINTED LADY® CUSTOMER SERVICE IS THE BEST:
* We love our customers and it shows!
* Ordering online? If you order before 3 pm EASTERN TIME any day Monday thru Friday – we will ship out your package that SAME day. We ship orders out every since week day all over the US. (THIS IS DIFFERENT than SAME DAY DELIVERY. We do not offer that)
* We offer low flat rate UPS shipping cost so if you are one town away or 10 states away- the shipping cost is the same.
* We have awesome follow up customer service, too!
* We sell Chalk Paint® for $34.95
: ) And I will be here to help you as you progress through your future project! And if I do say so myself- we offer the BEST customer service that you will ever experience! Lastly- if I was helpful to you- ….please consider leaving a positive review on my Facebook business page sharing your positive experience or thoughts about The Purple Painted Lady®. Here is a link to my Facebook page=>
http://www.facebook.com/pages/The-Purple-Painted-Lady/291882785710
This really helps me! (wink, wink!)
XO
Trish
The Purple Painted Lady® ~ the serial no. is 86/641,416 with the US Trademark Office