So, you made the big purchase and splurged on some of the most amazing brushes for your Chalk Paint® by Annie Sloan, Congrats! Now, ……take good care of that investment. It is kind of like buying a brand new car. You don't typically park it in a tight parking spot.
When it comes to brushes- don't soak them overnight. Any brush that becomes waterlogged from soaking in water will break down over time, no matter what the cost or manufacturer. I guarantee it.
Chalk Paint® is so easy to wash out of a brush with warm water and a little patience to make sure you get all of the paint out. Once that water runs clean- you know you are done. Always wash them out right after painting and avoid any soaking. If you do soak your brushes often – they can end up looking like this poor little brush shown in the photo and this problem should never occur.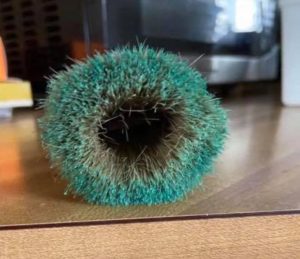 Here is a great tip: Periodically, condition your paint brush bristles by taking some hair conditioner or Murphy's Oil Soap. This will help to lengthen the life of your beautiful brushes.