Are you on Facebook?
The Purple Painted Lady often has giveaways on her Facebook.
In fact- this week you could WIN a quart of General Finishes Gel Stain in the color of your choice!
I love the look of a stained top and a painted base. It is a style that is very "in" right now! And it is the best of both world's…wood and painted furniture.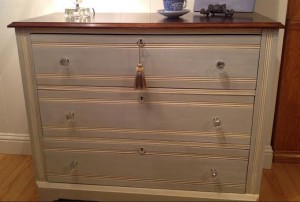 It does not matter if we are talking about a table or a dresser. I love this look on both, and buffets, or chairs!
Check out the dresser above that Anna from Seattle did using Java Gel on the top, and then Paris Grey Chalk Paint® on the base with highlighted details using Old White. Then Anna applied Clear Wax, finishing with a Dark Wax glaze (mixed with mineral spirits.)
If you share your painted and stained combo pieces on our Facebook Page HERE – and include a brief description of the colors you used and the process that you followed- The photo with the MOST LIKES on Friday, February 13th at noon eastern time (my Birthday by the way) – that person will win a quart of General Finishes Gel Stain.
Also if you LIKE the post announcing this giveaway on our Facebook page – you will also get an opportunity to be a winner!
Winners must live in the continental USA.
Interested in General Finish Gel Stains? Just click HERE to see them in our on-line shop.