Thank you for being our customer! Truly- sincerely- I mean that! In this global world – where the internet provides endless choices- the fact that you are here at The Purple Painted Lady is huge!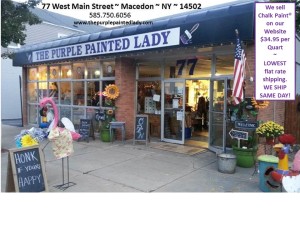 I promote that we offer the best customer service in this industry. In fact- just read the post HERE to understand how I feel about customer service and my expectations on how we serve you. I believe strongly in customer service, but The Purple Painted Lady would not be what it is with out all the lovely ladies who help at our shops in Macedon (main store), Greece and Baldwinsville.
I am extremely grateful for them and they all possess unique skills and talents that compliment one another and when added up as a whole- make us pretty awesome. So, this post is dedicated to them! I will be adding more photos and bio's this coming week, but for now………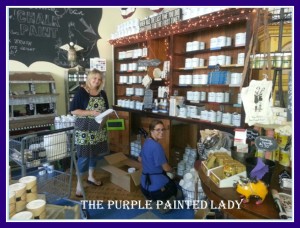 This is Laurie and Ellen (kneeling). You can find them in our Macedon location. Laurie- (the cute blonde and my sister-in-law) –has a memory you cannot believe! Someone can walk into the shop who hasn't been here in months and she remembers their name and all the details they may have shared about themselves. She is very detail oriented and has patience beyond belief. She is a mom of 2 busy kids and makes a mean a chocolate chip cookie!!!
Ellen is going to college to be a vet tech. She started babysitting my daughter Danni seven years ago and I just refuse to let her leave my life. She is one of the hardest workers anyone could ask for and has a great sense of humor! She loves to photo bomb pictures, so be careful if hanging out with her.
Next I would like to introduce you to Courtney (standing) and Naomi.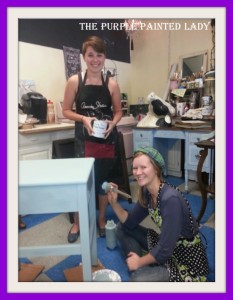 Courtney is a high school senior who recently came on board with us. She always has a smile on her face and has been impressive in how quickly she has learned our business processes. She plans on going to college for theater or graphic design.
Naomi – (the cute one with the hat!) – is a sophomore in college. She is quite motivated and again – impressive with her work ethic and drive! She plans on being an accountant. Ultimately- she will eventually do my books- or be running this shop or another one.
Next we have Judy with the blow torch! Ta-daa!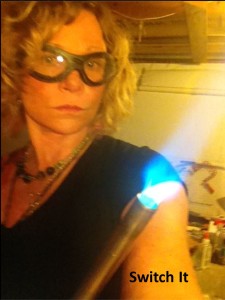 Judy is an artist and plays with all types of materials. Metal, glass, paint…you name it- she will transform it! She is super spunky and you can catch her at our Greece location on Thursdays and/or Saturdays. Judy has a business called "Switch it." Click on the business name to visit her Facebook page.
When Judy is not at our Greece, than Kathy is! Kathy is full of life and adores her family…especially her grandbabies! I have also gotten the impression that she is a BIG Notre Dame fan! Kathy has a passion for painting and upcycling. Her forte – (at least in my opinion) are chandeliers! She makes the most fun chandeliers.
I would also like to introduce you to Britni. She is in the photo waxing a hutch while sitting on the floor. She is a high school senior who rocks her grades. Extremely tentative to her studies – she is also passionate about the arts. Britni has been involved in all of the school performances and has even traveled the world with the select choir. She plans on going to college for biochemistry. If you stop at the Macedon location= you might run into her!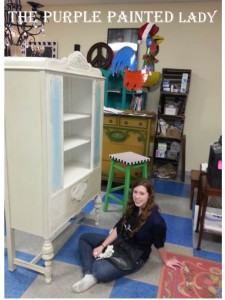 Know that when you order from The Purple Painted Lady- you help me …..support all of them! : )