It is Girl Scout Cookie season in New York and anyone who places an order of $200 or more of product ($200 needs to be the amount prior to shipping cost) with The Purple Painted Lady – gets a FREE box!
Visit our on-line store HERE!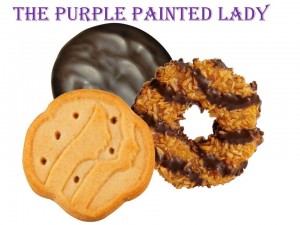 Sorry, you cannot choose what flavor – but many think that any type of free cookie is a great thing!
We only have about 180 boxes to giveaway- but once they are gone- they're gone!
Thanks for being our customer!
I hope that you select The Purple Painted Lady to be your one stop resource for painting products!
Now- let's be honest- there are many places to buy from- what sets us apart is WHY we are here.
And the answer to that question- is that we are here to help you, our customers!  We want you to be successful!  And, just so you know, when you place an order with The Purple Painted Lady:
SOME OF THE REASONS ARE CUSTOMER SERVICE IS BEST:
*  If you order before 3pm EASTERN TIME any day, Monday thru Friday – we will ship out your package that SAME day.
*  We ship orders out every sincle week day all over the US.
*  We offer the lowest flat rate UPS shipping cost so if you are one town away or 10 states away- the shipping cost is the same.
* We have FREE Girl Scout Cookies (while supplies last)
*  We have awesome follow up customer service, too!
And- it is my paint sales that keep me in business and allow me to be here to help you.  (my shameless but honest plug)    Here is a link to our on-line shop=>  
http://shop.thepurplepaintedlady.com/
: )  And I will be here to help you as you progress through your future project!  And if I do say so myself- we offer the BEST customer service that you will ever experience!Lastly- if I was helpful to you- ….please consider leaving a positive review on my Facebook business page sharing your positive experience or thoughts about The Purple Painted Lady.  Here is a link to my Facebook page=> 
http://www.facebook.com/pages/The-Purple-Painted-Lady/291882785710
    This really helps me!  (wink, wink!)Thanks so much to Nicki and you for taking the time to visit our page!
XO
Trish