We do some crazy things at The Purple Painted Lady and try to keep it fun! This workshop qualified for both!
We hosted a "Paint Your Own Shoes Workshop" and we had everything from ballerina slipper shoes to cowboy boots brought in to be painted using Chalk Paint® by Annie Sloan.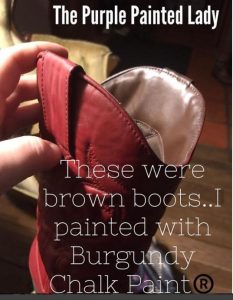 The secret to painting your shoes- is similar to painting fabric. You want to thin your Chalk Paint® with some water. Since shoes do not require much paint, we poured about a 1/8 of a cup in to a plastic glass and then added a tablespoon or two of water and mixed it well. You want to thin the paint, BUT NOT to the paint it loses it covering ability.
In the image above, you can see the inside of the boots that I painted. The boots are a faux leather and I bought them at Target. in fact, in 2015 – it seemed cowboy boots were all the rage in western NY, and I purchased a few pairs of the same boots since the quality and price was right! They did not come in a "red" and I always wanted a pair of red cowboy boots…so I made them myself.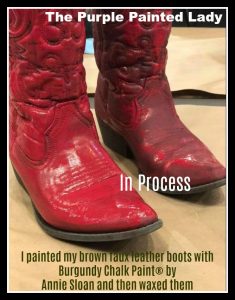 You need to be patient when painting shoes or fabric / leather couches and furniture. You thin your paint with water so it is not super thick – especially because we want it to be flexible for the change in shape a shoe or boot goes through when we physically walk.
Is this a permanent – life long solution? Yes…and I also have a bridge to sell you too! No, lol…but it is an option that will last a good while though.
I chose to use Burgundy Chalk Paint® by Annie Sloan. In my photo above – you can see the boot on the right in the drying process and how the color darkens as it dries.
Annie Sloan defines this color as a rich deep warm red the color of dark cherries. Most of Annie's colors are 18th and 20th century inspired but this one comes from the 19th century when the discovery of Alizarin Crimson made this color possible for the first time to a large number of people. It is now one of the classic colors used in particular for neo-classical painted furniture.
The Purple Painted Lady has found Burgundy to be interesting, in that the color appears to almost be like a bright berry color when wet, but the shade changes to a Burgundy when it is dry.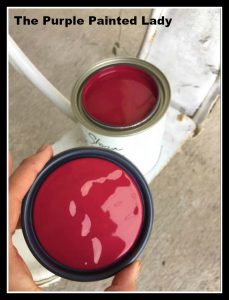 I painted my boots with three coats of thinned Burgundy and then did two coats of Annie's Clear Wax. I applied the wax with a lint free rag and I used the same amount of pressure that you would if putting eye cream around your eyes….meaning a delicate touch! I also was gentle to remove the excess clear wax, and my hand glided over the surface when I was done.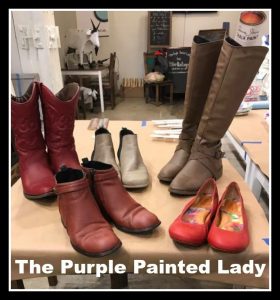 I recommended to everyone in the class, to give their newly painted shoes or boots a couple days to be alone so they can cure and to hold off wearing them for a few days.
So, what do you think?
If interested in taking a workshop with The Purple Painted Lady®- check out our shopping cart under workshops HERE.
BUY PRODUCT FROM …..THE PURPLE PAINTED LADY®:
First- if you have a local stockist- go visit them and build a relationship with them. Go to them with your questions and project issues. BUT- if you do not have a local stockist- we invite you to try our customer service!
As for buying any of the products we mentioned earlier in this post- I hope that you select The Purple Painted Lady® to be your one stop resource! We have two locations in western NY. Check out our Information tab and come and meet us! Otherwise- if you are not located near me- the following information may apply to you.
This information is directed to those who do NOT have a local stockist. Because if you do – go and meet them, shop from them and build a relationship with them. The guidance, information and knowledge they share with you – will be invaluable. Get inspired by their shop that they lovingly curated – just for you! Enjoy that one on one experience! But for those who are in a location where there is no one selling paint products- and you must buy on-line- consider us. With that said, visit www.anniesloan.com to find a stockist near you.
We are here to help you, our customers! We want you to be successful!
SOME OF THE REASONS WE THINK THE PURPLE PAINTED LADY® CUSTOMER SERVICE IS THE BEST:
* We love our customers and it shows!
* Ordering online? If you order before 3 pm EASTERN TIME any day Monday thru Friday – we will ship out your package that SAME day. We ship orders out every week day all over the US. (THIS IS DIFFERENT than SAME DAY DELIVERY. We do not offer that)
* We offer low flat rate UPS shipping cost so if you are one town away or 10 states away- the shipping cost is the same.
* We have awesome follow up customer service, too!
* We sell Chalk Paint® for $34.95
: ) And I will be here to help you as you progress through your future project! And if I do say so myself- we offer the BEST customer service that you will ever experience! Lastly- if I was helpful to you- ….please consider leaving a positive review on my Facebook business page sharing your positive experience or thoughts about The Purple Painted Lady®. Here is a link to my Facebook page=>
http://www.facebook.com/pages/The-Purple-Painted-Lady/291882785710
This really helps me! (wink, wink!)
XO
Trish
The Purple Painted Lady® ~ the serial no. is 86/641,416 with the US Trademark Office