GIVE-A-WAY TIME! Hop over to our Facebook page HERE and join in ! Have you seen a piece done in a store or online and then, reproduced it using Chalk Paint® by Annie Sloan? If yes, share your inspiration and reproduction photos, and note the colors that you used here and whoever has the most LIKES by NOON Eastern time on Thursday, November 15th will win a Paintbrush Ornament! (sorry- you must be in the Continental USA)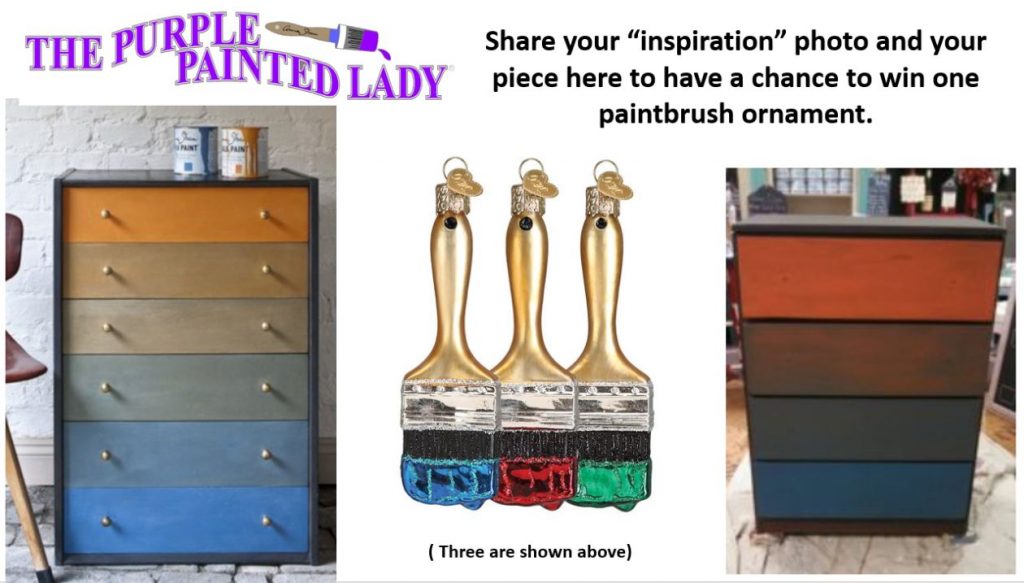 Magazines, Pinterest, Mail Order Catalogs – heck, even furniture stores all can be inspiration to us. We see something and would like it in our home. Sometimes, we recreate it because the price tag on the actual piece is ridiculous, or maybe, we already own a piece that has similar bones but is just not the right color.
That happen with Anne who saw a post about a waterfall painted piece using Chalk Paint® by Annie Sloan online, shared from Architectural Digest.
It is a flat front dresser painted in a range of color mixing and highlighting using Barcelona Orange and Greek Blue in various blending amounts from the top to bottom of the dresser's front. (On the Architectural Digest website page it is noted that the image was courtesy of Julia Duke at Susan Becher & Associates/Annie Sloan.)
INSPIRATION PIECE: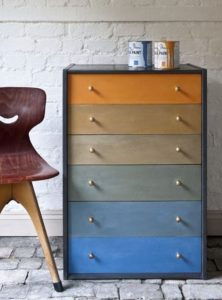 Anne's reproduction: