Do you have an old dining room suite that you don't like? Check out below what our customer Julee Sarno did with her Pure White Chalk Paint​® by Annie Sloan and a set she inherited from the previous home owners!
The Purple Painted Lady really LOVES this dining room transformation that took Julee's space from a little dated – to totally fresh and current! Julee is a one of our wonderful customer's who wrote us to share the details of her project.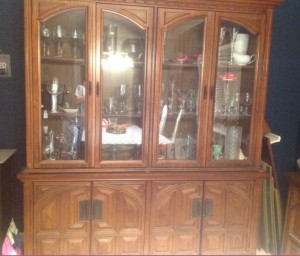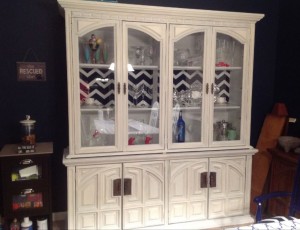 Julee wrote:
I couldn't have done it without your tutorials and the the info pages you sent with the product.
My husband kept making fun of me for watching the videos on YouTube but I liked to see the process and research before attempting it myself.
The whole cabinet was painted with one coat of pure white, with the exception of the top doors of the cabinet which had two coats and the inside of the cabinet.
Then I distressed the edges of each panel randomly with a soft sanding block. Finally I used clear wax (after at least 15 Pinterest tutorial videos of how to wax) all over, giving each flat surface two coats.
I used the fabric that I had covered my chairs in as the middle panel for a pop of color and to tie my dining room together.
I also soaked the hardware in salt and white vinegar to bring out some shine (this set was left to us by the previous homeowners who couldn't take it with them) and it actually brightened up quite a bit.
My only words of wisdom are – that less is more!
When I went too heavy with the wax I could immediately tell. You want a nice, even coverage that doesn't feel sticky and, once you wipe the excess, reminds you of smooth wood or glass. It's exactly the feeling of waxing a car..keep rubbing until it doesn't have any resistance.
And don't be intimidated! I was nervous setting out with my first piece being a huge cabinet, but it was totally worth the effort. Thank you so much for all your guidance and help! I couldn't have done it without finding the Purple Painted Lady and now I want to paint everything 🙂