FREE 1 hour CLEAR Wax Demo at The Purple Painted Lady in Macedon, New York this Saturday, September 27th at 11am.
Our location is 77 West Main Street, Macedon NY 14502
Come and learn and get hand's on experience using Annie Sloan's Clear Wax – and help Trish wax a big dresser!
(No RSVP is needed, but PLEASE arrive on time – since we will not be going back and reviewing information shared at the beginning of the session)
About Clear Wax!:
Using wax to protect your piece of furniture painted with Chalk Paint® decorative paint by Annie Sloan is wonderful. Chalk Paint® is porous and absorbs the wax.
Wax, and the concept of using wax on furniture has been around for centuries. Think about it- wax in general is a natural water repellant. If you spill candle wax on the floor, you certainly would not use water to clean it up.
Annie's wax is a formula of various waxes like bee's wax and Carnauba.
We use Carnauba wax on our cars, or at least it is recommended to wax your car annually. (did you know that?~ LOL!) The reason we wax our cars, is to protect the top coat and paint. Carnauba wax originates in Brazil and is a wonderful wax. It is also hypoallergenic and is often an ingredient in many cosmetics formulas. Click HERE to read more about Carnauba wax and its orgin.
Annie Sloan's clear wax is extremely durable. And a waxed surface is very forgiving in the abuse it can take, and how you will manage it long term.
Frequency of Re-waxing?:
First, I want to let you know that once you wax a surface- you typically do NOT need to re-wax it for years.
But the variable to the time equation of the waxing frequency is based on how often you are washing it. For example- the top to a dinner table that is used daily- will need to be rewaxed much sooner compared to a bedroom dresser. And if you have small messy children, (or teenagers..or a husband) then re-waxing the surface may be even sooner. But in general- maybe once a year for a table top. Bedroom furniture- could be years!!!
Here at the shop, we had chalk paint® splatter and dry on our workshop table that had been previously been painted with Chalk Paint® and waxed. Again, wax is very forgiving.
All I did, was take my finger nails and lightly scratched the freshly dried paint off. Then- I just buffed the table and voila! It was fine!

Another wonderful feature about Annie's clear wax is that- it is very easy to clean.
In general, to do regular weekly dusting or cleaning, try:
1. a microfiber cloth
OR
2. use a towel lightly moisten with water.
OR
3. use a mild detergent that does NOT contain a degreaser.
However, for a significant dirty area, I will just a little clear wax on a rag. It is wonderful, and I recommend to all my "painted kitchen cabinet" customers to keep a tin of Annie's wax beneath their kitchen sink. And whenever grease or grime gets on the cabinets, just use a little on a rag and wipe it off. The reason this works beautifully, is when you apply a fresh coat of wax to a surface that was waxed previously, The top micro layer of that older wax is softened and lifted. Thus, removing the surface dirt! It is truly like magic. Check out the images below!
All of the quarts of paint we handle at the shop, slide across our workshop table. I like to say to people, "you use your furniture, we abuse ours here at the shop!"
From sliding the metal quarts across the painted and waxed table surface, we get these grey, carbon marks. They cannot be washed off with warm water, but just take a small amount of Annie's clear was on a rag, wipe over- and it all is removed! It is pretty awesome when doing a demo of this at the shop to someone who is skeptical about the use of wax and its durability. They always become a believer!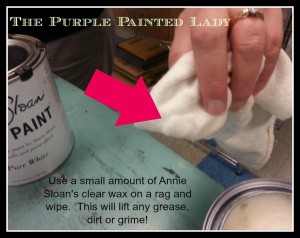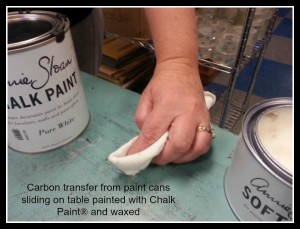 I will upload a quick video showing us using the fresh wax on the table and the results it gives on Friday, September 25th. (I would do it sooner, but I need my techie-savvy husband to do this for me, and he is at his "other" job.)