Don't be afraid to do this! Especially if you really dislike your floor. @thepurplepaintedlady is here to help you!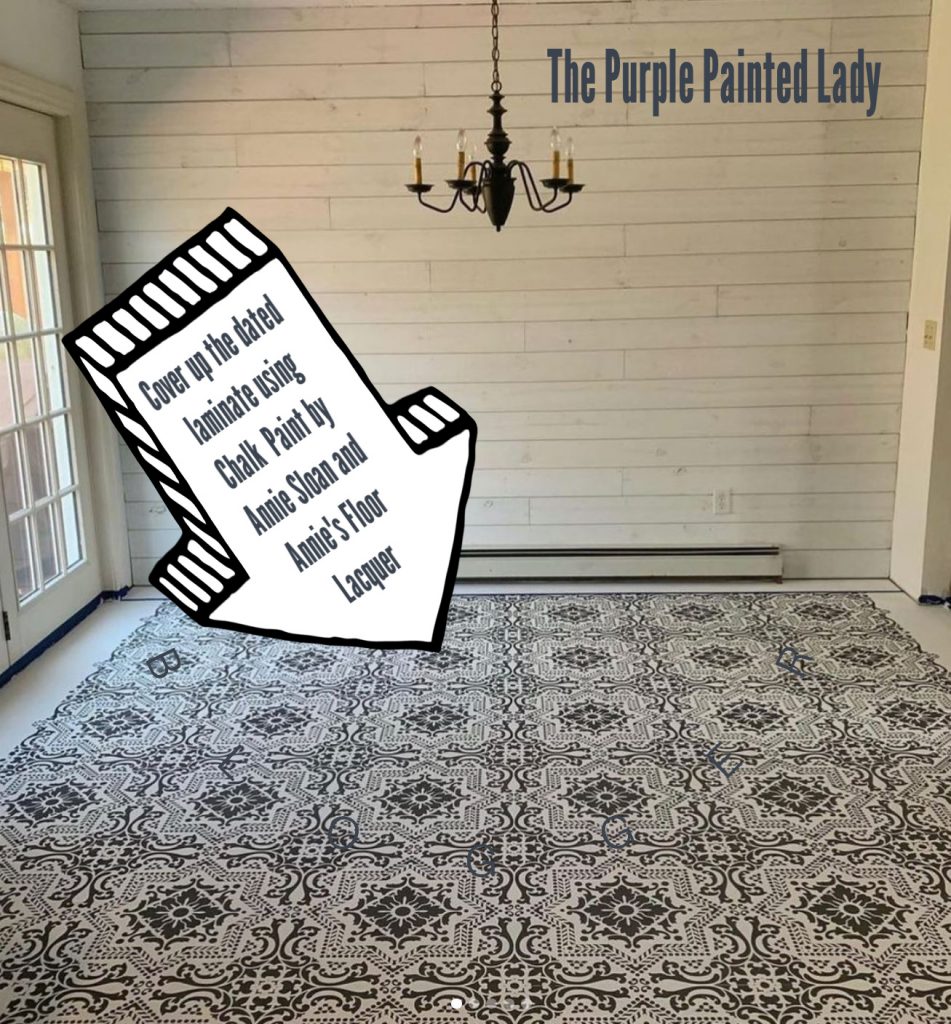 So, let us introduce you to one of our amazing customers, Stephanie (find her on Instagram as @stephburg64) She used Annie Sloan Chalk Paint® in Pure and Graphite to paint her laminate floor and Annie Sloan's Matte Lacquer. The stencil is from @royalstencils and is called Lisboa.
Steph's laminate floor was the kind with a faux wood grain. It had a yellow orange tone and she was over it! So, Annie Sloan to the rescue!
Prior to painting, she did two coats of Zinsser Bullseye Clear Shellac as an undercoat which truly helped to keep any tannins from showing through.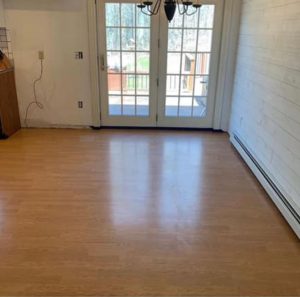 The she used painter's tape around the edge to help with minimizing getting paint on the wall. (this means you do not need to be as careful when painting the floor up next to the wall) LOL
Next, Steph applied a few coats of the Pure Chalk Paint® using a 4 inch foam roller. Keep in mind, "white" colored paints do have as much color blocking pigment compared to a paint like French Linen or Duck Egg. Be prepared to do three coats of paint for the base – and in some cases depending on how dark your floor is, a fourth coat of the Pure Chalk Paint® may be needed. Seldom, but I would never say never.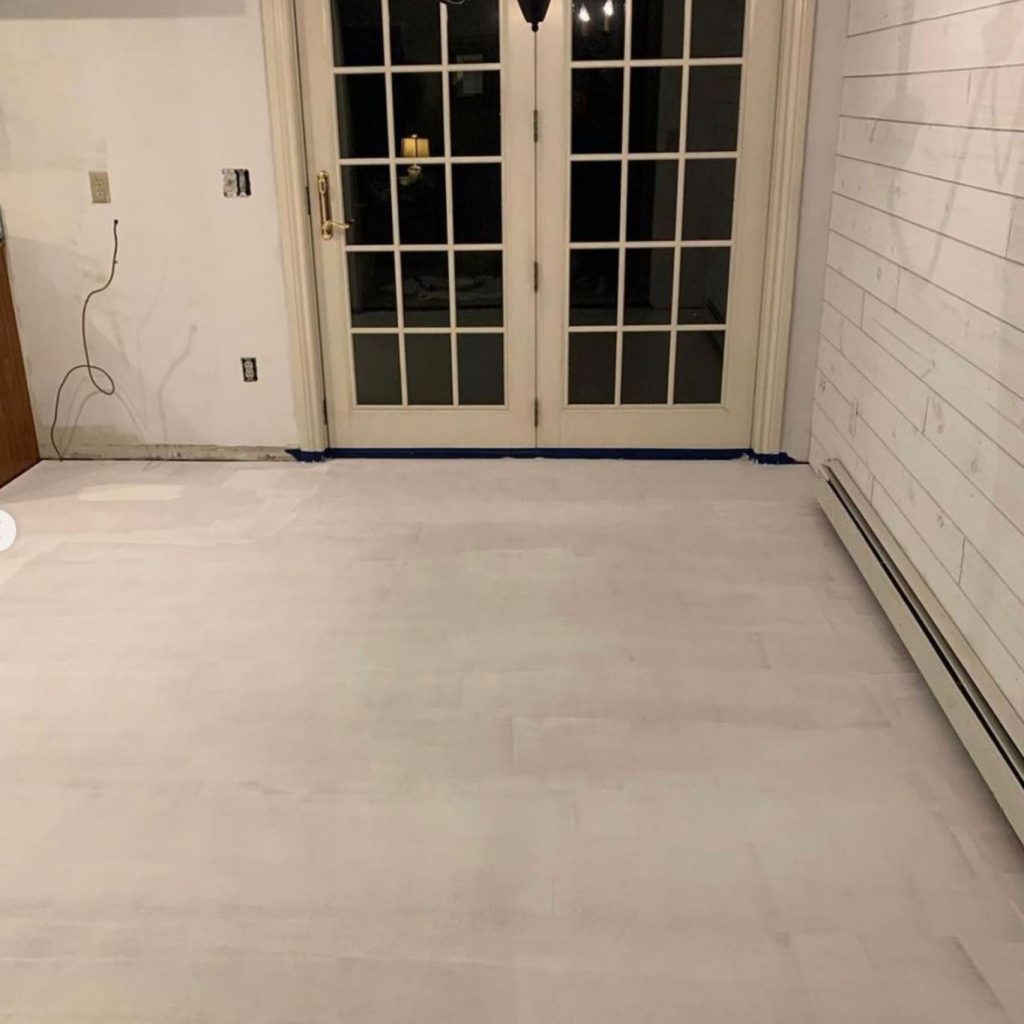 For applying the stencil, Steph used Annie Sloan's Graphite which is a dark charcoal or slate color. For smaller sized stencils, try using one of Annie Sloan's foam roller. If you have a small stencil template, use Annie Sloan's Foam 2″ Roller like Steph did. However, for large stencils, use Annie's Foam 4″ roller. These have their own unique fit, so purchase refills to go with because not all replacement roller refills will fit. To read some tips on stenciling, check out this post HERE. Little tips such as off loading your brush or roller prior to applying the paint to the stencil is STENCIL 101 info. I don't want to take for granted you all know all tips, so check out this YOUTUBE video we did on painting and stenciling floors.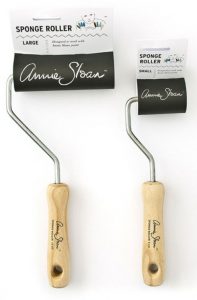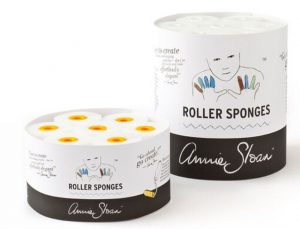 Now don't let this intimidate you but when applying Lacquer, you want to know what you are doing, so it is important that you read my post with tips and tricks HERE.
Steph suggests using Annie Sloan's Large Flat Brush for applying the Matte Lacquer but you can use Annie's Foam 4″ roller too. Please read the post I wrote about Lacquer tips because there are some basic instructions you want to follow. Steph followed directions and applied two coats of Annie Sloan's Matte Lacquer.
There was a lot of trimming of the stencil in the very end to go around the edges to have a complete & balanced look, thankfully Steph's husband has a "math" brain 😊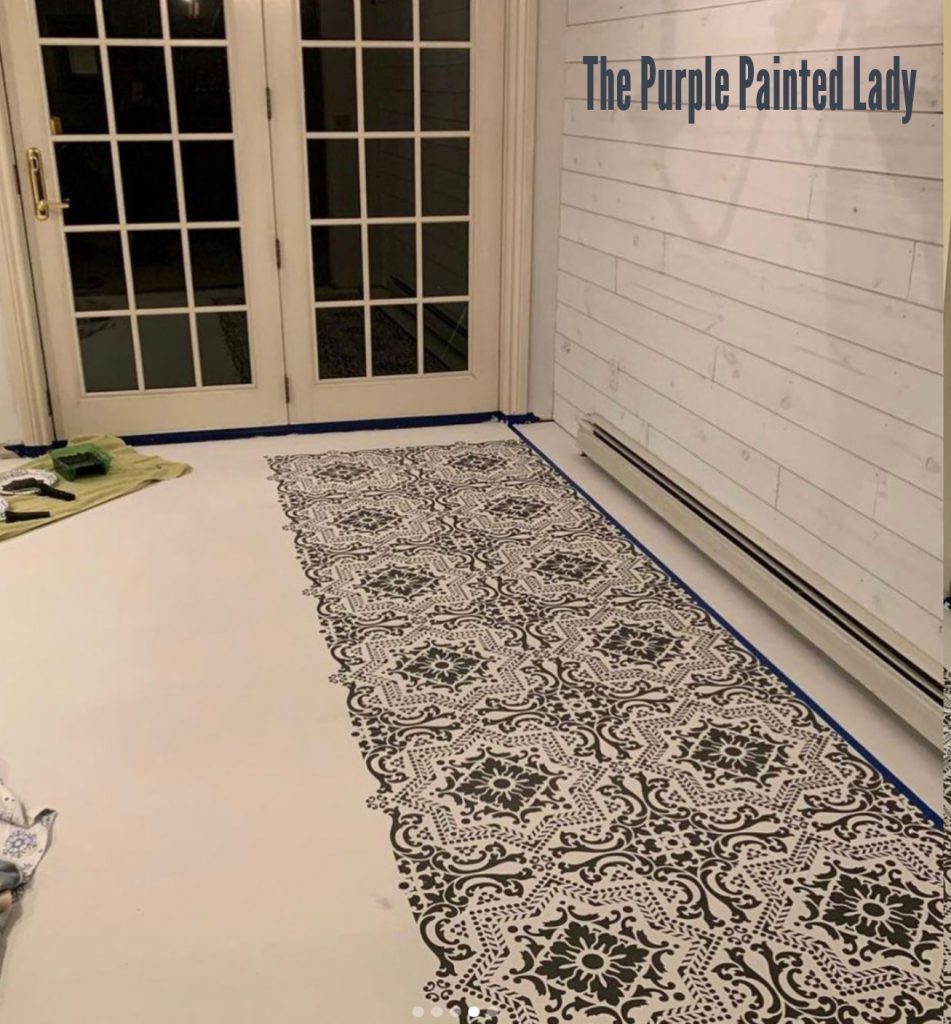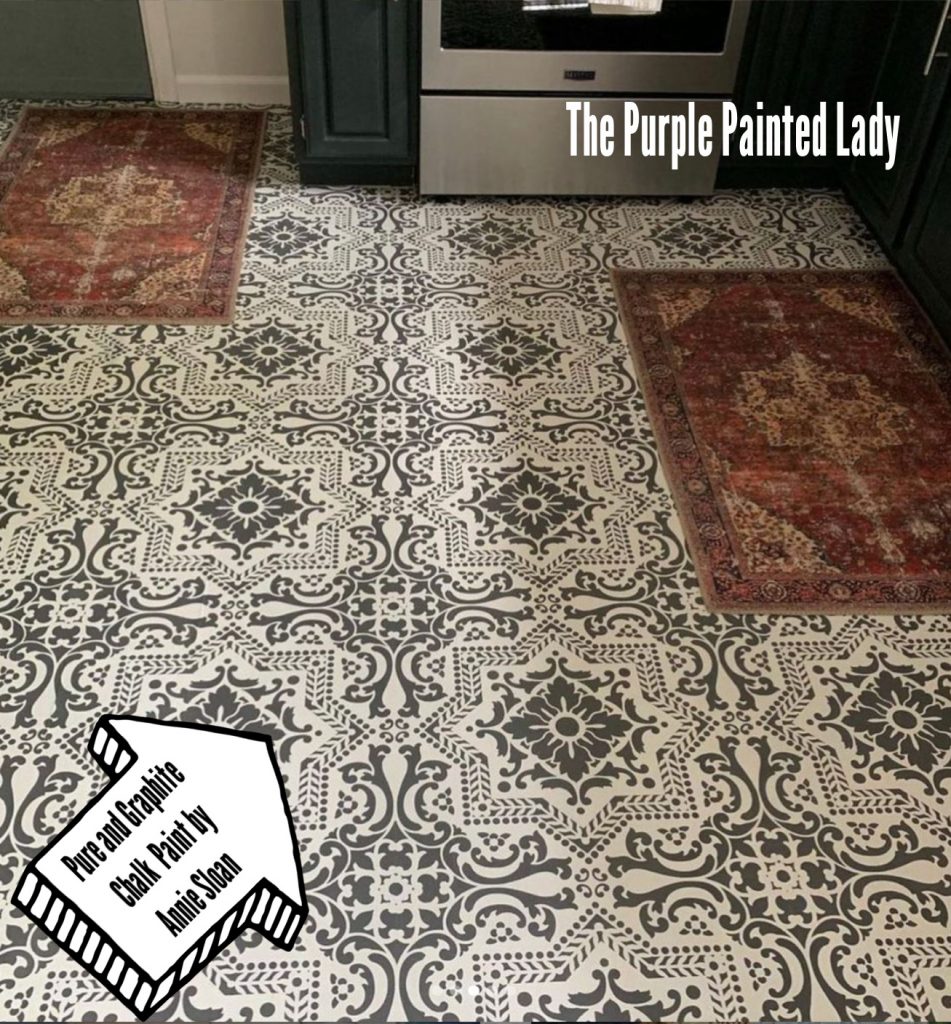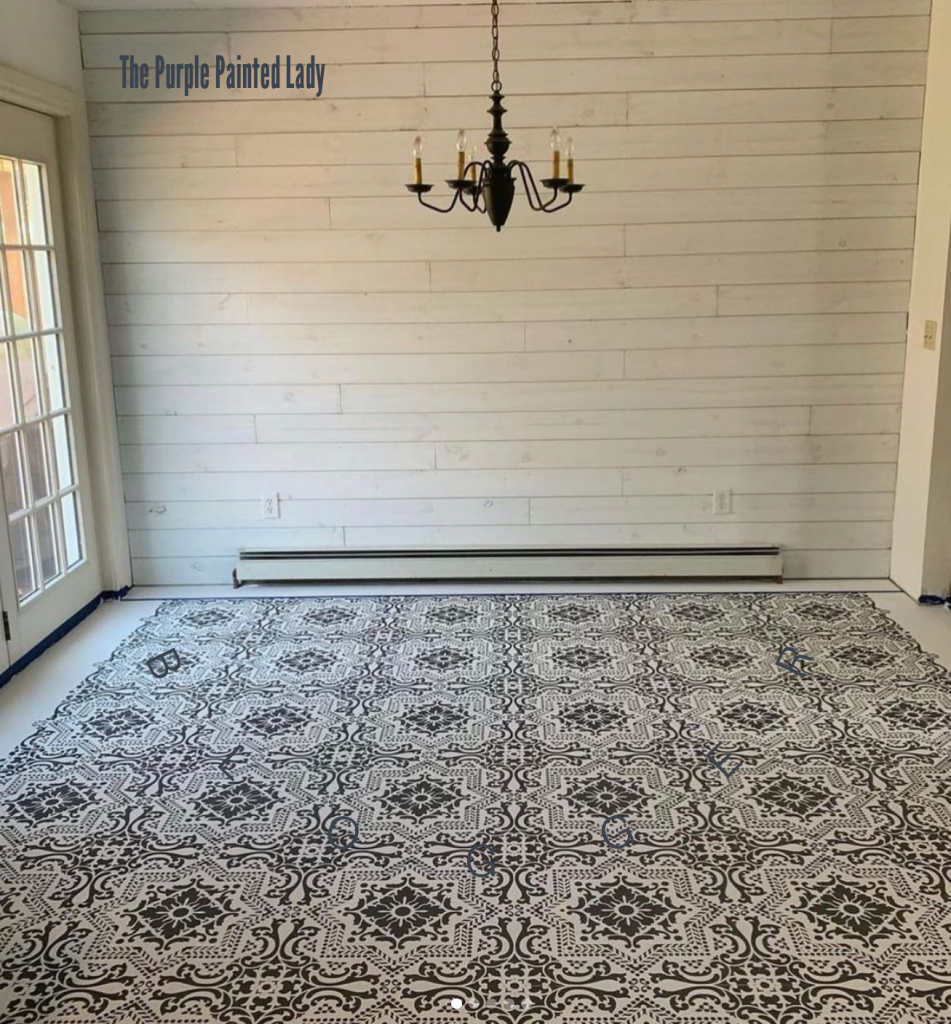 Well, what do you think? Personally, I really like it!
EXTRA STENCILING TIPS FOR FREE FROM ME: This type of project is going to take you a couple of days to complete. Make sure to only wear clean socks on the painted floor prior to using Annie's Lacquer. Have lots of paper plates available to set rollers or brushes that still have paint on them to. Use a bath towel as a small drop cloth under your paper plates or paint pan to protect the painted floor. Work from one side of the room to the other as so to not have to step near wet paint and don"t paint yourself into a corner! Make sure to get an extra stencil piece that you are able to cut and use in odd areas around the trip. Or, plan out a deliberate boarder. Personally, I want to have my stencil start at the midpoint of my space and work out to either side from there. If there is a main door way into the room, I may layout my stencil so there is on full stencil in the center of the entrance. In a kitchen or dining room, or living room – invest into new little felt pads for beneath the legs of chairs or tables to prevent scratching! (Lowes or Home Depot sell these)
If you are interested in purchasing Chalk Paint® by Annie Sloan or would like some help with a project- reach out to us! And….consider purchasing from us too, although we always encourage you to visit your local Chalk Paint® stockist if you have one …but if you are stuck at home and do not have anyone local… The Purple Painted Lady is here to help and can ship your order right to your front door step. Please just place your order online and we will ship it out ASAP! In fact, if you place an order- be confident in knowing that The Purple Painted Lady has everything in stock! What does this mean in the end? With the team we have in place- your order will get packed and picked up by FedX, UPS or USPS. We pack up your order ship your order out our doors the same day you place it – Monday through Saturday. (note however, this is as long as your order came in before 3pm EASTERN TIME, because most of the carriers pick up our packages around 3 or 3:30pm)
To purchase online – please CLICK HERE!
SIGN UP FOR OUR MONTHLY NEWSLETTER:  Okay- well maybe we actually send this out about every 2 months ~ but still – you will want to join this! Click HERE to get on board with The Purple Painted Lady's Monthly Newsletter and get in on the fun.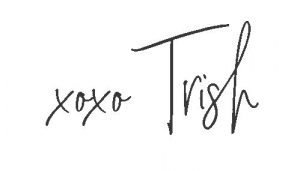 #chalkpaint#anniesloanhome#anniesloanlacquer#chalkpaintonfloors#thepurplepaintedlady