Have you seen any of my social media on Facebook and Instagram that my husband Steve and I are doing a kitchen addition onto our 1890 Queen Anne farmhouse? Well, we are!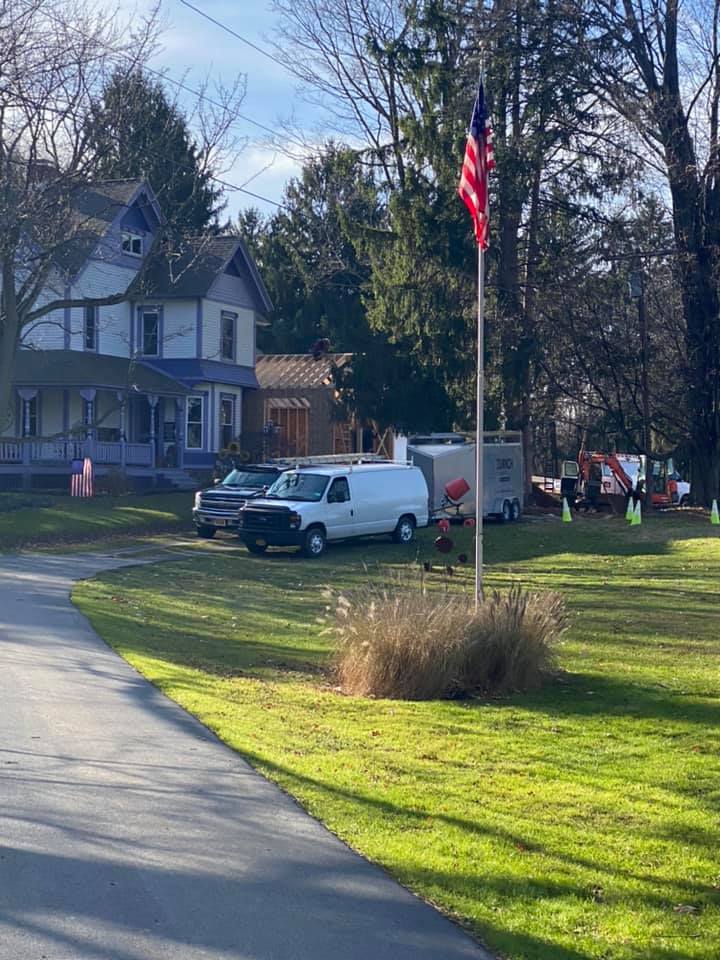 Our general contractor is named Jason McPike and he is a local guy from the town where we live – which is in Palmyra NY. Although, sometimes I think he is from Krypton -because we think he is Superman. Reason being- we had a nightmare of a time with a different business we originally signed with at the end of May 2020. We had always communicated we wanted to have the addition completed by Christmas and lots of promises were made, but by the middle of October and nothing had been done- we knew it was time to bail. Then, Jason walked into our lives and within two weeks, he coordinated a full foundation with a basement was dug and poured by Zurich Masonry. Seriously, Jason met with us, heard our story and immediately said, you want to do a business with a builder – where once the job is done, you want them to come back and eat dinner over. To be honest – I laughed at that and didn't quite understand what he meant, but heck, now I understand what he means because he has made this process fun. I would even say enjoyable and exciting versus stressful! He literally held our hands, navigated us through some ideas and proposed improvements that without- the addition would have lacked!
This kitchen addition is something I have wanted to do for a very long time. Although, our original kitchen was perfectly nice and actually, quite beautiful…..it was just too small for the gatherings I host and ideas I have of hosting women's retreats for art and to help others with growing their business in the future. We live in this big looking house from the outside, but then you get in it …and it is cut up and rooms are small. It is like an oxymoron. I had a total of 7 lower cabinets and 2 uppers in my old kitchen and my fridge was in an odd spot that did not make sense at all- so after trying to make things work in the original footprint multiple times, one night my husband Steve said, "let's just add on!" And me being who I am …..I asked him to repeat himself just so I could make sure I heard him right. LOL Then, I immediately grabbed my phone and started to make calls to make it happen! Fast forward to today….and although the path was not totally straight to where we are now- we are where we are suppose to be with the best team of contractor, roofer, spray insulation and plumbing and electrical. And, the benefit is we are enjoying the process verses having anxiety.
Here is a rough design of the new addition but I just want to add that there are some things that are not accurate….like the shape of the windows and coloring of cabinets, but this will give you an idea of what we are going for.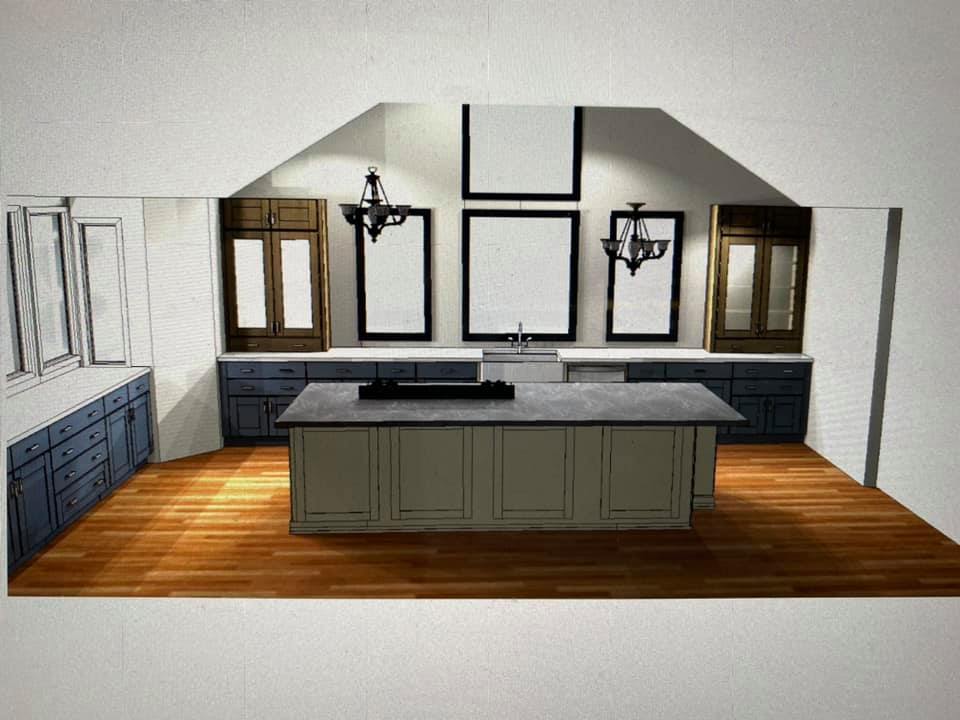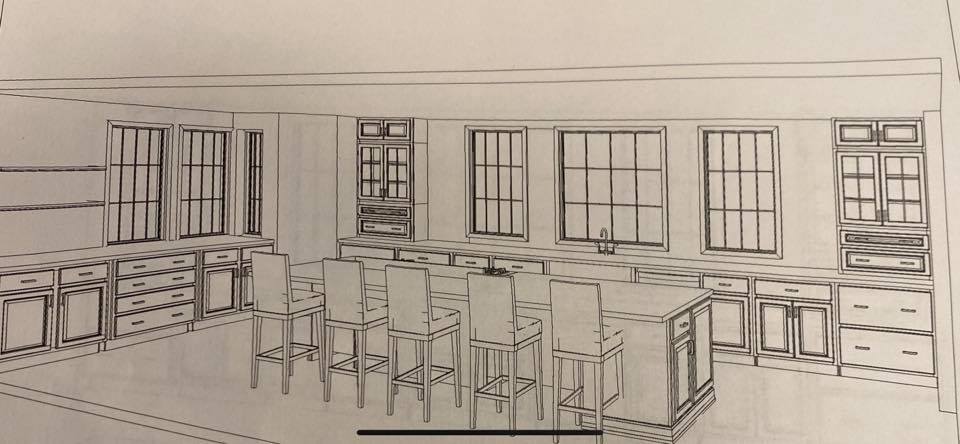 Jason, our GC is managing the cabinets and having them built. They will be raw wood and I will paint them. At first I was like- I just want someone else to do everything for a change, but then….I am like, gosh, I am "The Purple Painted Lady." How do I not paint my own cabinets! Sometimes it takes me a minute to come to my senses. I am far from perfect.
We are working with MCM Natural Stone for the countertops. They are located in Rochester, NY and have been incredible! They were who I did my stone work in the past and I was really happy with their attention to detail and customer service. A business should know when you get a repeat customer you are doing things right. So – here I am …back again! The new kitchen island will have a piece of granite called Azul .Fantasy which is quarried from a bedrock quarry in Brazil. The granite has different shades of blue, gray, soft white, specs of burgundy that sparkle and also green in it. We already had this Azul granite in our "old" kitchen and I am going to reuse some some of the old countertop on the new wet bar area. But below is a photo of the new slab for the island in the addition.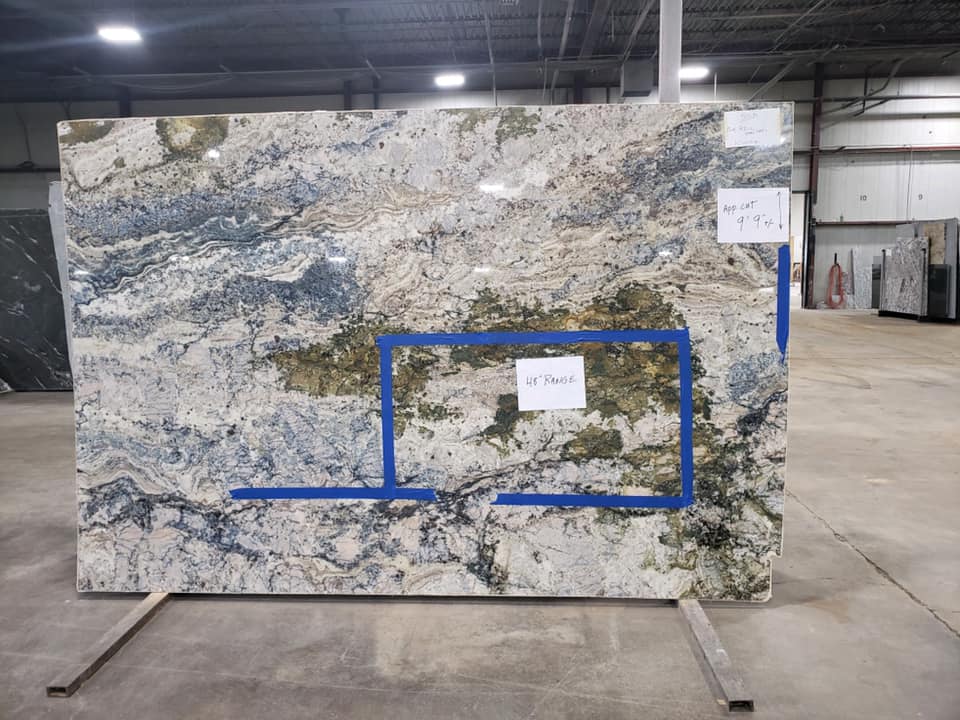 The outer countertop – that will be on the cabinets against the outer walls will be Calacatta Gold Quartz by Silestone.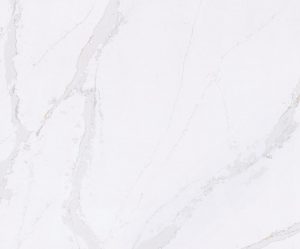 MCM Natural Stone came out to the house recently and removed the existing granite before we removed the cabinets in the "old" kitchen space. They were so careful to not break anything since they knew I had a wish to reuse some it to save on cost. I appreciated that greatly because they really respected my budget and wanted to help me with saving the stone I already had. At their warehouse, they pulled out the new slabs and placed them next to each other so we could visit and see how they will looked side by side. And since we are going to have the range in the island- they were patient in me tweaking the layout when we marked the spot for the placement of it.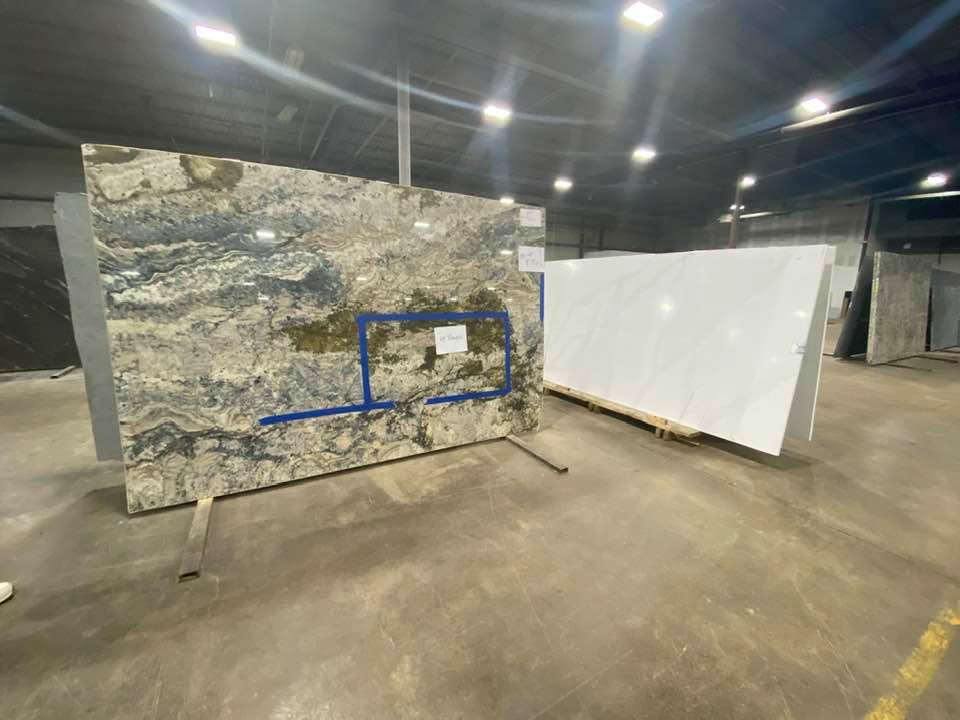 The first time Steve and I redid the kitchen, about 8 years ago- we purchased Azul .Fantasy we said to each other, the look of this, people will either love it or hate it. LOL I don't think there is middle ground with it. That is all okay- because Steve and I love it and in the end- I decorate for us. : )
Okay, I am finally getting to the raw wood cabinets and what I an going to do with them. I have decided to paint all of the lower cabinets using Miss Mustard Seed's Milk Paint. Why? Because Milk Paint will perform almost like a stain does on the the raw wood. It will get absorbed into the raw wood- meaning the wood will literally drink it up. I also am choosing Miss Mustard Seed's Milk Paint because I like the aesthetic the paint has once dry. My home was built in 1889 and finished in 1890. It is far from a new home. Milk Paint has a velvety, matte finish and fits the whole vibe! I am considering using a white wax after sealing the cabinets and I promise to blog, share on social media what I do and share videos and some Facebook LIVES too.
I have a fair number of colors that I really love, but will choose two. The cabinets on the outer wall will be one color and the island – a different color. The two upper cabinets will be stained wood. At a high level – here is a list of all the Miss Mustard Seed's Milk Paint colors I like and will choose from. I will add photos later of the sample boards near the granite once I get home for you to see and hey, you can help me and share your personal favorite.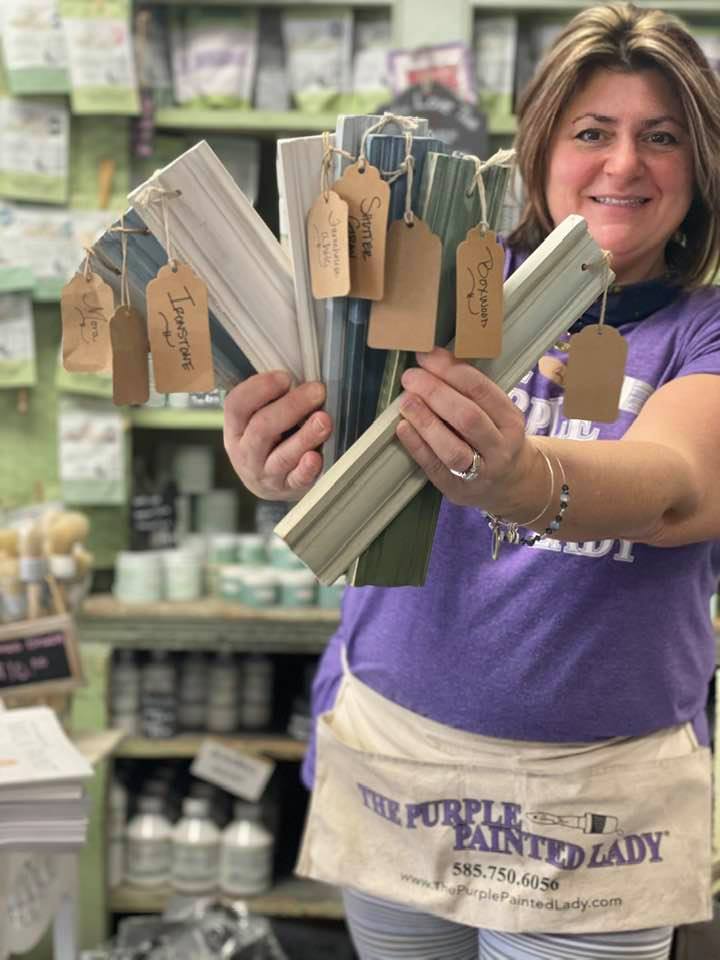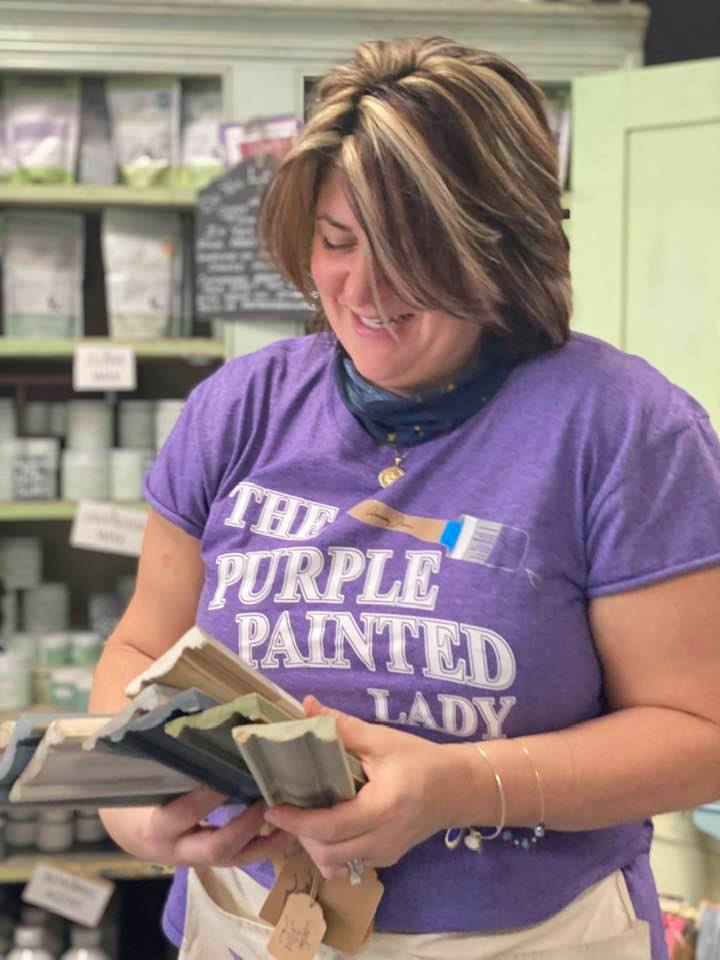 Well, I hope you follow along with me on this kitchen reno! Starting out the new year with this to look forward to is definitely a blessing which I am very grateful for after the year we all have had!
If you are interested in purchasing Milk Paint by Miss Mustard Seed or Chalk Paint® by Annie Sloan or would like some help with a project- reach out to us! And….consider purchasing from us too, although we always encourage you to visit your local Milk PAint or Chalk Paint® stockist if you have one …but if you are stuck at home and do not have anyone local… The Purple Painted Lady is here to help and can ship your order right to your front door step.Please just place your order online and we will ship it out ASAP! In fact, if you place an order- be confident in knowing that The Purple Painted Lady has everything in stock! What does this mean in the end? With the team we have in place- your order will get packed and picked up by USPS. FedX or UPS the same day you place it – Monday through Saturday. (note however, this is as long as your order came in before 3pm EASTERN TIME, because UPS picks up our packages around 3:30pm)
To purchase online – please CLICK HERE!
MONTHLY NEWSLETTER: Okay- well maybe we actually send this about sometimes likes every 2 months ~ but still! Do you receive our monthly newsletter? If no, you should consider joining. Click HERE to get on board with The Purple Painted Lady's Monthly Newsletter and get in on the fun.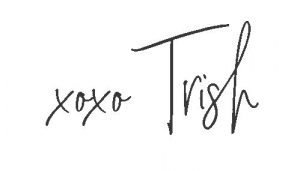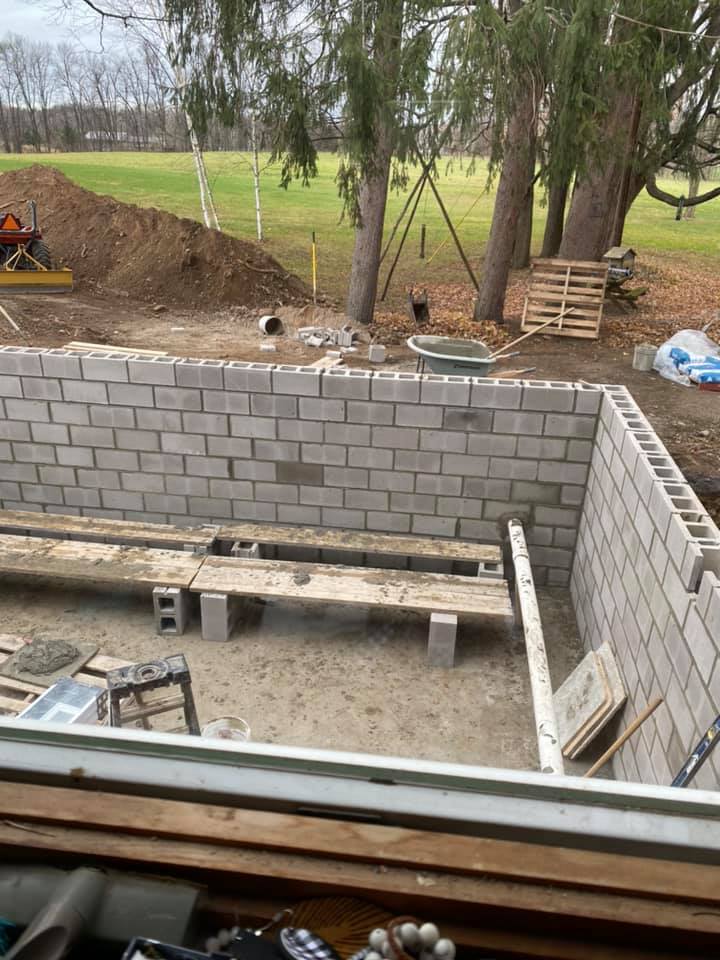 Can you see the steel beam beneath the addition in the photo below? Jason McPike ~ our new contractor said if we had built this addition with the large island in our plans and the big stove and accounted for 10 to 20 people standing in this space….. based on the first companies original plans that I canceled my contract with – I would have had a serious problem. The morale of this story- get referrals PRIOR to signing a contract and putting down a deposit. No matter how excited you are. Hope you learn from my mistake!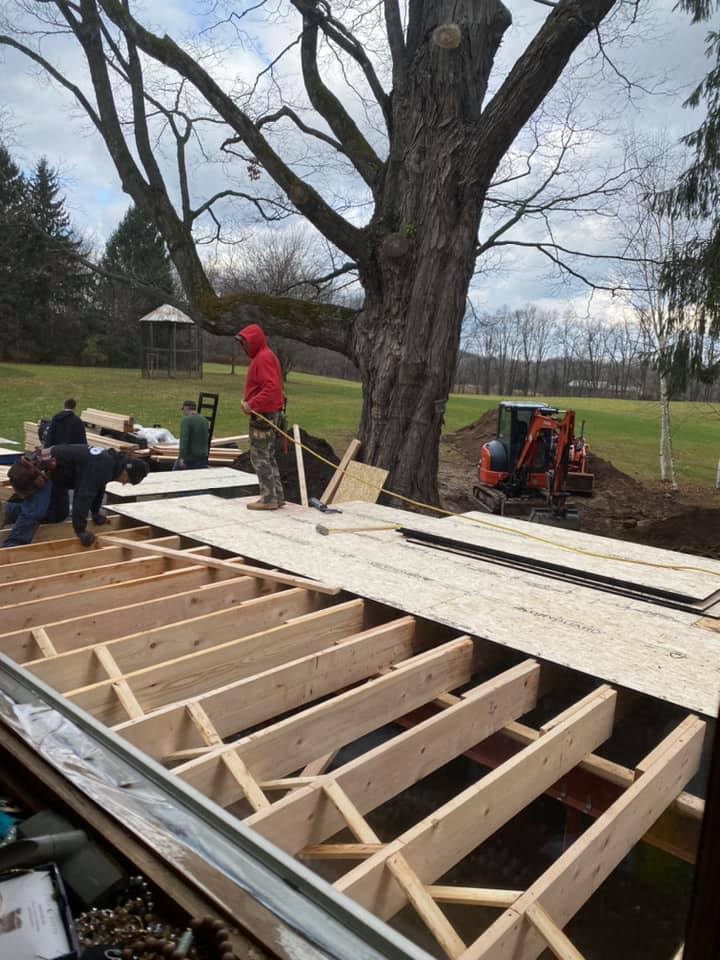 This next photo always makes me feel like the addition is blessed because of the cross they built to stabilize everything else.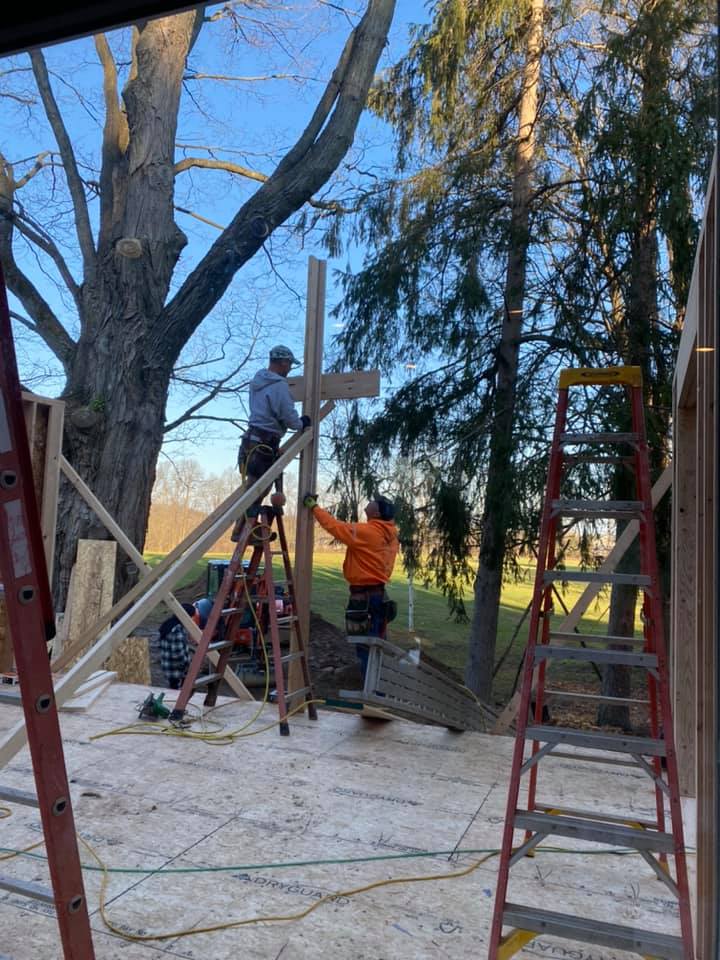 Little details are important. The architect who came originally shared how critical the height of the windows and door was so it would match and be in line to the existing house. The sliding glass door is going to be 8 foot tall. Otherwise, if it was only 7 feet – it would have been one foot shorter than everything else and looked totally funny. "The devil is in the detail" is an idiom that refers to a catch or mysterious element hidden in the details, meaning that something might seem simple at a first look but will take more time and effort to complete than expected. Select a General Contractor who is not rushed to work with you and who appreciates this and is proud of their work!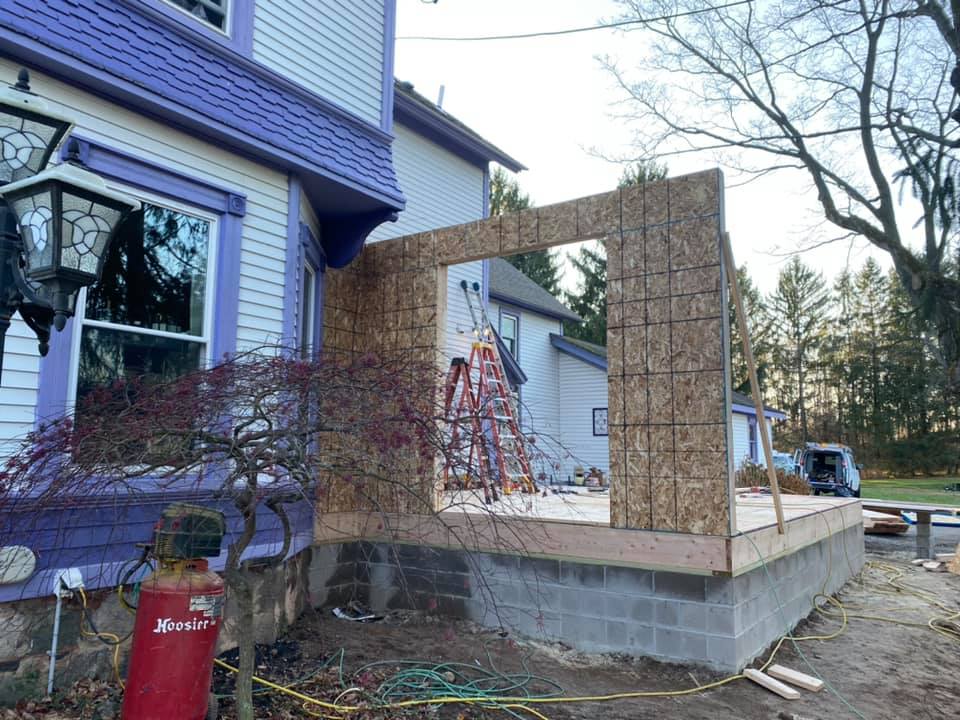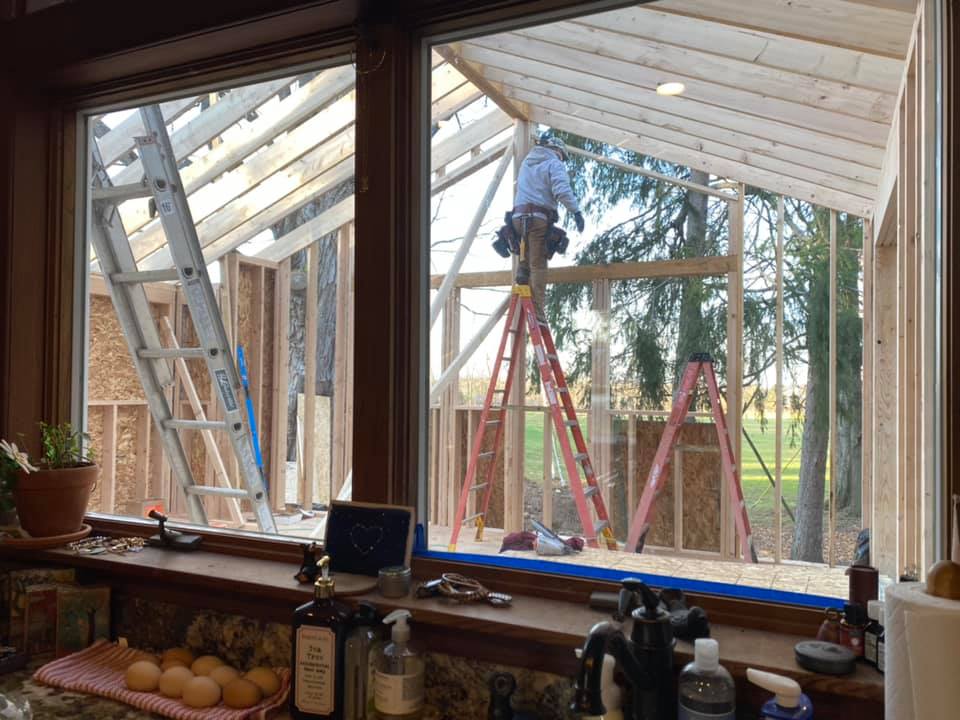 You can get an idea of the window placement in the photo below.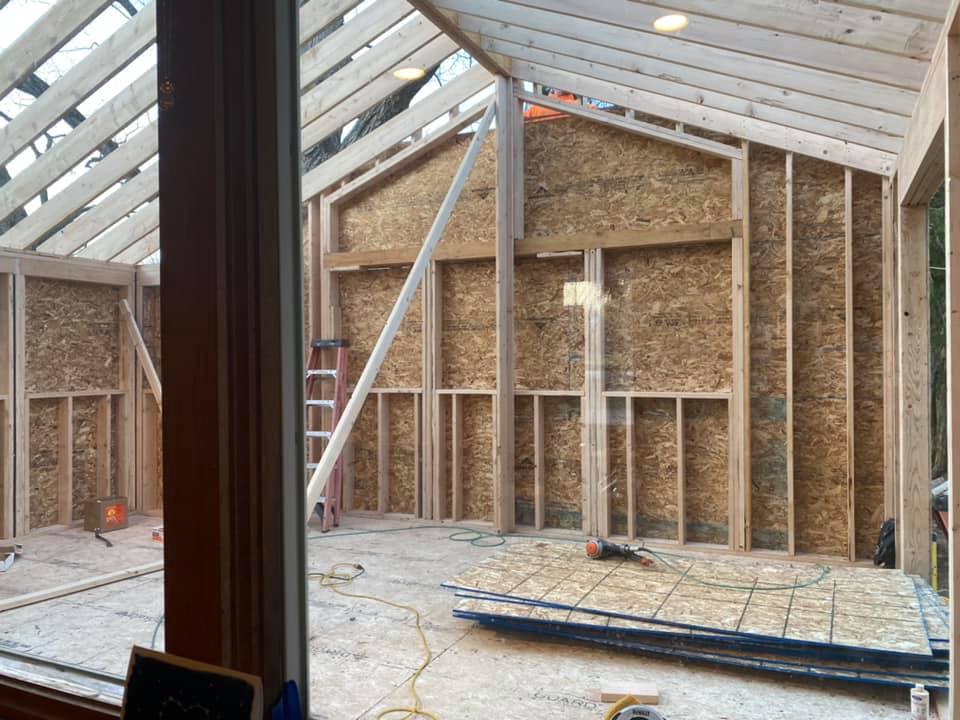 Here is a photo of the "old" kitchen after we removed all the cabinets that I sold on Facebook Marketplace for a steal. (check out my amazing 12 year old Rottie Nikko)