New Year- New Color! And this one is HOT! Capri Pink is a hot, strong, head-turning pink and dropped (which is a cool way to say, became available for purchase) on Thursday, January 21, 2021.
Fashion designer Elsa Schiaparelli championed this directional pink, (as did her surrealist friends Jean Cocteau and Dali) because of its empowering, joyful, confidence. Use with clashing brights to reference the vivid pinks used throughout the world in folk art – from Mexican textiles, via Pakistani truck art, to bohemian Romany gypsy caravan interiors. Alternatively, pair with rich browns for a luxurious, minimal look. Named for the upscale Italian island resort, wherever you use this colour you'll inject glamour and confidence.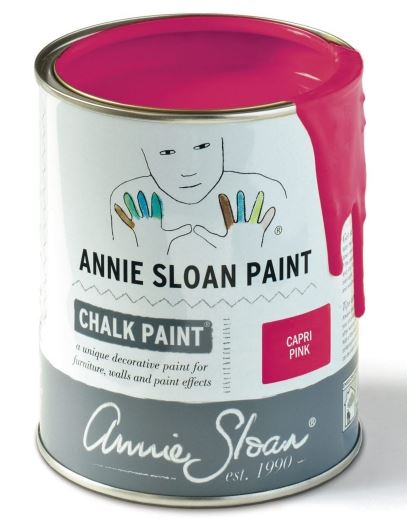 Want a chance to win a free litre? Hop over to our Facebook page asap and play along!
We were so excited about Capri Pink– we even got our UPS guy, Mike to join in on this fun video we made for it!
If you are interested in purchasing Chalk Paint® by Annie Sloan or would like some help with a project- reach out to us! And….consider purchasing from us too, although we always encourage you to visit your local Chalk Paint® stockist if you have one …but if you are stuck at home and do not have anyone local… The Purple Painted Lady is here to help and can ship your order right to your front door step. Please just place your order online and we will ship it out ASAP! In fact, if you place an order- be confident in knowing that The Purple Painted Lady has everything in stock! What does this mean in the end? With the team we have in place- your order will get packed and picked up by FedX, UPS or USPS. We pack up your order ship your order out our doors the same day you place it – Monday through Saturday. (note however, this is as long as your order came in before 3pm EASTERN TIME, because most of the carriers pick up our packages around 3 or 3:30pm)
To purchase online – please CLICK HERE!
SIGN UP FOR OUR MONTHLY NEWSLETTER: Okay- well maybe we actually send this out about every 2 months ~ but still – you will want to join this! Click HERE to get on board with The Purple Painted Lady's Monthly Newsletter and get in on the fun.