You may recall a post we did a while back where Stacey and her daughter shared a step by step on how to paint a floor cloth. Well, I have another good friend and her name is Janet. She is a modern day Renaissance woman. Seriously, there is not much she cannot do! She is also a professional artist. You can find her on Facebook or on Youtube. She is always painting for others but she recently painted her whole dining room and it turned out so beautiful. Now, she is sharing her beautiful floor mat she created using Iron Orchid Design's Transfer called Winter's Song Wreath and it turned out so gorgeous, we just had to share this too!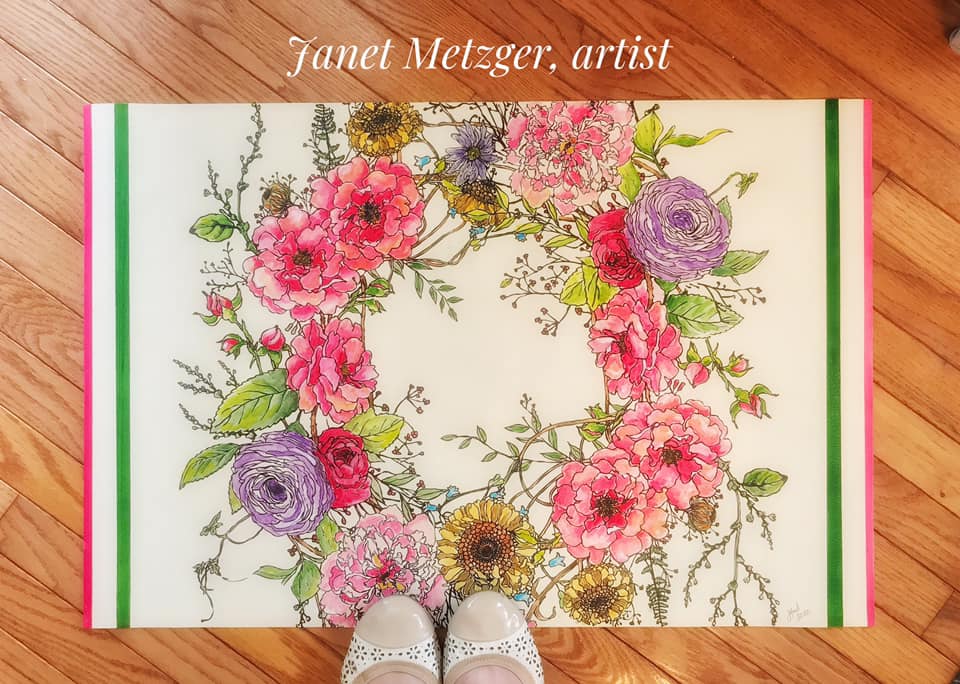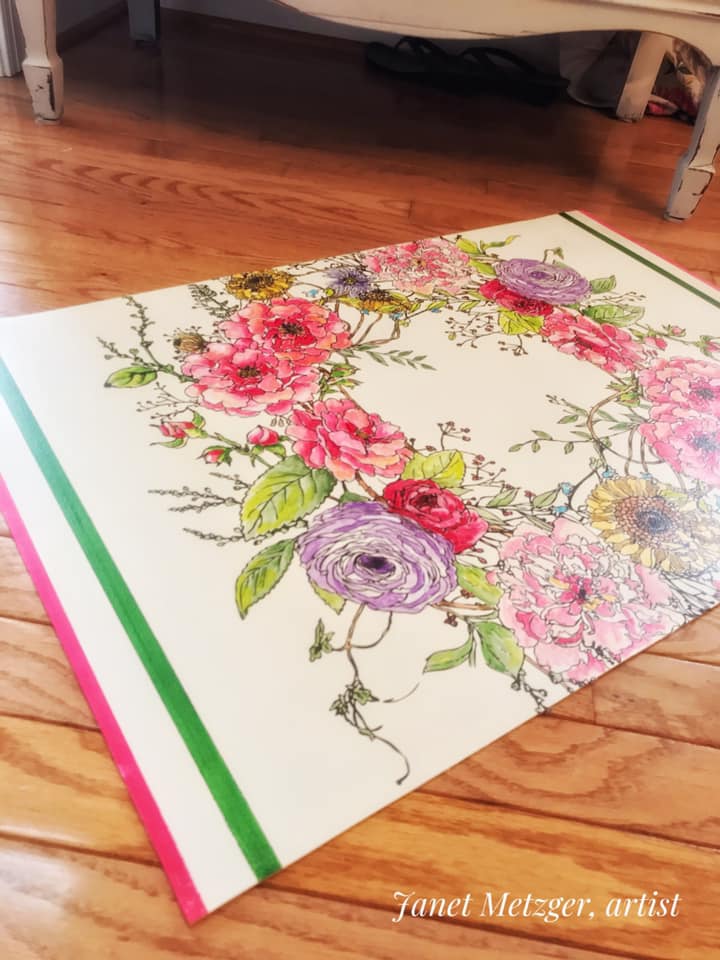 Janet is going to break this all down for you in easy steps you will want to do yourself.
PAINT YOUR BASE COAT:
First, using a piece of vinyl floor covering, (pick up a remnant at your local linoleum store or big box store…you often can get them for free) Janet base coated the mat with Annie Sloan's Old White Chalk Paint®. She applied two coats of it.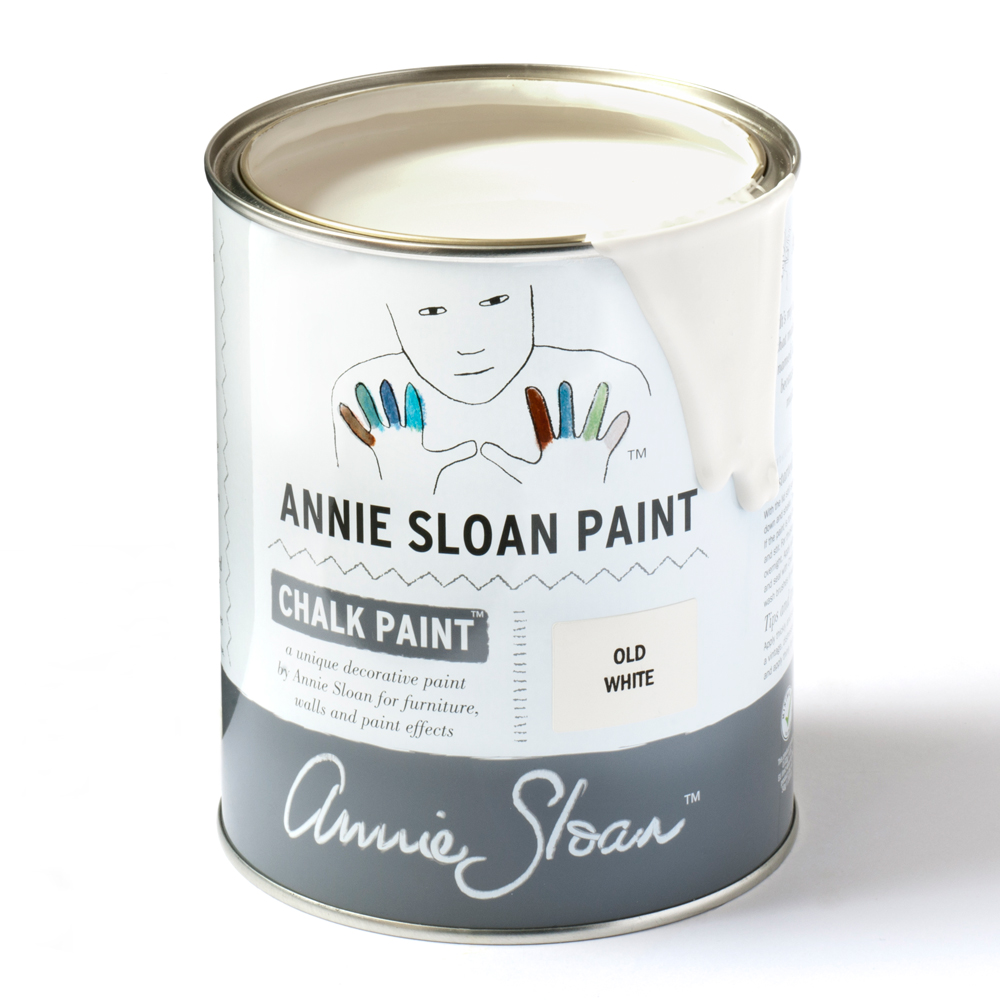 APPLYING THE TRANSFER:
After letting that dry overnight and the paint has begun to cure, she then placed the Iron Orchid Design's Transfer called Winter's Song Wreath on to her painted floor cloth. Using the tool that comes with the transfer, using a rubbing motion, she transferred the design onto the painted floor cloth. Notice how the acetate that the transfer is packaged on for safe keeping has a grid pattern on it. The grid pattern will not transfer, but it is there as a tool to help you align the transfer for placement better.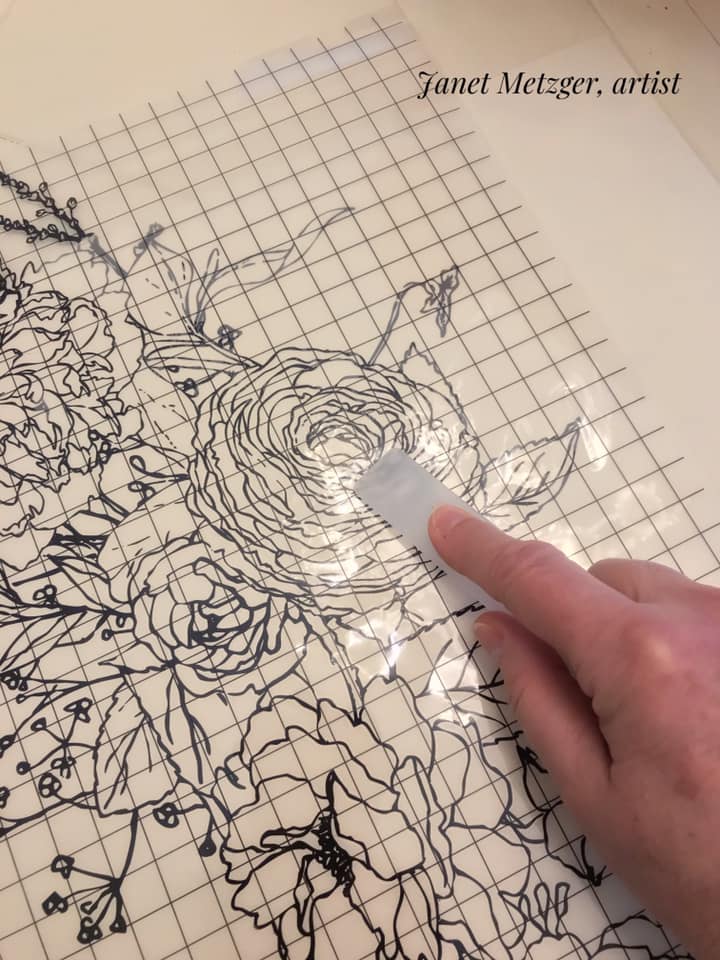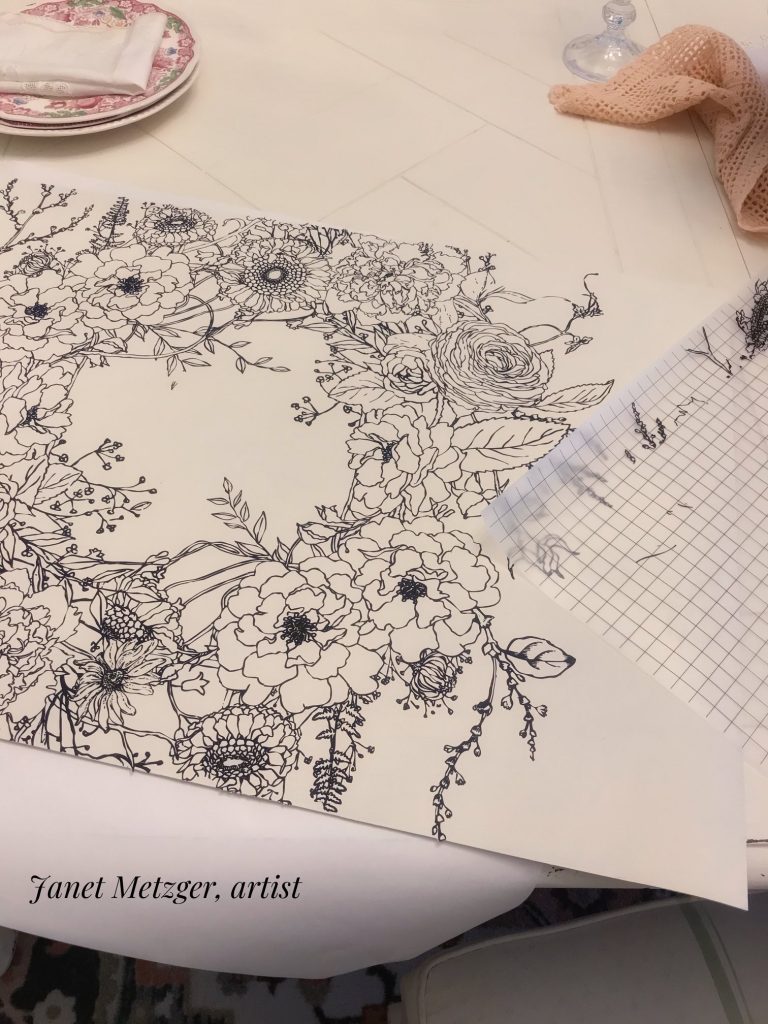 PAINT IN THE LINES….or not:
Using artist grade acrylics, she began to color in all of the florals and greenery. <Annie's Detail Brush Set is perfect to use for this finer type of painting.>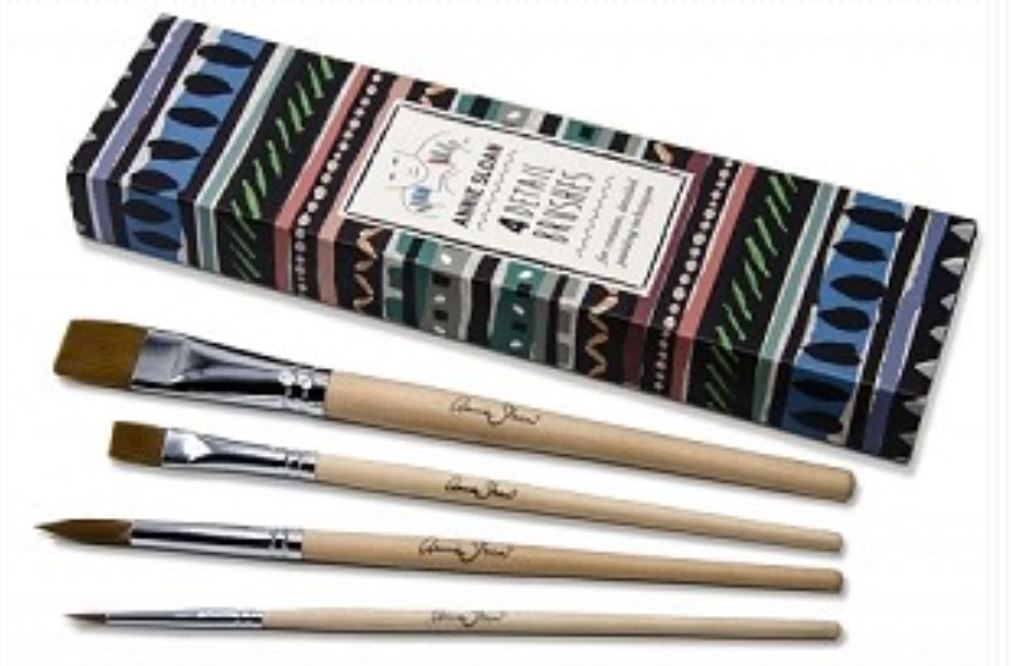 Janet started lightly with washes and slowly built up from there. She wanted to give the flowers depth and a three-dimensional appearance. She used acrylics on her floor cloth, but she has used Chalk Paint® before and it worked fine. <the only difficulty when using Chalk Paint® is that it dries so fast, you will definitely want to add water to thin it out so it acts like a watercolor paint> Otherwise, it won't give you enough time to play with shading and highlighting.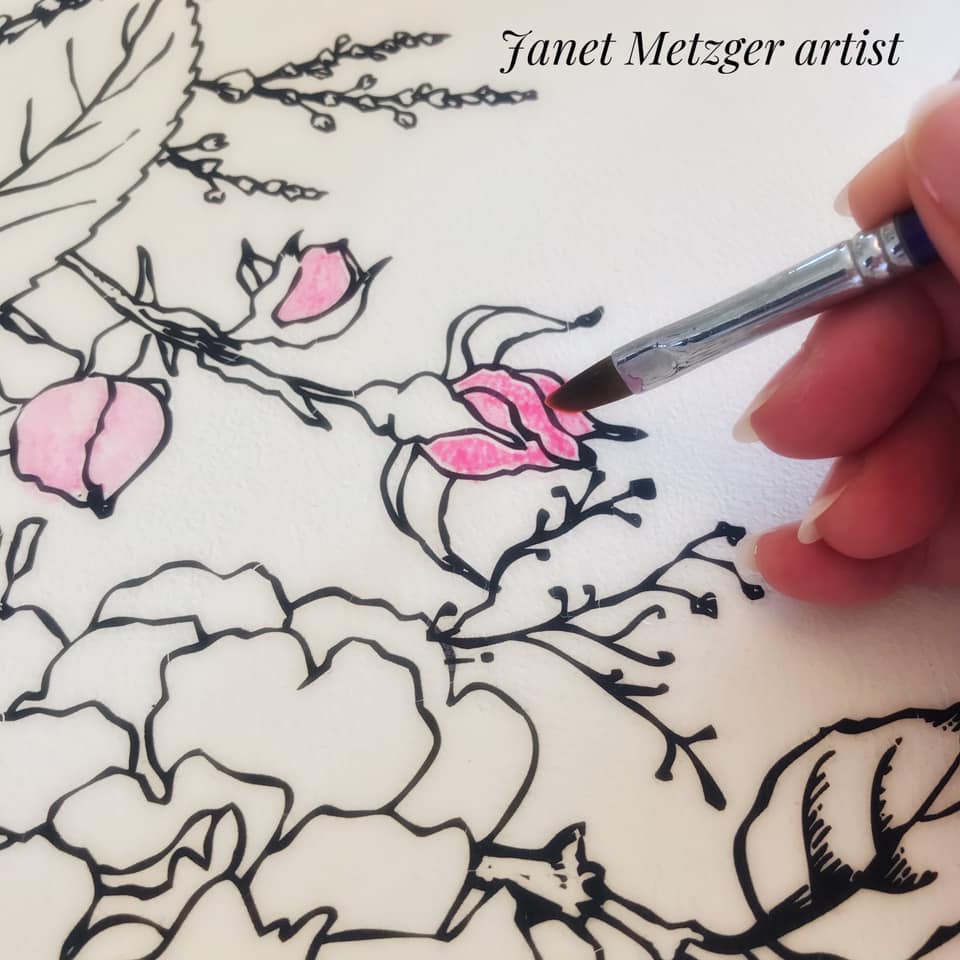 For some added design and interest, she painted green and pink stripes on the edges. You can tape off your stripes or just paint them freehand. It's personal preference at this point. She let all of her color dry and start to cure overnight.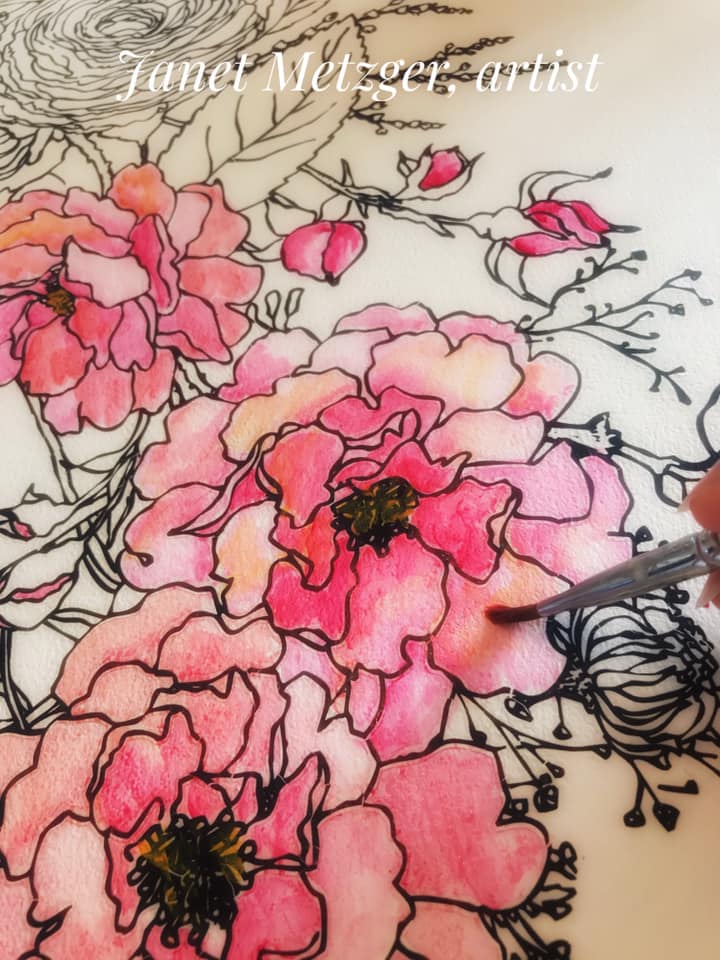 DUST OFF THE SURFACE BEFORE APPLYING THE LACQUER:
After letting all the color set overnight, prior to applying her topcoat, Janet used a sticky lint roller to remove any dust or dirt particles on the surface of her floor cloth. This is a very important step, because you don't want any of that debris in your final varnish coats. You will be surprised and can see in the photos that even though an hour prior Janet had cleaned it, by the time she was ready to varnish, there was more debris. If you choose to use a brush, she would recommend a good varnish brush with some softness to it. You do not want a stiff brush that will drag on your surface. That will leave brush marks.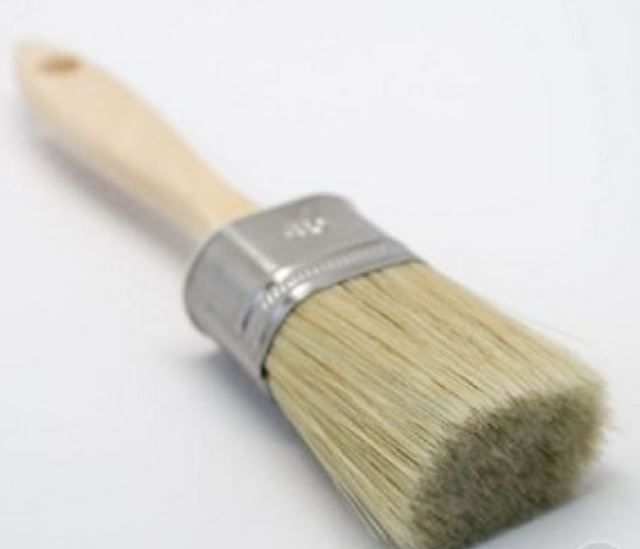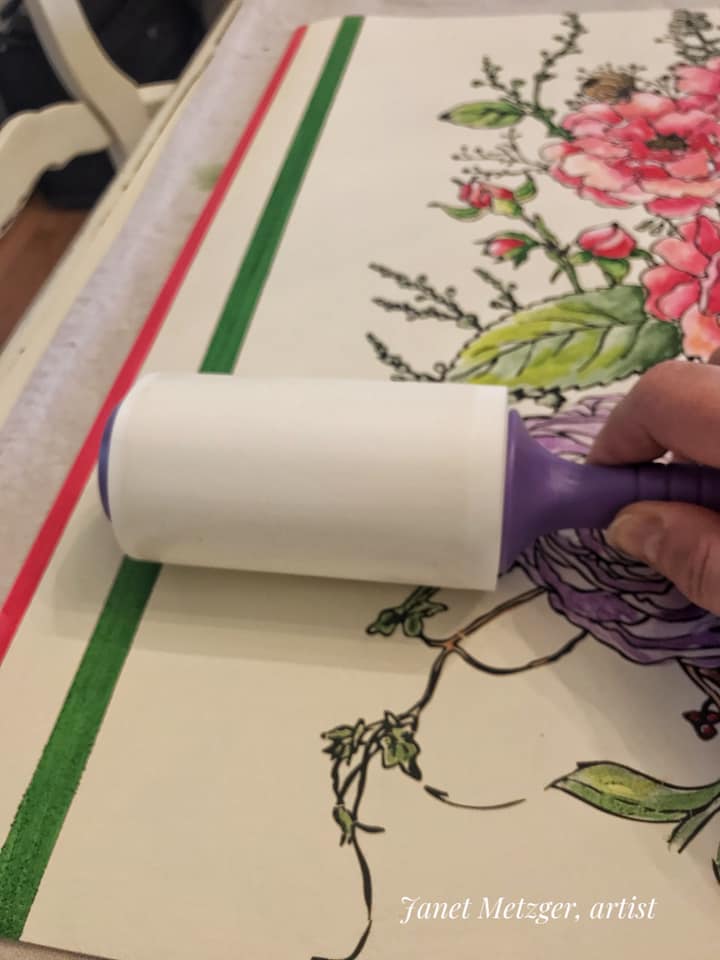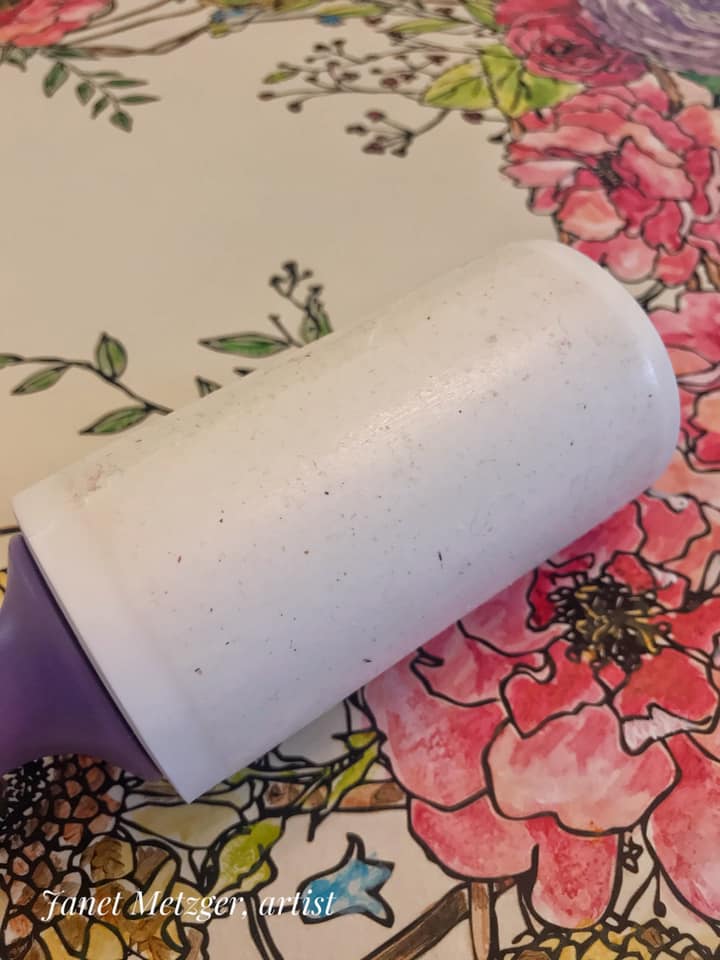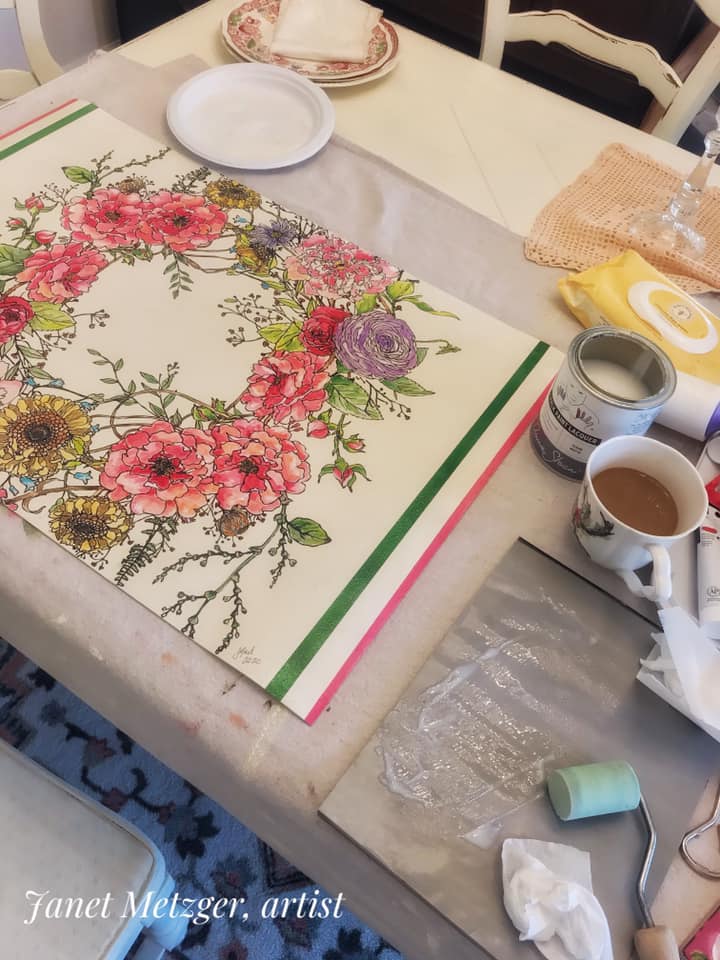 APPLY THE LACQUER TO PROTECT YOUR PAINT AND TRANSFER:
The next day she applied with a 2 inch foam roller, Annie Sloan's Clear Matte indoor/outdoor Finish, for protection. <feel free to apply Annie's Lacquer in all random directions. The more random the better.>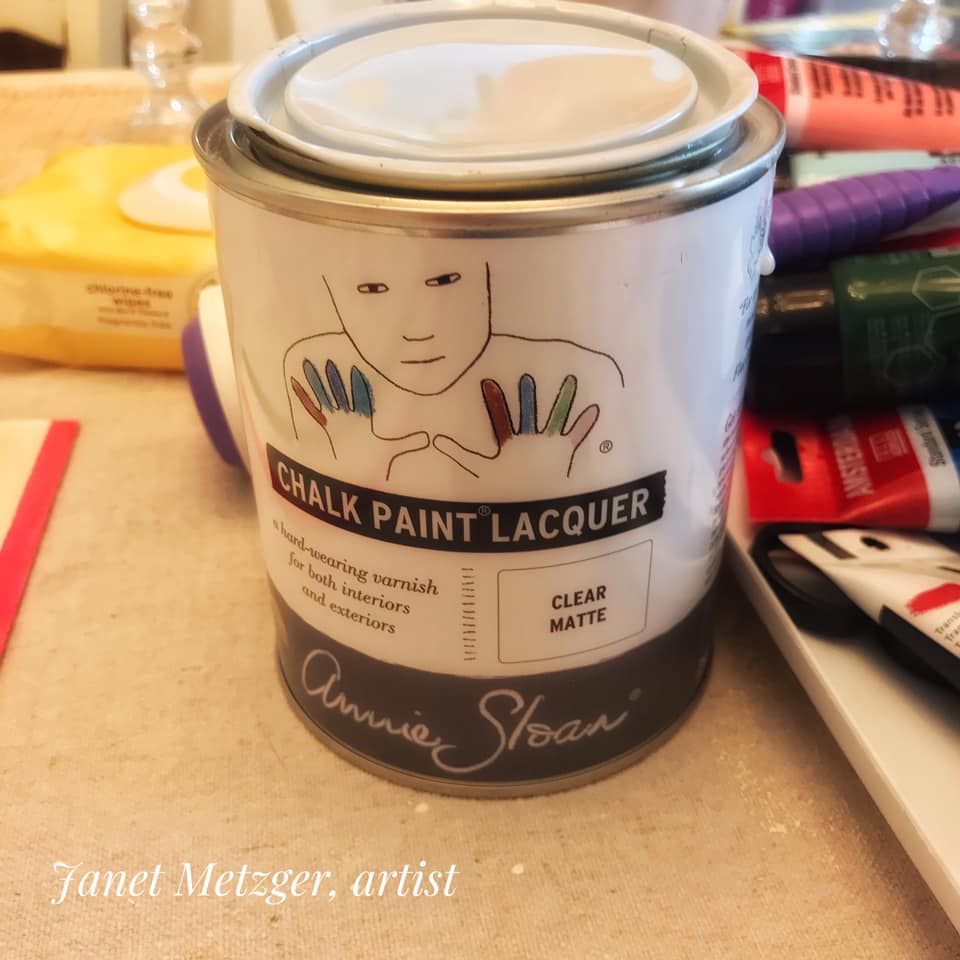 Now she has a pretty work of art for her floor!! What I love about these transfers and stamps offered by the IOD sisters, Sally and Josie Celio Iron Orchid is that even if you are not an artist and can only draw stick figures, you can still create beautiful florals and other designs for your home decor or your business.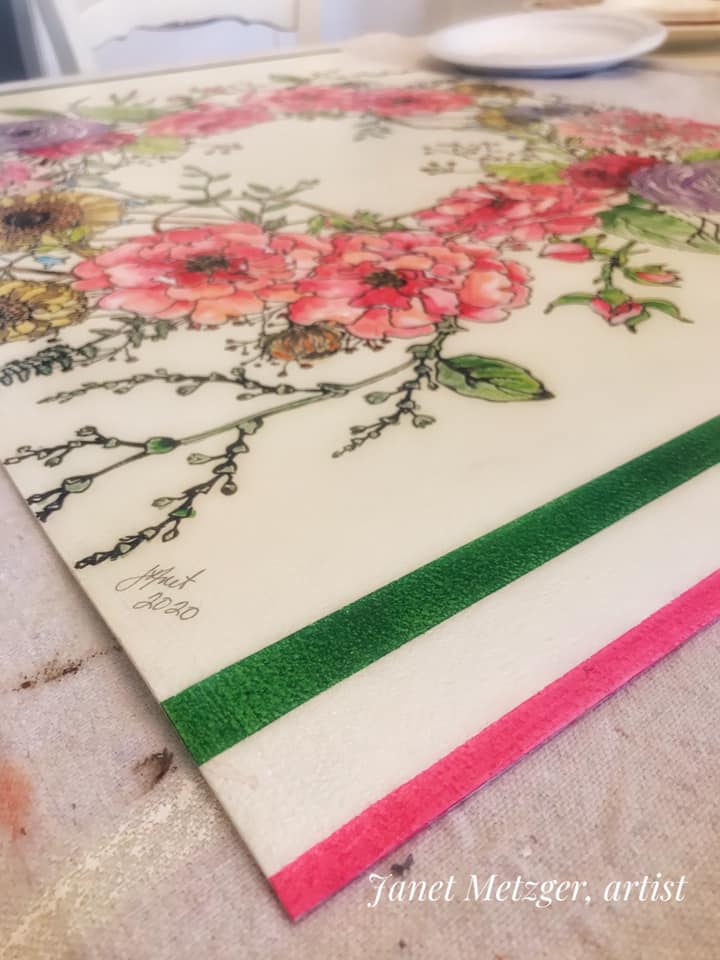 PS…Because I know you guys will ask, yes vinyl and canvas floorcloths are extremely durable and clean up with a damp rag and water. When I owned a shop, I had quite a few on the floor that got walked on daily for five years. They held up beautifully.
And, If your piece of vinyl is not non skid, then you can use the unique double sided tape they sell for this purpose. This is one example.
Another point….vinyl and canvas floorcloths are NOT to be used on top of carpet.
BUY PRODUCT FROM …..THE PURPLE PAINTED LADY®:
Trish always shares, "first- if you have a local stockist- go visit them and build a relationship with them. Go to them with your questions and project issues." BUT- if you do not have a local stockist- we invite you to try our customer service!As for buying any of the products we mentioned earlier in this post- I hope that you select The Purple Painted Lady® to be your one stop resource! We have two locations in western NY. Check out our Information tab and come and meet us! Otherwise- if you are not located near me- the following information may apply to you. This information is directed to those who do NOT have a local stockist. Because if you do – go and meet them, shop from them and build a relationship with them. The guidance, information and knowledge they share with you – will be invaluable. Get inspired by their shop that they lovingly curated – just for you! Enjoy that one on one experience! But for those who are in a location where there is no one selling paint products- and you must buy on-line- consider us. With that said, visit www.anniesloan.com to find a stockist near you. We are here to help you, our customers! We want you to be successful!
SOME OF THE REASONS WE THINK THE PURPLE PAINTED LADY® CUSTOMER SERVICE IS THE BEST: * We love our customers and it shows!* Ordering online? If you order before 3 pm EASTERN TIME any day Monday thru Friday – we will ship out your package that SAME day either via USPS or UPS. We ship orders out every since week day all over the US. (THIS IS DIFFERENT than SAME DAY DELIVERY. We do not offer that)* We offer low flat rate shipping cost so if you are one town away or 10 states away- the shipping cost is the same.* We have awesome follow up customer service, too!*
SHOP ONLINE HERE : ) And I will be here to help you as you progress through your future project! And if I do say so myself- we offer the BEST customer service that you will ever experience! Lastly- if I was helpful to you- ….please consider leaving a positive review on my Facebook business page sharing your positive experience or thoughts about The Purple Painted Lady®. Here is a link to my Facebook page=> http://www.facebook.com/pages/The-Purple-Painted-Lady/291882785710 This really helps me! (wink, wink!)
XO~Trish
The Purple Painted Lady®