Annie Sloan released her Satin paint in 2022. It is a beautiful paint that does not require a top coat. It has velvety, smooth durable finish.
But something we wanted to share was a message from a customer who wrote, "I recently purchased the Annie Sloan Athenian Black Satin paint, and painted two beds with it. The question I have is: Wherever you touch the beds, it leaves a whitish smudge from the contact. Is this something that will change after the paint has cured, or do you think I will need to buff or seal the paint? I was surprised, since I thought the satin is supposed to be good to go without a sealant…. What do you recommend?"
Take a peek at the photo shared with us: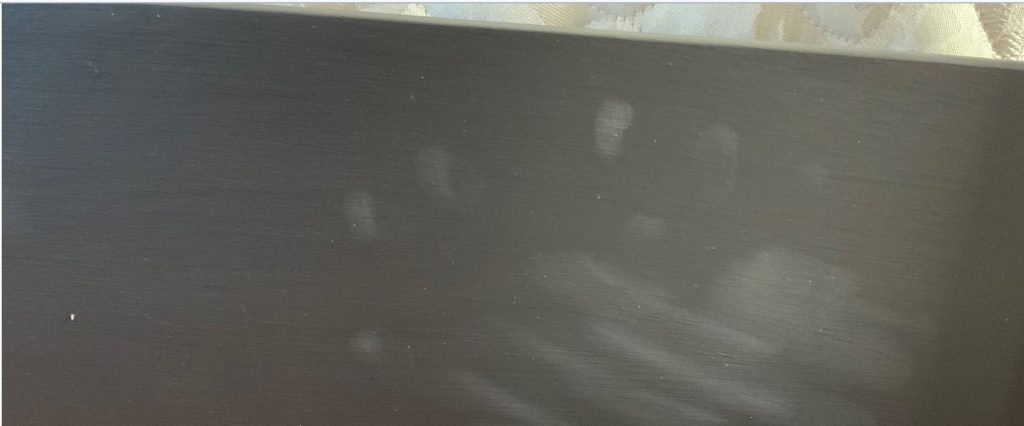 We wrote to our technical director at Annie Sloan HQ. After a consult our response back was ……..
You are not alone, this has been a complaint from others. First, the paint needs to cure fully before regular use which is stated in the directions on the back of the can. Most customers and painters have reported that the marks do wipe away. I have successfully wiped smudges off the pieces I've painted in Athenian Black with both a damp or dry cloth. I do not recommend scrubbing of any kind during the curing period. You do not need to worry about a top coat, it's completely unnecessary and will change the beauty of the sheen. I hope this helps
Something I will share is that I am going to be painting the kitchen cabinets in my home soon with Annie's Satin paint and will blog all about here.
We are always available to help you with questions and appreciate your business! We are The Purple Painted Lady– your small business, Annie Sloan provider. And small business is the backbone of our communities!! We are the ones in YOUR area funding your local Boy Scouts or Girl Scouts. We're the ones donating baskets and money to YOUR local charities. It is the local small business men and women of this country who know YOUR name! Not the conglomerates or Amazon's. Small business owners are there stepping up when their is a house fire to a local family or the food pantry needs a little extra or the middle school play needs a sponsor!
Please kindly consider all of this when you purchase and if you have no one local who retails Annie Sloan Products … please – PLEASE consider giving The Purple Painted Lady your valued business. We have been here for 13 years providing this one on one 24 hour Chalk Paint® Concierge Customer Service for when you have questions or having problems. We care about YOU and your projects!! We are grateful for you and we need you…. We really need you! And hope you will continue being our customer
We are here to help you and appreciate you!