Are you on Facebook? You should check us out.
We have two fun Facebook LIVES scheduled that we would love to have you participate in.
ALL ABOUT GILDER'S PASTE:
On Wednesday, May 12, 2021 at noon Eastern time come hang out with Courtney on a Facebook LIVE. She will be sharing all about using Gilder's Paste on projects. See all the colors available and some of the creative cool things you can do with it both inside and outside of your home. Have a wedding in your future and making your own decorations? Gilder's Paste is an absolute. Want to jazz up your outside mailbox? Why not, right? Use Gilder's Paste! Freshen up old hardware on pieces of furniture or cabinets. Tune in for more ideas.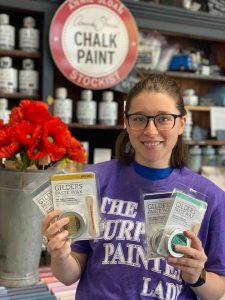 INTERVIEW FURNITURE ARTIST – PAMELA
Join Trish as she interviews via a Facebook LIVE, furniture artist – Pam on Tuesday, May 18, 2021 at 8 PM Eastern Standard Time. Pam will be sharing how she started her business and will be doing a demo on her blending technique using Chalk Paint® by Annie Sloan to make soft transition between multiple colors. Pam sells her painted pieces at a few venues in NY and is extremely talented.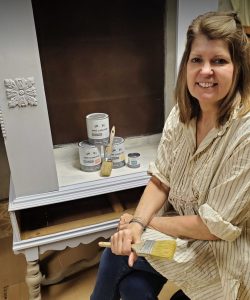 Again, both events are hosted as a Facebook LIVE.
If you are interested in purchasing Chalk Paint® by Annie Sloan or any other of the products we carry ~ or would like some help with a project- reach out to us! And….consider purchasing from us too, although we always encourage you to visit your local Chalk Paint® stockist if you have one …but if you are stuck at home and do not have anyone local… The Purple Painted Lady is here to help and can ship your order right to your front door step. Please just place your order online and we will ship it out ASAP! In fact, if you place an order- be confident in knowing that The Purple Painted Lady has everything in stock! What does this mean in the end? With the team we have in place- your order will get packed and picked up by FedX, UPS or USPS. We pack up your order ship your order out our doors the same day you place it – Monday through Saturday. (note however, this is as long as your order came in before 3pm EASTERN TIME, because most of the carriers pick up our packages around 3 or 3:30pm)
To purchase online – please CLICK HERE!
SIGN UP FOR OUR MONTHLY NEWSLETTER: Okay- well maybe we actually send this out about every 2 months ~ but still – you will want to join this! Click HERE to get on board with The Purple Painted Lady's Monthly Newsletter and get in on the fun.