(all colors used in the recipes are packaged in Litre containers or sample pots as of early 2019)
This is post is dedicated to Sarah Dunlavy who asked if we could show some examples of Napoleonic Blue Chalk Paint® by Annie Sloan now….I just wanted to share this photo.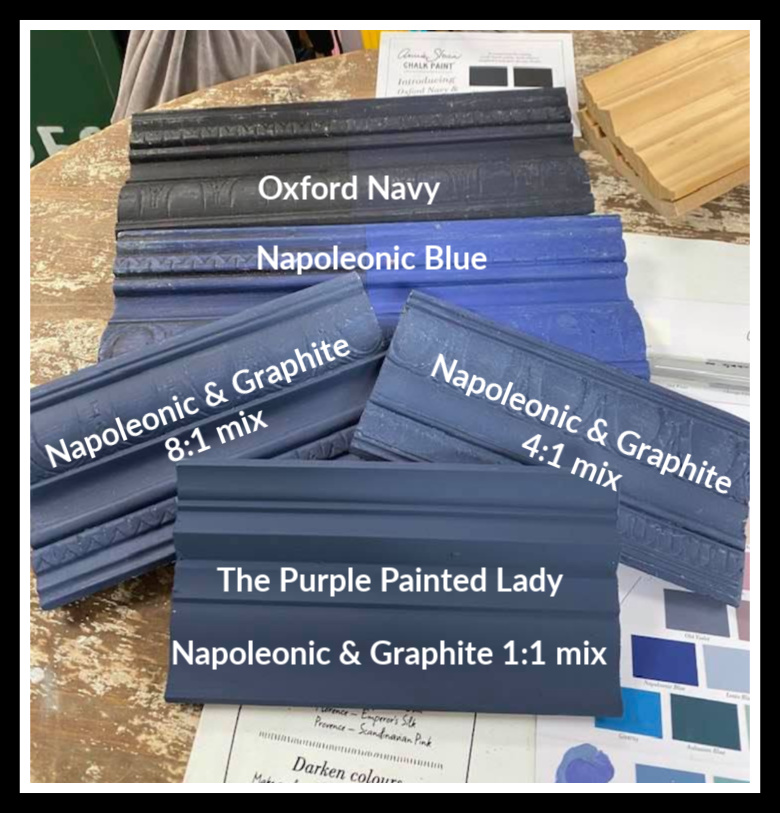 We mixed Napoleonic Blue with Graphite in a few different mix ratios and then we mixed Oxford Navy with Old White……I think my two favorite mixes of all were the mix of:
Napoleonic Blue and Graphite in equal amounts – meaning 1:1
Oxford Navy and Old White in a 4 to 1 mix.
NAPOLEONIC BLUE QUART VS LITRE PACKAGING COLOR DIFFERENCE:
Annie Sloan sells her Chalk Paint® in over 60 countries. At the end of 2018 and into early 2019, in order to get us in line with all of her other countries and her pigments, she took back manufacturing and distribution for Canada and the USA. We were the only countries that had some slight differences in pigments and packaging. Below is a photo showing sample boards of Napoleonic Blue painted from the retired Quart packaging to the now, 2019 and after Litre packaging. NOTE that due to the Global Transitioning of paint- this color has changed!  It is more of a cone flower blue.  It is different than what was ordered in the past. (see image below) Napoleonic Blue is a NOT Navy by itself!    I feel it is more of a cone flower blue….almost with hints of Periwinkle to it!  A deep true blue that is the color of fresh picked blueberries- perfect for creating the Union Jack flag! Napoleonic Blue is inspired by the ultramarine and cobalt blue pigments used for decorative work in everything from neoclassical interiors through to modern 20th-century decoration.  See our video on the shift in color HERE.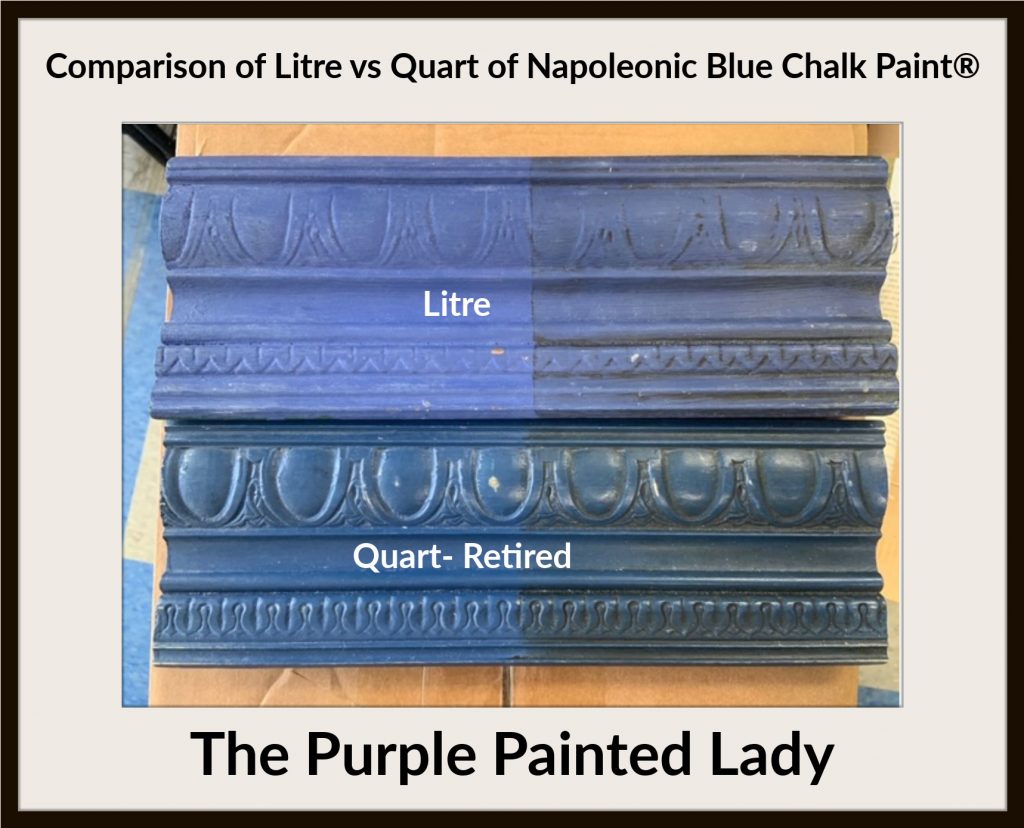 #thepurplepaintedlady#napoleonic #bluechalkpaint #oxfordnavychalkpaint#anniesloan#ilovenavy#rochesterny#macedonny#navypaint#navypaintedfurniture#navycabinets